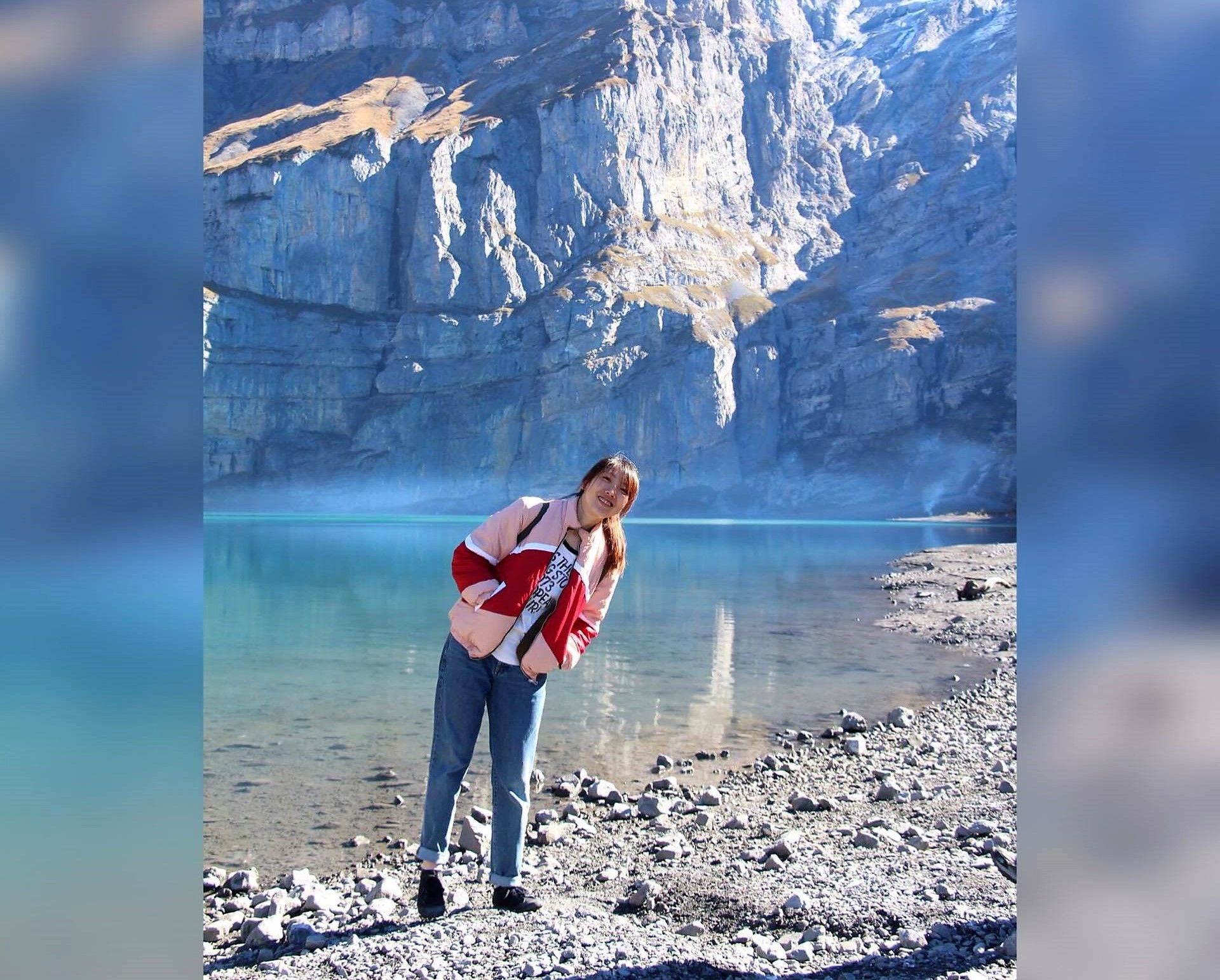 Switzerland is world famous for its stunning nature. Andi told me and @liflorence that Oeschinensee is regarded as probably the most beautiful lake among thousands of other mountain ones, Switzerland, which totally made me want to visit it. Oeschinensee is located 1578 meters above sea level. The lake is normally frozen during five months per year, from December to May. I heard it is stunning all seasons .
Today I'd like to show my dear Steemit friends how beautiful Oeschinensee is.
瑞士一直以田园牧歌,好山好水著称于世。听安迪说,在瑞士千千万万的高山湖中,厄希嫩湖被很多人认为是最美的一个。这样一想,我更加想去亲眼看看。厄希嫩湖海拔1578米,其实在高山湖中算不上很高,据说一年有五个月都是冰封的。各个季节的湖景都很美,各有特色。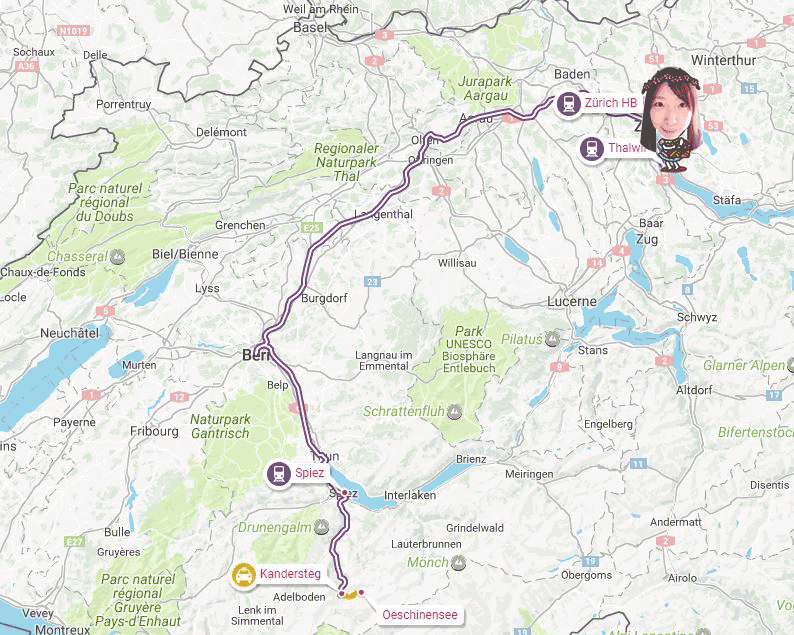 To get to Oeschinensee, the closest train station is Kadersteg. We had to switch the train twice from Thalwil. It was totally different direct as to the Pontresina Valley and the Morteratsch Glacier other day. The journey took in total around 4 hours. You can do a day trip from Zurich area. Although it seems too long on the way, time went fast when @liflorence and I talked the whole train ride.
去厄希嫩湖是跟前几天去的冰川完全相反的方向,但是坐火车过去一样需要差不多4小时的时间。虽然听起来时间很长,去看湖一天时间都很紧,但是火车上跟Li聊天,看着火车外的景观,时间却感觉过得很快。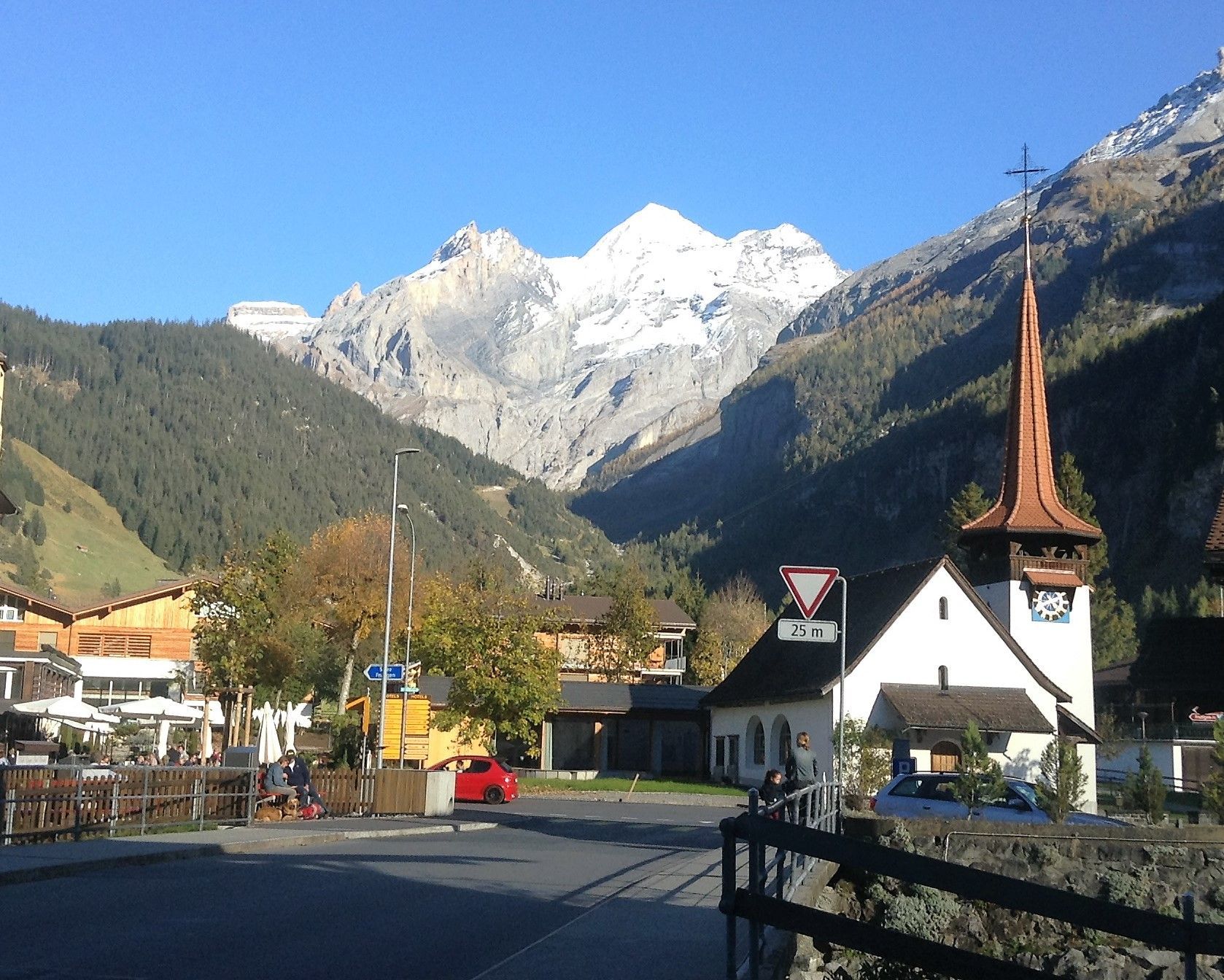 I was so lucky to have a clear and sunny day.
天气真好,万里无云,真幸运。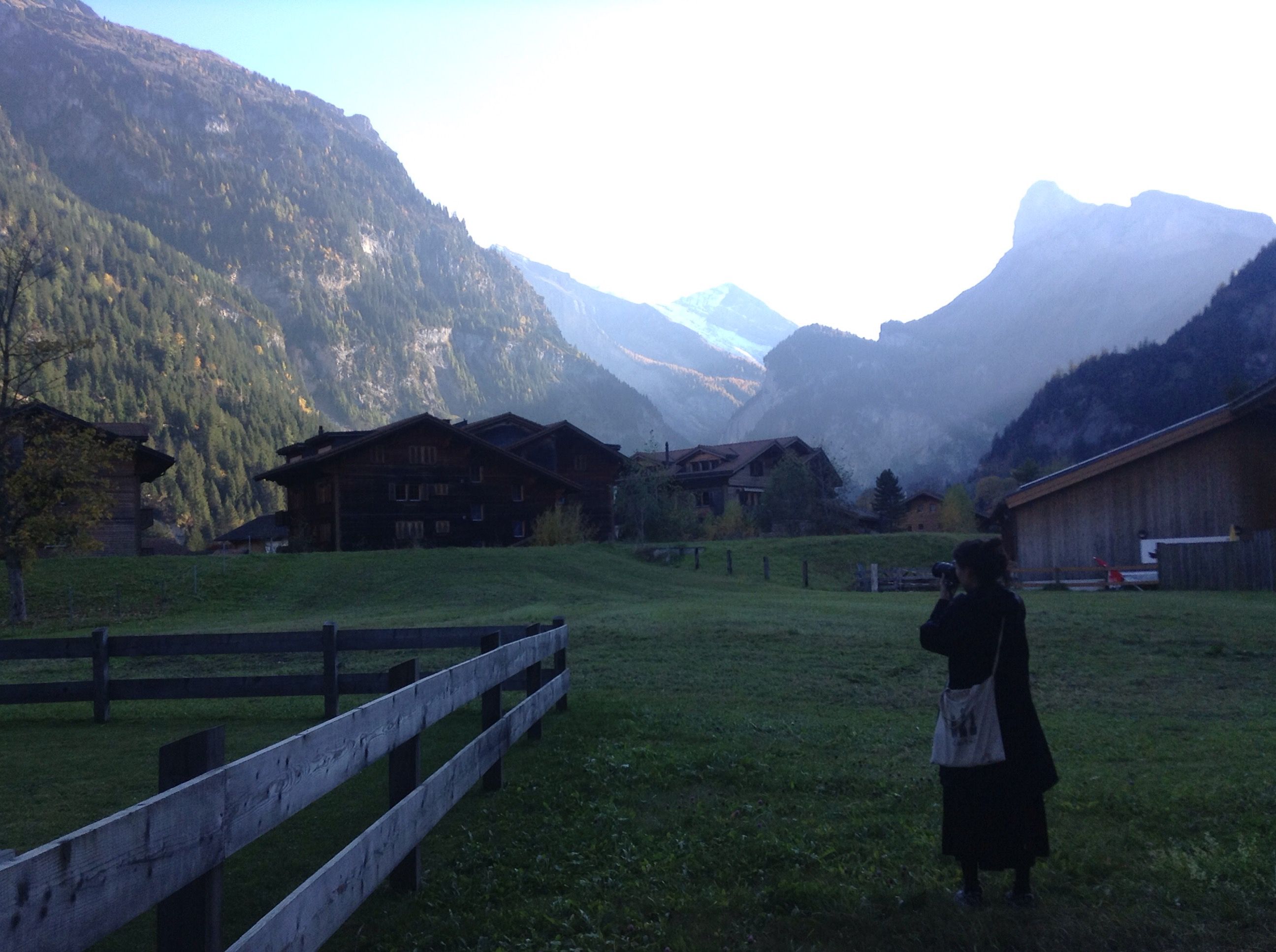 Traditional wooden houses in the area.
瑞士的传统小木屋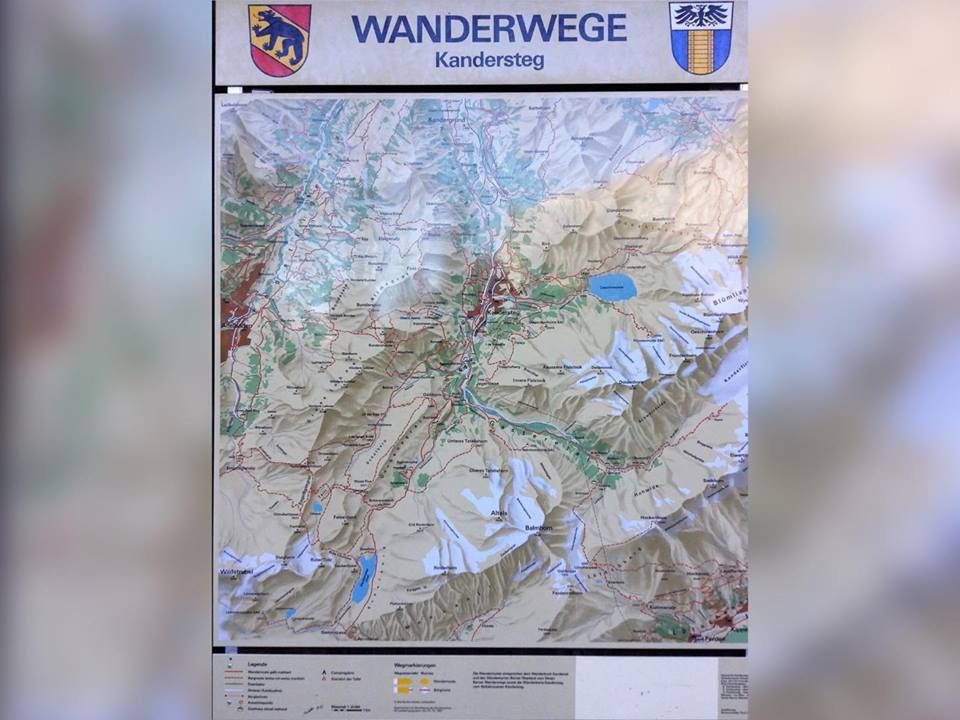 There are different trekking routes. The blue part shown in the map is the Oeschinensee.
这个区域很适合各种徒步。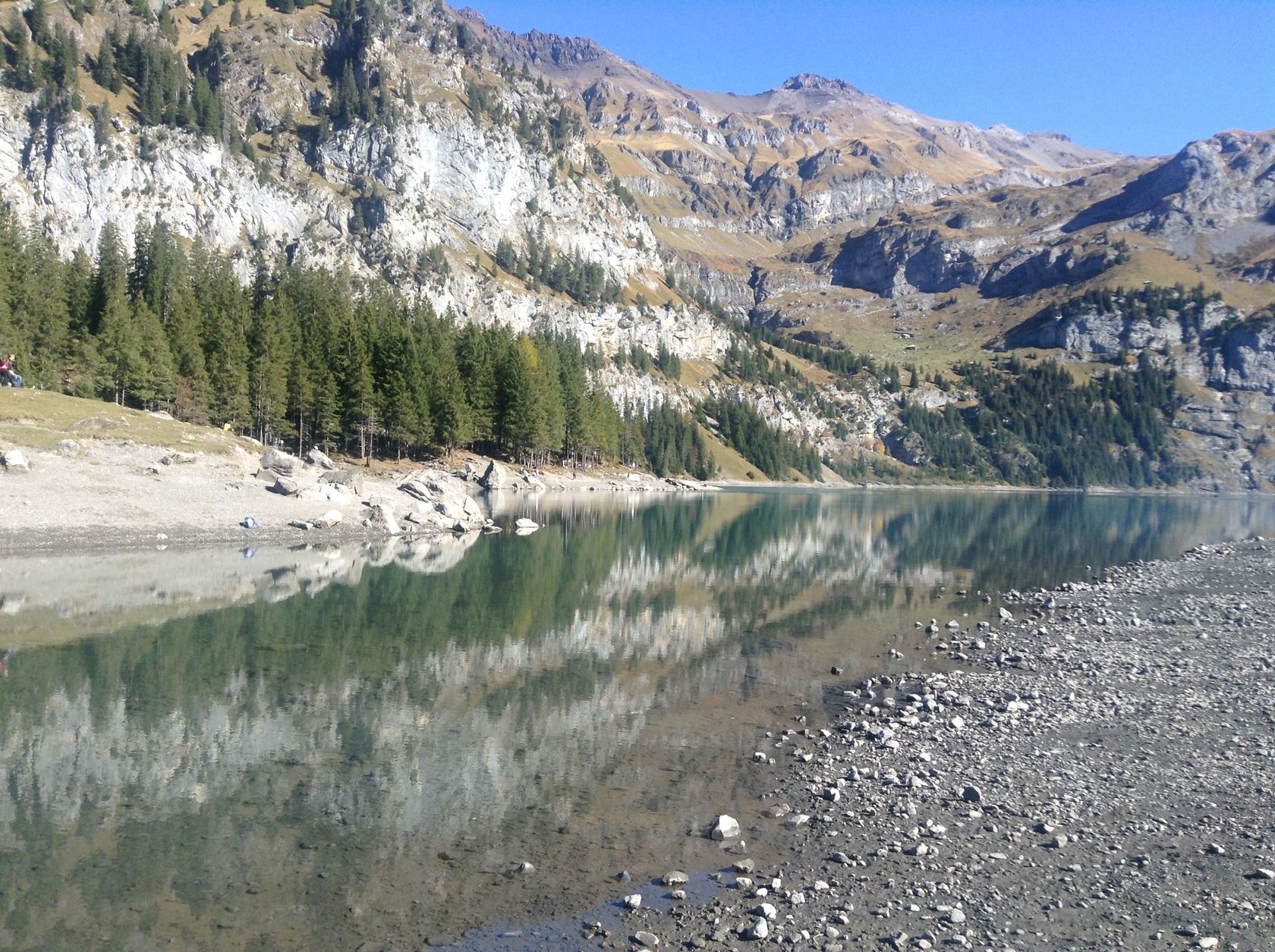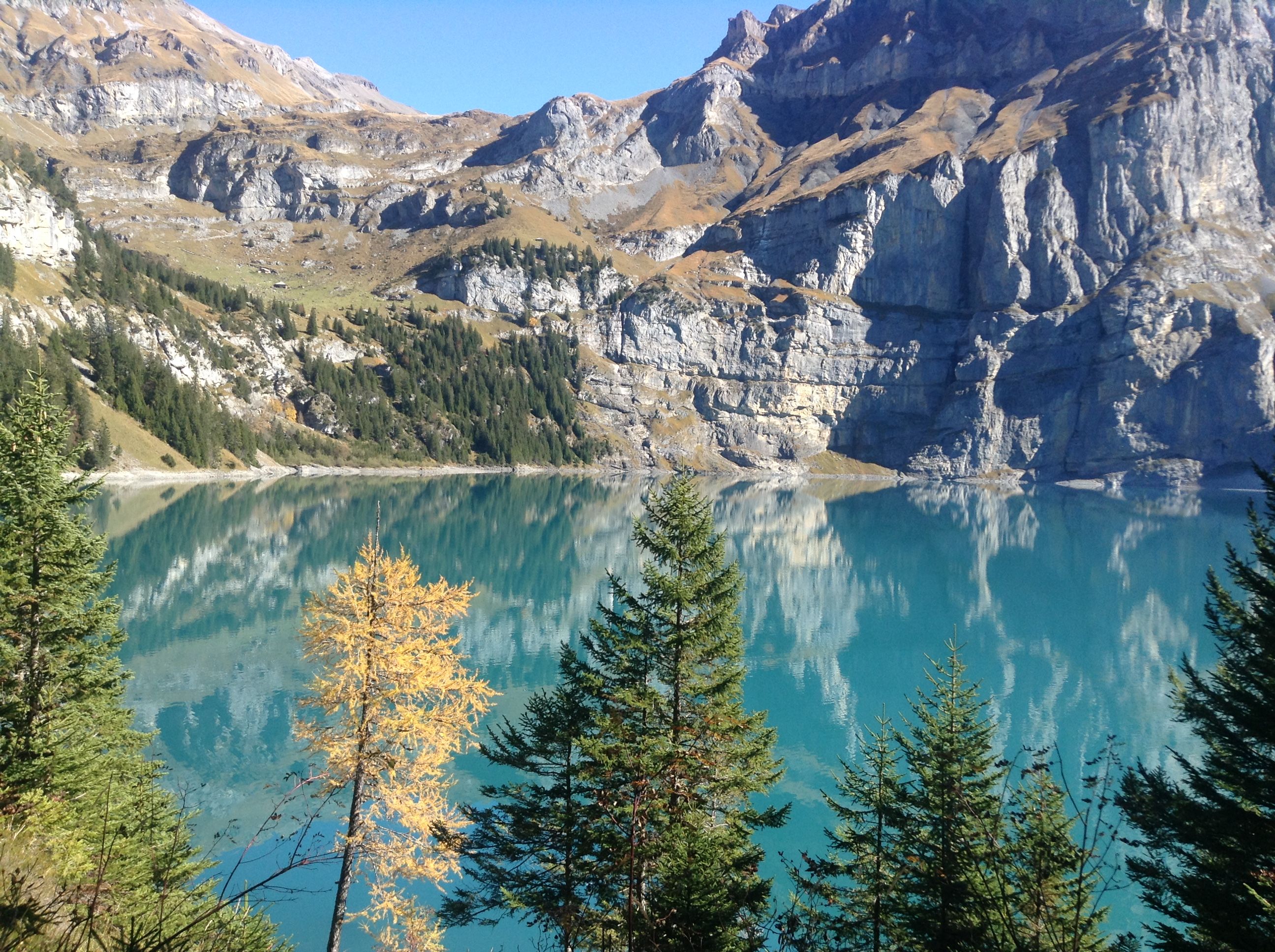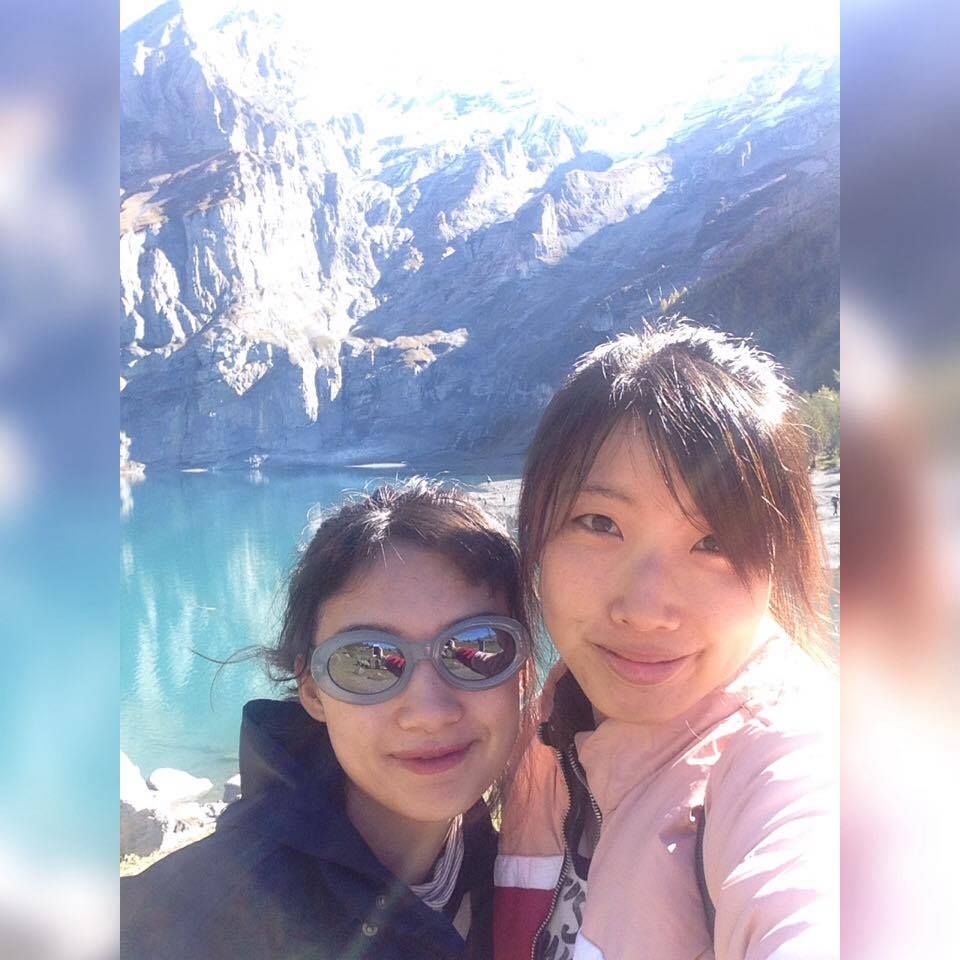 Oeschinensee has an unusual turquoises color. I think it resembles the famous Banff national park in Canada. It also reminds me of the alpine Tuni lake I went in Bolivia. But Andi said Bolivia is still better, "without the Disneyland" in his words.
厄希嫩湖的颜色是非常罕见的宝石绿色,可能有点小型的加拿大班夫公园。这个绿色也让我想去我在玻利维亚去的一个高山湖。当我跟安迪提起时,他说玻利维亚可能更美,没有这些"迪斯尼乐园"。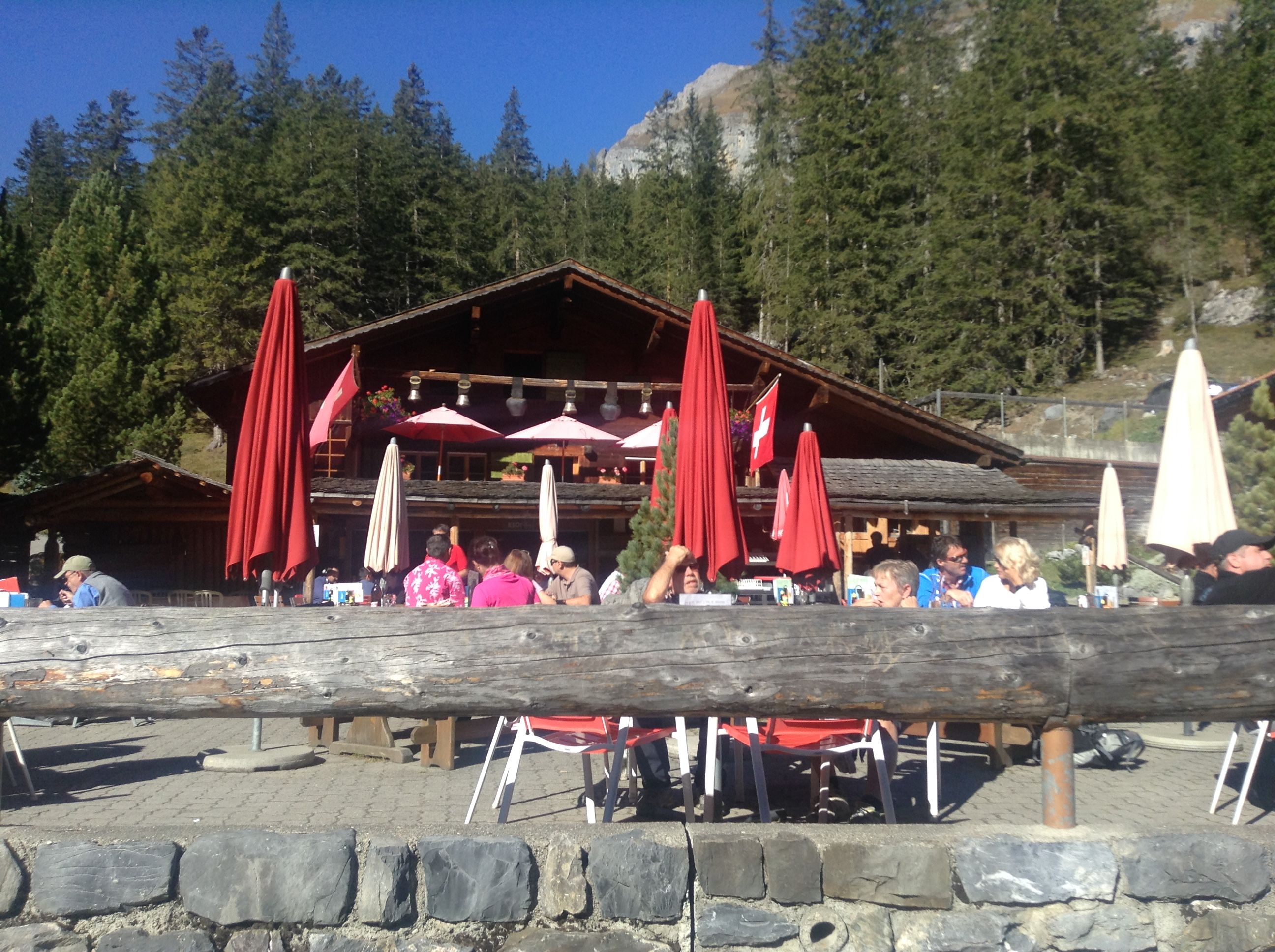 The "Disneyland" he meant. When we went there during the school autumn holiday, there were so many tourists, most of them with young children. Switzerland is a super kids friendly country where you find even special train for kids. Although Oeschinensee has an other-worldly looking, many kids were playing like in the playground.
这就是安迪说的迪斯尼乐园了。现在正值欧洲学校的秋假,很多家庭带着小孩子来这里度假。这个看上去与世隔绝又高冷的湖,在这段时间也变成了小朋友的游乐园。从另一方面讲,也是个好处。瑞士是个很适合全家度假的地方,到哪里都可以既欣赏美景又不耽误小孩子玩乐,连火车上都有儿童专用车厢。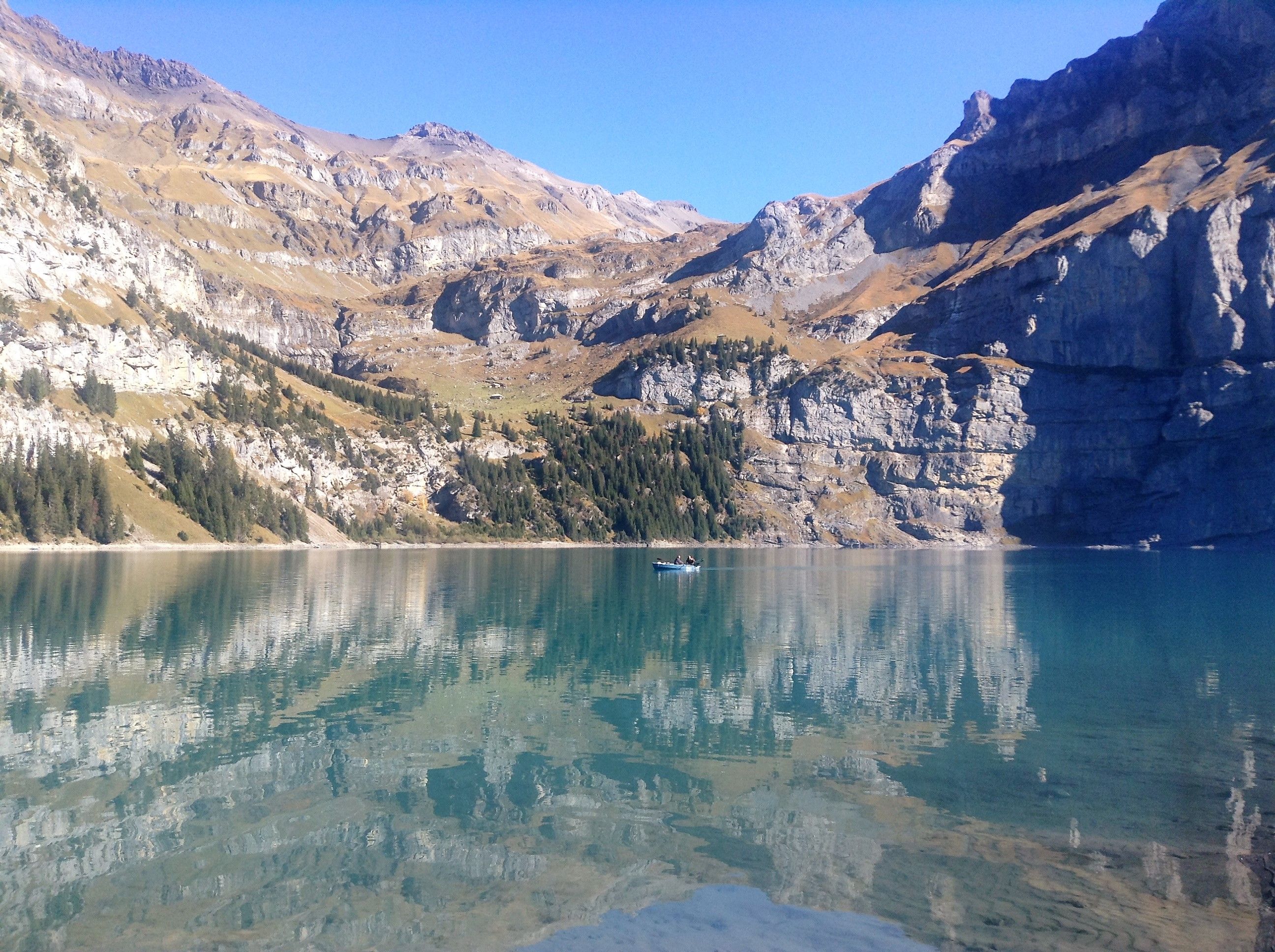 I saw there were row boaters or kayaks on the lake. If you have more time there, give it a try. It seems great fun to me.
看到湖上有很多游船,如果有时间可以一试,感觉很不错。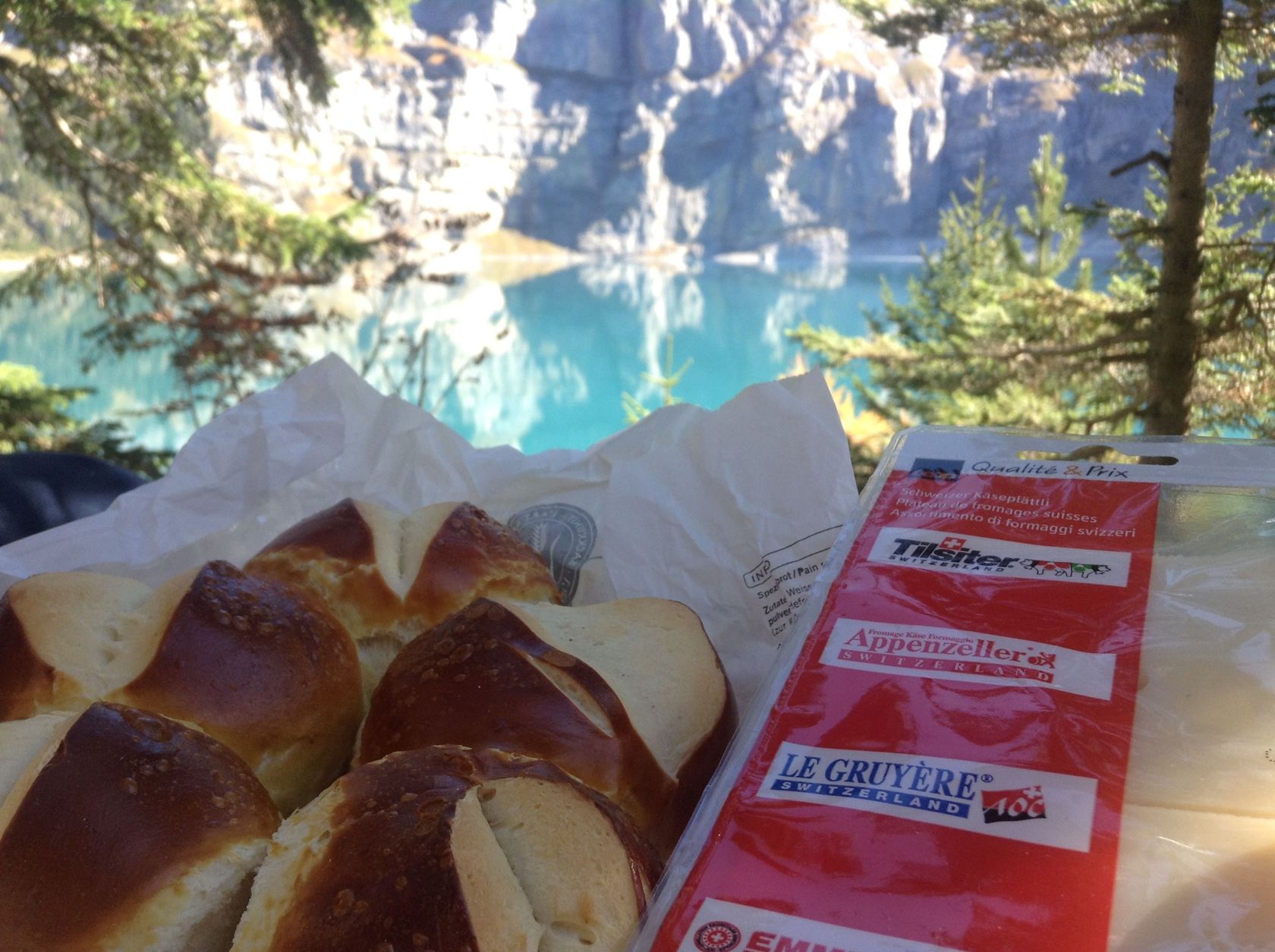 Picnic with such a view. We bought some Swiss cheese and bread in a supermarket close to Kadersteg train station. Being low lactose intolerant, I barely eat any cheese but every time I come to Switzerland, couldn't help trying out their cheese. In my opinion they have the best cheese with a big variety among which I can always find the one I like.
在湖边特别适合对着美景野餐。我们在火车站附近的小超市买了一些瑞士当地特色的起司。作为一个乳糖不怎么耐受的人,我很少吃任何起司类的食物。但是还是觉得瑞士的起司很好吃,清淡一点,每次来瑞士都忍不住尝一尝。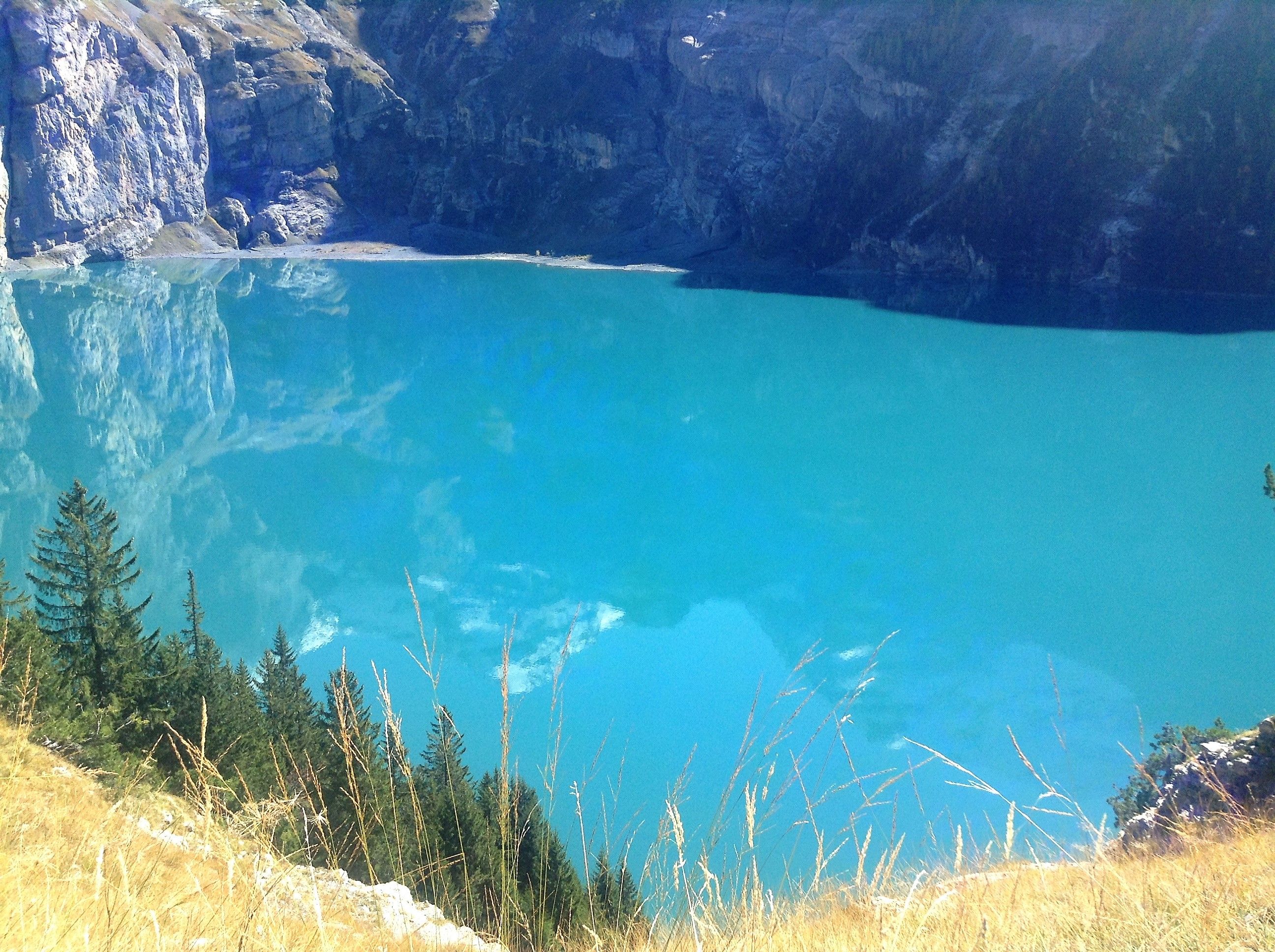 The weather was s great that you can see the reflection of snowy mountains on the lake.
天气好到雪山的倒影都清晰可见。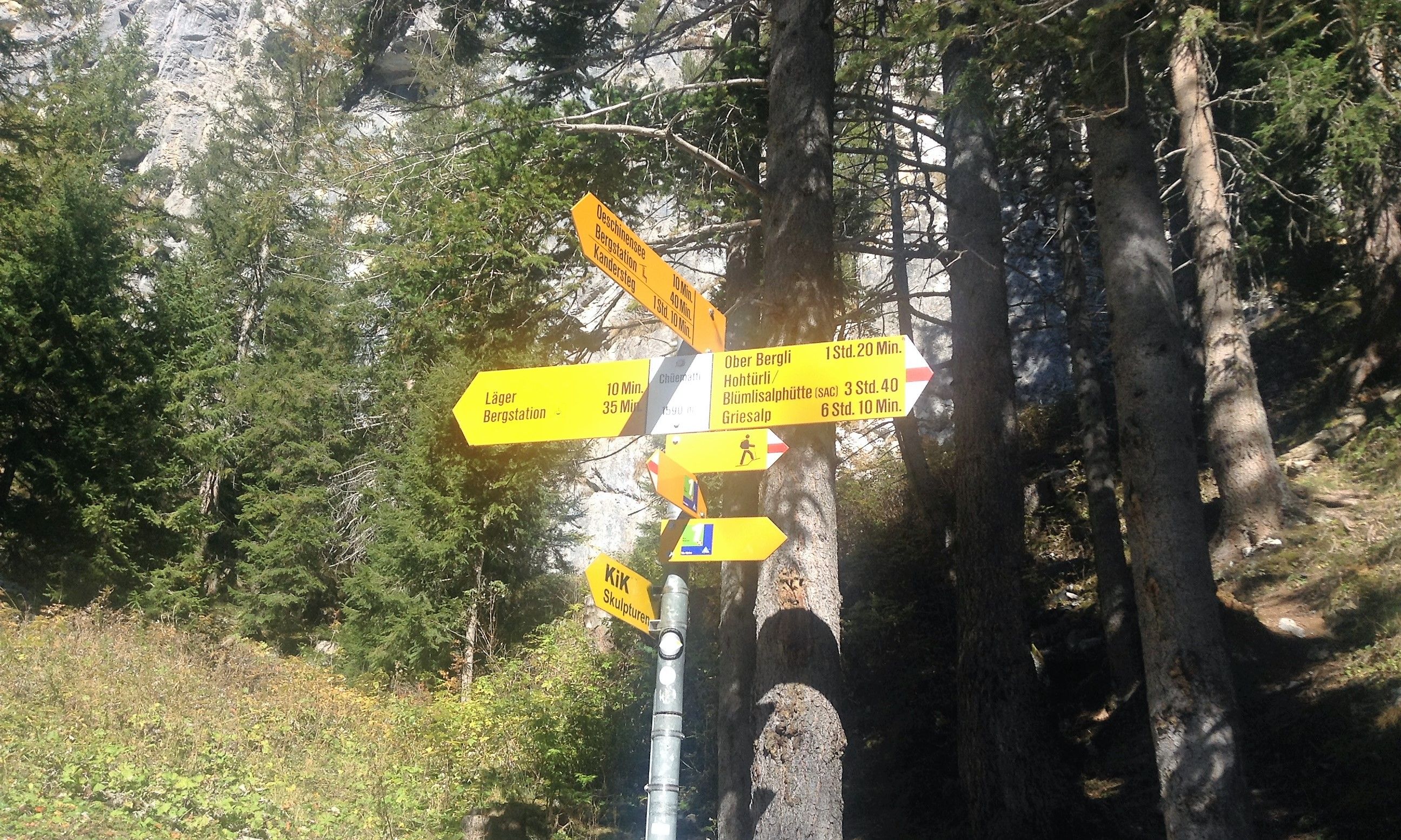 there are several hiking trails from the lake. It was not until I saw this sign that I realized last time I went trekking in the Griesalp in the area. I used to be a traveler without the basic conscious of any geography knowledge. That's why now I made a map animation above.
看到这个路牌,我才发现之前一次来我居然去过这附近的一个徒步的山区。看来以前我也是个不看地图不知道自己在那里的游客。所以现在我要做地图动画。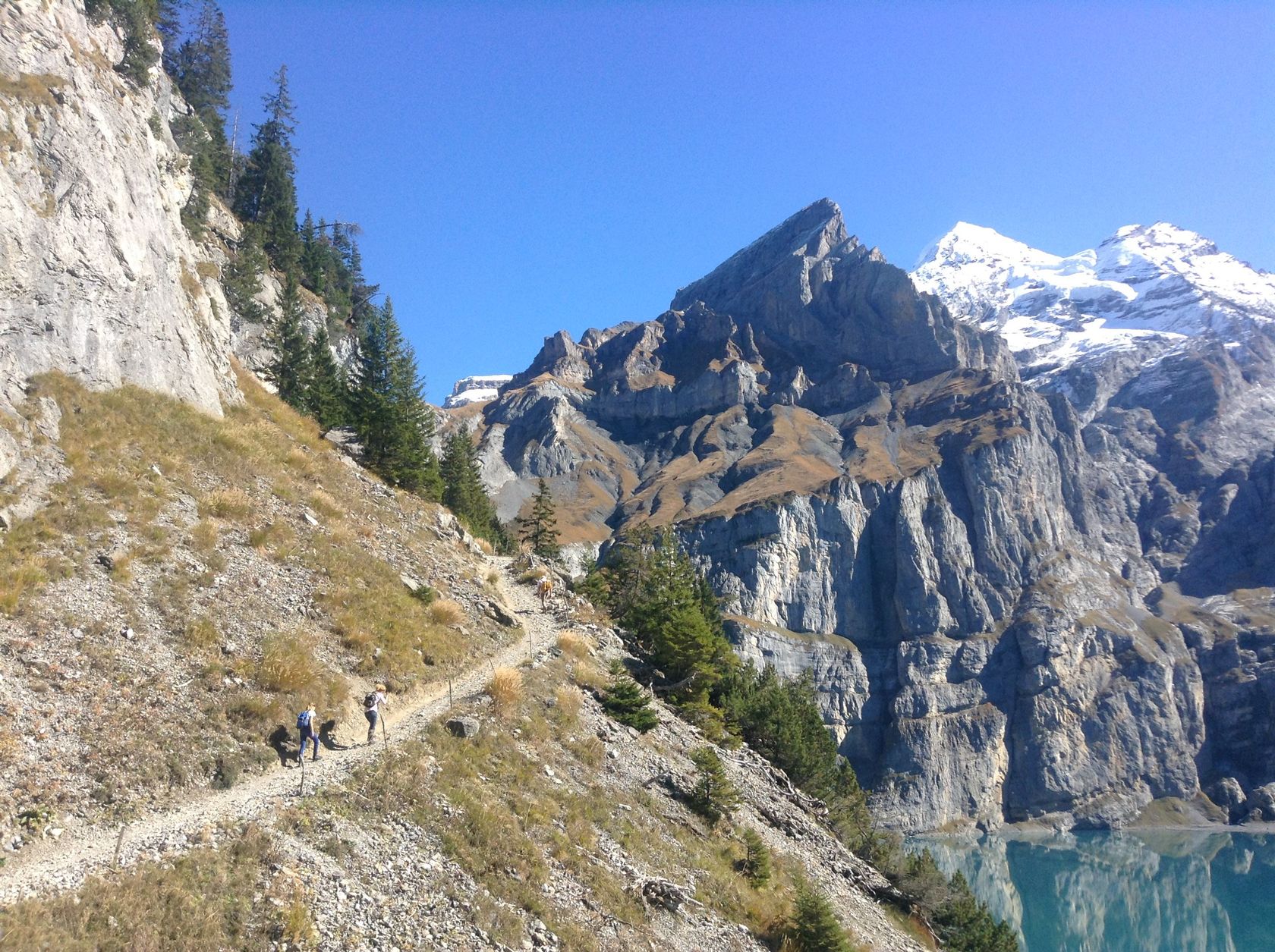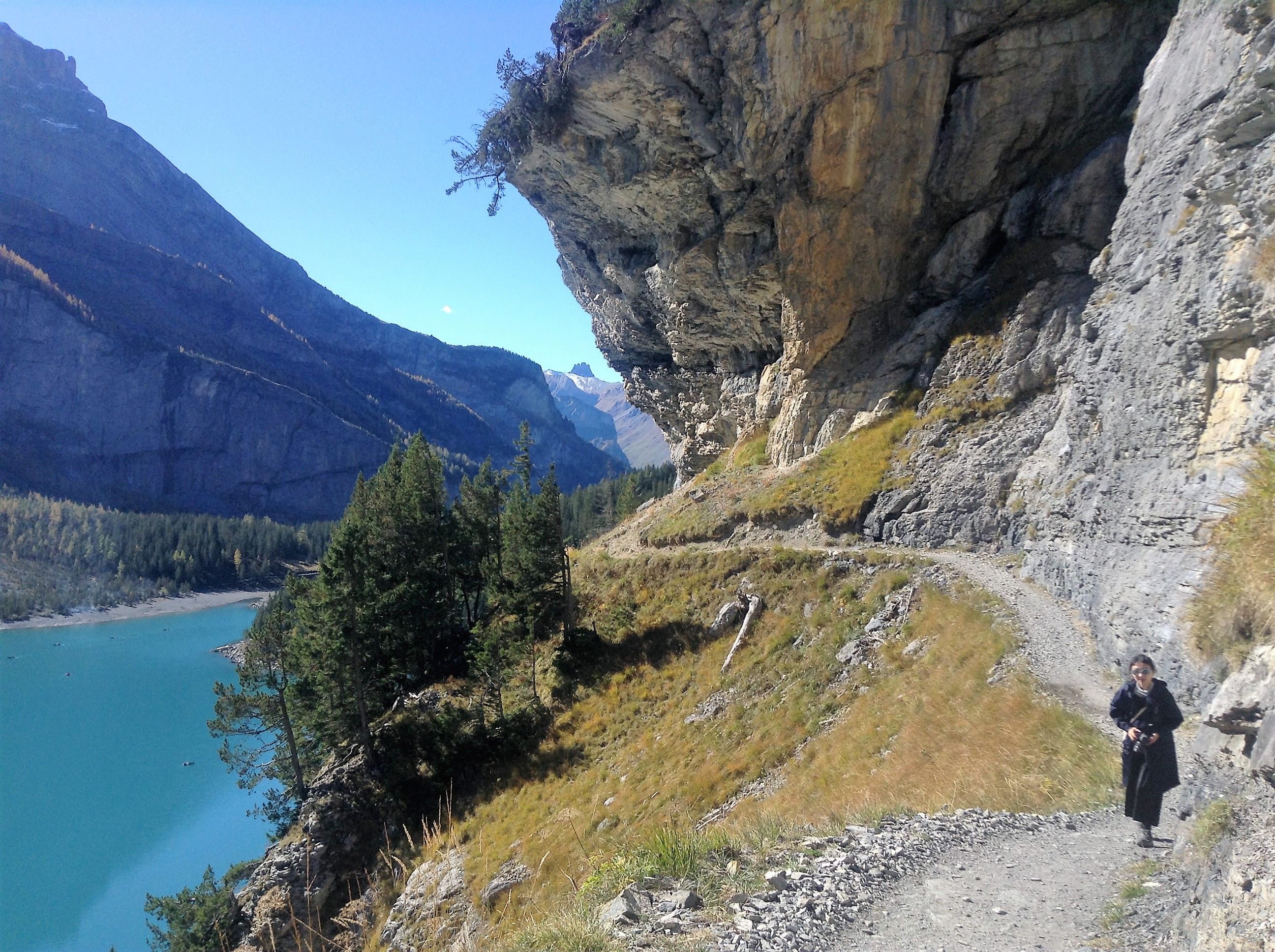 There were numerous breathtaking views along the way and some parts of the way look dangerous. We hiked around Oeschinensee. When trekking further, the nature became wilder and wilder. We enjoyed the panorama view of the lake, the mountain and the glaciers. Every random shot seems like a postcard, me and Li couldn't stop taking pictures everywhere. If you plan to stay overnight, I guess it would be a great idea to do the big circuit all the way to the mountain.
沿途有许多令人叹为观止的景色,有些路看起来很危险。似乎每一次随便一拍都像是明信片一样的景色,我和Li一路上都无法停止拍照。我想如果你打算来这里多待几天,可以徒步大环线,一定会是不错的经历。对瑞士旅行有兴趣的话欢迎咨询 @liflorence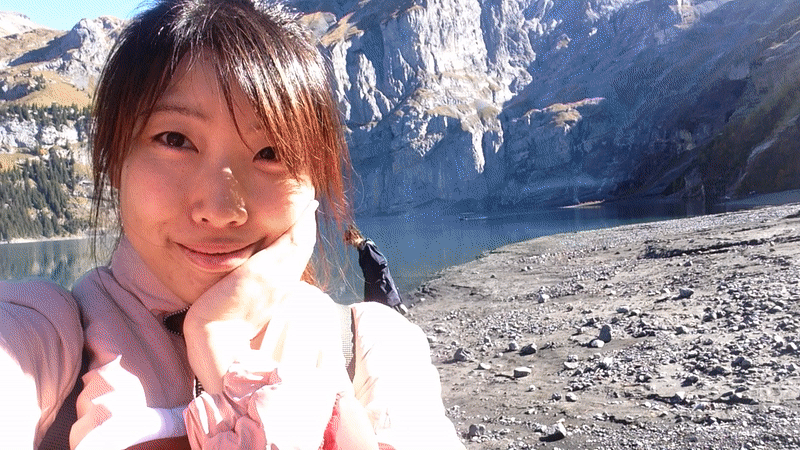 Last but not least, I took a video by the lake, thinking it was funny.
对了,我还在湖边自拍一段,亮点你们就自寻吧。