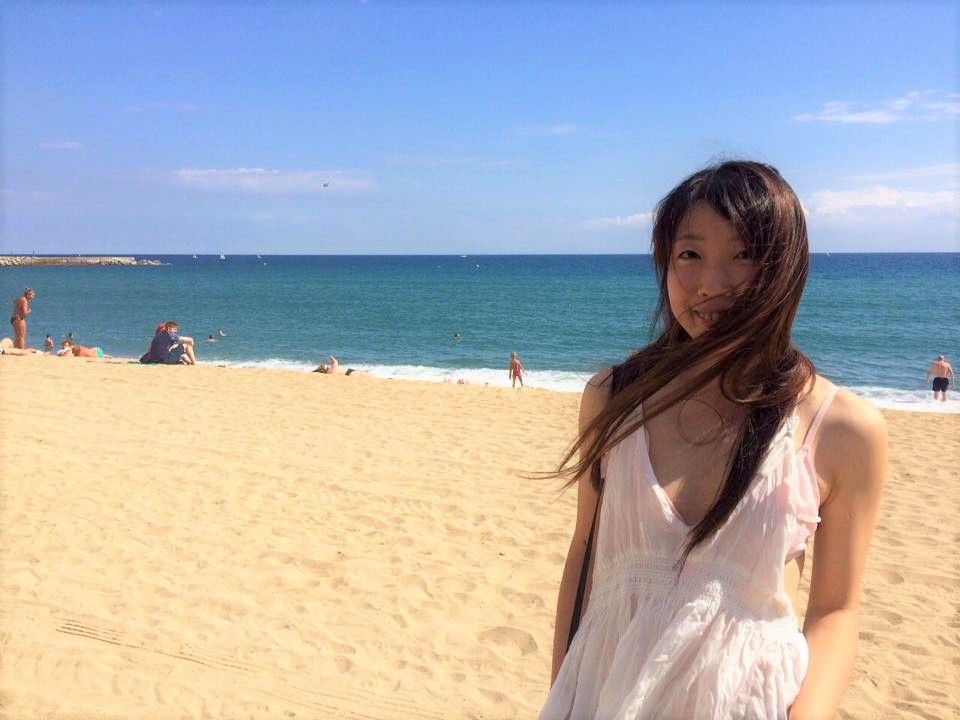 Have you ever heard a story of that this guy who commutes from Barcelona to London for work? Now I truly understand him. It's already quite cold now in Belgium, I feel like I just extended the summer in Barcelona.
Barcelona is a great city to spend your holiday. You can admire various examples of Gaudi's work, the most famous being the Sagrada Familia Basilica and Park Güell. Besides that, there are 4.2 km of sandy beaches only 10 minutes from Barcelona city center.
To get a view of Barcelona city, we went to Bunker del Carmel where you can get a fantastic 360 view of Barcelona city. Friend told me it was her and many local people's favorite view point in Barcelona.
你有没有听说过一个故事,曾经有个伦敦的BLOGGER算了一笔账,他比较了伦敦高昂的生活费,发现如果住在巴塞罗那,每天飞到伦敦上班到可以省一笔钱。后来他还真的去试验了。每天分享巴塞罗那的美好生活,让伦敦的同事实在嫉妒。现在我真的明白他了,9月一开始比利时就变很冷了,所以我特地去了巴塞罗那,为了延长了几天夏天。

巴塞罗那是个度假的好去处。在这里可以欣赏高迪的各种建筑,可以天天喝新鲜的Sangria酒和海鲜。除了这些,距离巴塞罗那市中心仅有10分钟的距离,就有4.2公里的沙滩。

去每个有高点的城市,我都喜欢去看整个城市的全貌,朋友带我去了Bunker del Carmel,看到巴塞罗那市的360度美景。朋友告诉我,这是她和许多当地人最喜欢的巴塞罗那观景点。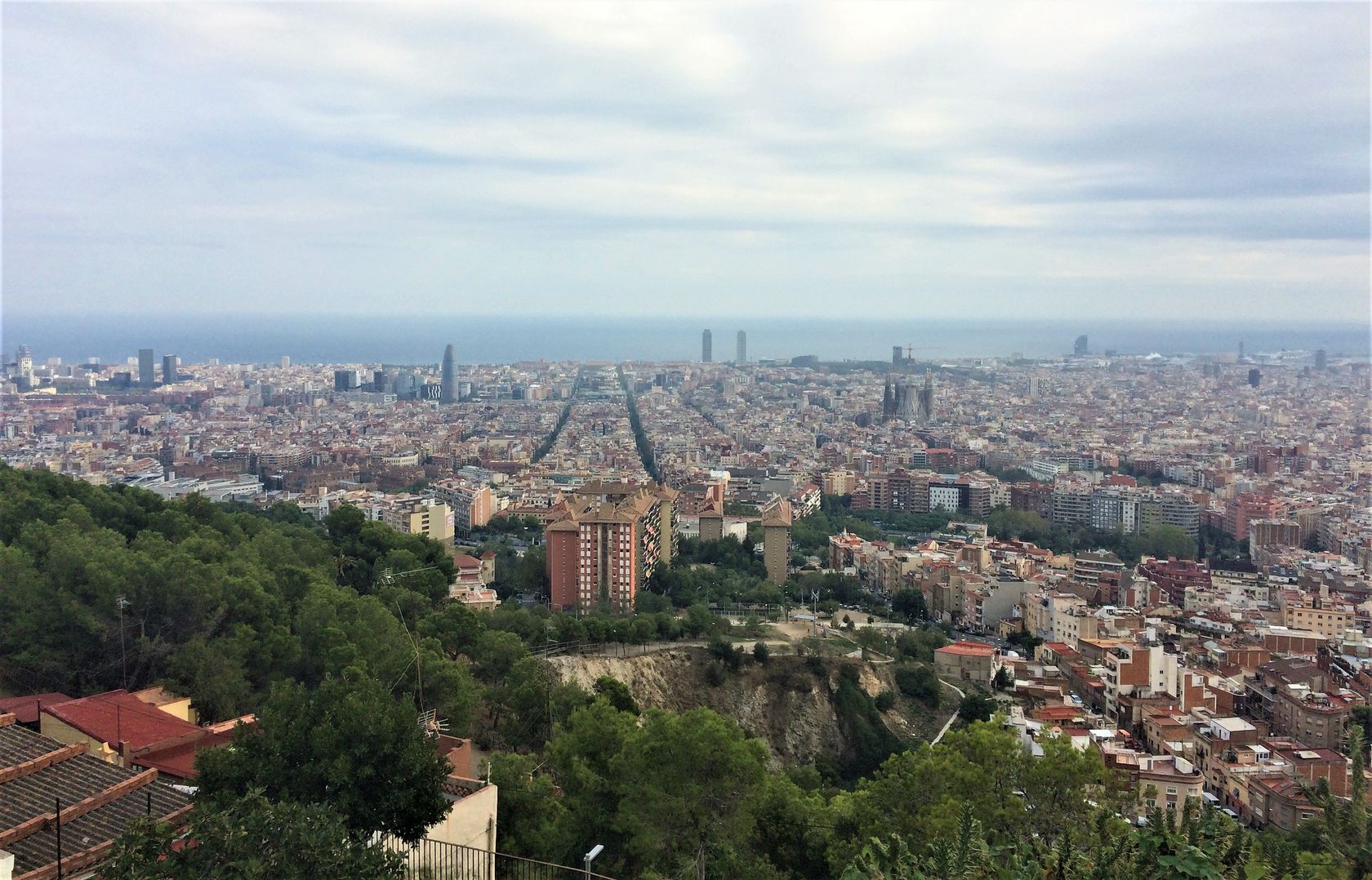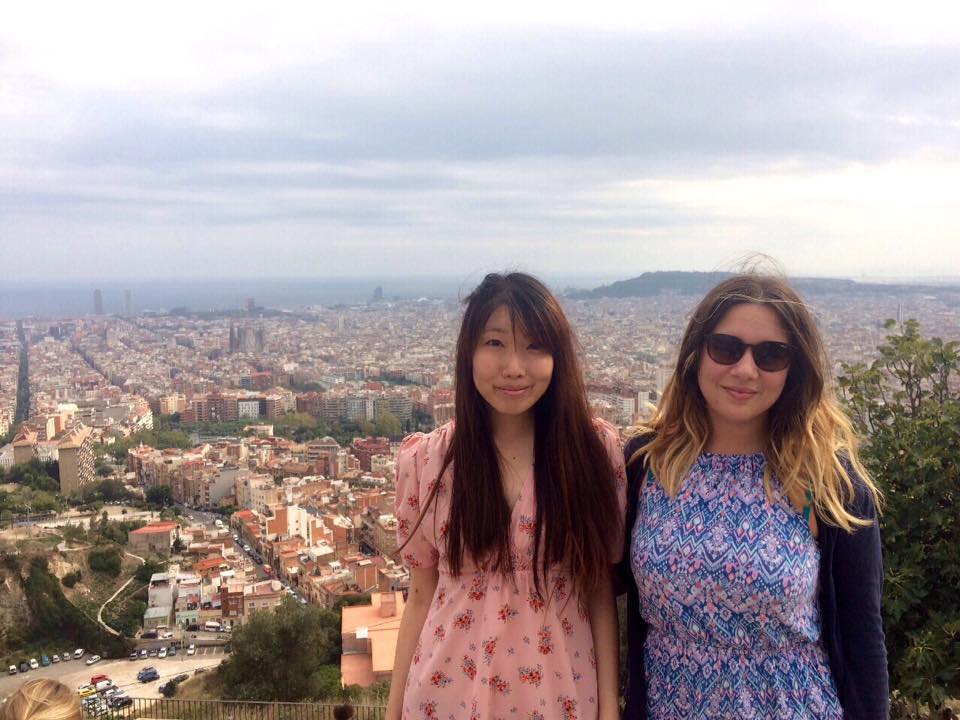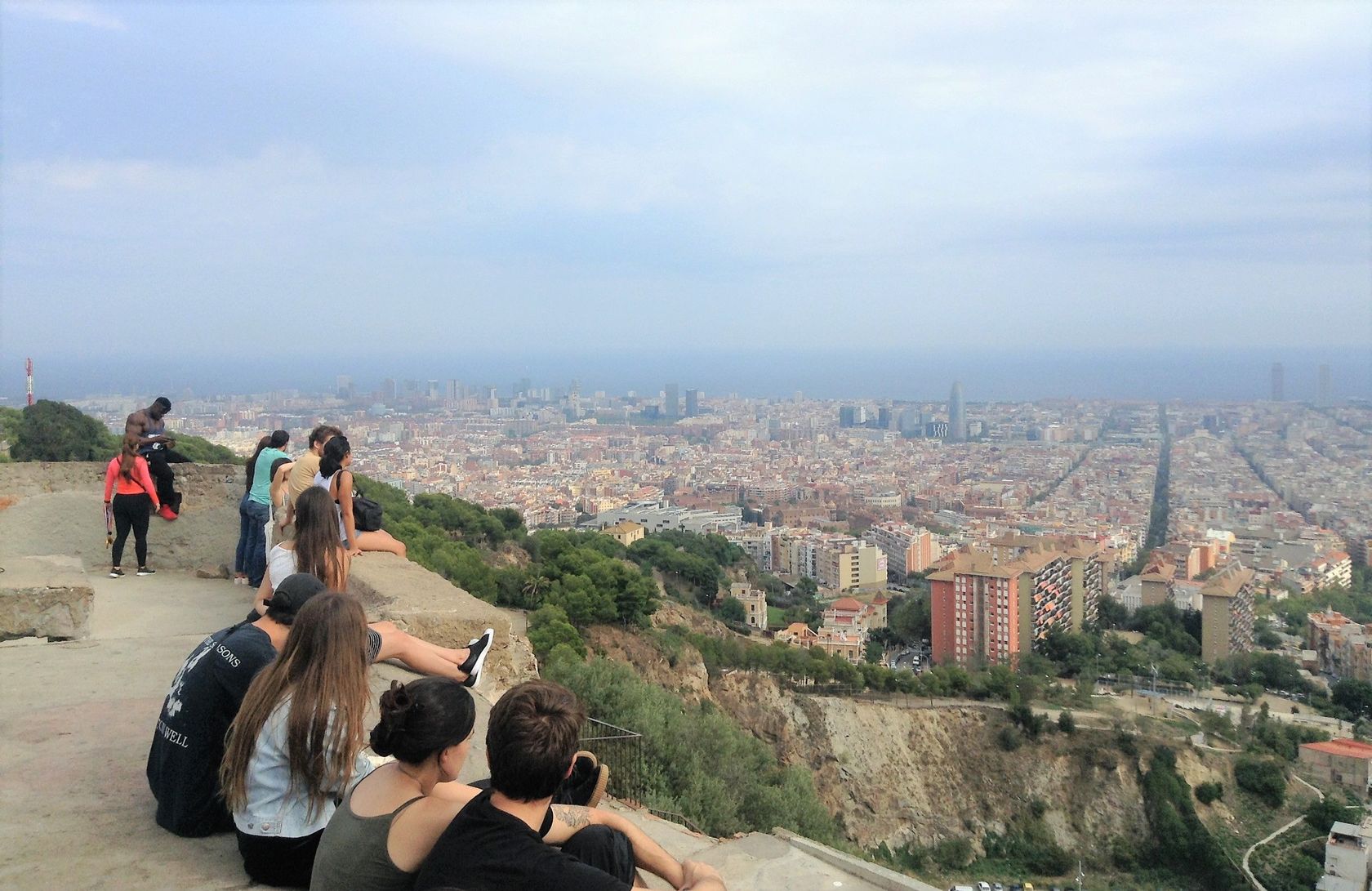 The bunkers are basically a pre-Spanish Civil War anti-aircraft battery site. It was used as an anti aircraft bunkers in the 1930s and later as a shanty town until the 1990s. Nowadays the spot is extremely popular among local youngsters. When we went there, there were many local young kids sitting in group, probably smoking weeds (which has been decriminalized now in Spain).
The view was stunning, many famous sites and beaches in the city can be easily spotted. The day we went wasn't the best day but still the view wasn't bad. If you ever come to Barcelona, don't miss this wonderful vantage point. You can hike here or take a taxi or bus. Remember to bring some drinks and snacks. The best time to come is during the sunset.
Bunkers是西班牙之前的内战用的防空电池站。 二十世纪三十年代被用作反飞机掩体,后来被遗弃成为棚户区,直到上世纪90年代。 现在这里成了当地的青少年喜欢来玩的地方。 当我们去那里时,有很多当地的青少年在这里集聚,约会或者聚会。

我们去的那一天,天气并不是最晴朗,不然可以更清晰的看到圣家堂和远处的海滩。 如果你来巴塞罗那,不要错过这个观景点。 可以徒步来这里或坐出租车或公车。 记得带点饮料和小吃。 如果天气好,来这里看日落很不错。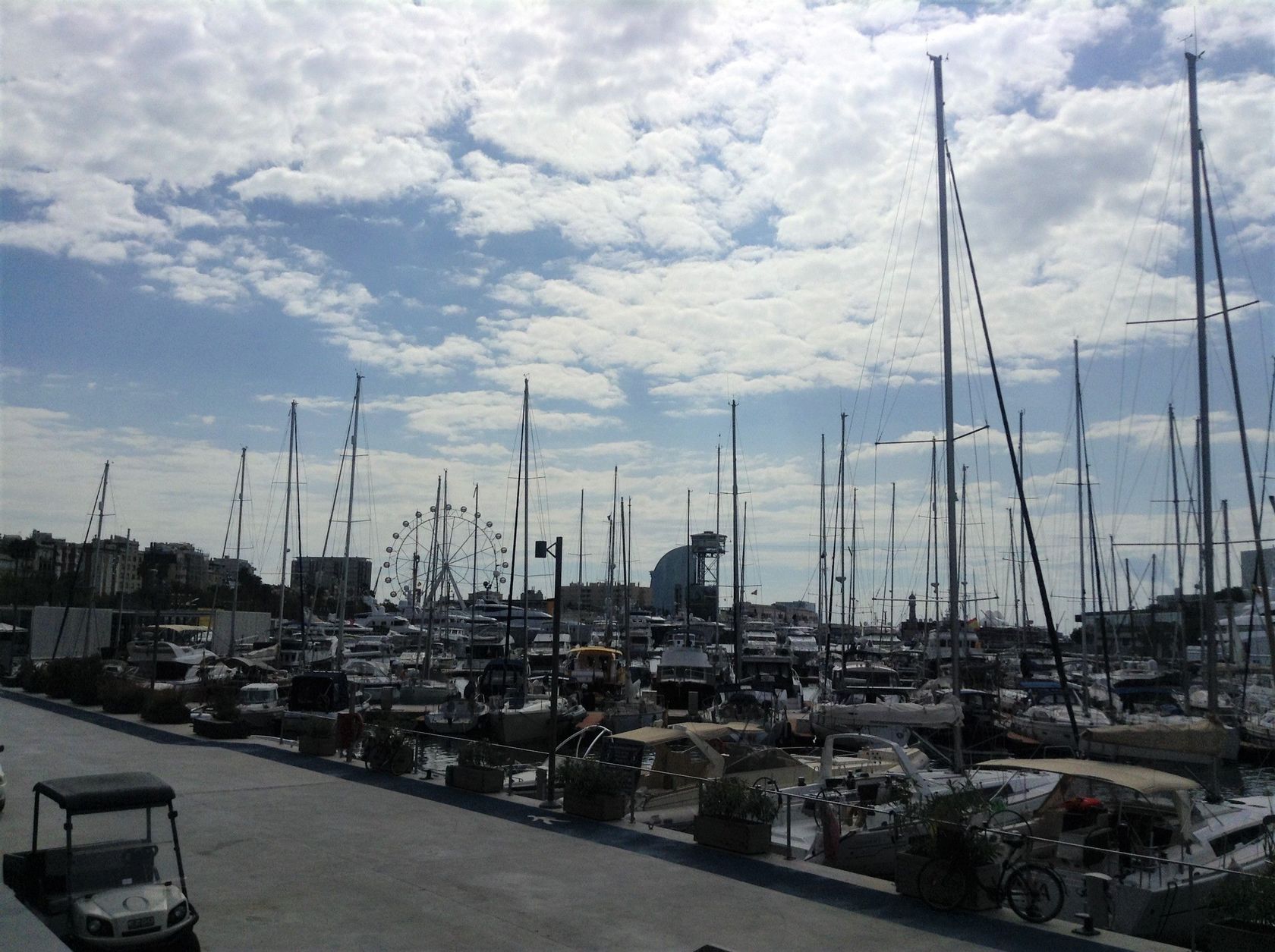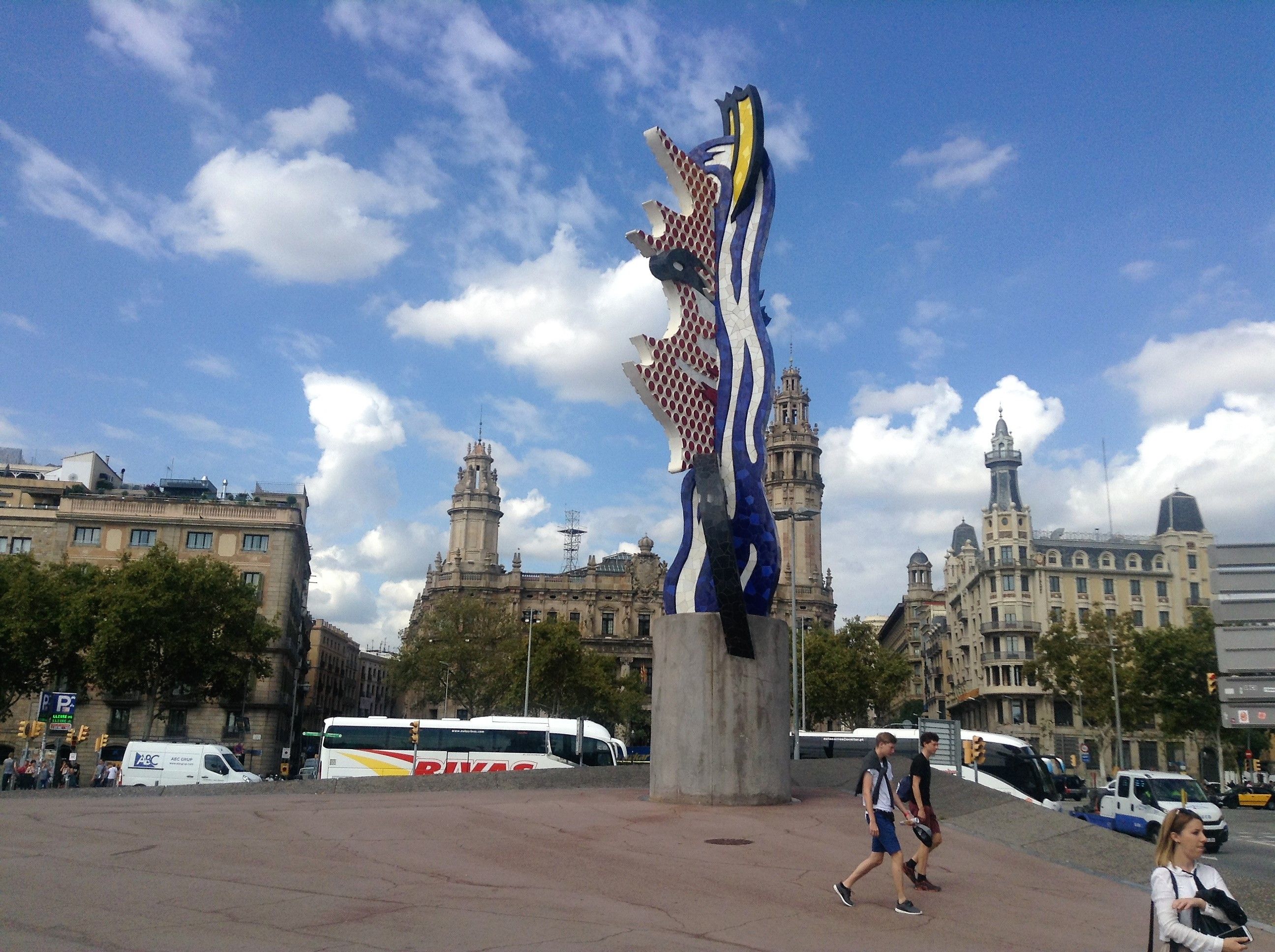 On the way to the beaches, we passed by the Port Vell, the main harbor in Barcelona.
去海滩,路过巴塞罗那的主要港口。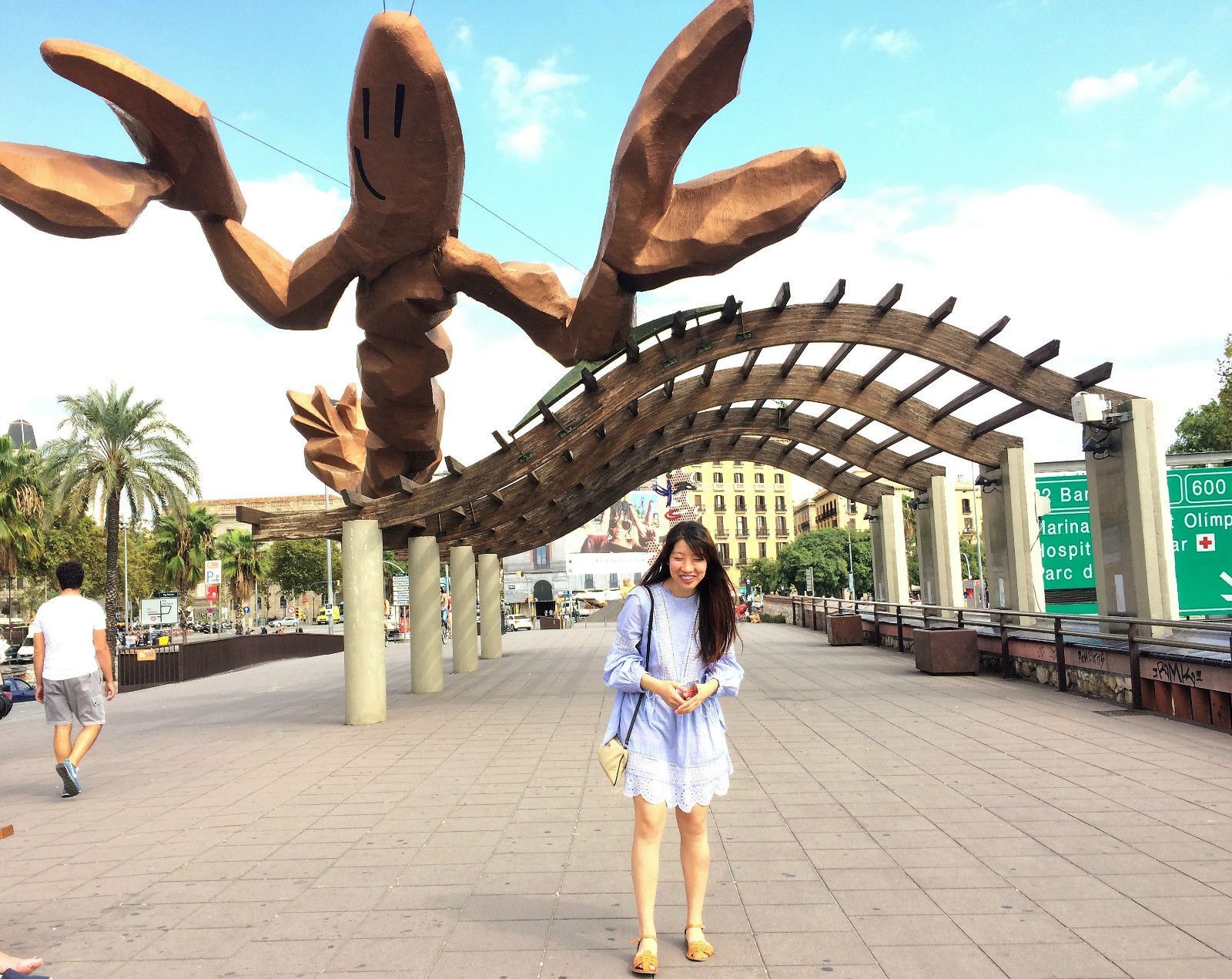 I've found some interesting sculptures, especially this smiling shrimp one. A big strange lobster or shrimp with a smiling face.
上回来就注意到了这个微笑虾的奇异雕像。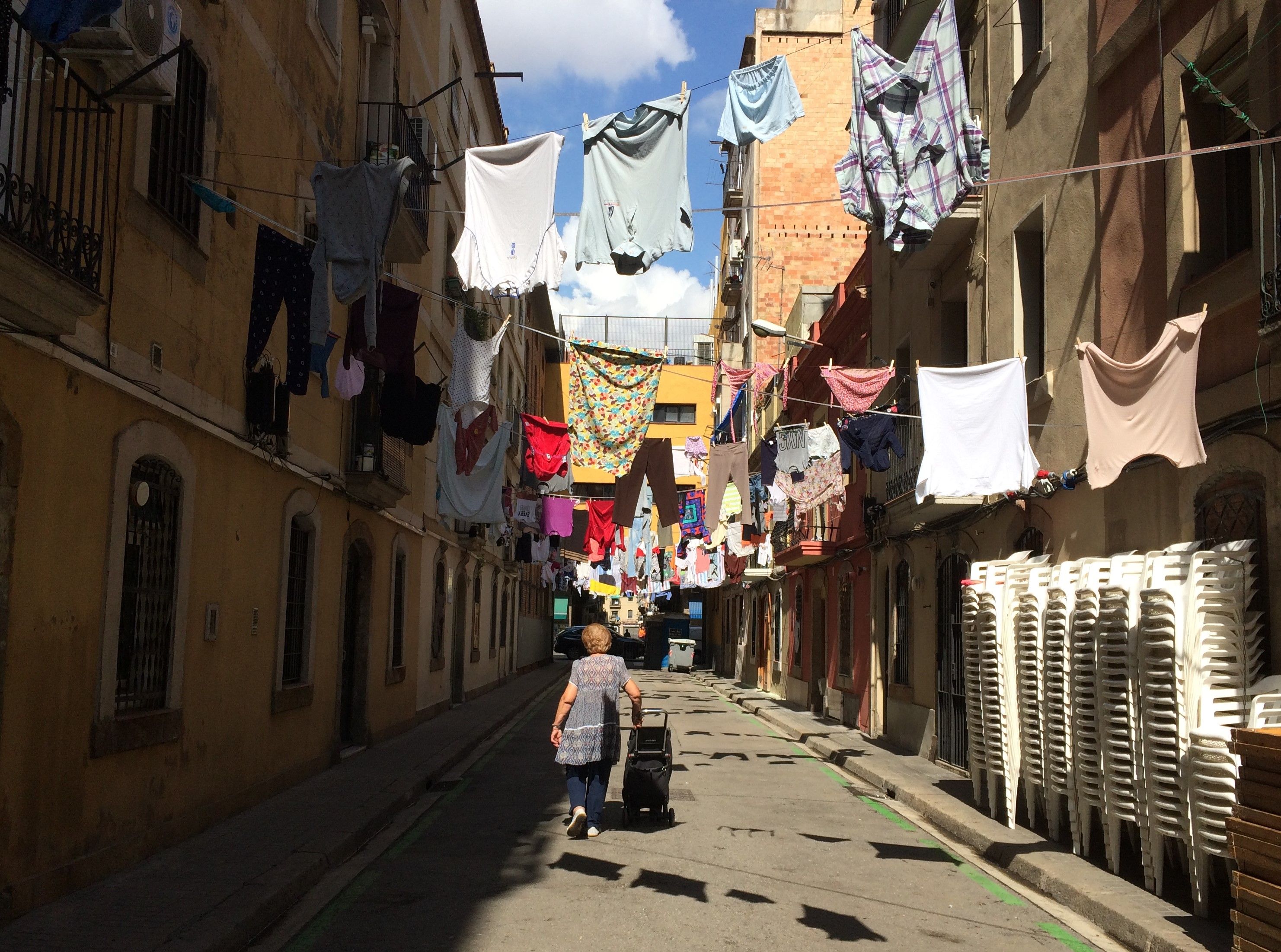 It's not uncommon to see clothes hanging out to dry in the narrow balconies in South European countries. On the way to Barceloneta beach, I passed a street full of washing lines.
在南欧随处可以看到阳台外的晒衣绳,而在比利时或者欧洲北部大家都用烘干机了,真是羡慕南欧的阳光。我特别喜欢这个挂满晒衣绳的街。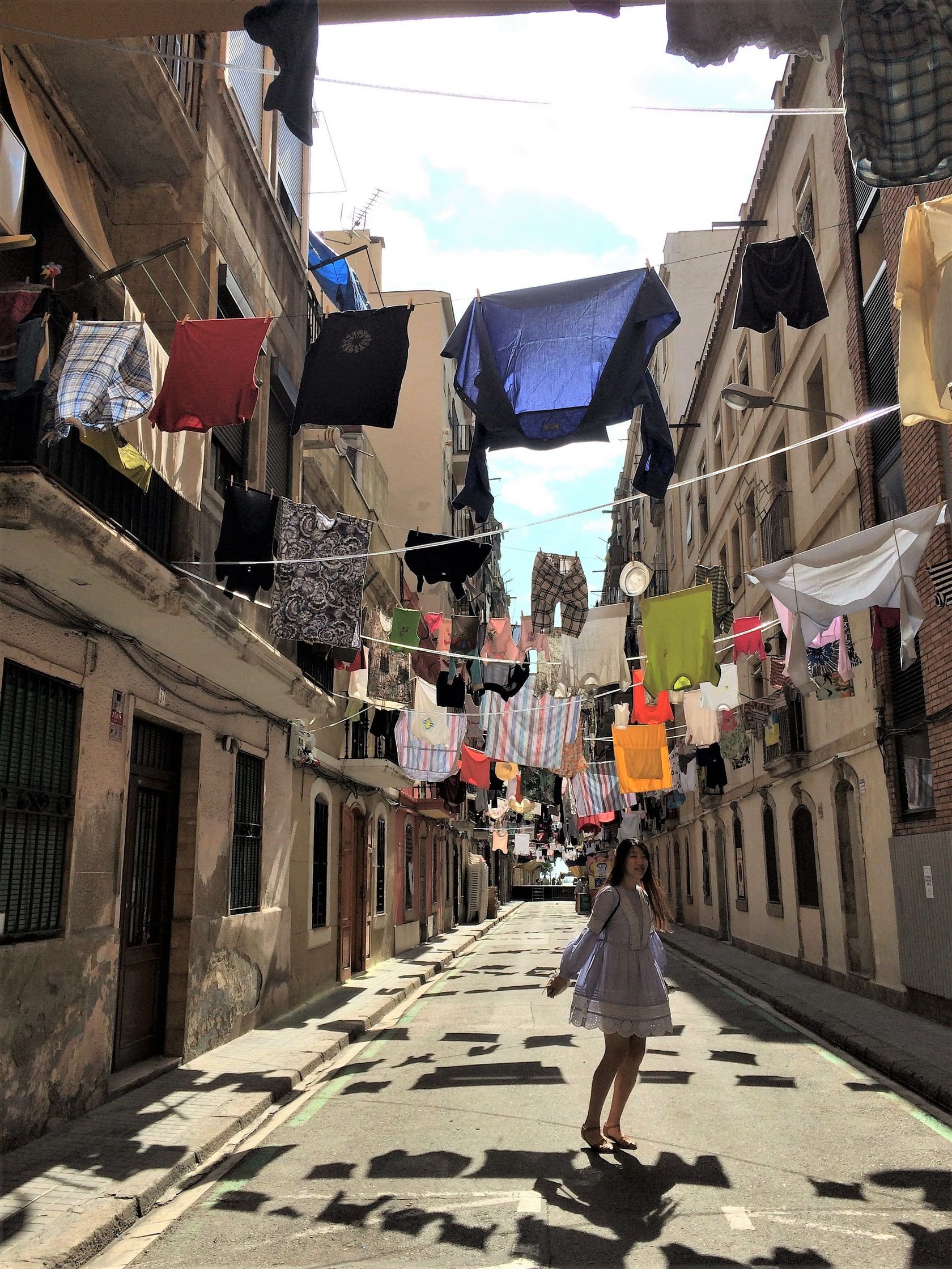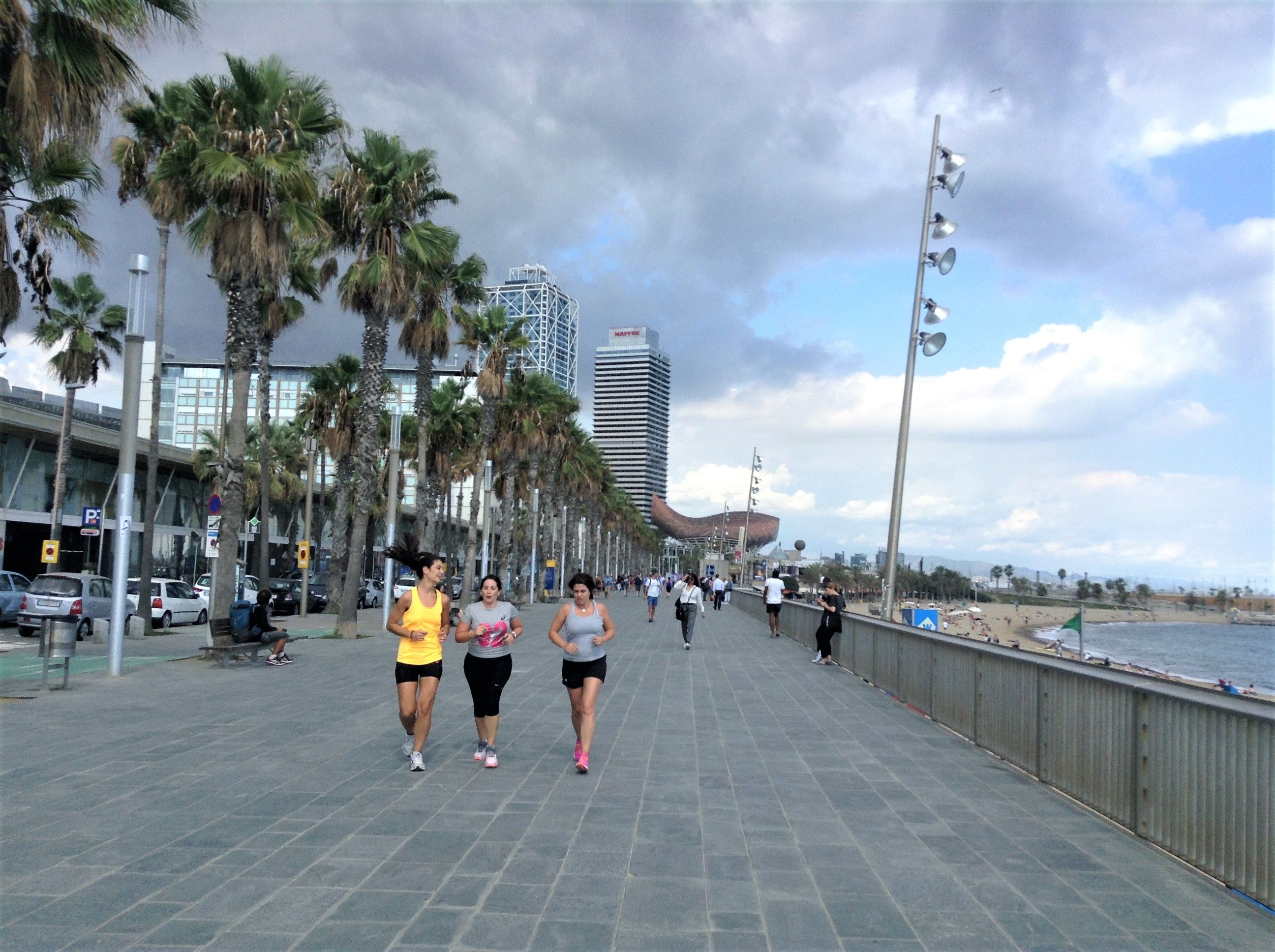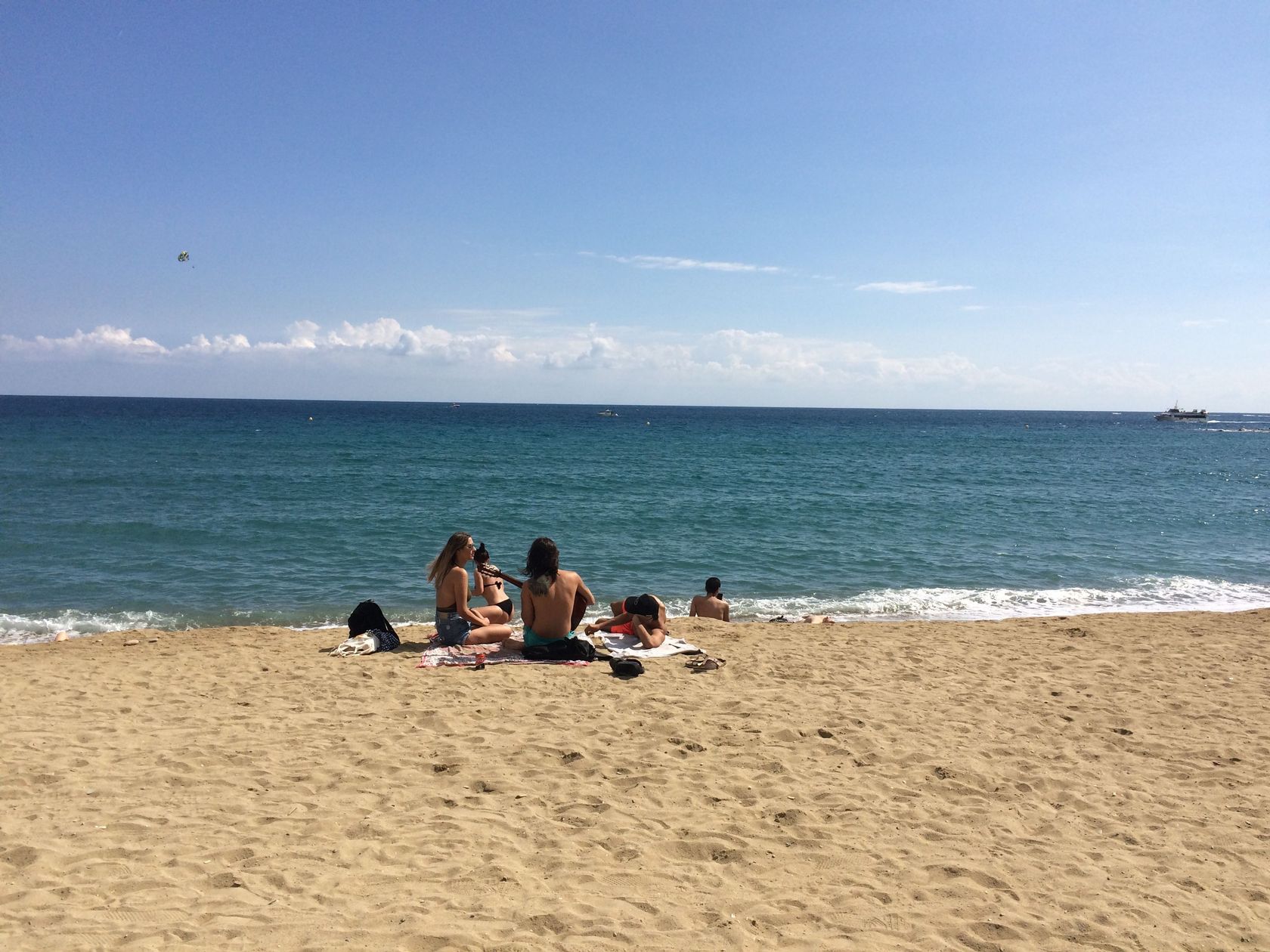 Barceloneta beach seemed clean and comfy, with toilets and showers. Although it's still summer here, it was not that crowded as in July or August. The minus point might be the market is too far, you can't get a cold cola except those from the vendors, which according to the locals you should avoid, as they are kept in the sewer during night time.
I still liked it since it's literally located in the city center. It was great to spend a couple of hours there.
巴塞罗那海滩干净而舒适,有厕所和淋浴。 虽然这里仍然是夏天,但不像七月或八月那样,挤满游客。 唯一的缺点可能是便利店很少,市场又太远,忘了多买几瓶冰可乐。我还是喜欢这里的,因为离市中心真近。