Osh was once a major market along the Silk Road. Now it is the most important city in the south of the country. I'm so excited to arrive in Osh after a long marshrutka ride. The airbnb is located just off the main street, but the taxi driver didn't seem to know the street. Later it proves most drivers aren't so familliar with the street, so I started to take the marshrutka in the city instead. In Kyrgyz bigger cities (I mean Bishkek and Osh), an app called 2GIS can be quite useful, it shows which marshrutka you need to take and includes more restaurants on it, google maps doesn't work so well here.
As in its history, Osh nowadays still serves as an important market city, with the largest and crowded outdoor market in Central Asia. Osh is very close to Uzbekstan and not far from Tajikstan. The city being a crosspoint of all the neighbouring countries, you'll find traders from especially Uzbekstan, and travellers who are doing a Silk Road journey.

breakfast at airbnb

found some tasty dried fruits in the market.

My favorite one is dried tomato, because it is not too sweet

Kbac is so far my favorite drink in Kyrgyzstan. It is a Russian malt bread soda. It's sweet and tastes like beer to me. Perfect for the summer. You find these barrels everywhere in Osh streets.

Osh city park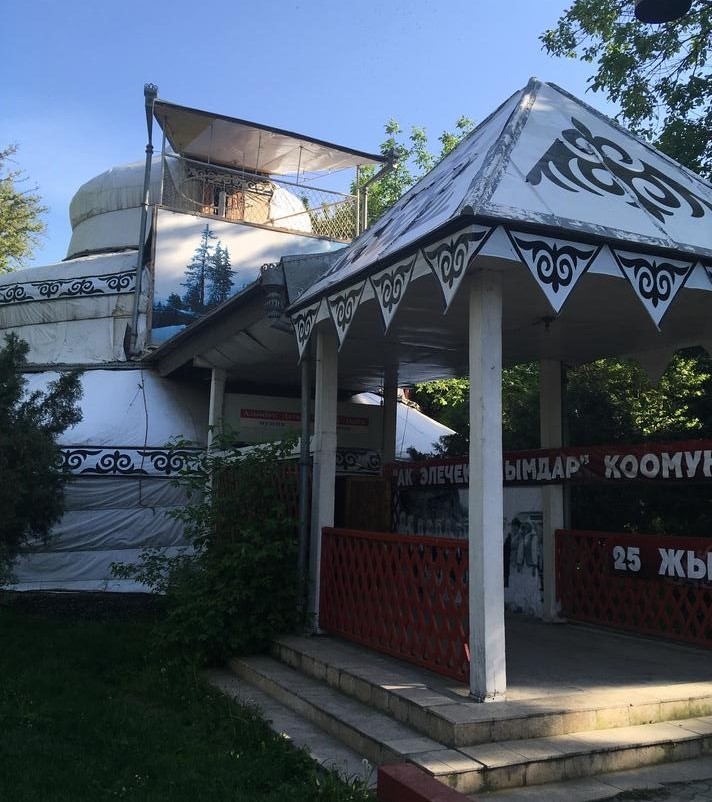 There is a cool 3-storey yurt museum inside the park.

The museum itself isn't that interesting, but the architecture is cool. Considering it only costs less than €1, still worth taking a look at.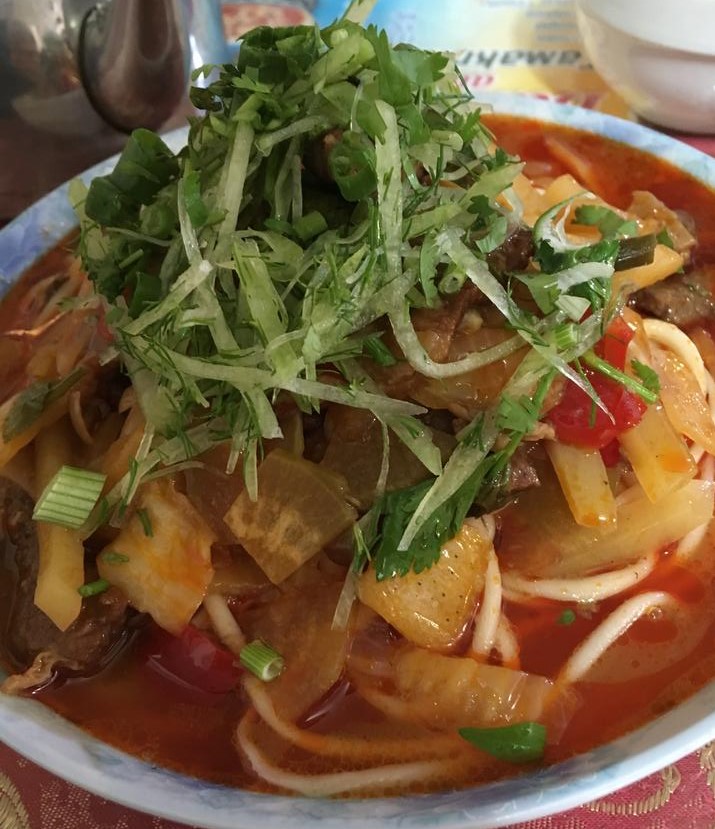 Had some proper meals here. Lagman (above) is a traditional noodle. Kebab and BBQ is popular too. Kyrgyzstan isn't that vegetarian friendly, the food is great and cheap. These dishes cost €1.5 each.
To be honest, I loved the landscape of Kyrgyzstan much more than its cities. Even though I was told that Osh is a historical and one of the most important cities along the ancient Silk Road, I didn't think it's that special. For sure it sounds amazing, with the largest bazaar in the whole Central Asia and Mountain Sulaiman-Too, which is called holy mountain by locals. I guess it is amazing because of its religious meaning, rather than the landscape, as I saw a lot of local tourists taking a walk to the hill and pray in the little caves.
Mountain Sulaiman-Too is located right in the center of Osh, next to the central park, so still great for a walk and get a view of the city anyway.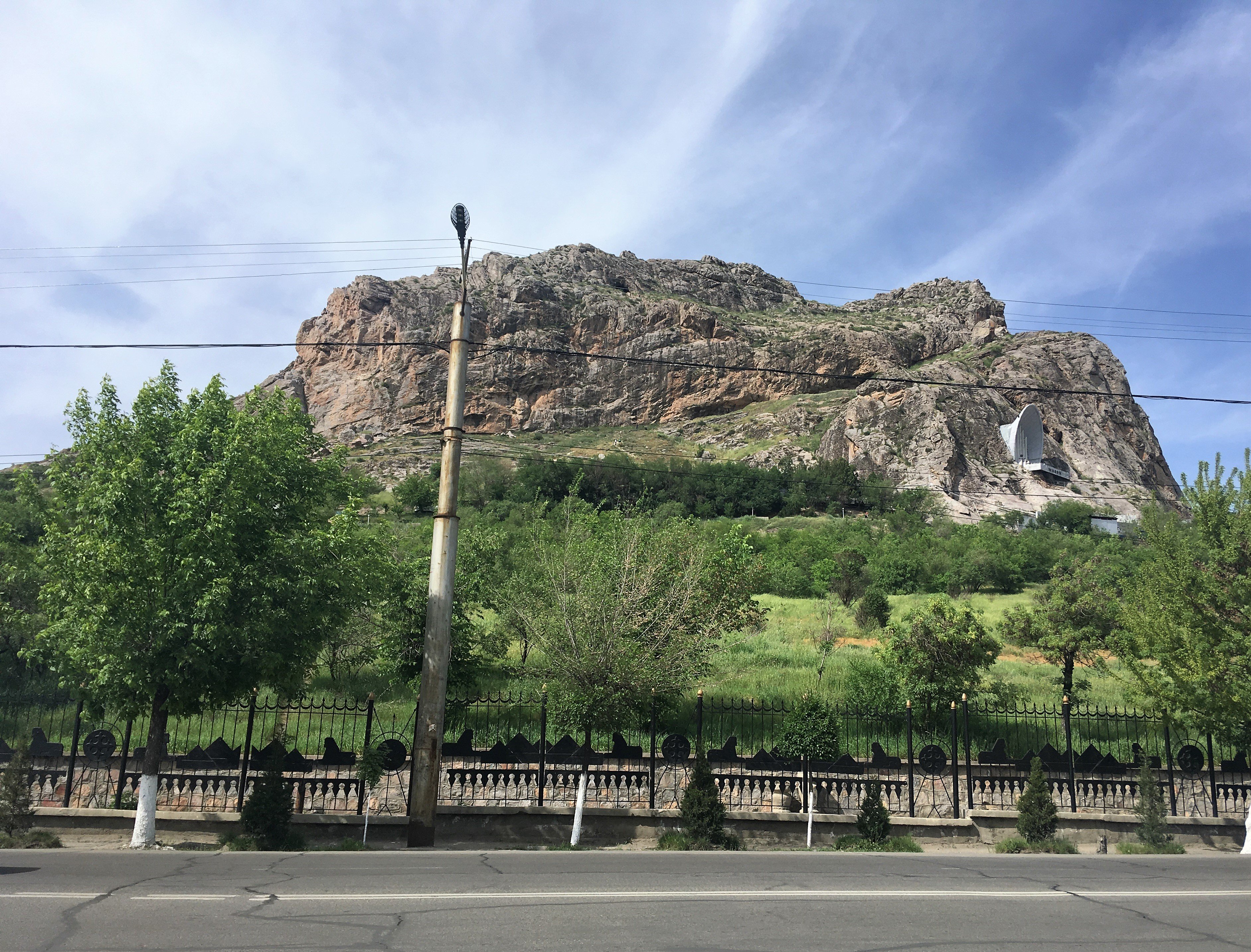 Mountain Sulaiman-Too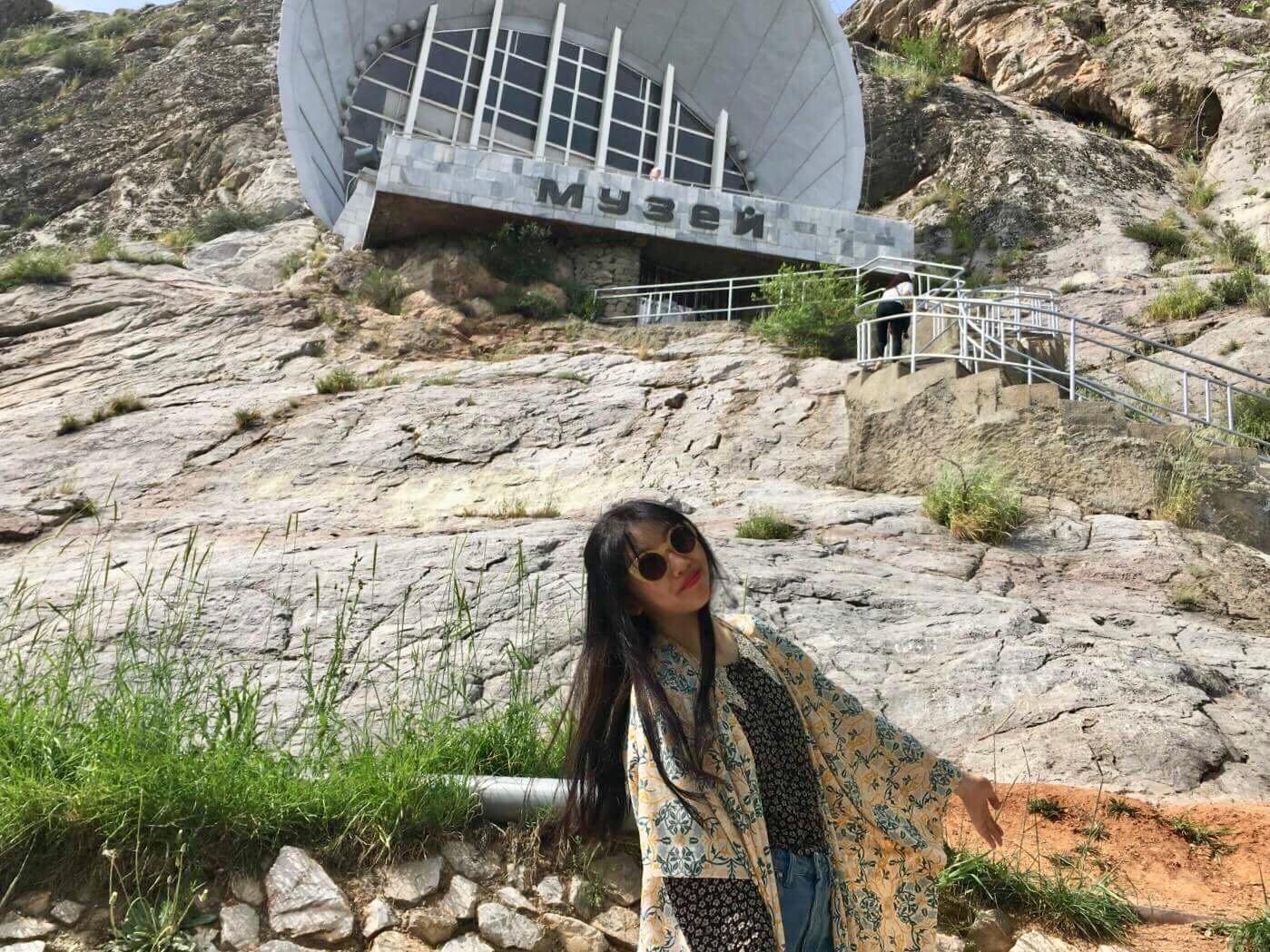 Behind me is the Museum Sulaiman Too, a museum of Kyrgyz history and culture. The two architecture is built in a big cave, the architecture itself looks wonderful! But not a museum person, especially for countries like Kyrgyzstan where its traditional culture is well kept and can still be seen in real life. not for this kind of museums anyway, so I didn't go inside, admiring its architectural beauty from outside is pretty enough for me already.
On my way to the museum, there a place where people say you have to slide 3 times on a holy rock. I did that, was fun and I even made some videos of me doing that, but somehow I can't find them, probably deleted when my phone got too full. Taking too much photo problems...

View of Osh, not the best but for sure not bad either, a super green city.