On a free museum day in Paris, I visited Centre Pompidou, with the biggest collection of modern and contemporary art in Europe, an absolute paradise for modern art lovers like me.
The fifth floor houses the National Museum of Modern Art. The permanent collection is sorted chronologically from from the beginning of the last century until today, so you can feel how modern art has been evolving till today. The fourth floor adds more post war Soviet art. The third floor is contemporary art and in my opinion the most interesting and challenging, with a lot of cool paintings, designs, sculptures, architecture, photography, installations and more.
---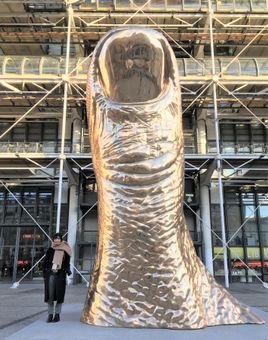 The inside-out architecture of Centre Pompidou is quite eye-catching, it is a very contemporary building with the tube-shaped escalators on the outside.
Lately there is an exhibition of a famous French sculptor, César Baldaccini. Outside the building, a huge golden thumb-shaped sculpture has been installed. It got the same height as 4 floors! I am not that familiar with César's works but it looks fun, unfortunately I didn't have enough time to check it out.
---
I've picked some of my favourite works to share with you. On y va!
---
The first part: Paintings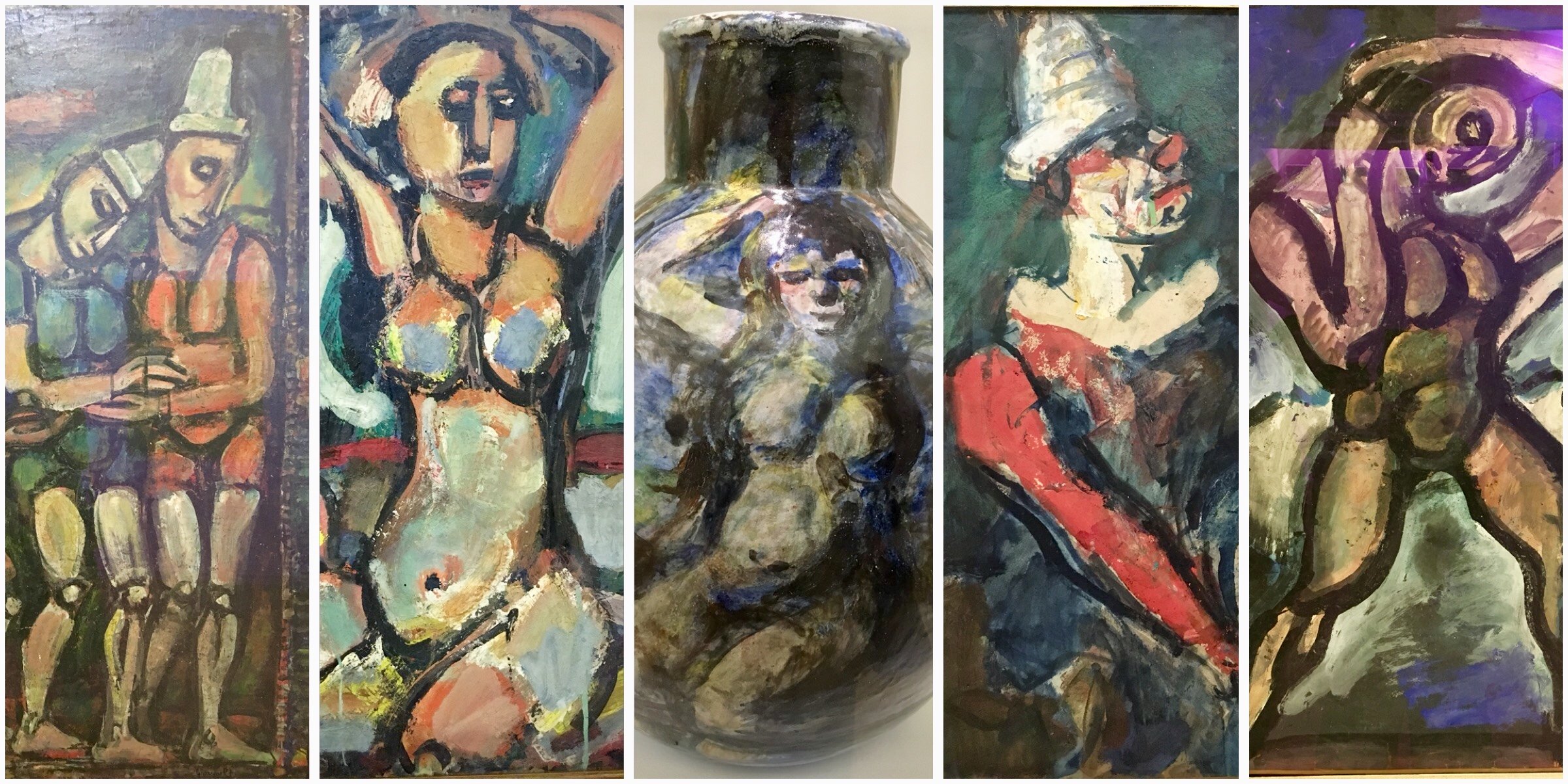 Paintings and vase works by Georges Rouault.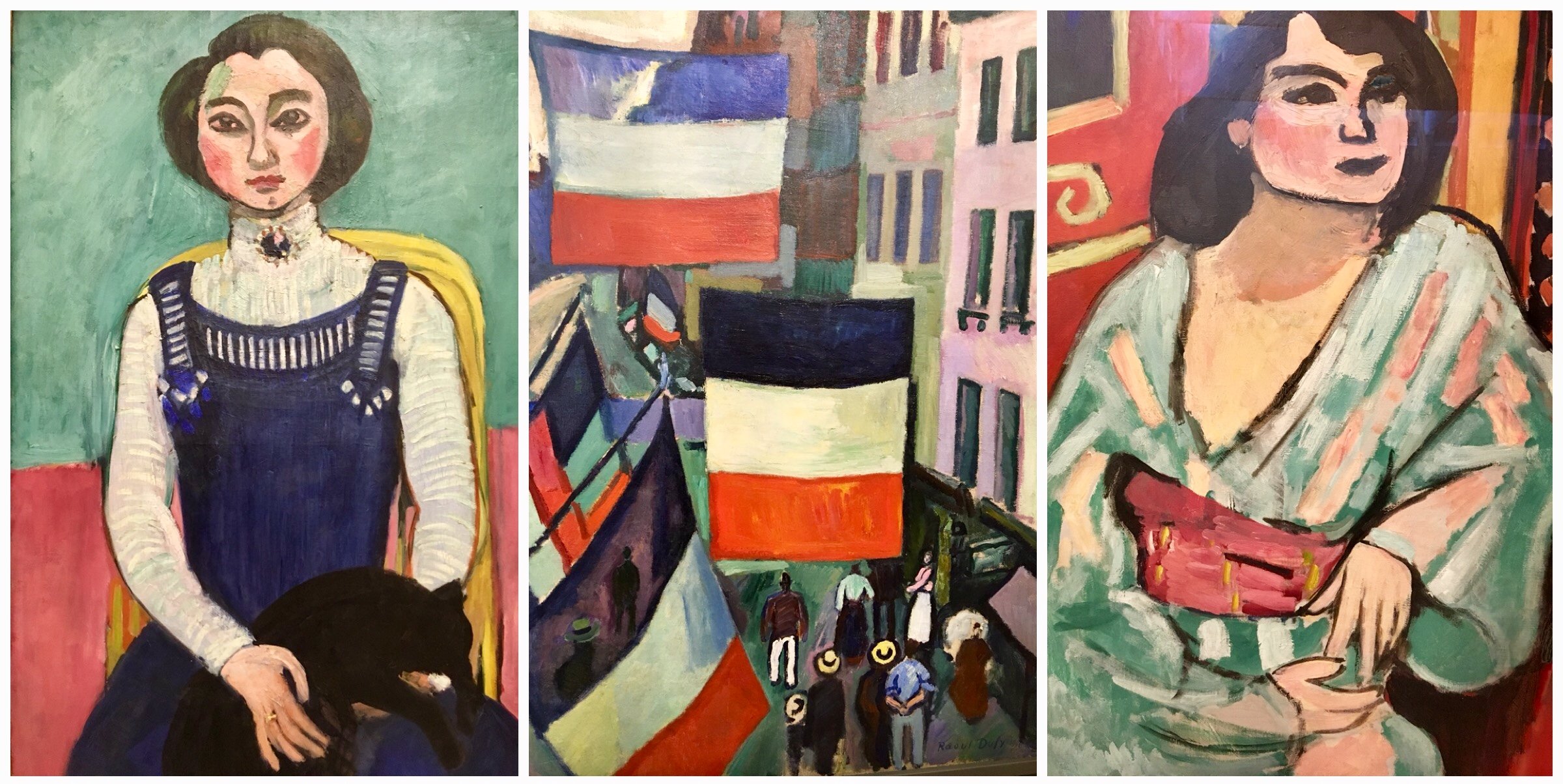 This time in Paris, I've learnt a lot about post-impressionist painter Henri Rousseau's works, both in Pompidou and in Musee de l'Orangerie. I start to love the way he uses coulors in his works.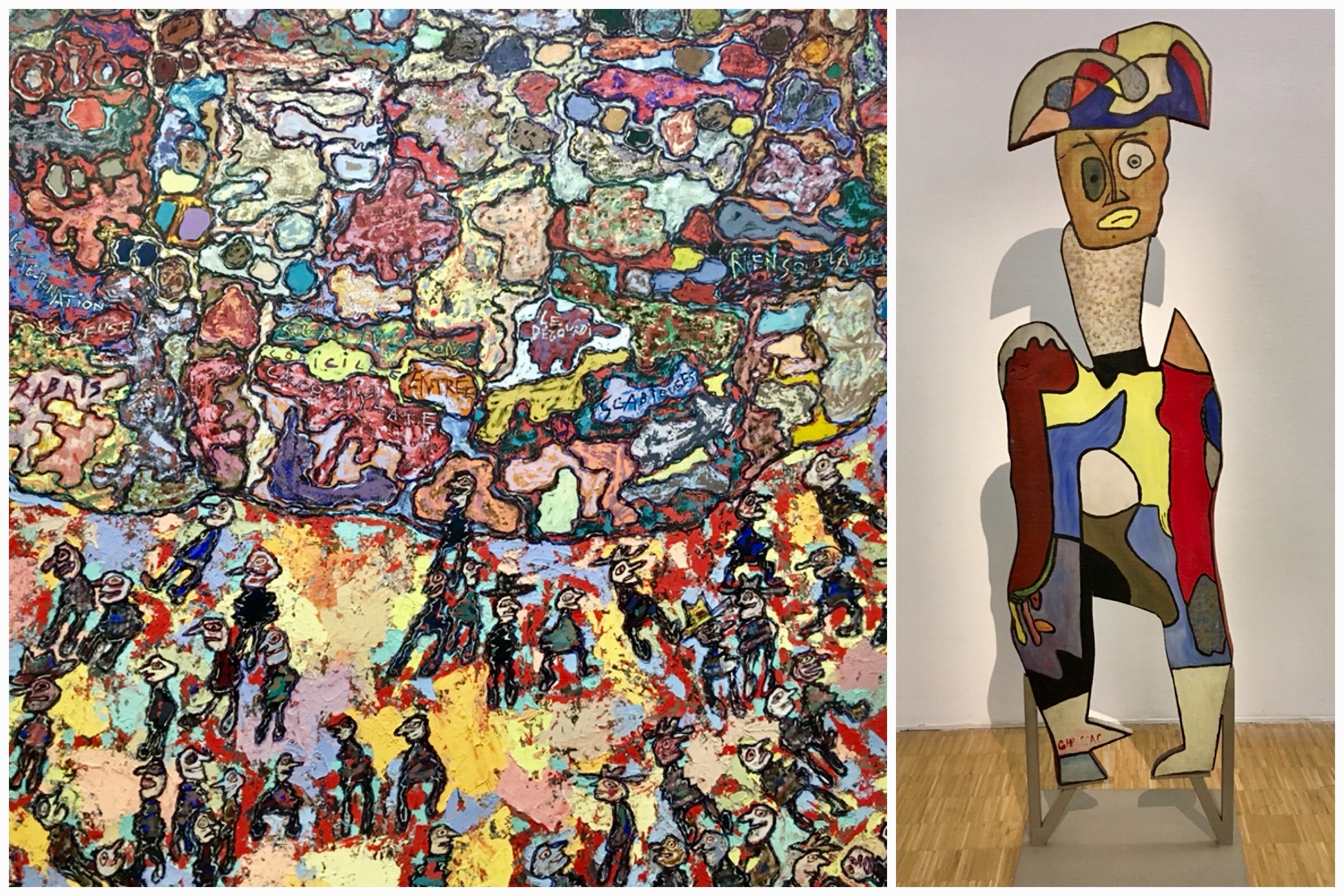 French painter Jean Dubuffet's works are marked as a rebellious attitude toward prevailing notions of high culture. He has developed a new graphic style called "Hourloupe". I absolutely love this "rue passagère" painting and this clown sculpture he made.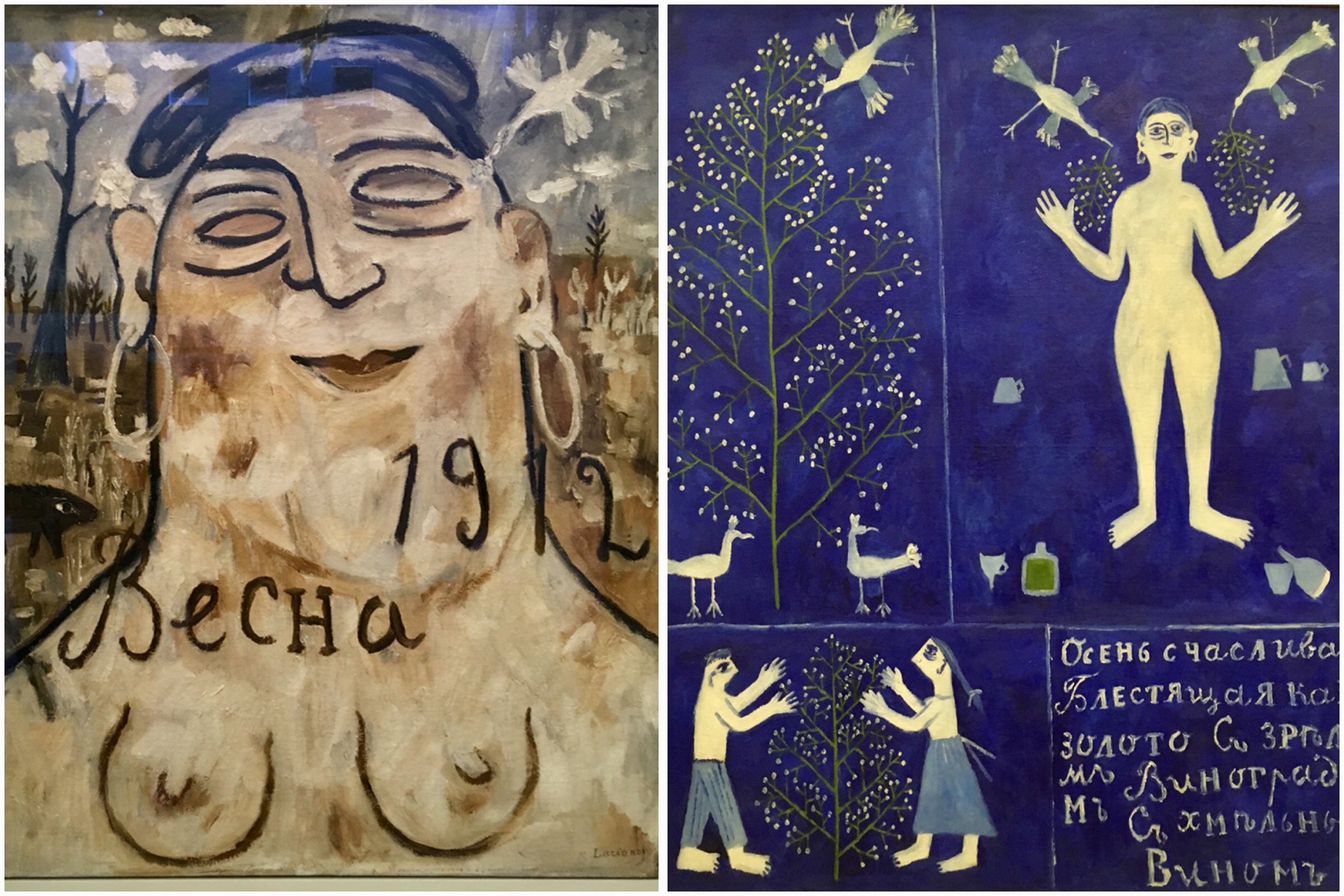 "Le printemps" and "L'automne" by Russian artist Mikhail F. Larionov.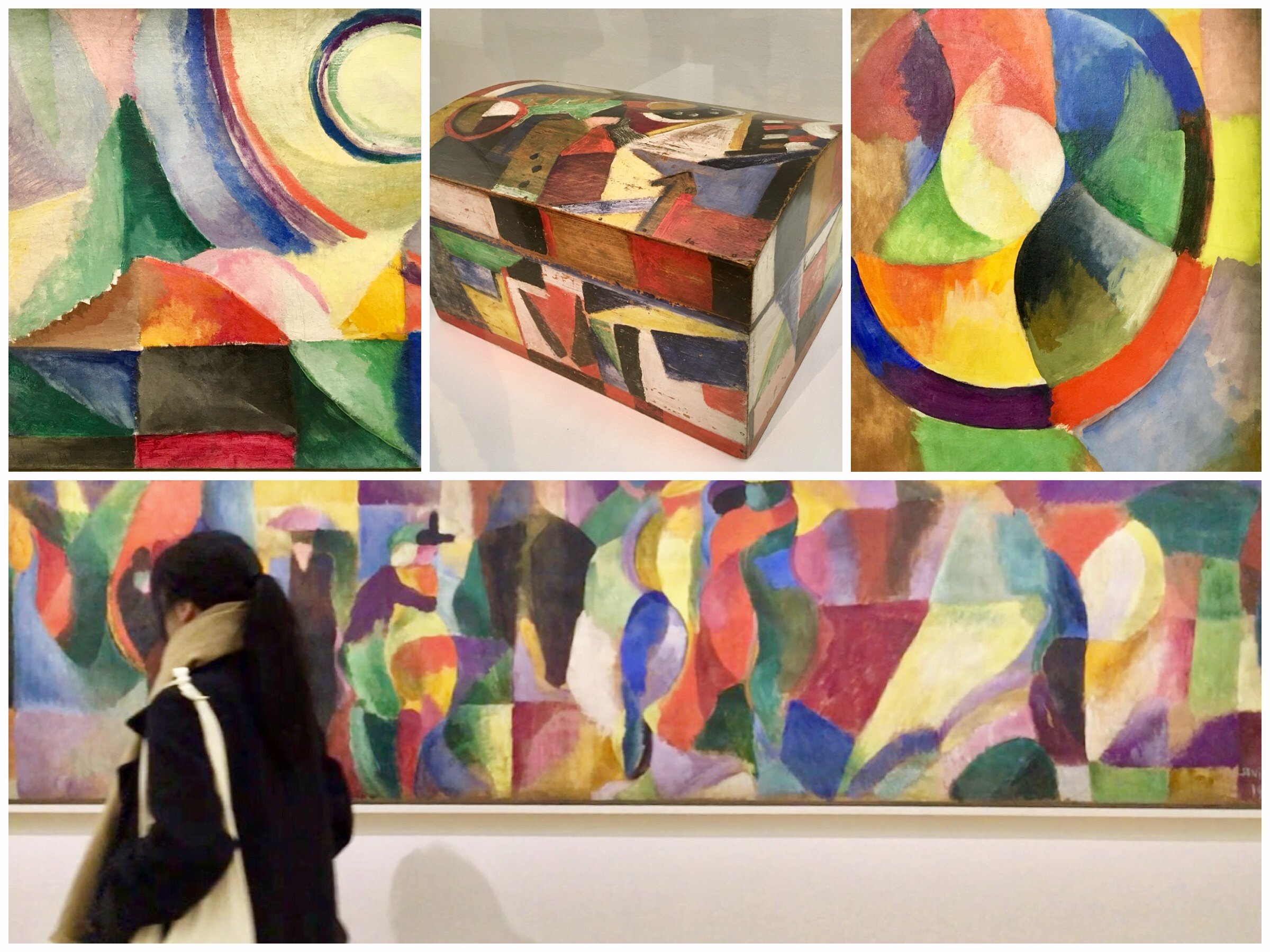 Robert Delauney and his wife Sonia have similar style, using strong colours and geometric shapes.
---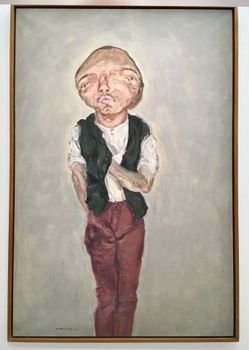 Marwan Kassab-Bachi (known as Marwan) was a Syrian artist based in Berlin. He worked on a post-Surrealist style with portraits of friends, poets, politicians, and himself. Marwan has a great influence on many young artists.
Among all his exhibition in Pompidou, I picked my favourite one.
"figuration"by Marwan .
---
The second part: Sculpture and Shapes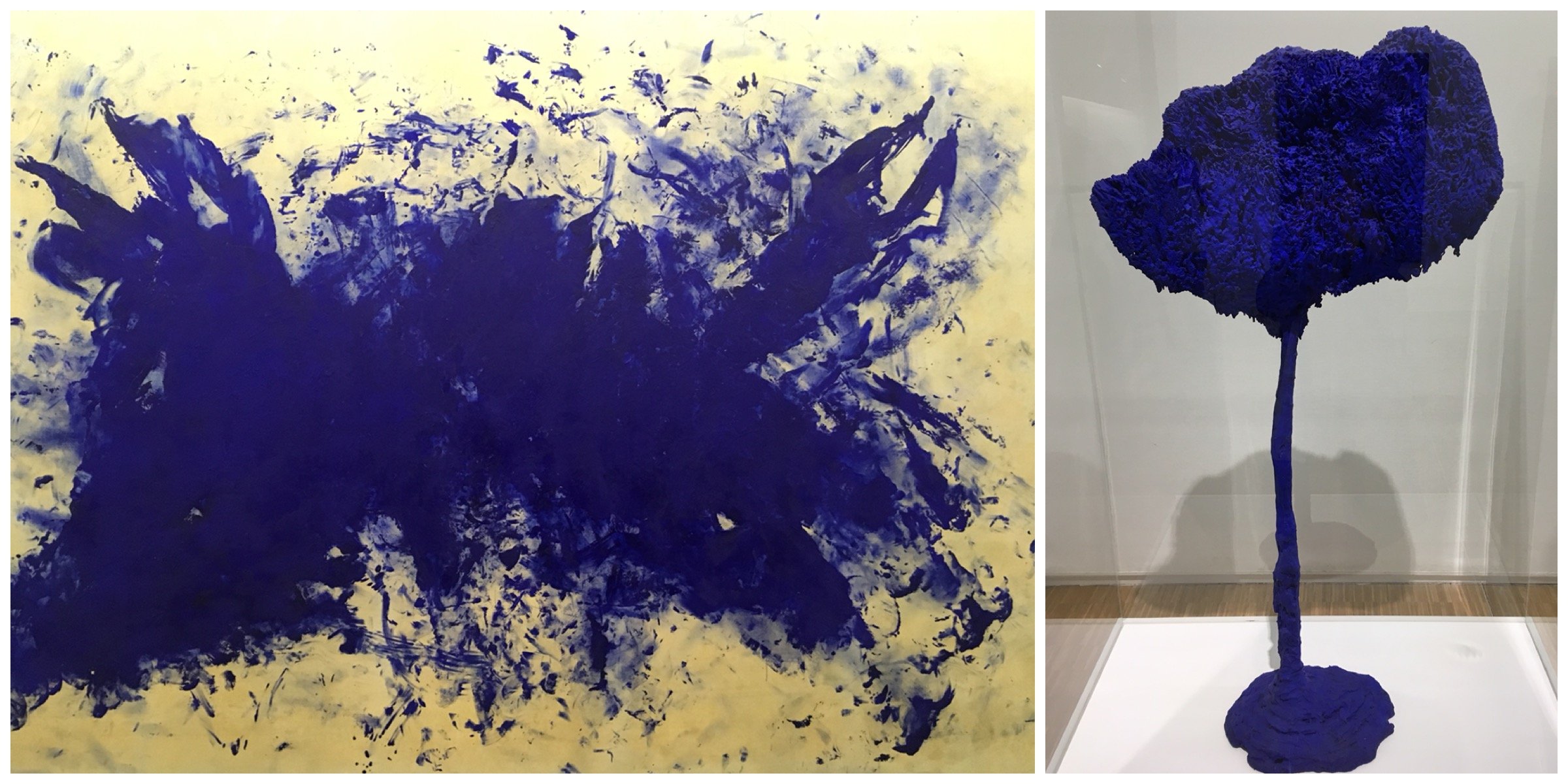 "Grande anthropophagie bleue" by Yves Klein. Love this shade of blue here.
---
| Trame altérée/Altered Frame by Julio le Parc | an example of Kinetic Art |
| --- | --- |
---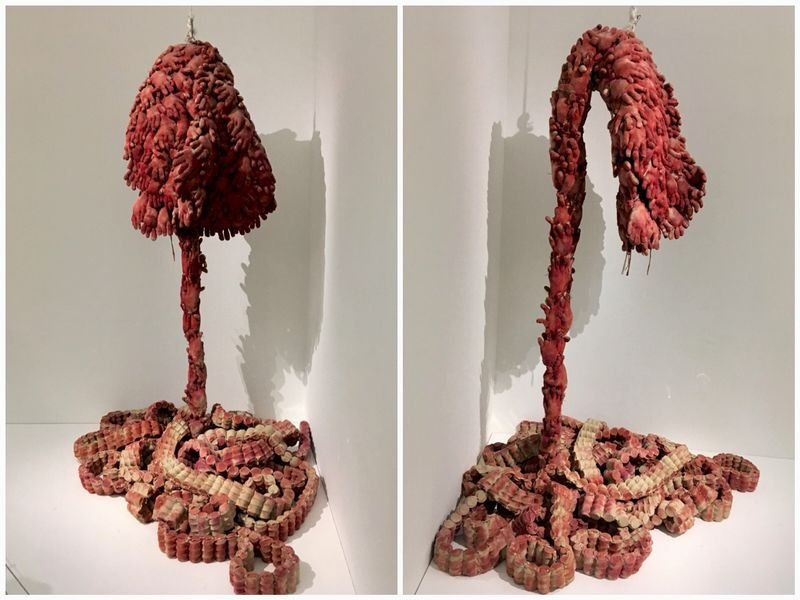 "My Flower Bed", by Yayoi Kusama in 1962. I've seen some odd works by Ms.Kusama, I was so amazed by her imagination of this sculpture work.
| a room of trees | and walls of leaves |
| --- | --- |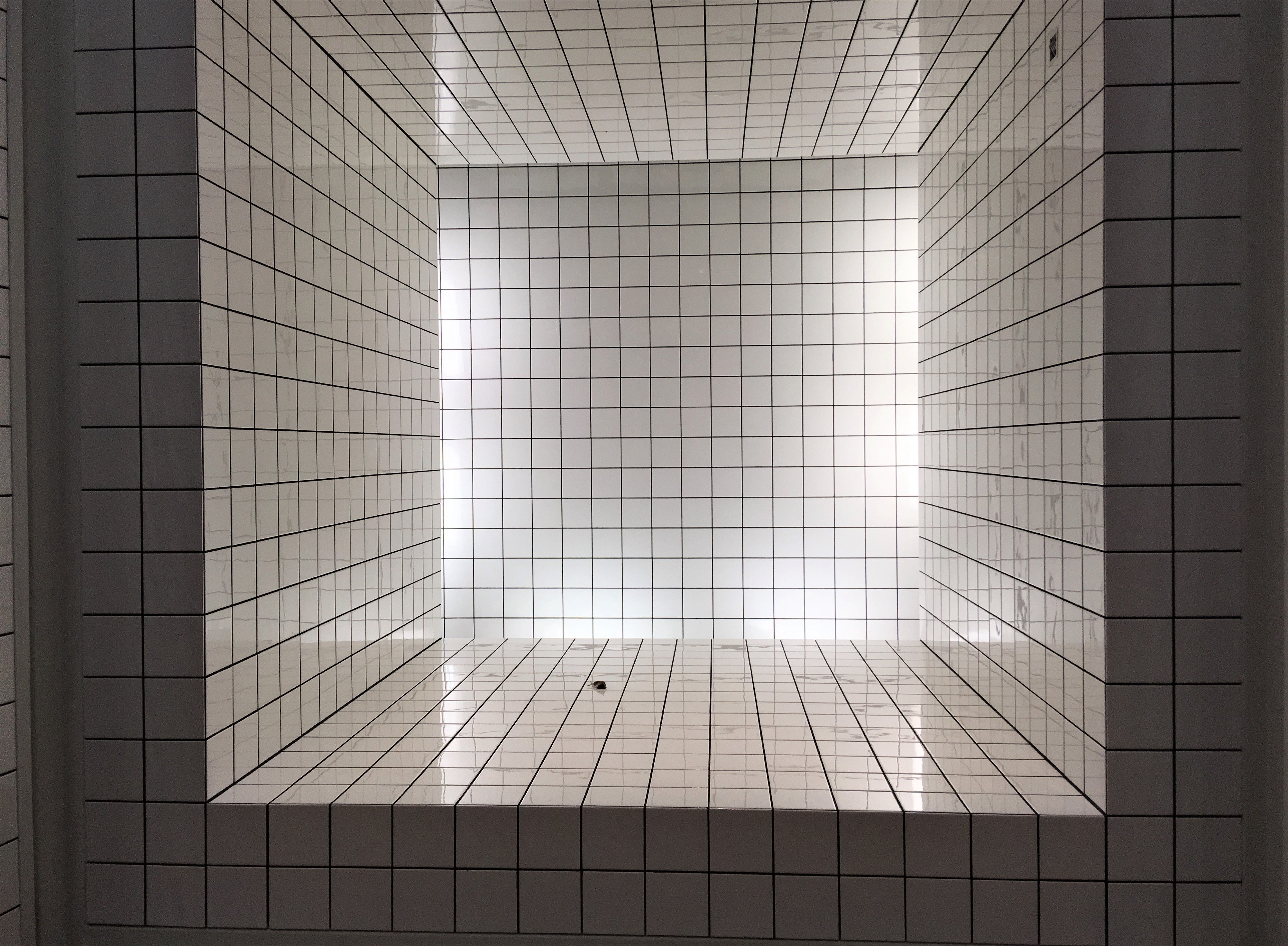 Art work with a dead mouse? If you look at the white tiles carefully, you will notice that the black thing looks like a mouse. Since lately the water in the Seine is super high, many rats were flooded away in the whole city, I would be scared if it was not an art work. lol.
---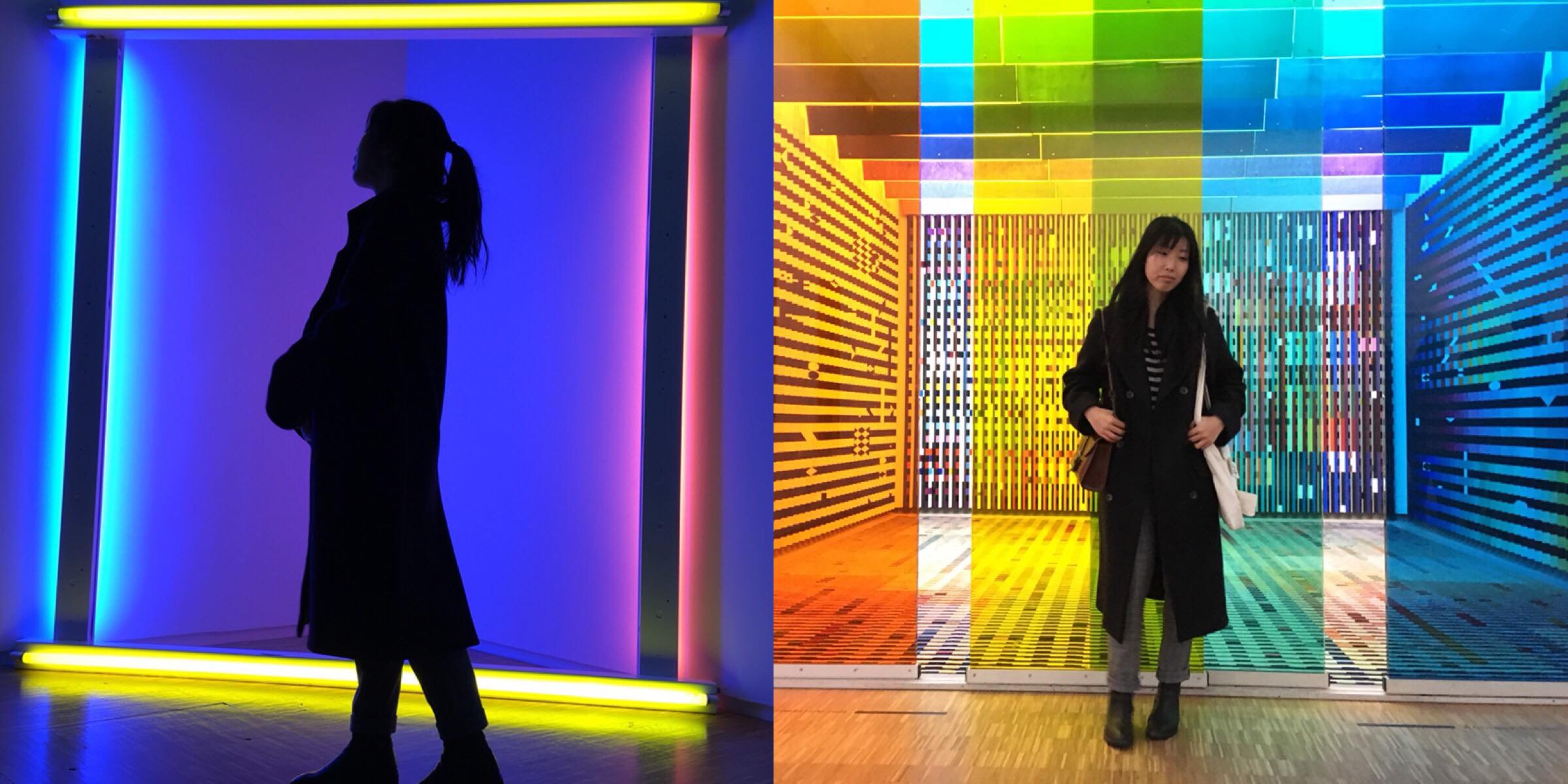 Salon Agam, by Yaacov Agam, Yaacov Gipstein
---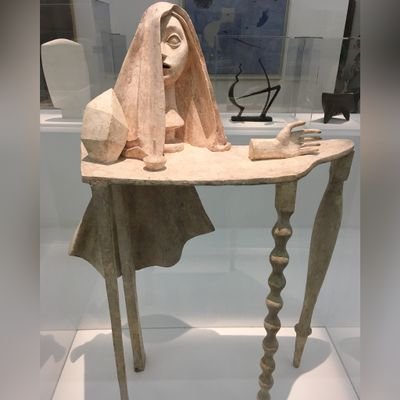 If you are curious about what my favourite work is among the whole collection of several floors in Pompidou, I would say it's out of doubt this sculpture.
Yet I forgot its name and the author. If you happen to know, welcome to leave a comment below so that I could add it here 😛
---

喜欢现代艺术的人们应该不会不知道巴黎这个大名鼎鼎的蓬皮杜中心。从外观来看,也是非常摩登现代,工业化的黑灰色调,加上支在外侧各色的管子,不同颜色的关系作用还不一样,蓝色的管道是控制空调、绿色管道则水管,电子线路则封装在黄色管线中,单单建筑就够吸引人的!
蓬皮杜里面非常大,具有欧洲最多的现代艺术展品,世界上也是数一数二的。内部分为几个不同的部分,雕刻艺术,绘画,灯光,概念展厅等等…… 参观第五层就像一节生动的现代艺术史课程,一整层根据年份分成不同的展厅,逛一层楼,实际逛完了20世纪初到现在,横跨一个多世纪现代艺术的变迁历史,非常棒的体验。最近有法国雕刻艺术家的César Baldaccini的临时展览。
第四层和第三层有不同文化的艺术家的展品,第三层是最神奇的,有各种天马行空的展览,看的目不暇接,甚至还有一个作品,把一只类似老鼠的东西放在瓷砖上面展览,联想到现在巴黎塞纳河淹了,冲出了很多老鼠在街上,看得我心惊胆战的,太神奇了!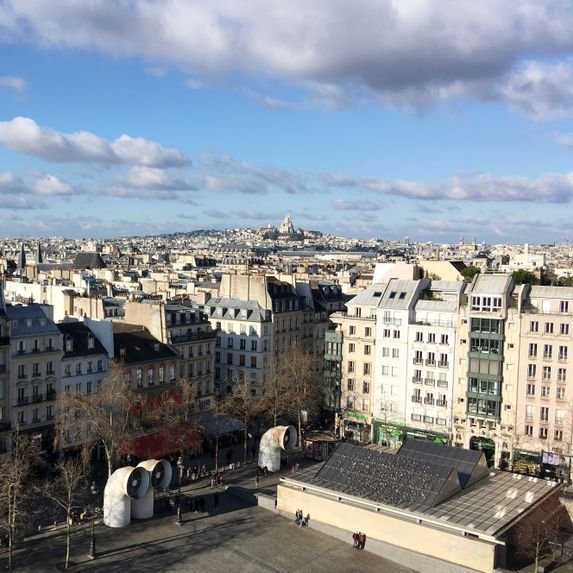 由于是免费博物馆日,排队来的人可多了,还好由于蓬皮杜实在太大了,完全没有感觉到拥挤,即使在6楼的观景平台人也还好,不算很多。六楼的观景台可以看到远处的整个蒙马特高地,好美啊。
我花了大概3个多小时在里面逛,也仅仅看完一小部分,展品实在是太多了,居然还发现了草间弥生在60年代创作的"我的花朵床",很惊艳;还有印象很深刻的彩色房间彩色灯光等等。蓬皮杜真的很适合一来再来呢。我选了一些我很喜欢的作品出来,分享给大家!
---