This post is the 3rd part of Trip Report: from Buenos Aires to Lima, following Part 1 and Part 2
https://joythewanderer.com/trip-report-from-buenos-aires-to-lima-part-1/
Some notes for the route :
Night train from Uyuni to Oruro, then onto Sajama National Park
My original plan was to take a night train from Uyuni to Oruro, but then it happened to be a car free day of the year, so was forced to stay a night in Oruro, which turned out not so bad either.
Two types of trains ride from Uyuni to Oruro: Expreso del Sur: Thursday and Sunday and Wara Wara del Sur: Tuesday and Friday. I took the Expreso del Sur train that leaves at 00:05
(Saturday-Sunday midnight), and arrives at 8-ish.
The train can be late, mine was late for around 30 minutes. If you are not flexible in time, better take a bus, but train is more comfortable and smooth (no sleepers in the train, take the first class seat). Train tickets are better booked online ahead of time at https://www.ticketsbolivia.com.
To get to the Sajama National Park, from Oruro you can take any minibus in the direction of La Paz, quite regular and ask to get off at Patacamaya, where there's a daily minibus near Restaurante Capitol. depart at 2pm to Sajama National park. The minibus fill very quickly so get there at least 40 minutes early.
Theoretically, you can take a bus heading Arica, Chile from Oruro and get off at the nearby town of Chungara-Tambo Quemada from which transport to Sajama should be easy to find. (hitchhiking or using Trans Sajama office). I was in Oruro on a yearly car free day (second Sunday of April) maybe, I couldn't get much info about the buses heading to Chille, so I would recommend via Patacamaya still.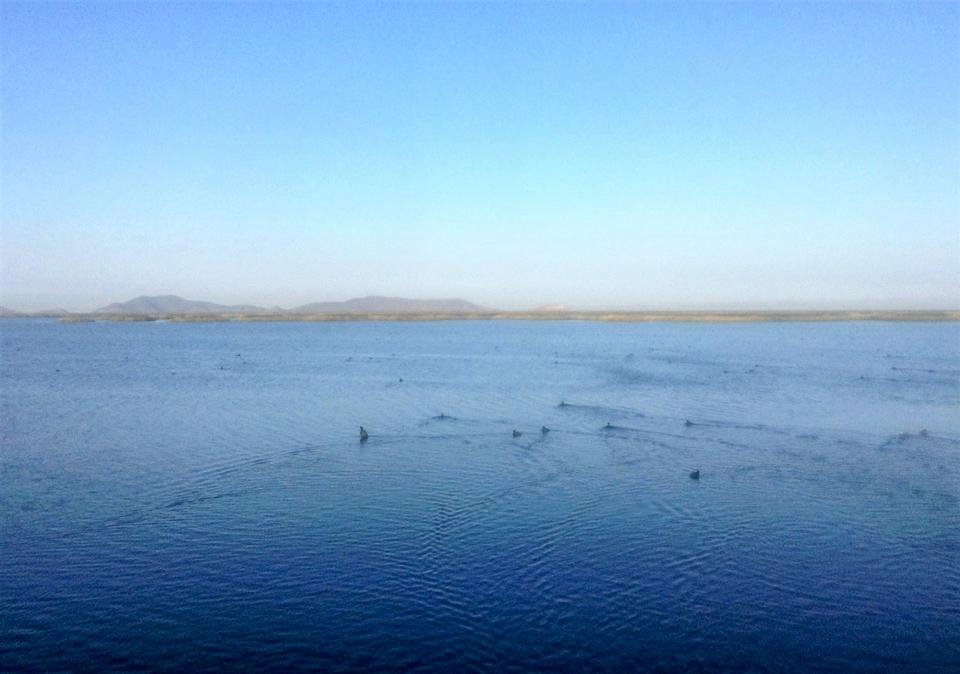 Lago Poopó, seen along the train ride.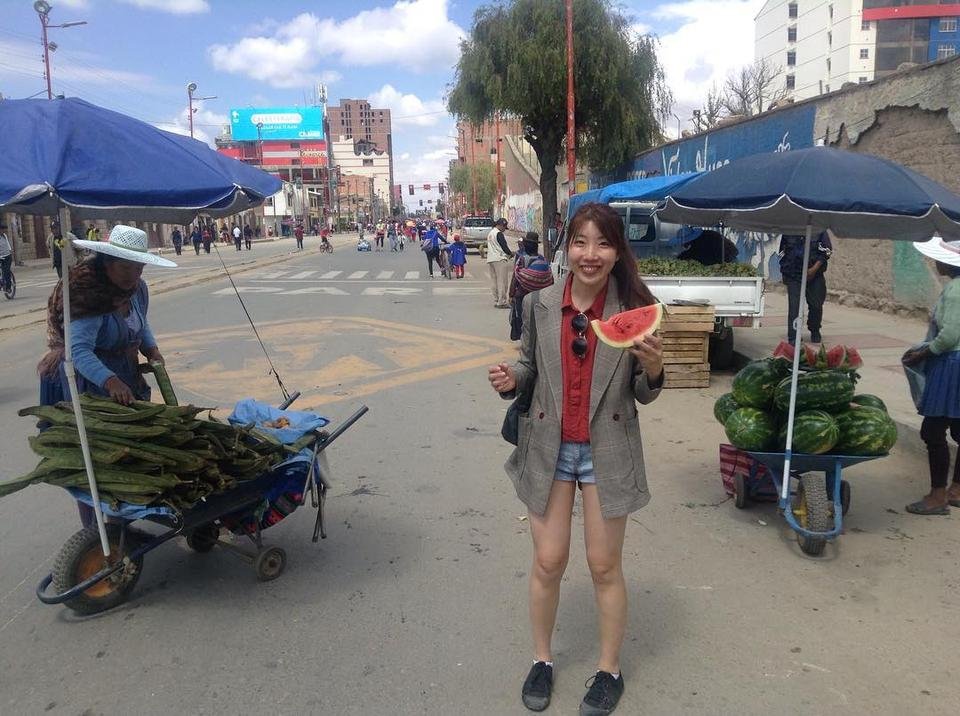 Market in Oruro, during the car free day.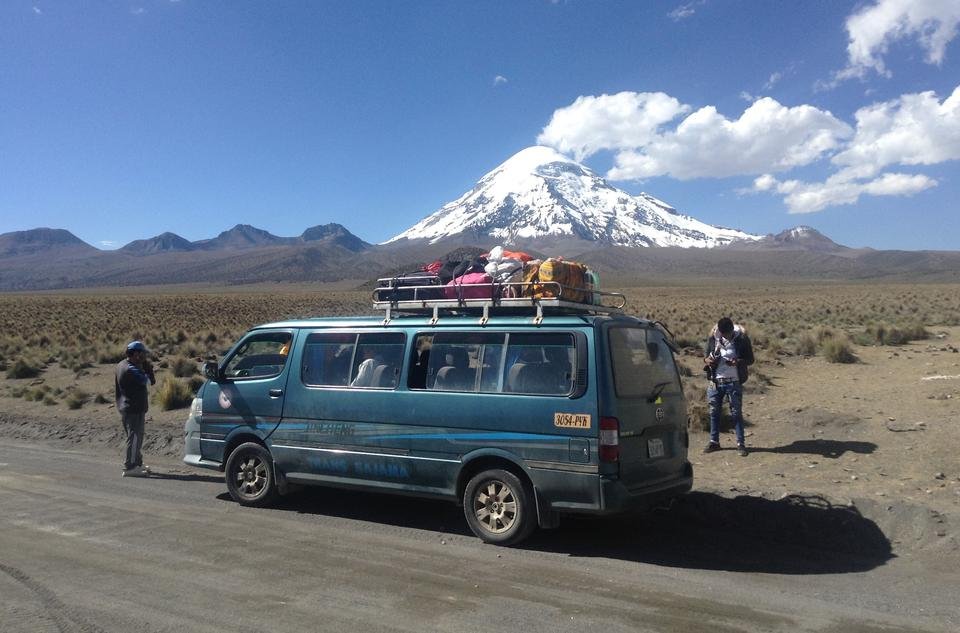 Minibus to Sajama Nation Park.
Sajama National Park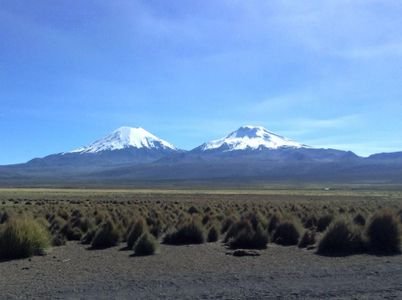 Sajama National Park is probably the highlight of the trip. At elevation of over 4200 meters, it has unique climate and wildlife. It is also home to Bolivia's highest peak Nevado Sajama (6,542m). I've seen so many lovely alpacas and llamas there, really loved it. In Sajama, there live a small Aymaran community for millennia.
---
There is no ATM at the park, so withdraw enough cash in Oruro or Patacamaya. The hostel or homestay costs less than 10 euro and food and drink are cheap too, no more than 5 euro. You might need some transportation to the nearby lake and to the hot spring (Agua Termales). 50 euro per day is more than enough.
There isn't much to do in fact, but the Agua Termales is definately worth a trip. Natural spring with the snowy topped mountain as background, you might see some llamas walking around too. It costs 30Bs to enter and towels can be rent. Bring strong sunblock, it seems cold but the sun is fierce at 4200 meters high.
The bus back to Patacamaya leaves everyday in the main square. The driver told us to leave at around 6 but it left at around 7 instead. There is a waiting room luckily.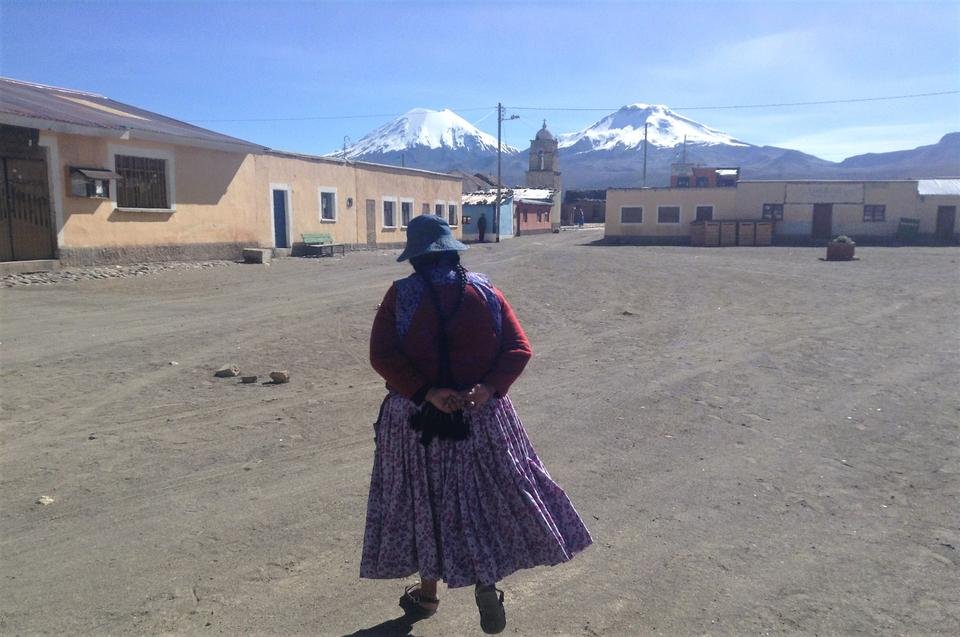 Local indigenous lady that comes to the minibus drop off point, offering homestay.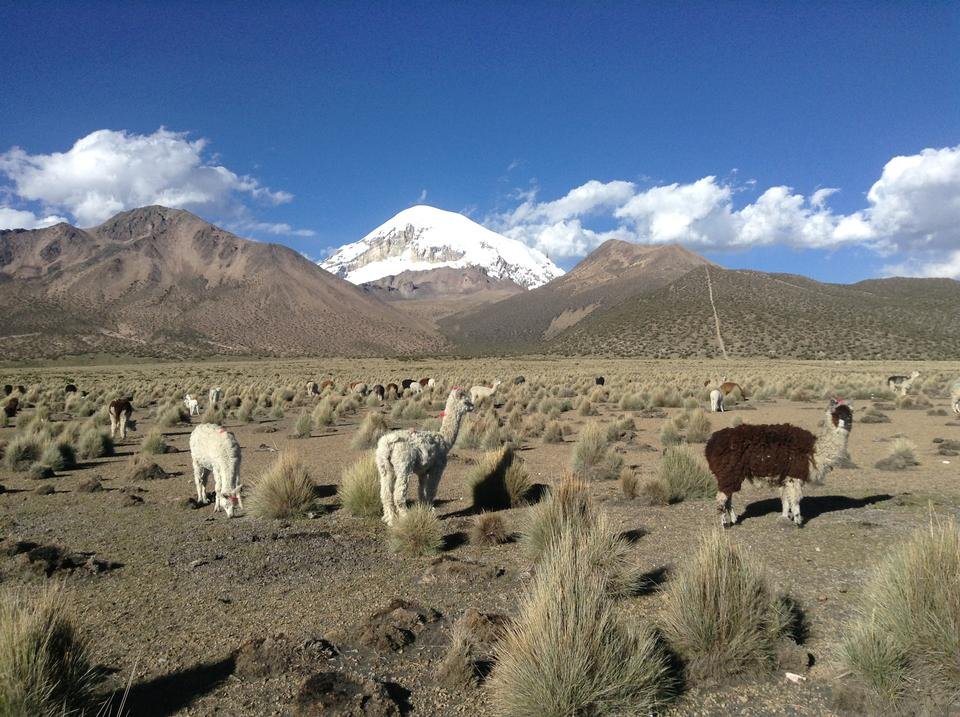 Alpacas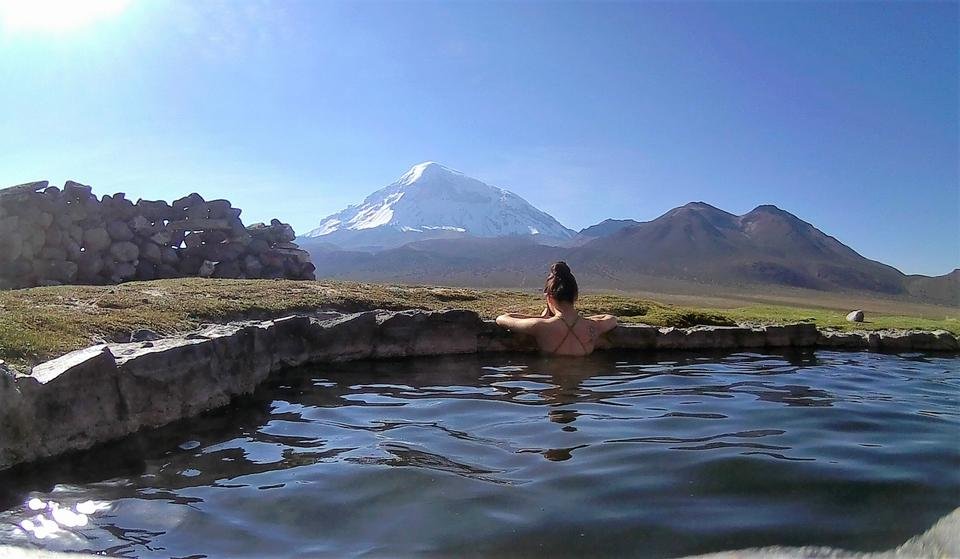 Agua Termales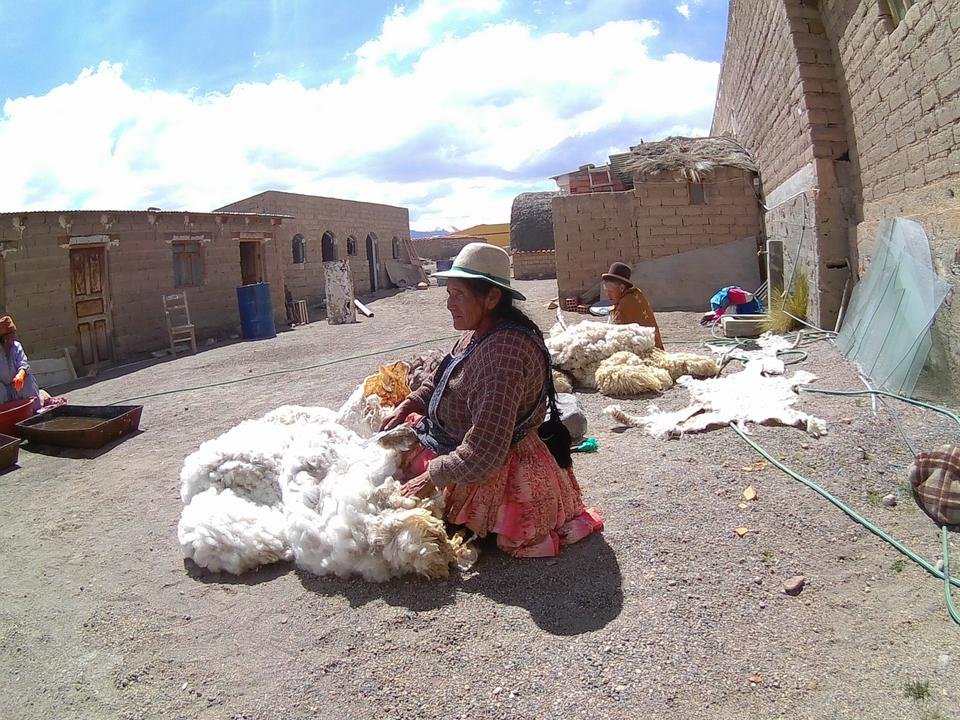 Local Aymaran woman picks up alpaca fur.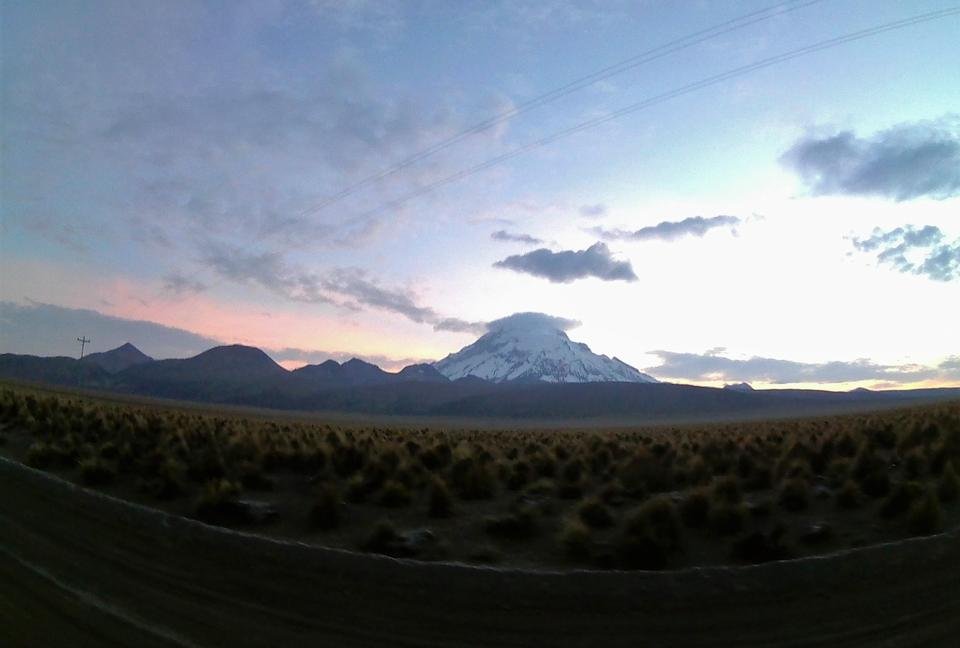 Early morning bus ride from Sajama to Patacamaya.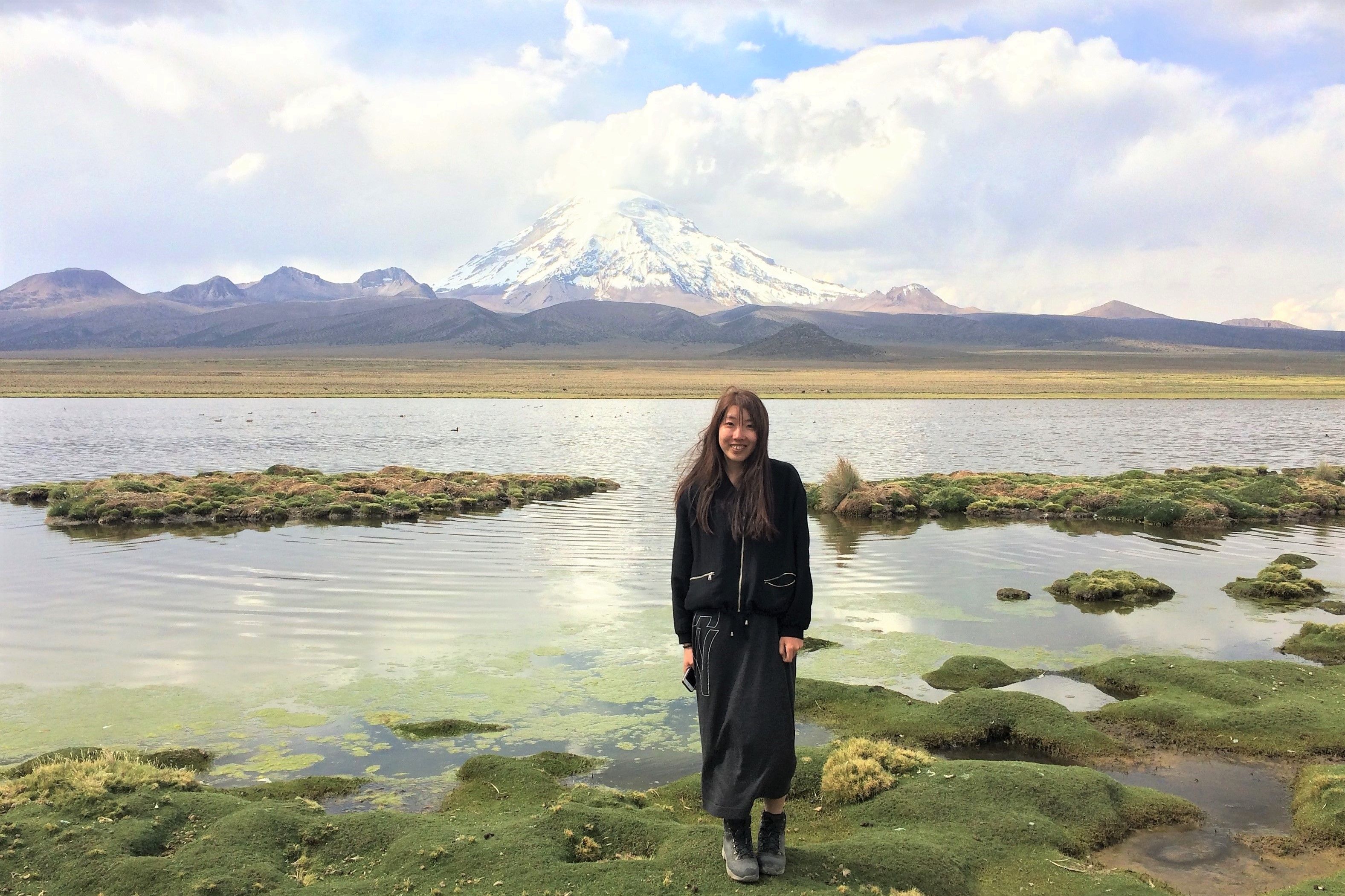 ---
Arriving in El Alto, La Paz
La Paz was such a surprise for me. I didn't know much about it so didn't know what to expect. But it turned out to be a pretty cool city. The centre area seems like a backpacker hub, which makes sense as it's not expensive and the city is nice. When arriving in El Alto, the higher part also the most populous area of La Paz, I immediately loved the atmosphere, it was so busy and interesting.
It's easy to use Uber in La Paz. If you arrive from a small village such as Patacamaya, you will probably find yourself dropped off in El Alto area, a rather populous neighbourhood located in the higher part of La Paz. There's an airport in El Alto so it can be difficult to get a taxi by Uber (because it sets your location inside), try to use the cable car Mi Teleférico to get to the centre.
Mi Teleférico is cool, a must-do activity in La Paz. There are 3 lines, the cable car takes you to basically everywhere in the city, either lower part or El Alto. La Paz is the first and only city that uses cable car system as public transport. Many locals use it to commute to the city. La Paz is mountainous so you get a nice view of the city from the cable car.
The El Alto market is twice a week (Thursday and Sundays). If you like market and would love to see some local culture, this is the place for you. You find snacks, drinks, cheap clothes and some Bolivian traditional skirts (which are always too large for me and tailors are too expensive). In the centre of La Paz there's a witch market but you find similar things in El Alto market and the market is much more local and authentic. People have different opinion about El Alto, but I really liked it and didn't feel unsafe at any moment.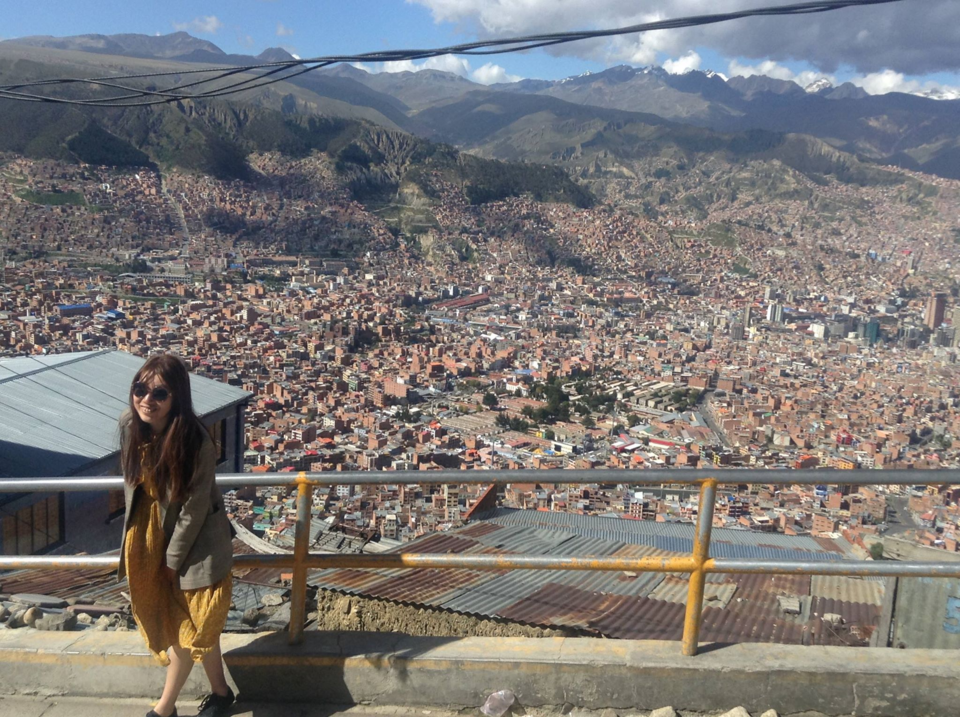 La Paz, from El Alto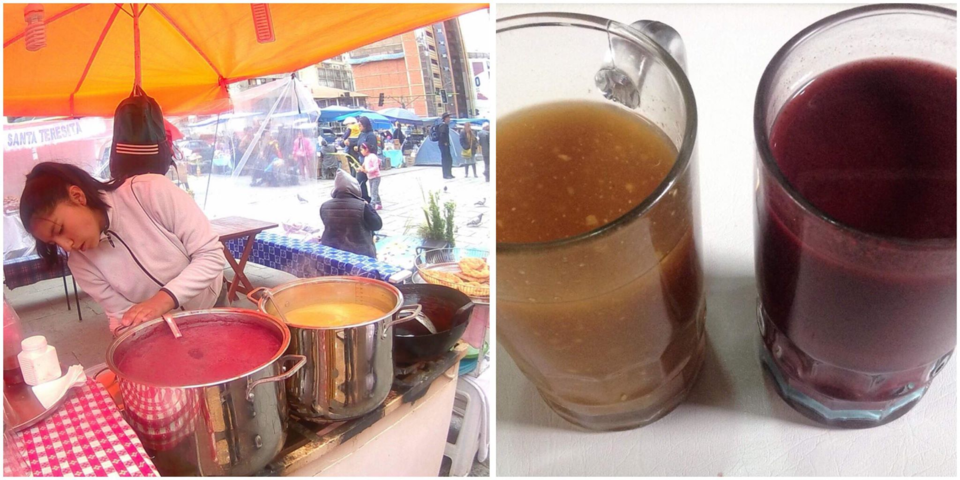 Bolivian breakfast: pastel, Api (a drink made from ground purple or white corn), haha I'm missing it now by looking at this photo.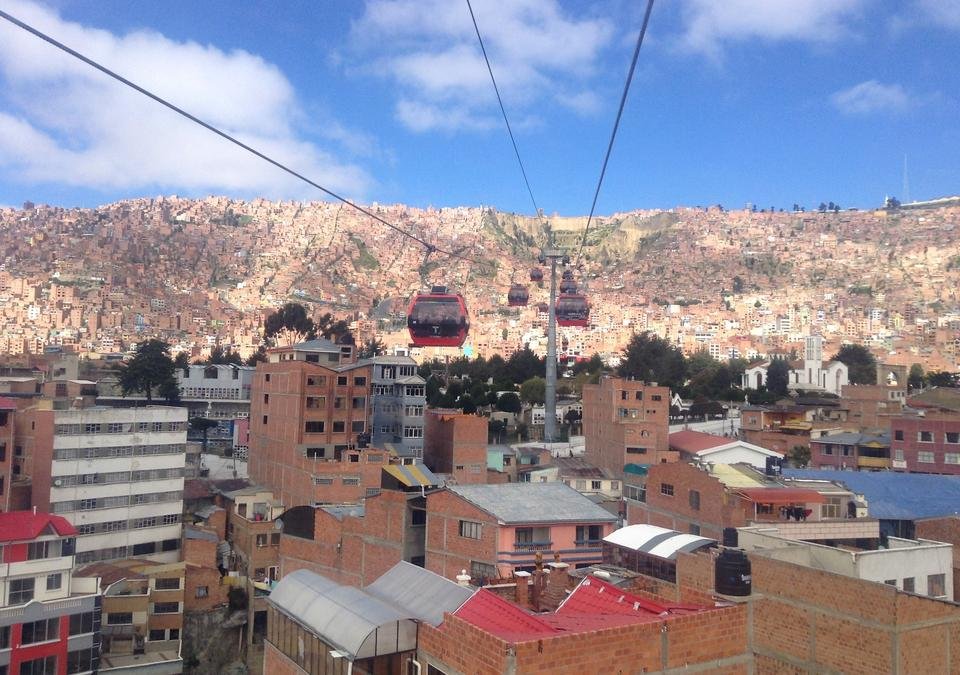 Public transport in La Paz.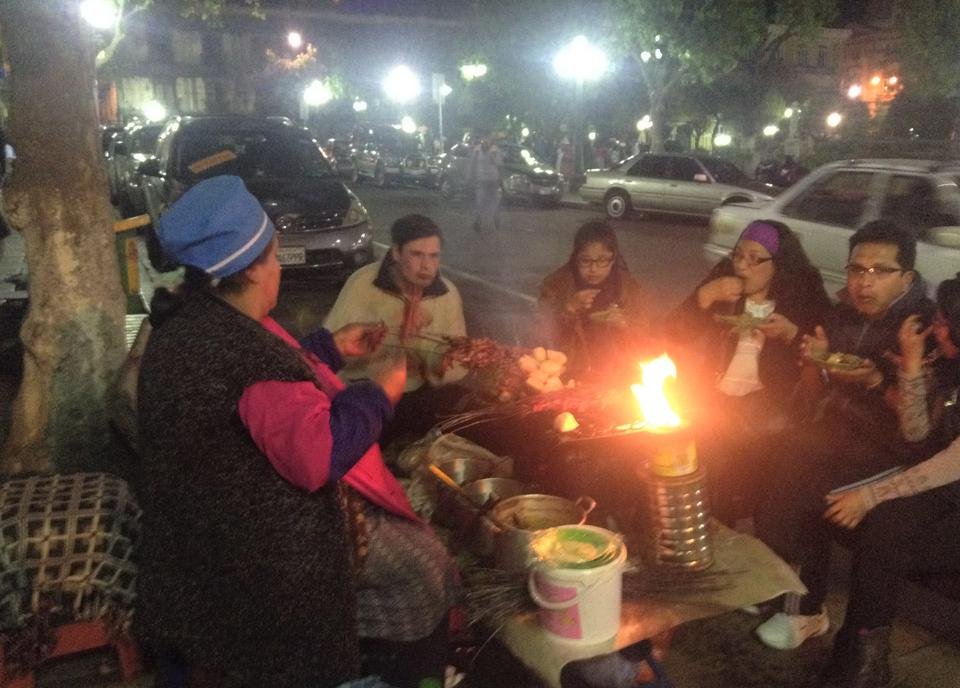 Anticucho bbq snack by night.

行程分享:从布宜诺斯艾利斯到利马 (Part 3)
从乌尤尼到Sajama国家公园
-- 有两种类型的火车从乌尤尼到Oruro:一种是Expreso del Sur:周四和周日出发,一种是Wara Wara del Sur:周二和周五出发。我坐(周六到周日的凌晨)00:05离开的Expreso del Sur火车,早上8点左右到达。
-- 火车可能会晚点,我的火车迟到了30分钟左右。如果您的时间不够灵活,最好坐公共汽车,但火车更舒适(火车上没有卧铺,但买一等舱座位也挺舒服,而且非常便宜10殴以内)。建议在https://www.ticketsbolivia.com 提前预订火车票。
-- 从Oruro到达Sajama国家公园,可以搭乘任何去La Paz方向的迷你巴士,很频繁,告诉司机在Patacamaya下车,那里每天有一班迷你巴士,会在Restaurante Capitol门口等。中午12点开车Sajama国家公园。小巴很快就会填满,所以提前至少40分钟到达那里。迷你巴士大家需要开3个多小时。
-- 理论上讲,也看到以前的游记,也有人从Oruro乘坐前往智利阿里卡Arica的大巴,然后在边境小镇Chungara-Tambo Quemada下车,从那里可以找到前往Sajama的车(搭便车或去Trans Sajama办公室问)。我非常不巧的在Oruro遇到了每年的无车日(四月的第二个星期天),后来我到处问也问不到去Arica的大巴,所以我推荐还是从Patacamaya走。
Sajama国家公园
-- Sajama国家公园里面没有ATM,所以在Oruro或Patacamaya需要提取足够的现金。其实不需要太多,门票大概12欧,住宿条件一般,住宿费用也不到10欧元一万,食物和饮料也很便宜,不超过5欧元。去附近的湖和温泉可能需要付旅馆老板车费,也可以搭车,Sajama离智利边境很近,往来的车辆还是有一些的。每天50欧元足够了。
-- 我特别喜欢Sajama,有可爱的羊驼看,4200米海拔又干又冷的气候,觉得整个气氛很清冷,全新的体验。但事实上没有太多事情可做,最值得一游的是天然温泉,可以走过去大概一小时也可以搭车去,门票30Bs(4欧),可以租用毛巾。记得带强度的防晒霜,看起来很冷,但紫外线很厉害。
-- 前往Patacamaya的巴士每天在主广场出发。司机告诉我们在6点左右离开,但是在7点左右离开。还好有一个候车室,不然清晨超冷。
到达首都拉巴斯
-- 在拉巴斯使用Uber很容易。如果从Patacamaya这样的小村庄抵达拉巴斯,可能会在El Alto的车站下车。 El Alto是拉巴斯的高城,有机场,机场附近很难找到Uber,可以搭缆车MiTeleférico到达中心。
-- 拉巴斯拥有很酷的缆车公交系统Mi Teleférico,也是全世界第一个用缆车作为全民公共交通的城市,许多当地人用它通勤。搭乘Mi Teleférico也是拉巴斯必做的活动。有3条线路,缆车将您带到城市的任何地方,尤其去高城El Alto非常方便。拉巴斯建在山区,从缆车上可以欣赏到城市的美景。
- El Alto市场每周有两次(周四和周日)。如果你喜欢市场,希望看到一些当地的文化,一定要来看看。什么都卖,零食,饮料,汤,便宜的衣服和一些玻利维亚的印第安传统裙子(可惜我穿着总是太大,想去裁缝那做一件,一问太贵了)。在拉巴斯市中心有一个女巫市场,在El Alto市场找到类似的东西,而且没有市中心那种商业化,我买了个小羊驼现在挂家里。我很喜欢El Alto也没有感觉到任何危险,听有人说晚上尽量少去。
---