It was only a year ago that I did this trip but it feels like an eternity already. I've been posting a few posts about the stops I made on that trip. I'd like to share the itinerary of the trip now 😀
Maybe it would be useful for someone like me (in the past at least) who doesn't have much yearly leave, but still want to make an overland trip in South America.
Itinerary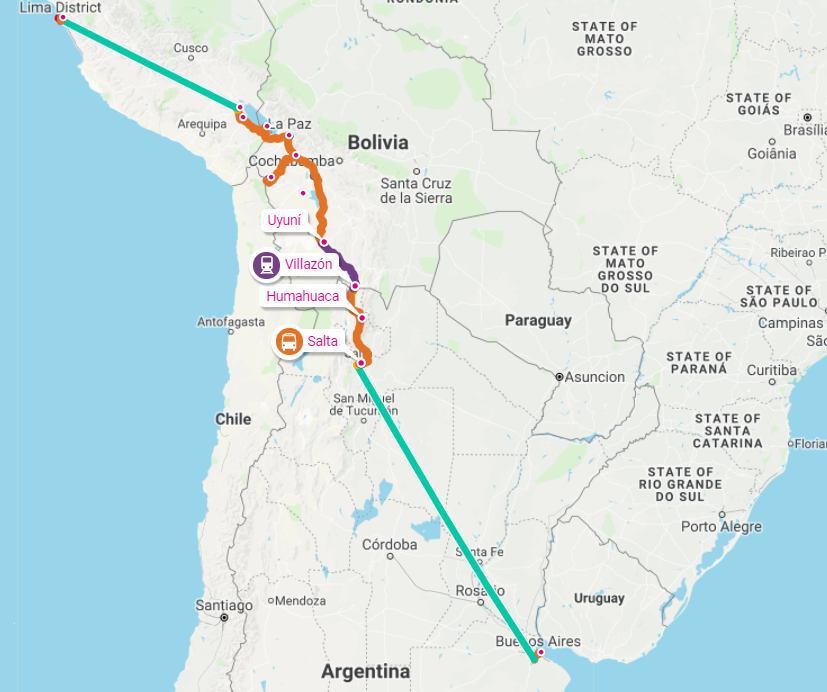 Buenos Aires 5N - Salta 2N - Humahuaca 2N - La Quiaca/Villazon (border) 1N - Uyuni 3N - Oruro 1N - Patacamaya (transit) - Sajama National Park ① ② 3N - Patacamaya (transit) - La Paz 4N - Tuni Condoriri 1N - Copacabana 2N - Juliaca airport - Lima 4N
The itinerary can be perfectly done within 30 days, and not really in a rush. Of course it can be easily extended, such as adding a 3-day jungle trip from La Paz, or another 6-7 days in Cuzco and Macho Piccho (which I completely skipped but I'll go back one day), or even a couple of days more at Lake Titicaca so that you can see more of the islands there. But I don't find my trip too tiring either.
---
Some notes for the route:
Leave at least 5 days for Buenos Aires. It was my dream city to go and I did love it after visiting it: amazing architecture, colorful La Boca, arty, diverse and vibrant.
In BsAs, most places can be reached by public buses . You must use a card called SUBE to pay for public transport. I got the card from AirBnB host and charged it in any convenient shops. In fact I went to the center from airport also with the bus and some nice local guy helped me out with his card.
Bus 152 connects many attractions in BsAs. SUBE card can shared for multiple persons
Uber is also common and easy to get.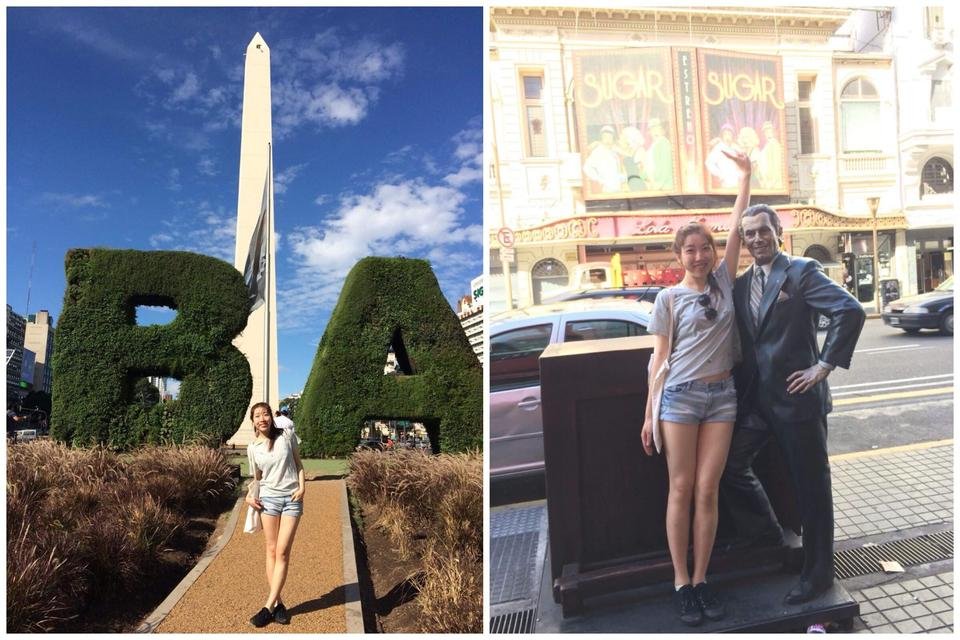 BsAs city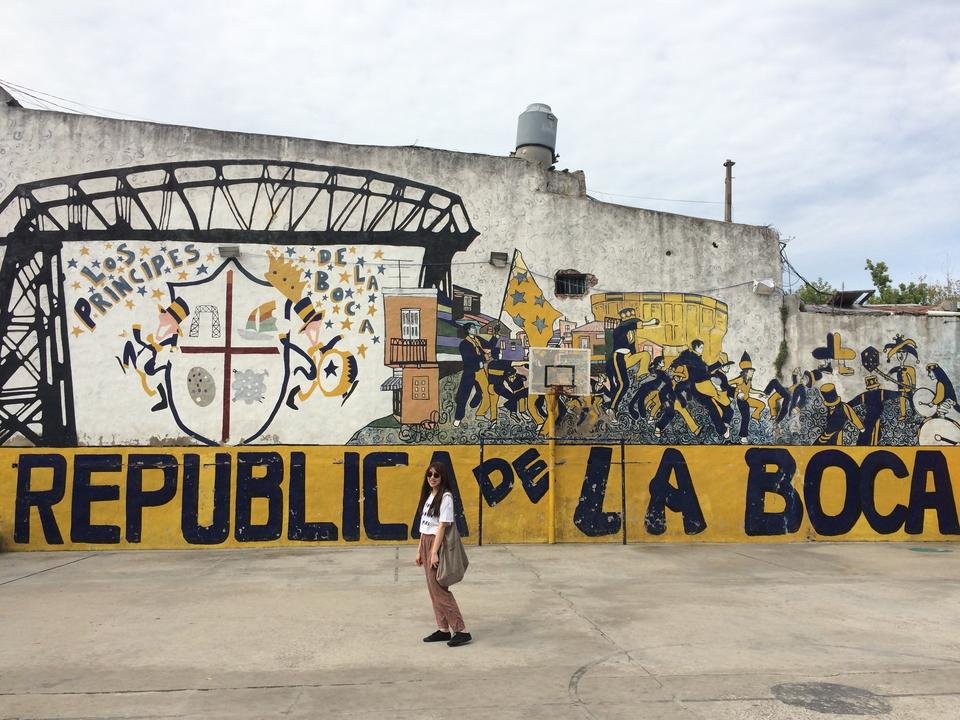 La Boca
---
North Argentina was my stopover into Bolivia (my main destination of the trip) but I'm totally impressed by its landscape. I stayed 2 nights in Humahuaca, in order to see the 7-color mouintain. Close to Humahuaca there are some other villages worth dropping by, such as Purmamarca and Iruya, both Humahuaca and Purmamarca are easier to reach than Iruya.
I took the domestic flight from BA to Salta via airline Andes Lineas Aereas. It costs 150-ish euro, not as cheap as Ryanair. I originally wanted to experience the fully-relining Cama Suite long-haul bus but I lacked the time, which otherwise would have made an interesting experience.
From Salta you can get to Humahuaca with the bus, my bus left at 10:30 and arrived at 15:00
To get to the colorful mountain, you can share a taxi from Humahuaca, normally several drivers wait next to the bridge, it costs around 12 euro.
My bus from Humanhuaca to La Quiaca left at 15:05 and arrived at 17:55. There are several buses to go to the border, no worries.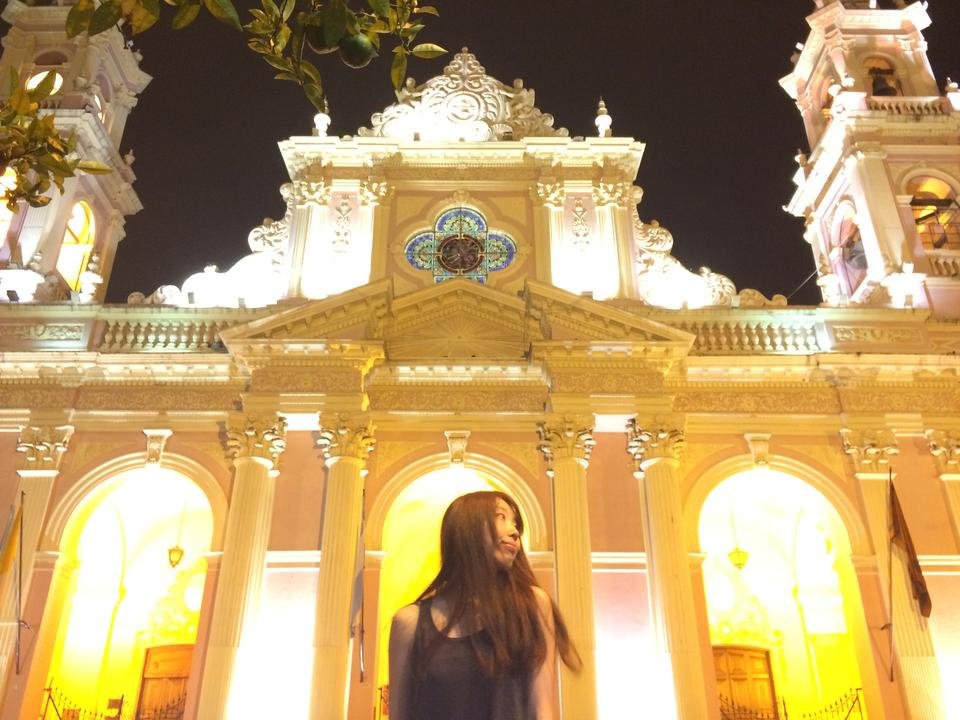 Salta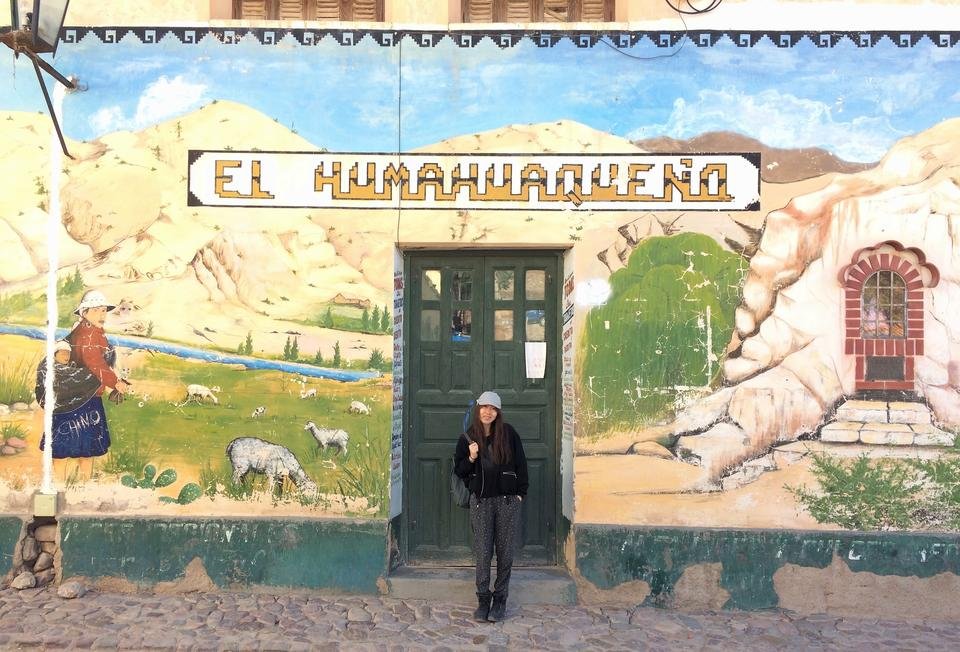 Humahuaca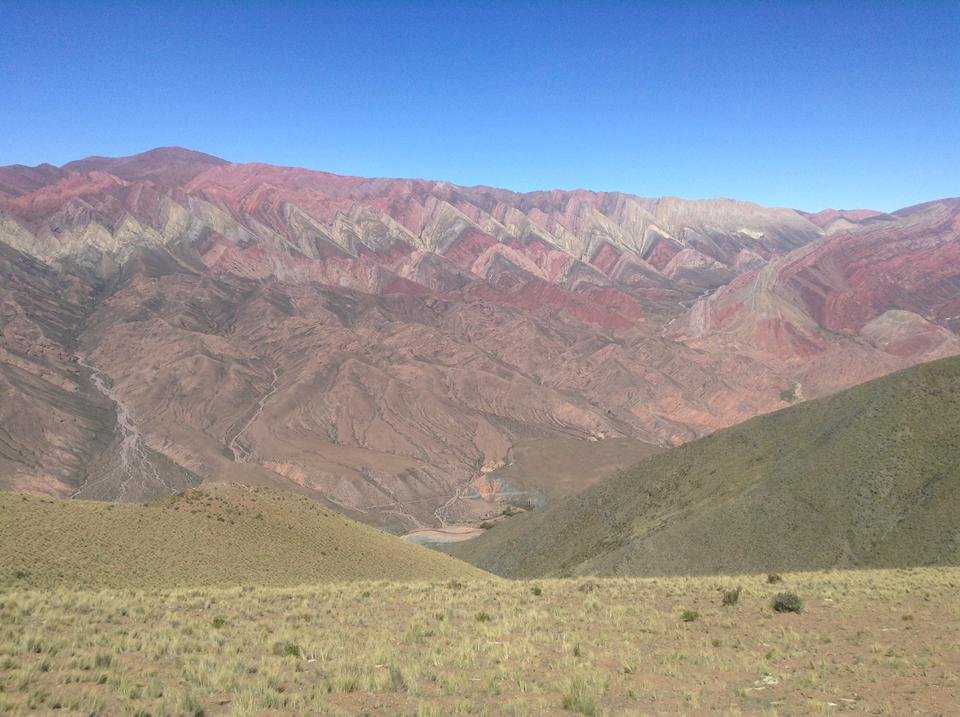 sierras de hornocal
---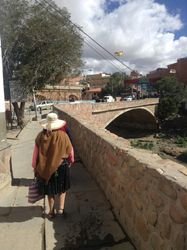 From La Quiaca, the border town of Argentina, you can walk to the Villazon, border town of Bolivia. Crossing the Border was a hassle for me, but not for most people as I saw them keep passing by. Waiting for 2 hours because my passport needed extra checks was not fun .
If you do need a visa to enter Bolivia, best let it do on the border instead of getting it in advance like me. It seems the land border between Argentina and Bolivia did not agree with the number of days Belgian consulate gave me.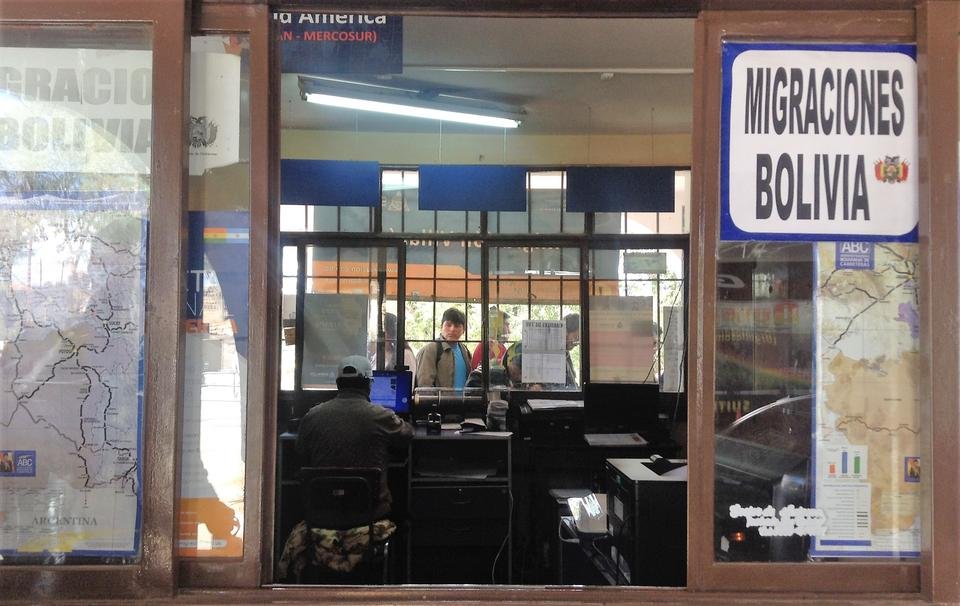 the border
---
Villazon is an interesting border town, with a lot of markets and street snacks, more interesting than La Quiaca I feel. If you have to stay a night at the border. I was lucky enough to catch the infrequent Bolivian train.
I got a Bolivian sim card from the telecom company, 2 GB for Bs. 150 (17 euro).
Two types of trains ride from Villazon to Uyuni: Expreso del Sur: Wednesday and Saturday and Wara Wara del Sur: Monday and Thursday. Both leave at 15:30 and Expreso arrives at 21:00 while Wara Wara arrives at 23:00. If you are not flexible in time, better take a bus, but train is more comfortable.
Train tickets are better booked online ahead of time at https://www.ticketsbolivia.com.
If you take the train, better book a hotel in advance in Uyuni, as when arriving at 23:00, most of the receptions are already closed.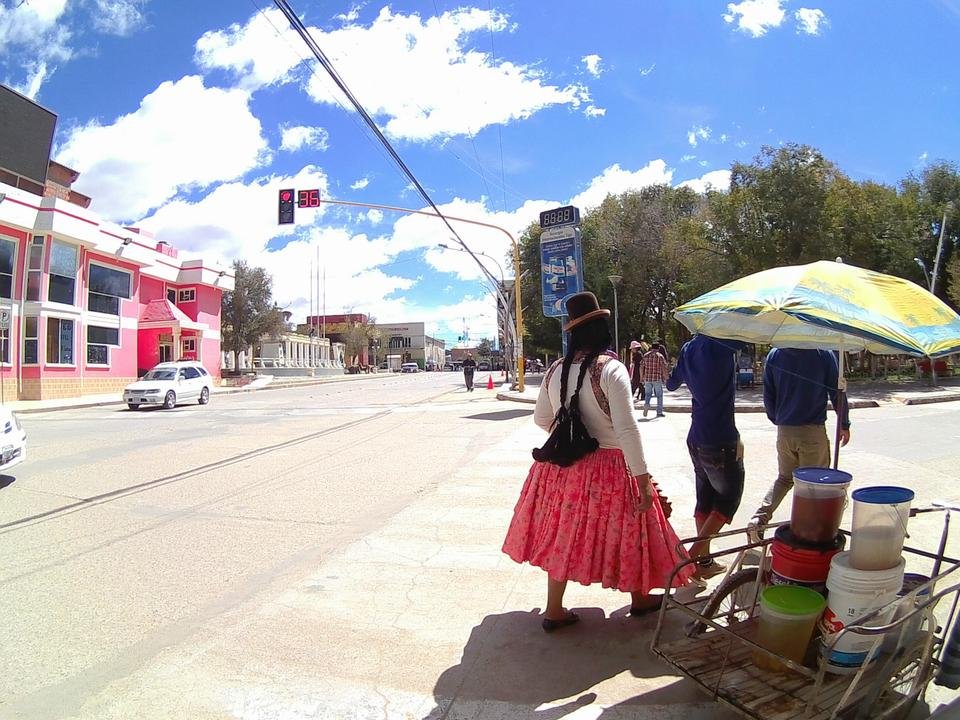 Villazon, Bolivia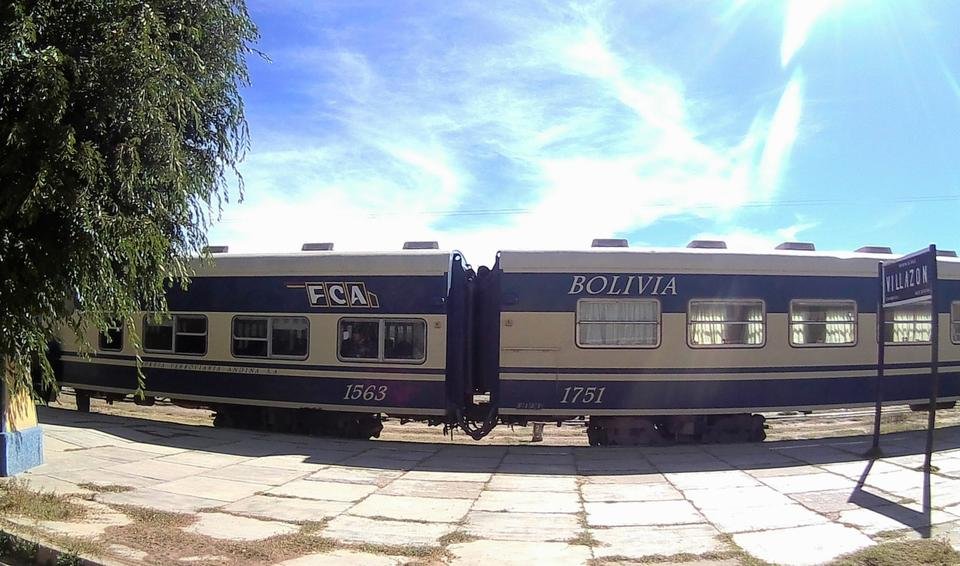 Wara Wara del Sur train from Villazon to Uyuni

行程分享:从布宜诺斯艾利斯到利马
去年这个时候去了趟南美,从布宜诺斯艾利斯一路走到利马。为什么这么走呢?其实本来就是想看玻利维亚,但是飞拉帕斯好贵,而这样A进B出的机坪总共才花了500欧上下。
最近听一些欧洲朋友想去南美旅行,但又觉得年假没那么多(大部分比利时人有差不多一个月多一点的年假),似乎大家都觉得去趟南美需要很长时间。我去年也是全日制学生,没什么大片的假期,也就去了差不多一个月时间,其实计划做好了也不觉得很赶,而且玩得很开心,于是想把行程分享给大家。
布宜诺斯艾利斯Buenos Aires 5晚 - 萨塔Salta 2晚 - Humahuaca 2晚 - 边界La Quiaca/Villazon (border) 1晚 - 乌尤尼Uyuni 3晚 - Oruro 1晚 - Patacamaya (transit) - Sajama National Park ① ② 3晚 - Patacamaya (transit) - 拉帕斯La Paz 4晚 - Tuni Condoriri 1晚 - 科帕卡瓦纳Copacabana 2晚 - Juliaca airport - 利马Lima 4晚
这段行程其实要玩两到三个月都可以,比如在玻利维亚加个丛林行,在乌尤尼加个3天吉普行去南部的高原湖(如果时间多也不用拼团,甚至可以坐公车去,接下来我会慢慢说),还可以在马丘比丘和库斯科待一周,可以加的内容太多了。但是如果有限的假期内,我觉得30天的行程看着拥挤,但是其实还好,并没有想象中那么赶。从欧洲飞去南美不是那么麻烦,所以我把库斯科和马丘比丘都直接跳过了,以后肯定要再去。
接下来开始干货了:
布宜诺斯艾利斯
大部分地方都可以做公交到达,也可以用Uber。
公车只能用一种叫做SUBE的卡来刷,我的AirBnB房东给我留了这个卡,充值可以在任何小店冲。当地人很友好,我从机场去城里也是坐公车,当时还没有卡,当地人帮忙刷卡。
152路公车非常实用,从南部的博卡区到北部中国城附近都可以到达。
阿根廷北部
从布宜诺斯艾利斯到萨塔我是坐 Andes Lineas Aereas航空,花了150欧,相当于不到1200元。也可以做阿根廷独有的180度高级巴士,我觉得很酷但是由于节约时间没能尝试,价钱是飞机一半。

从萨塔往北到达美丽的Jujuy省,Purmamarca, Humahuaca还有Iruya都值得停留,前两个可以直接从萨塔坐大巴去,10:30出发,15:00到Purmamarca。

在Humanhuaca的桥上,有一些司机等人拼车去七色山,下午2点左右去光线比较好,大概需要2个半小时往返,具体多少钱我不记得了,差不多100块左右。
从Humanhuaca到边境城市La Quiaca上午和下午都有大巴去,我坐15:05的大巴,17:55到。
过境去玻利维亚
从阿根廷边境La Quiaca可以直接步行过境去玻利维亚的Villazon。玻利维亚是落地签,我在比利时提前办好签证,结果比利时领馆给我90天,但是他们没有跟边境打好招呼,边境只承认30天,所以我在边境无聊的待了两小时,所以你们还是直接落地签吧。

我觉得Villazon比较有意思,街边还有小吃摊,所以如果你们要在边境过夜,选Villazon吧。

从Villazon到乌尤尼可以体验一下玻利维亚火车,很舒服,需要提前预定https://www.ticketsbolivia.com。选个一等座,非常便宜,80块左右,车上还给一些小零食,座椅也舒服。不过一周只有四天有车,快车周三周六,慢车周一周四,都是15:00开车,快车21:00到,慢车23:00到乌尤尼,如果时间不灵可以坐大巴。

如果坐火车,建议在乌尤尼提前订好酒店,比较到达时间很晚,我去的时候很多酒店前台已经关门。