Maybe you've already noticed that I'm an absolute train lover. I love to experience local train-rides in many countries that I've been to. Except for the Shinkansen network between main cities in island Kyushu, there remained a few sightseeing limited express trains. Kyushu is quite popular for train trips, the island is abundant with nature and has a rich history and culture. As I didn't go straight from Kagoshima to Fukuoka, but stopped in some smaller towns in between, I was lucky to try out different trains in Kyushu this time.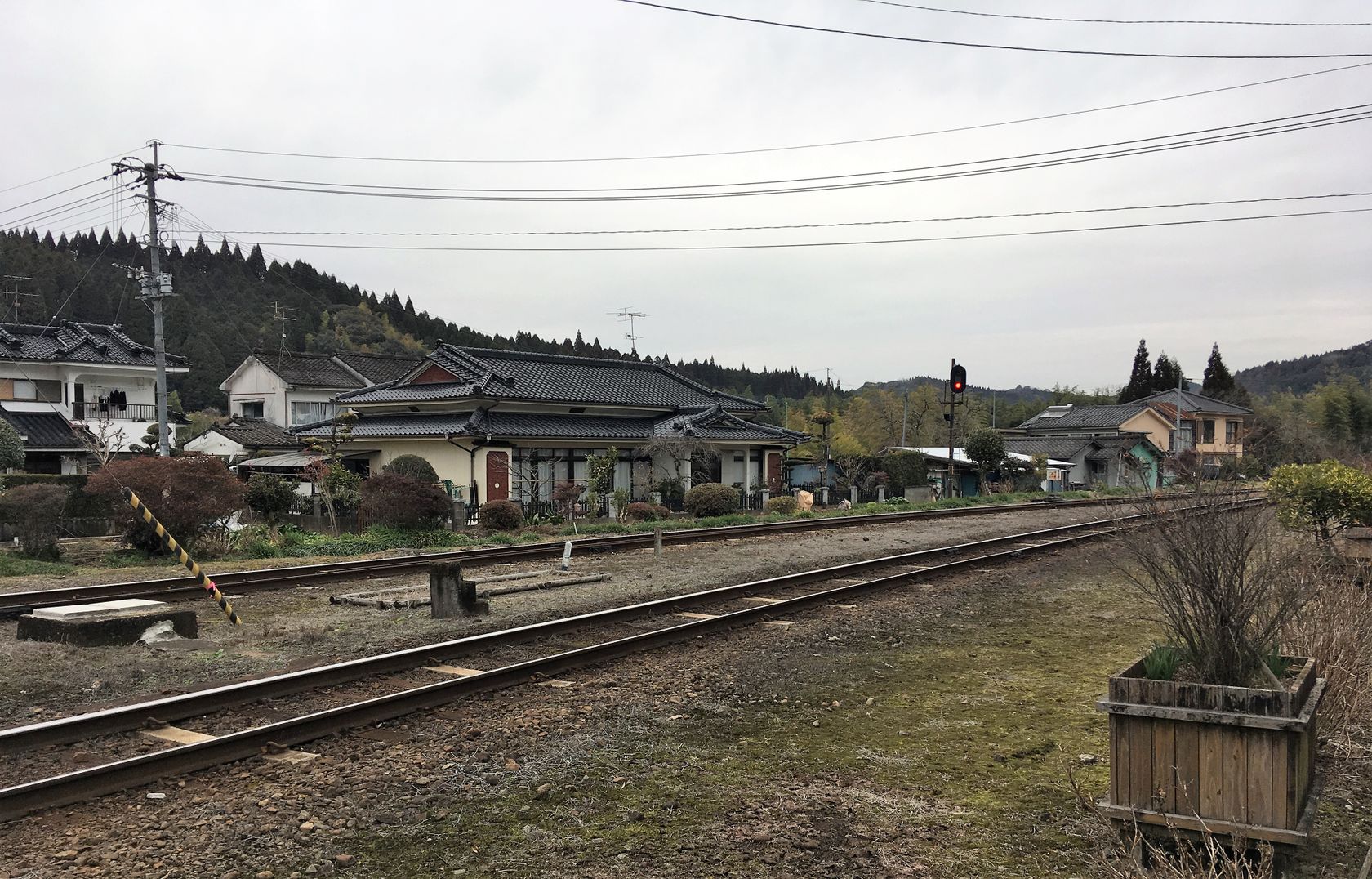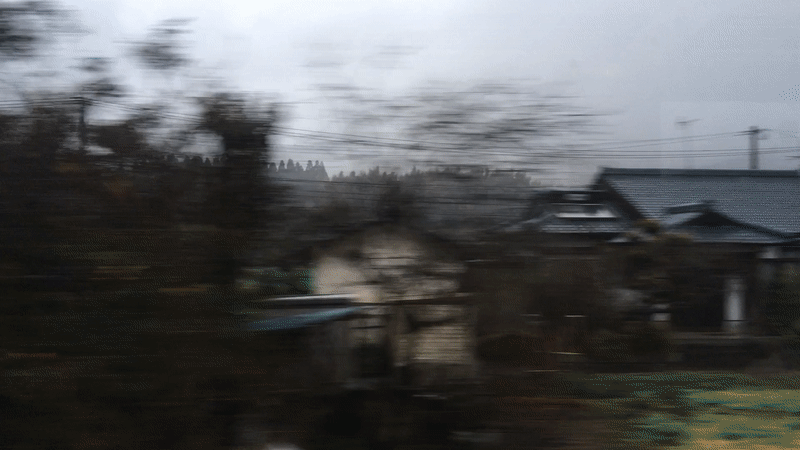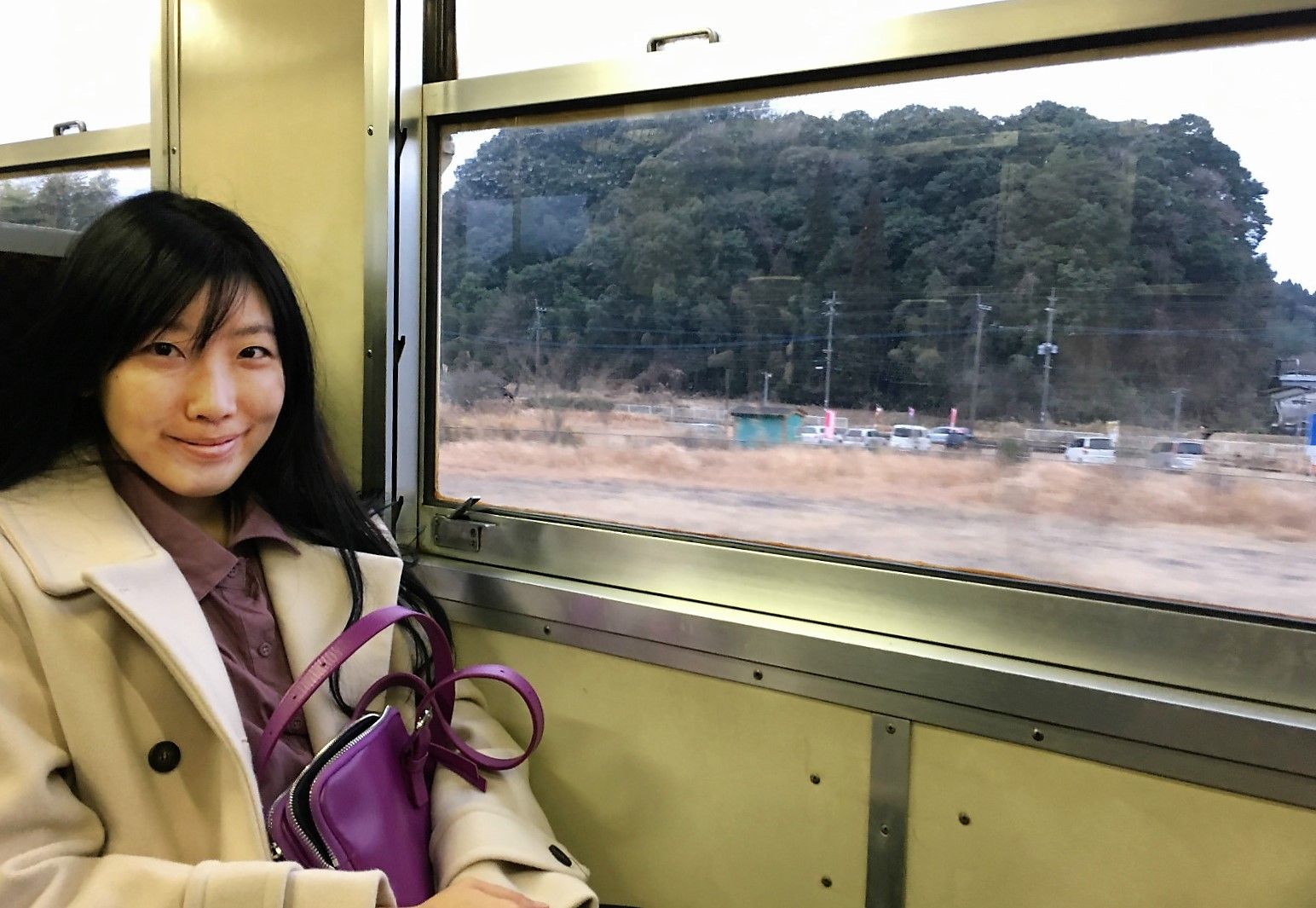 The Kirishima onsen Station was much smaller than I thought. There were only two rail tracks. Sometimes I think I'm also quite amazing as I thought the trains were much frequenter than they actually are so I didn't even check the schedule in advance. I had to wait inside the simple waiting room for more than one and half hours. 🙁 The station was too small to have a ticket office, let alone English translation and there was no one I could ask for. The only thing I could read is the character of "Hitoyoshi direction".
Luckily with the help of two teenage girls, I could get on the right train.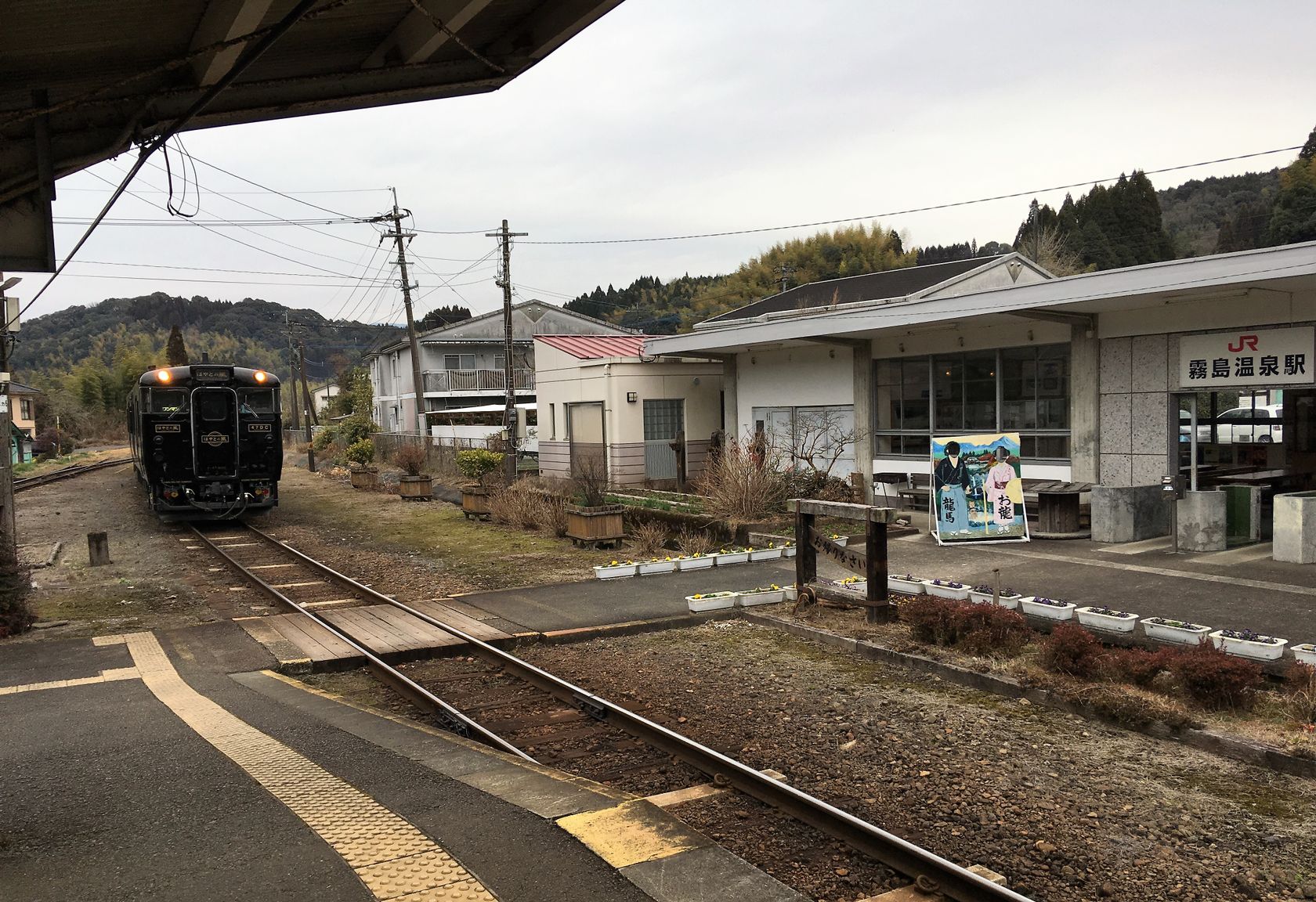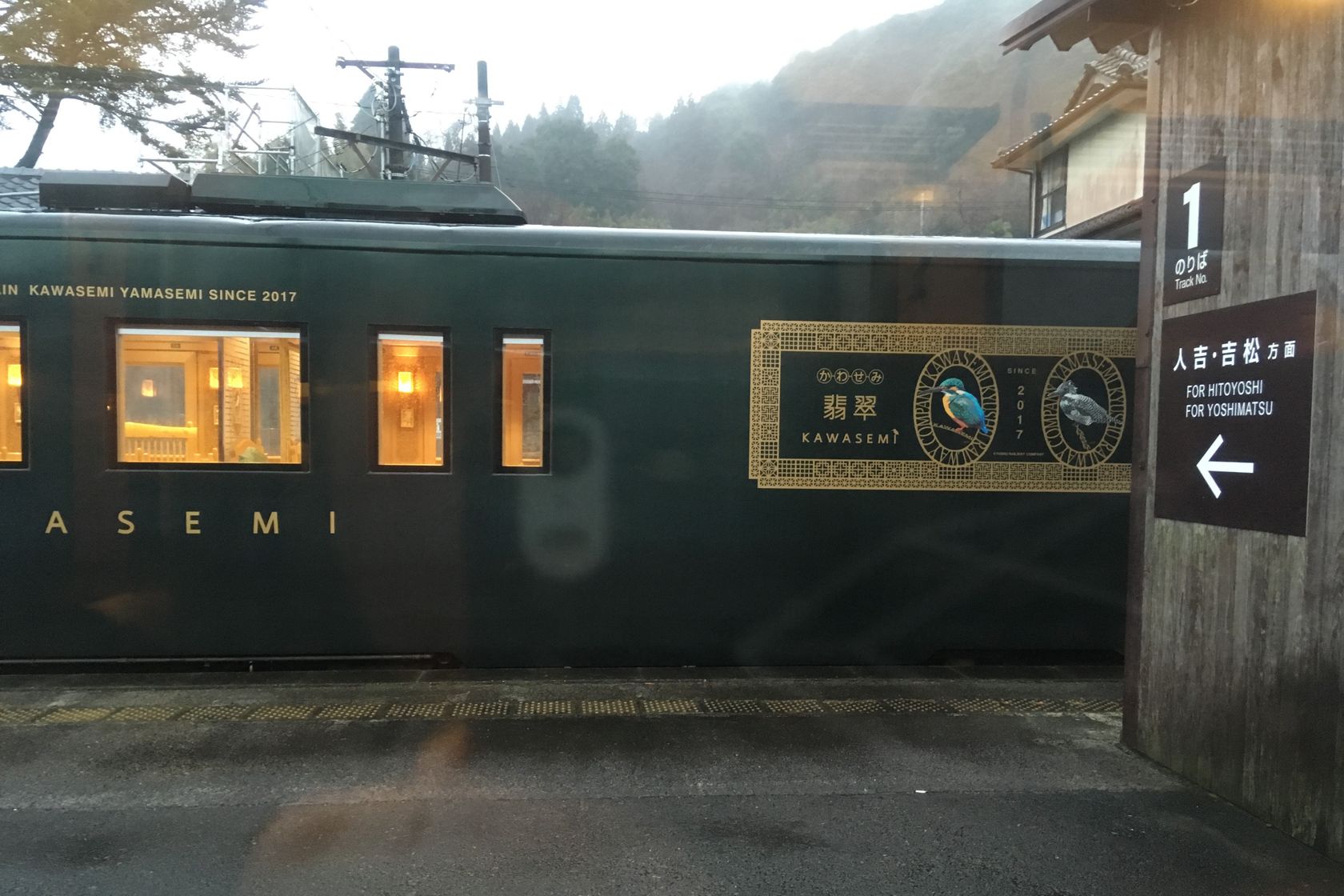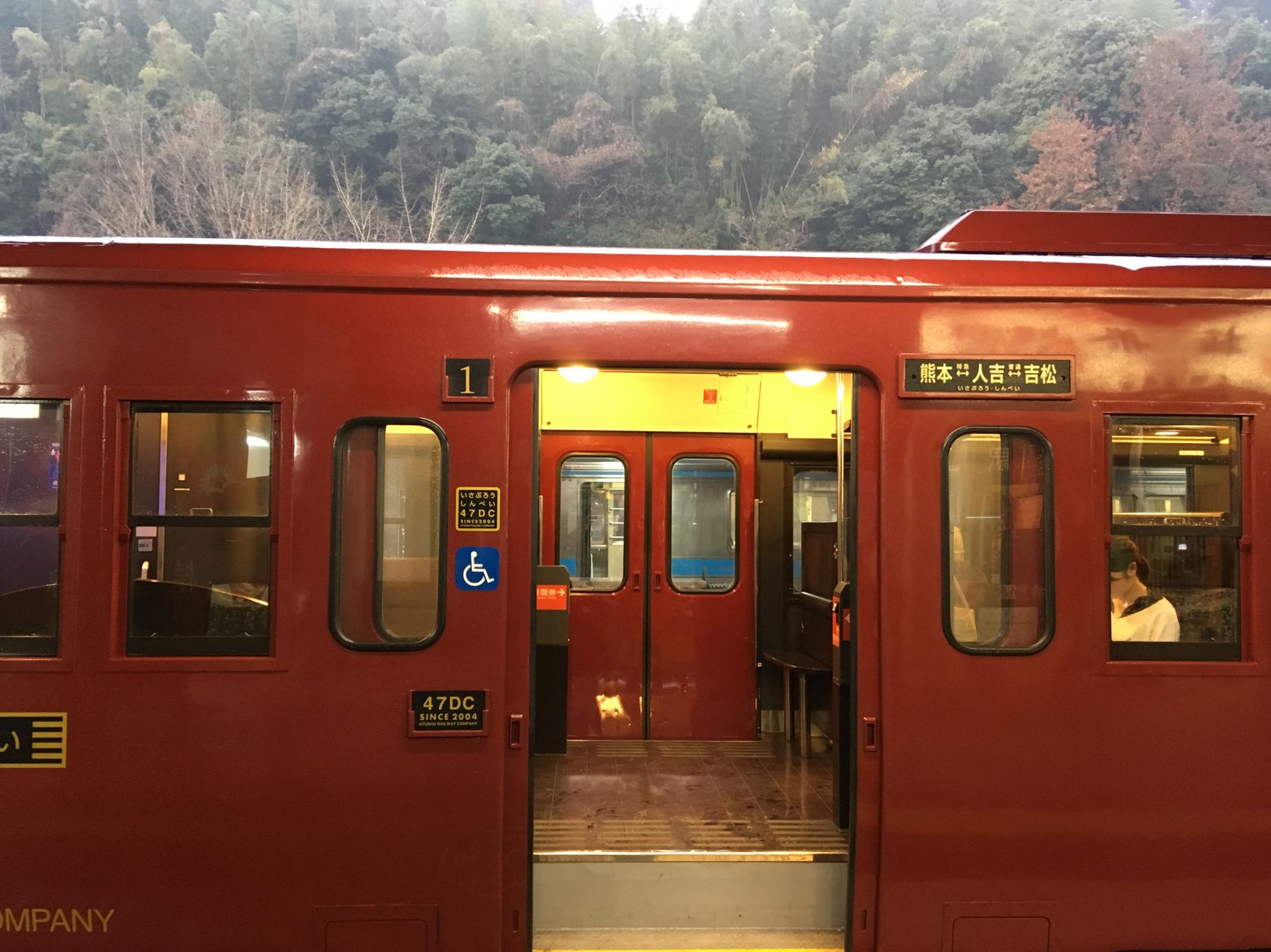 The trains I took in Kyushu were lovely and look vintage like.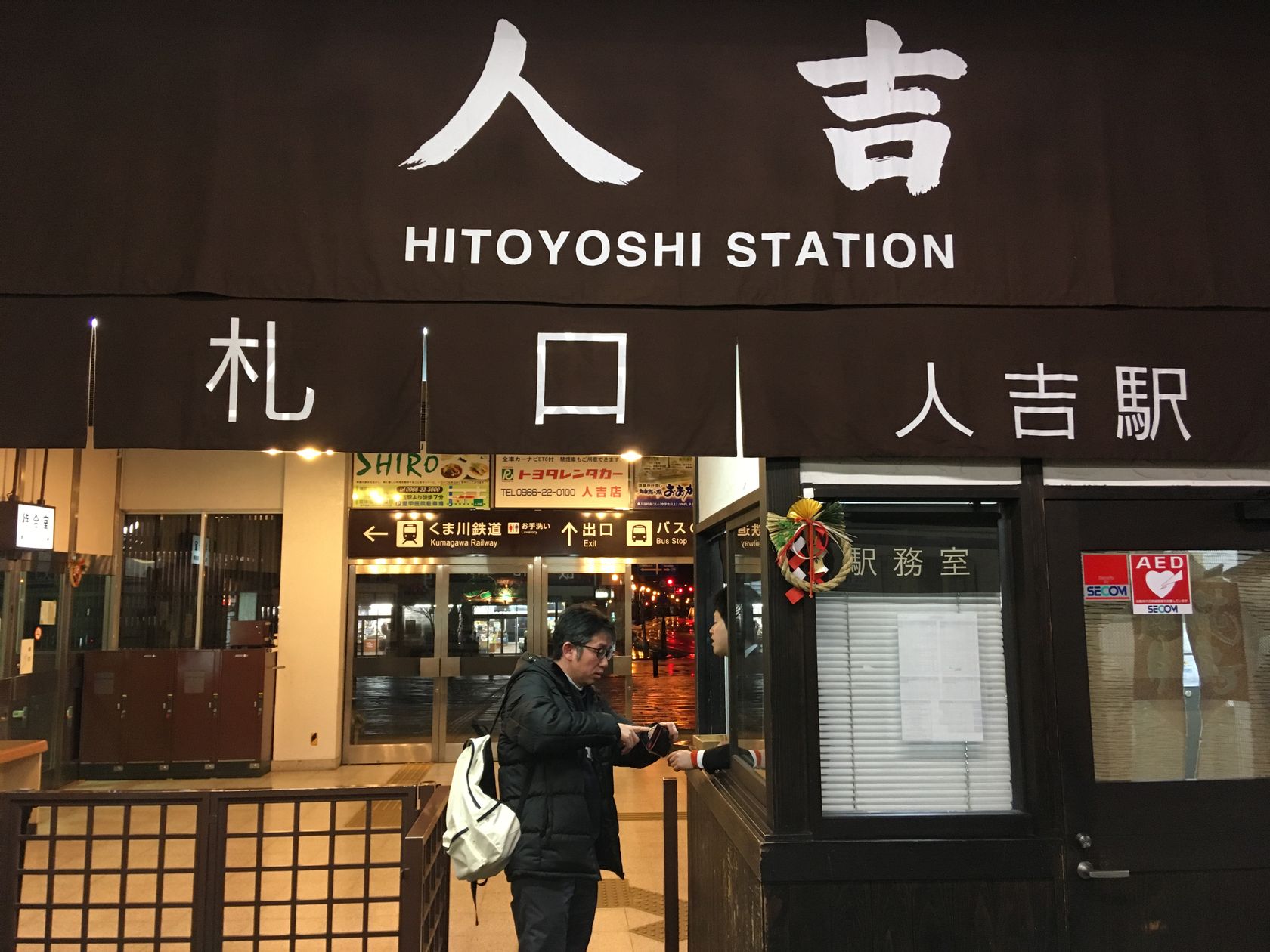 Hitoyoshi Station.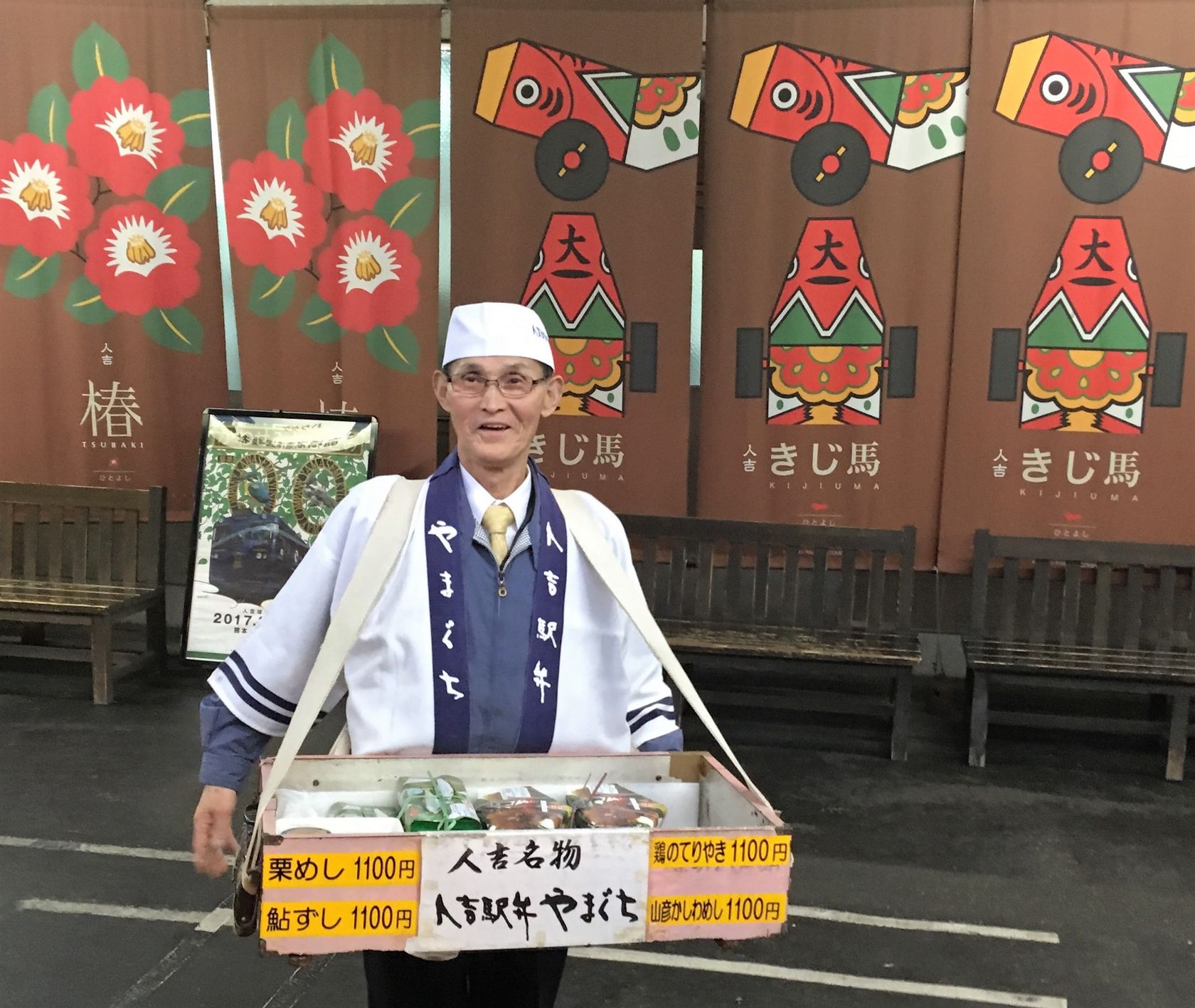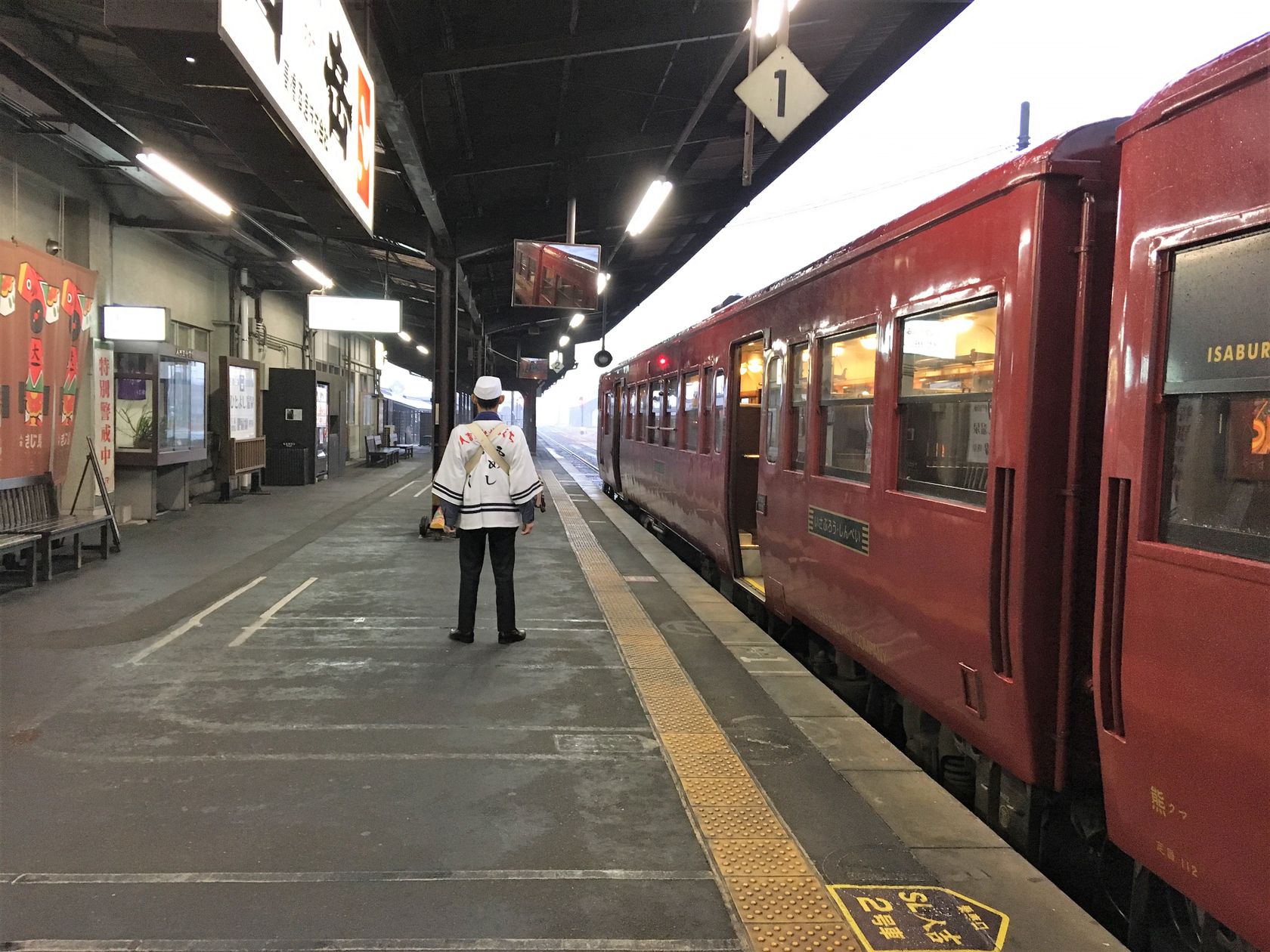 This guy is quite famous in Hitoyoshi Station as he's been selling bento boxes for years with a box that was hung around the neck. He's so cool and friendly, even offered to pose on my picture. When the train was moving, he kept waving to every passengers from the window.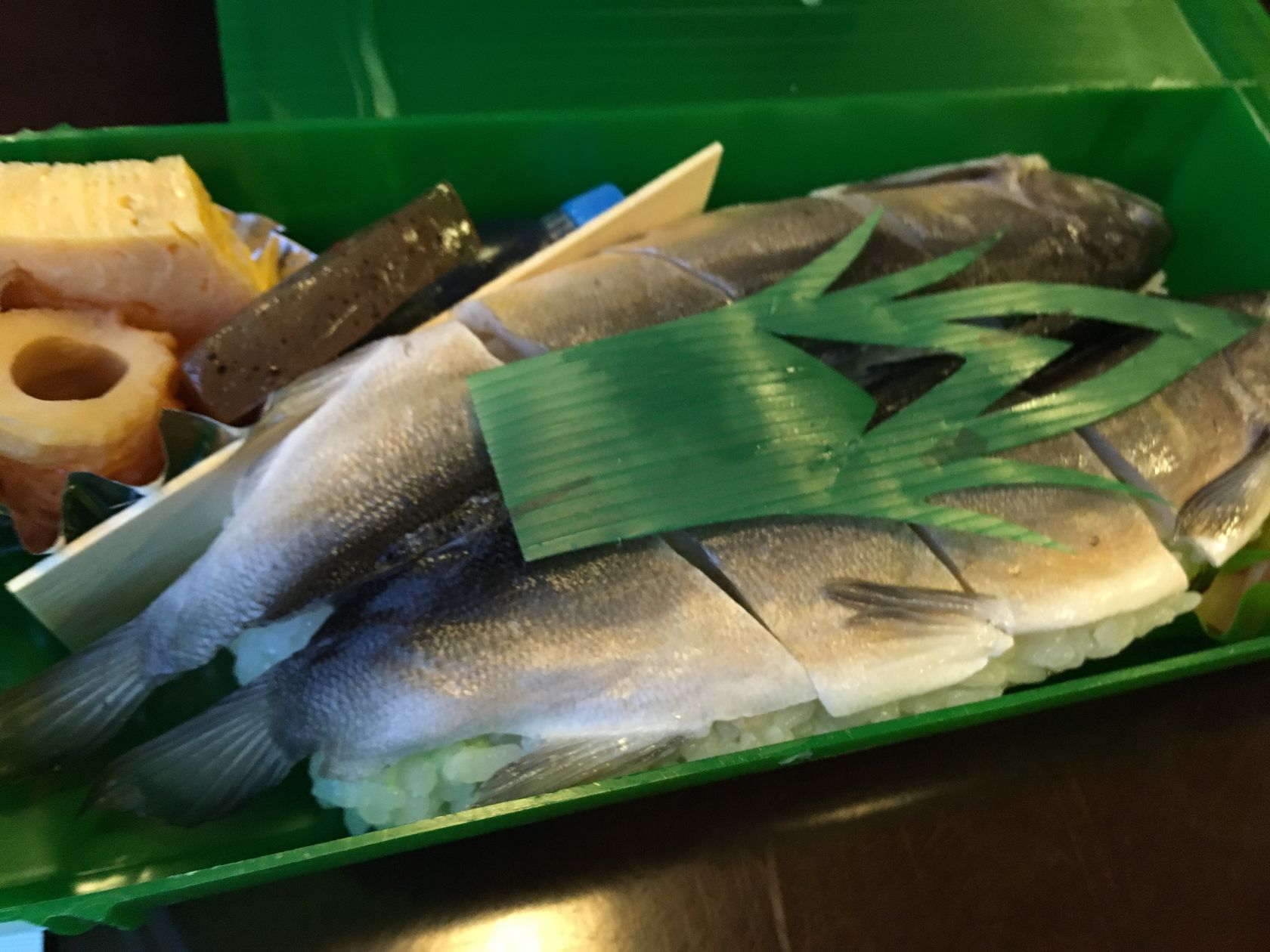 The fish bento box I got from him.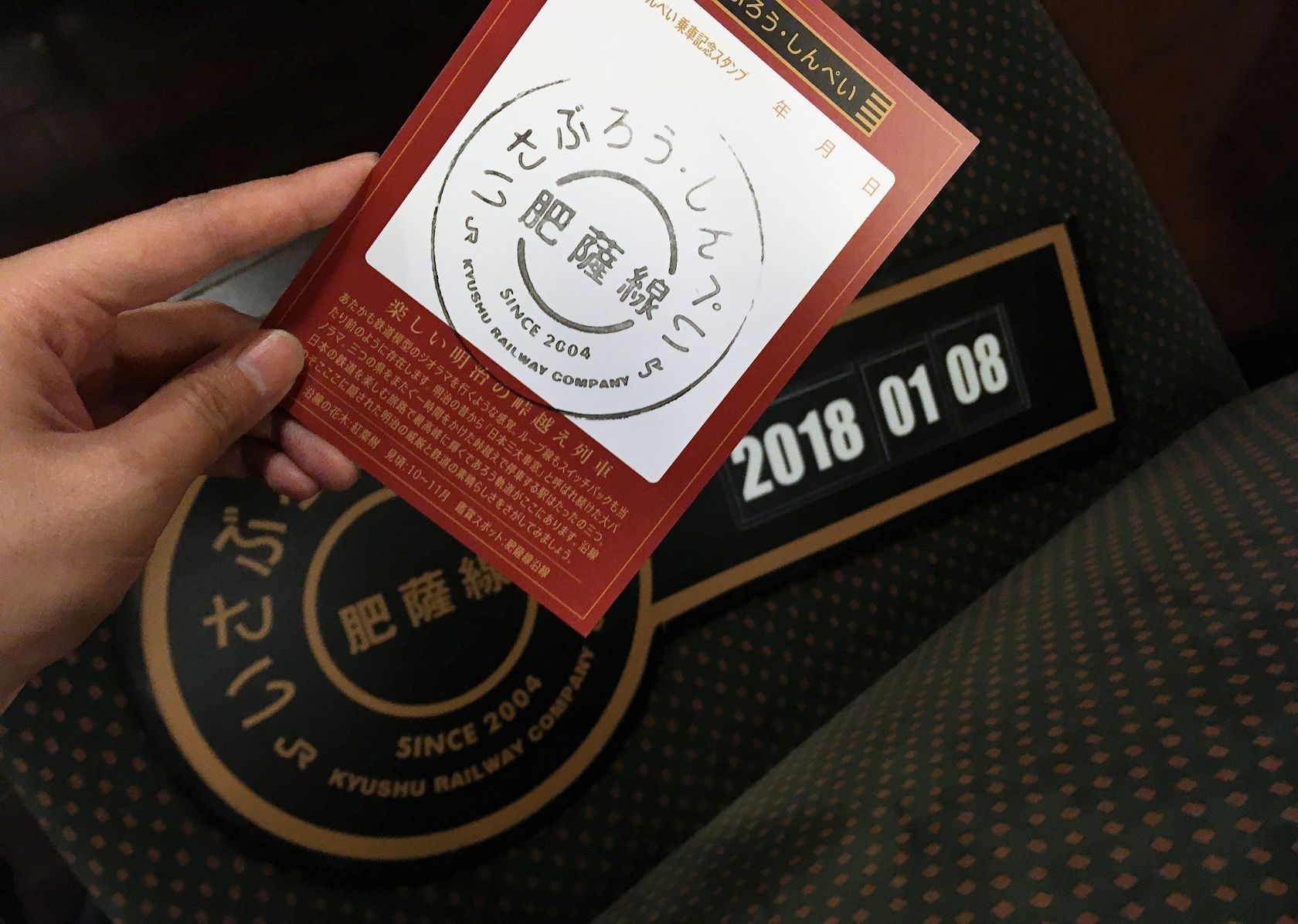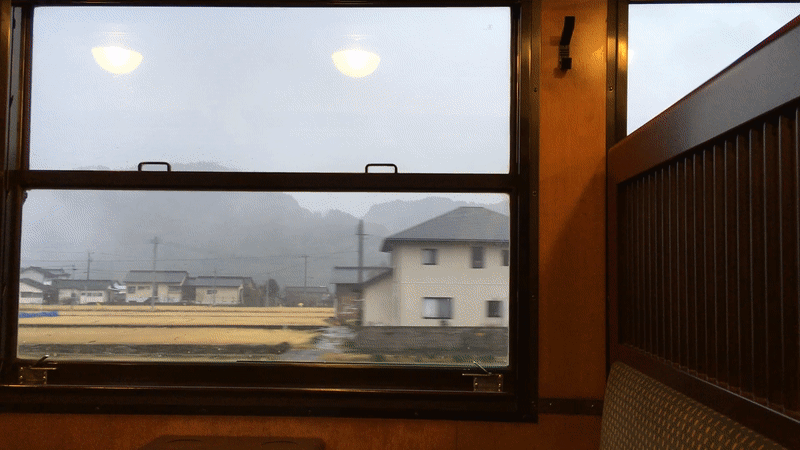 I heard not all the trains for the Hisatsu Line are special sightseeing trains, so I felt lucky to take it. The attendant girl gave us some souvenir card on which you can get a stamp of the train.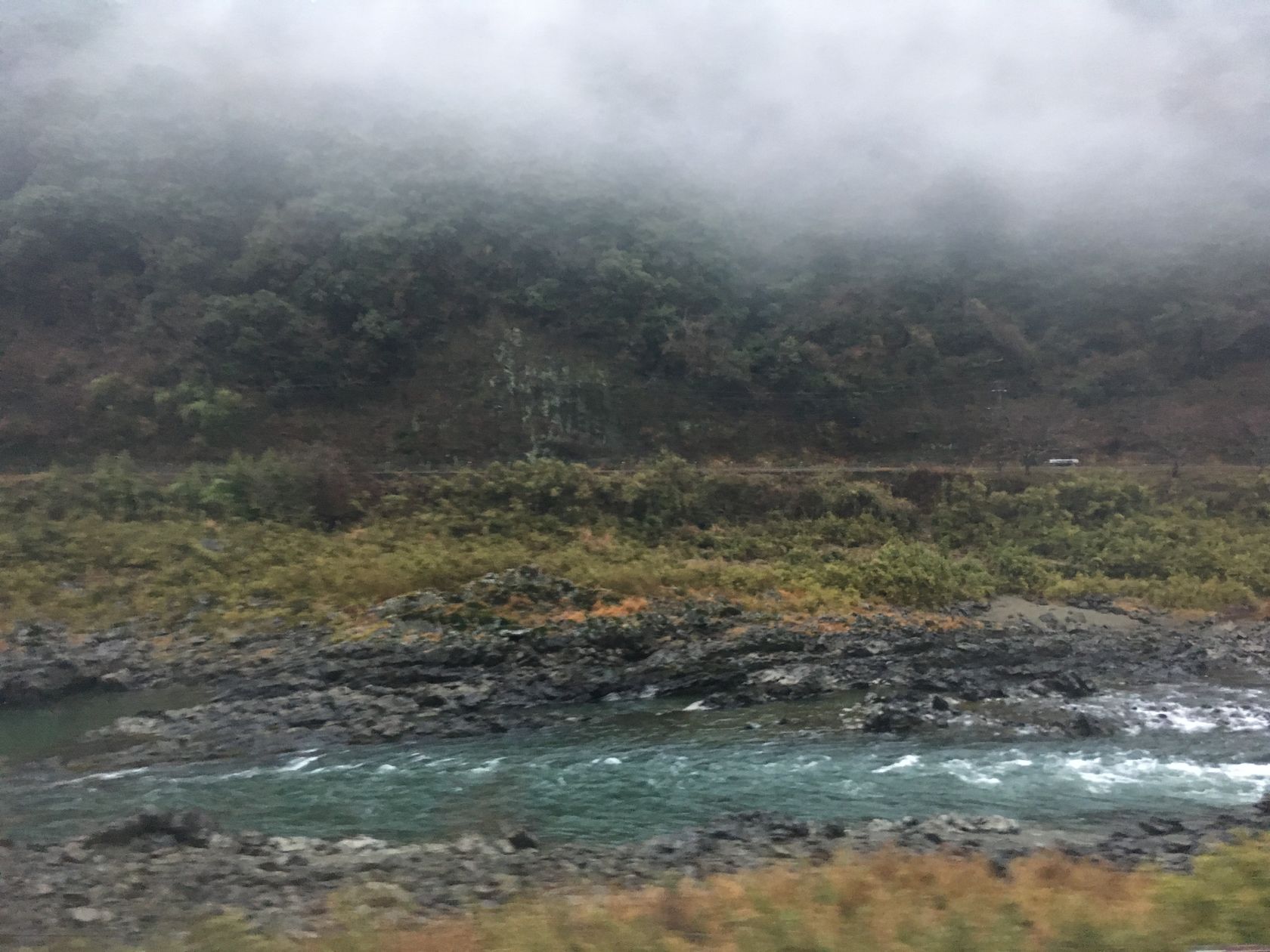 Scenery along the train ride. Kyushu is truly a beautiful island.

九州是个历史悠久,文化传统保留的很好。九州地区的特色小火车体验是很多来九州的玩点之一,作为火车爱好者的我也必然要体验一下。之前去日本主要是城市游,顶多两个城市之间搭一下四通八达的新干线,我也是服了我自己,从雾岛神宫站去人吉的时候居然连火车时刻表都没有查一下就出发了,因为当时从旅店去火车站最晚的公交车是下午2点左右(以后来九州还是自驾吧),我想应该直接连接火车吧,结果一看火车站小的可以,只有两个站台,没有工作人员,唯一可以看懂的就是"人吉方向"这几个汉字。只能靠瞎猜了,还好后来过来两个坐车的小妹妹,在她们帮助下终于在等了一个半小时坐上了车,顺便表扬下日本人,我遇到的路人都很乐于助人,无论英文好不好,都坚持不懈的帮忙,我们这些外国游客体验很不错。
从等火车这件事也让我意识到九州的慢节奏,火车也是很复古,很多线路已经运行了一百多年。九州为了发展旅游,也特地设置了几辆复古系的列车。有一些火车内部装饰也很特别,由于并非每列车都是特色火车,所以我也没有特意去搜,刚巧运气不错,后来从人吉到熊本坐到一辆"肥萨线",可爱的乘务员给每位乘客发了纪念卡片,还可以自己拿着卡片去盖个纪念章呢。觉得九州很适合亲子游什么的。
我这几天分享了不少关于人吉这个小地方的帖子,因为我真是太爱这个小城了,安静,很符合日本传统的美学。在人吉火车站,还可以遇到一个现在在很多地方已经被便利店取代的卖便当的叔叔,他人特别好也很有意思,看我有些犹豫直接大方叫我帮他拍一张,好像去年看有的博客说大叔有点背不动便当,当时换成了把便当放在桌子上面来卖,没想到这次他又背着便当卖。真是钦佩这些身体力行保持传统的人啊,火车开了他还一直想车厢的乘客挥挥手。
九州是个美丽的地方,也很适合火车旅行,尤其喜欢坐慢车欣赏沿途风景。