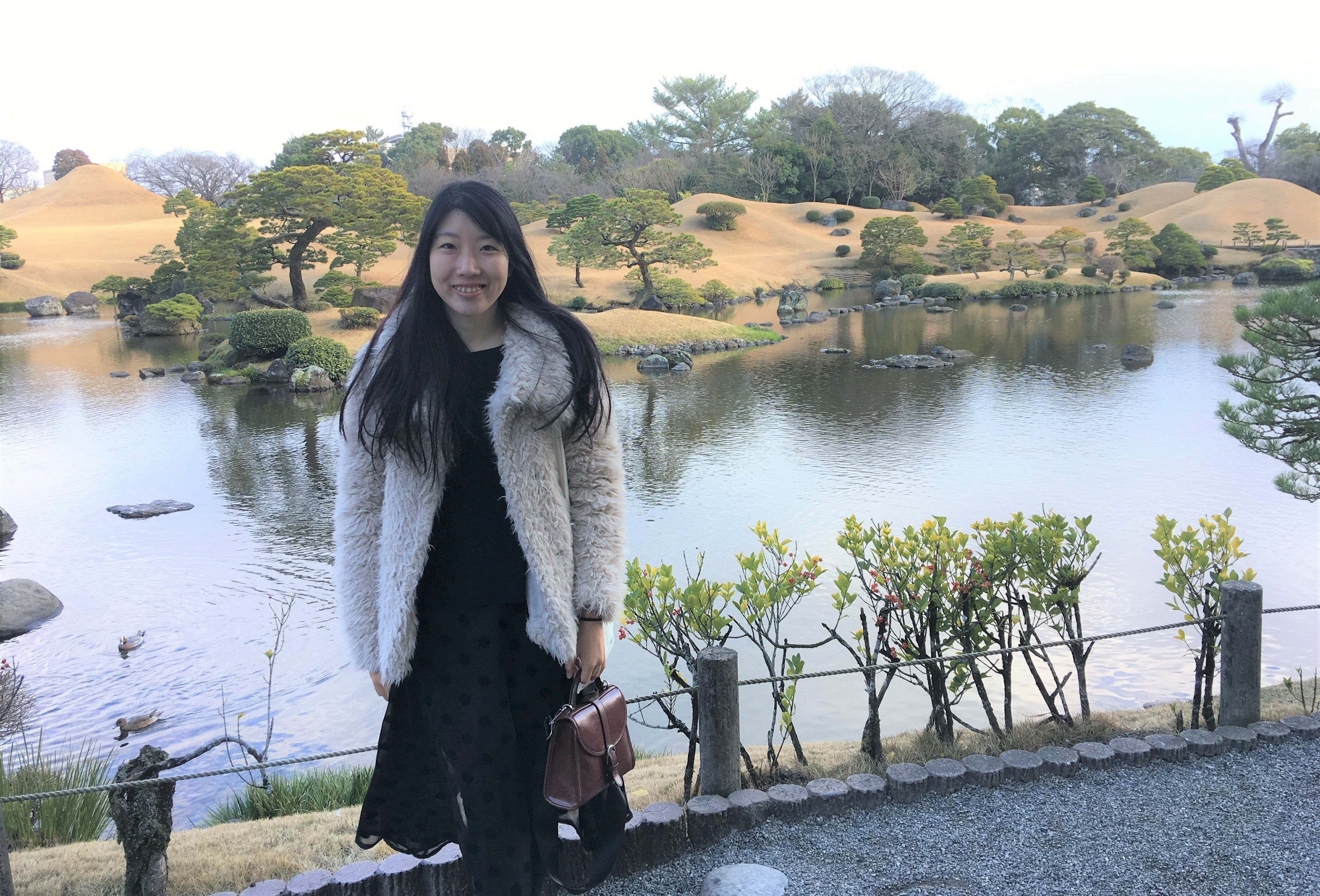 The Suizenji Jojuen Garden in Kumamoto is a typical Japanese circular garden where you can find Japanese sculpturing art at its best. Inside the garden every bush and hedge seemed precisely cut to perfection. It was named Jojuen after a sentence of a poem written by Tao Yuanming. The garden is hidden in a suburb of Kumamoto. The garden was very quiet and peaceful. it brought me surprisingly refreshing tranquil feeling while walking around.

A panorama picture of Suizenji Jojuen Garden. This sweet garden is designed to include 53 quaint representations of different key sites along the Tokaido Road, from Tokyo to Kyoto. You can walk around the lake, pass these 53 stops over small bridges. In the winter the tunes and ground look all brown, I guess it could be more beautiful and green-ish in spring and summer.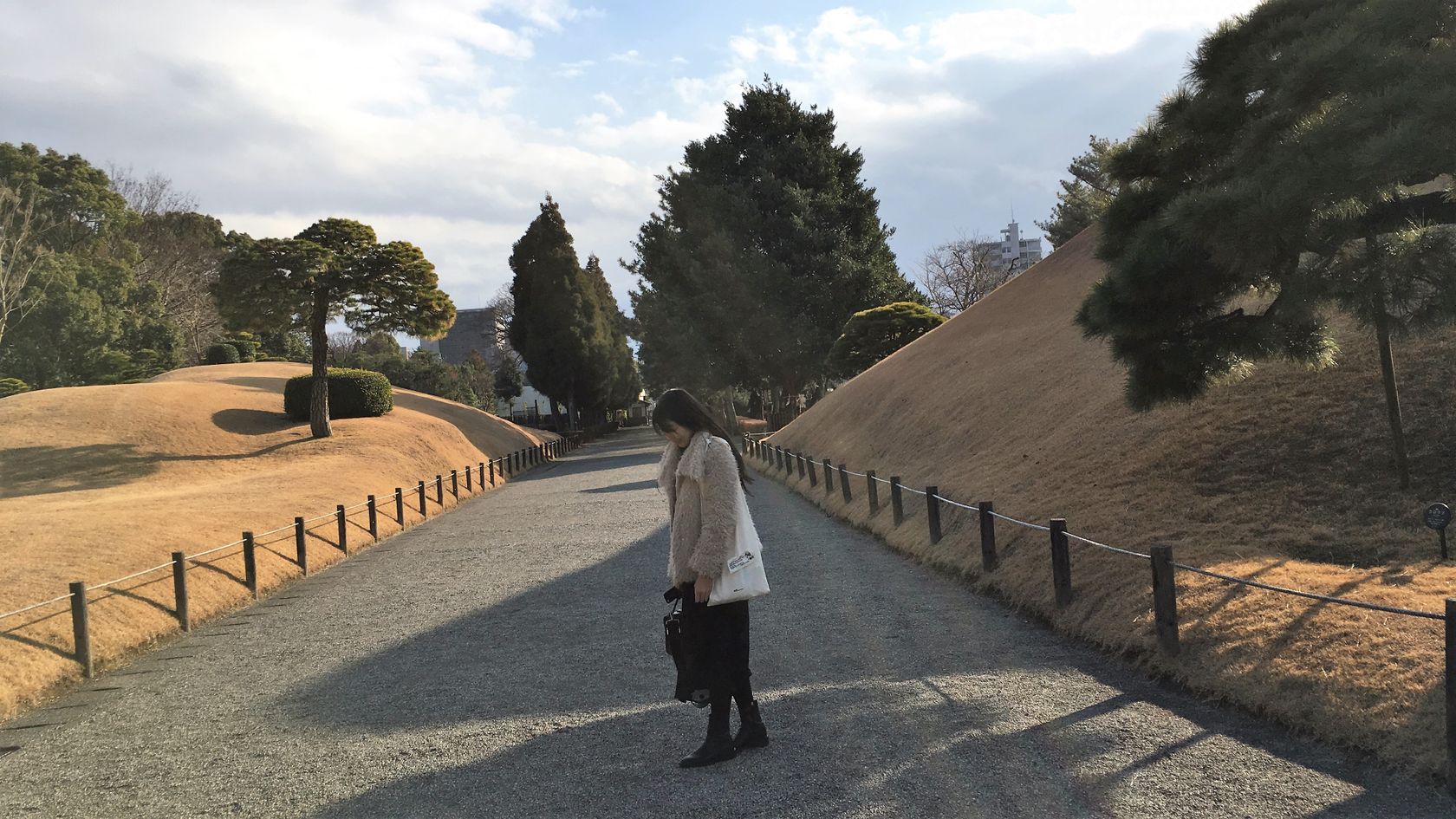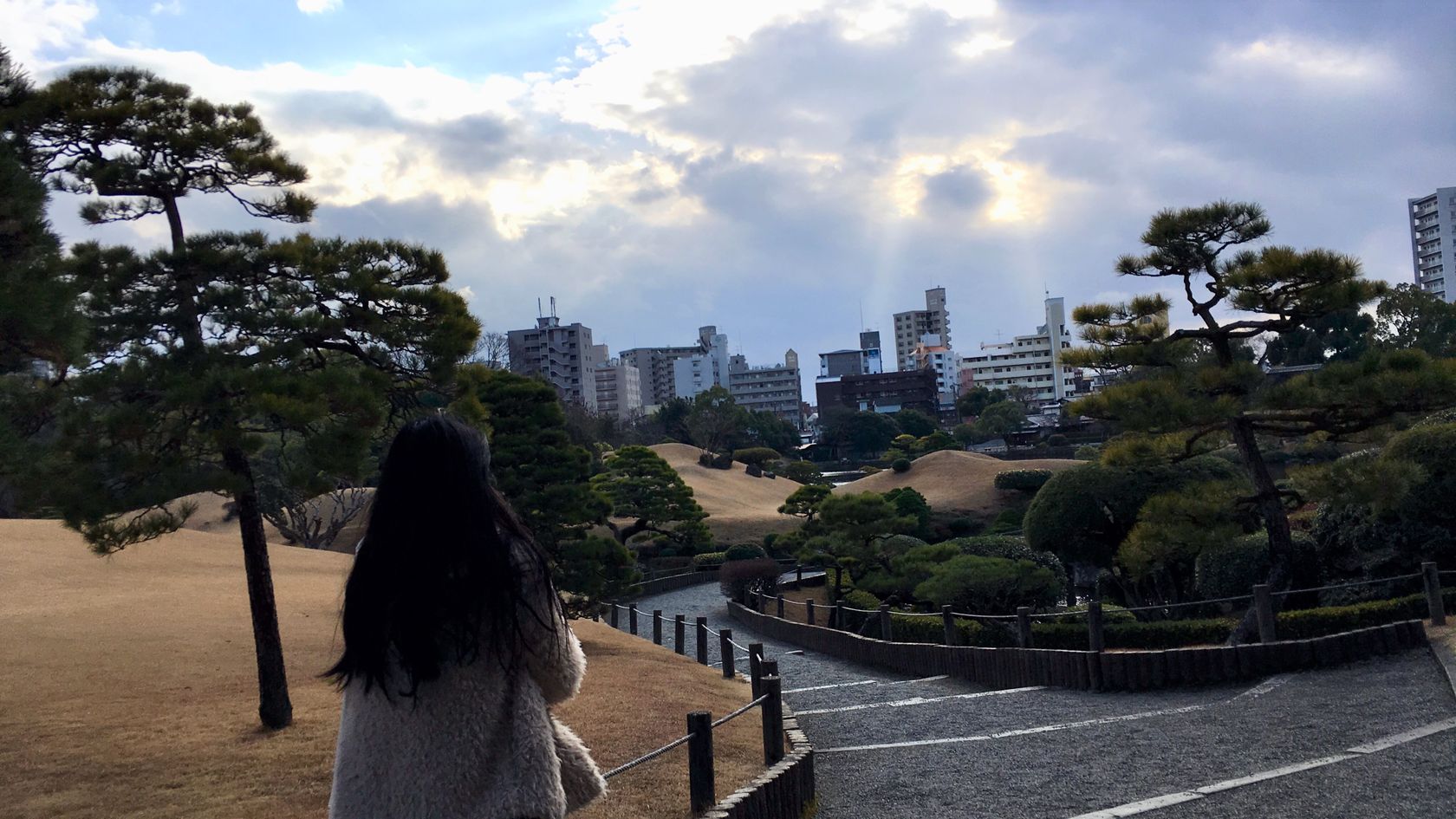 Even though the garden is surrounded by some tall buildings, it is still very quite.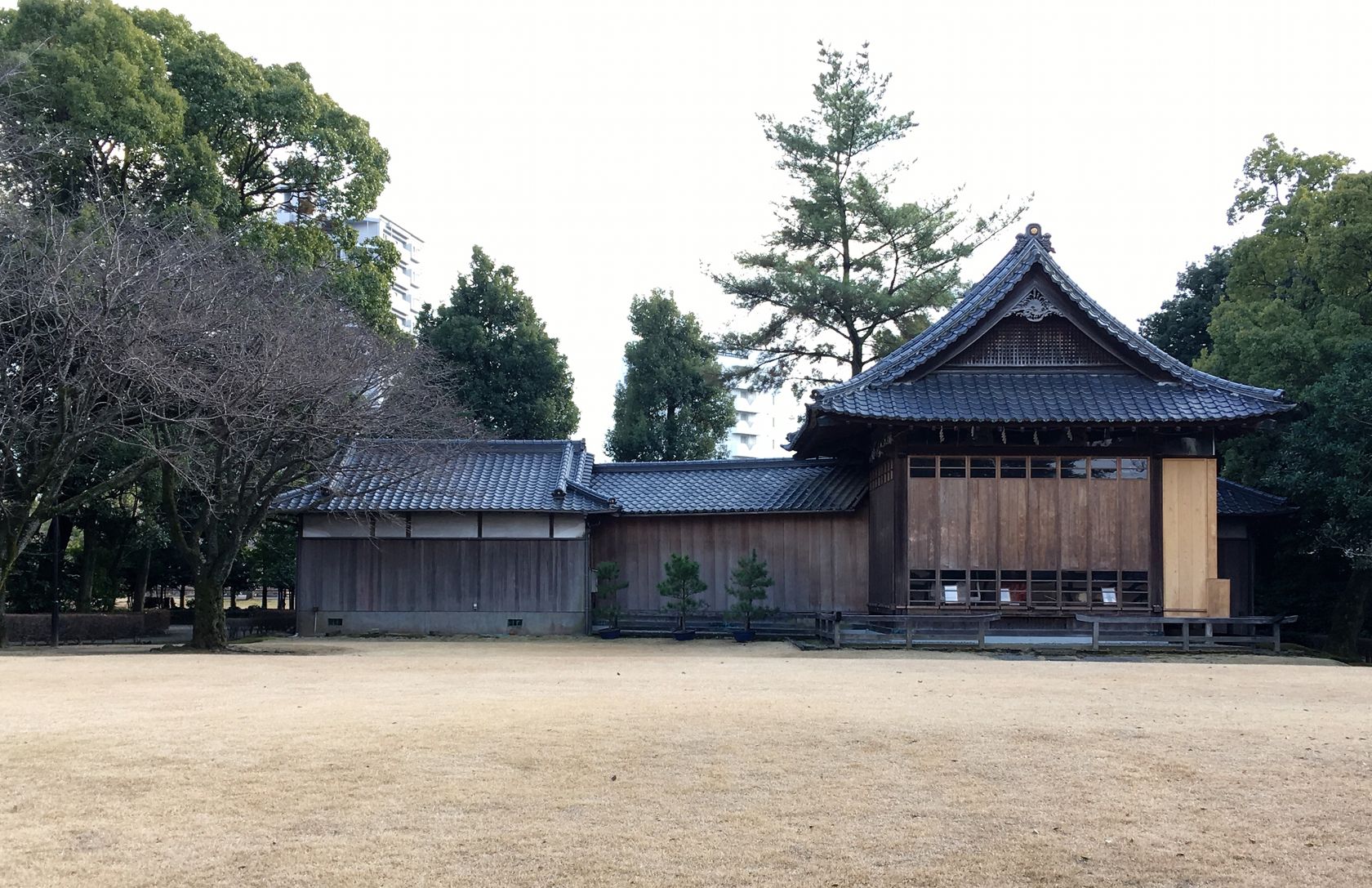 There is a traditional tea house facing the lake where you can grab a matcha tea and dessert, while enjoying the view.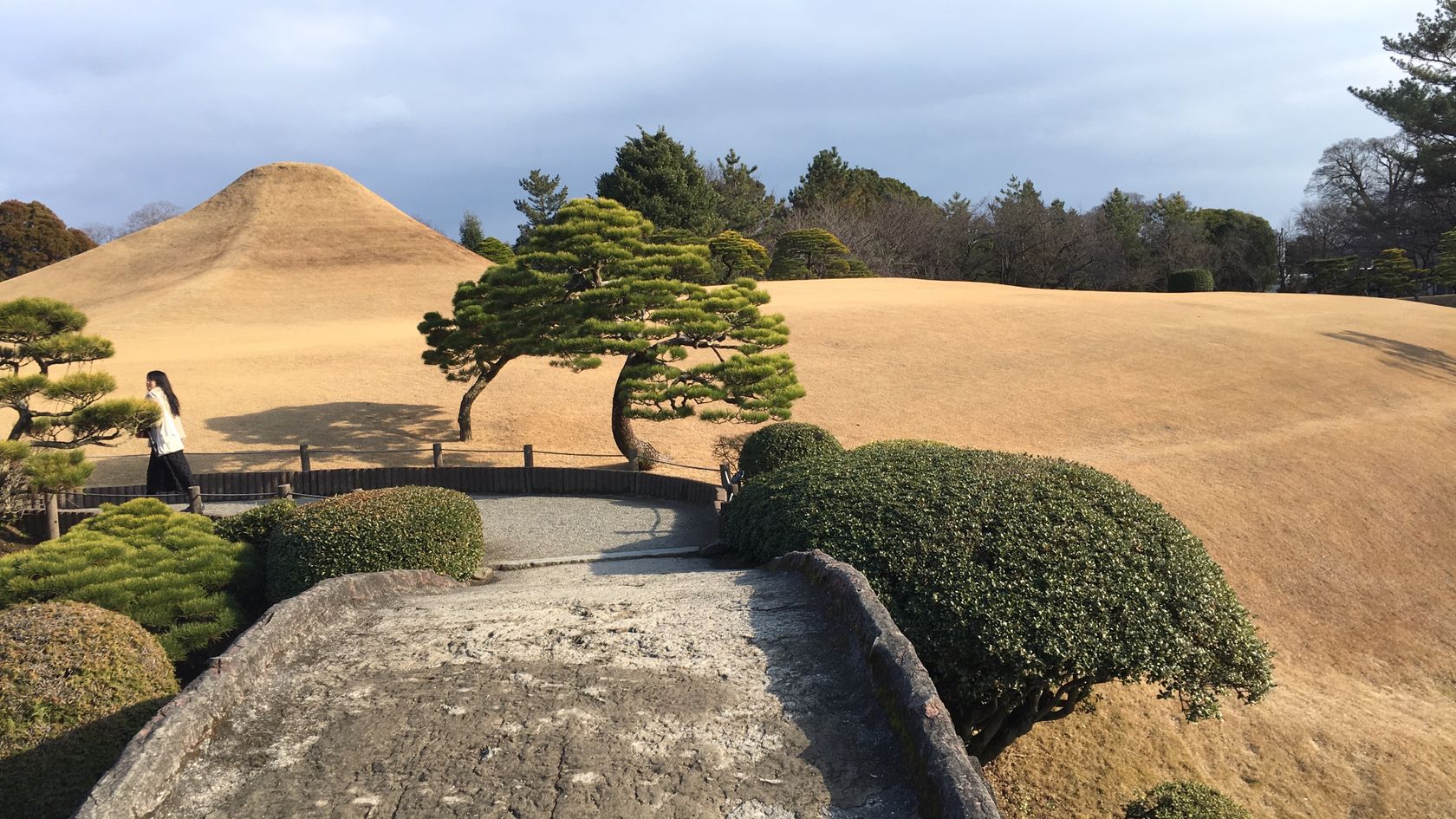 Of all the sites the garden represents between Tokyo and Kyoto, the most famous and also the only one I could recognise is no doubt Mt Fuji (how I hope to be more familiar with Japanese geography).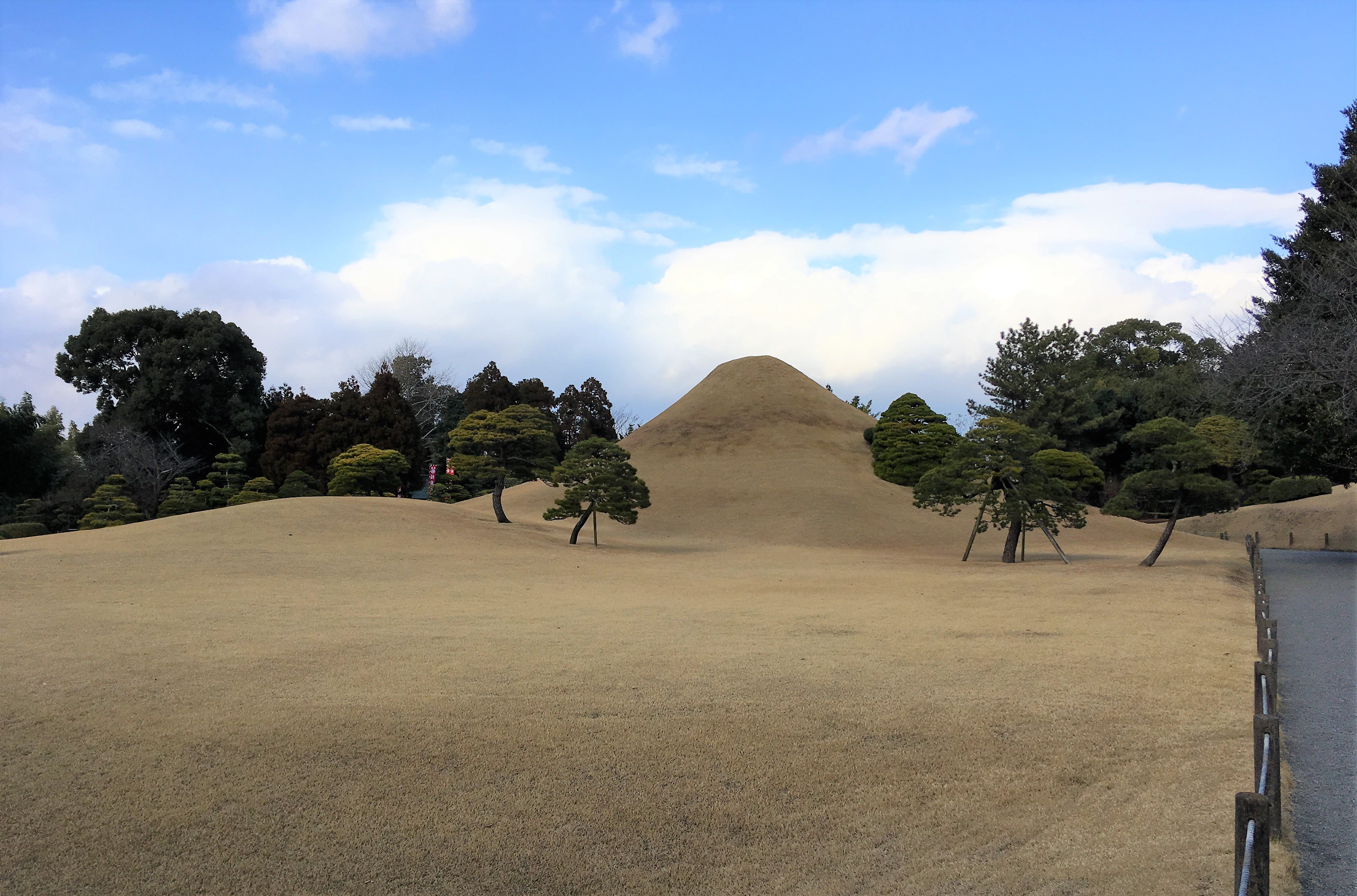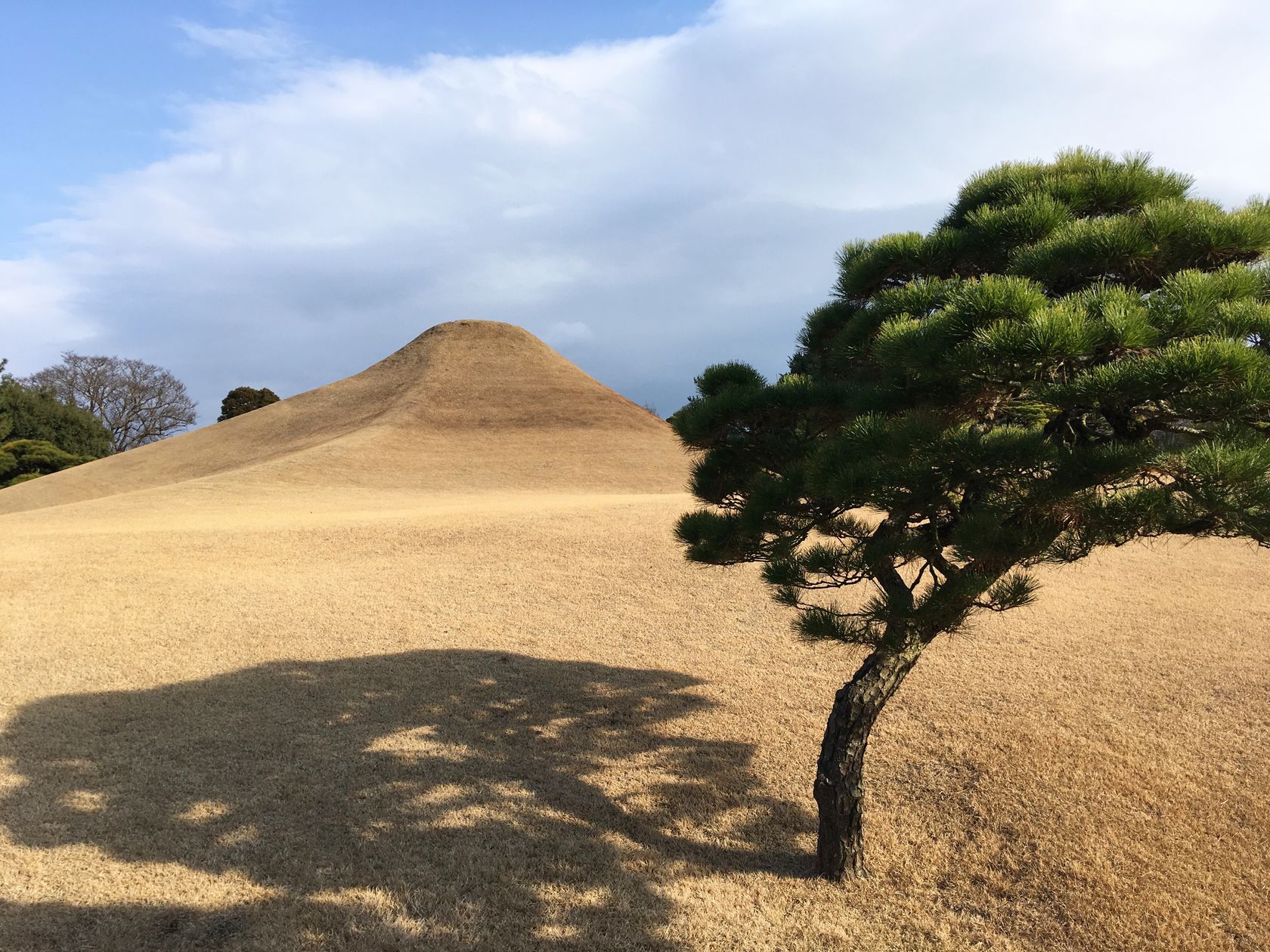 Mini version Mt.Fuji with some tortured-looking pine trees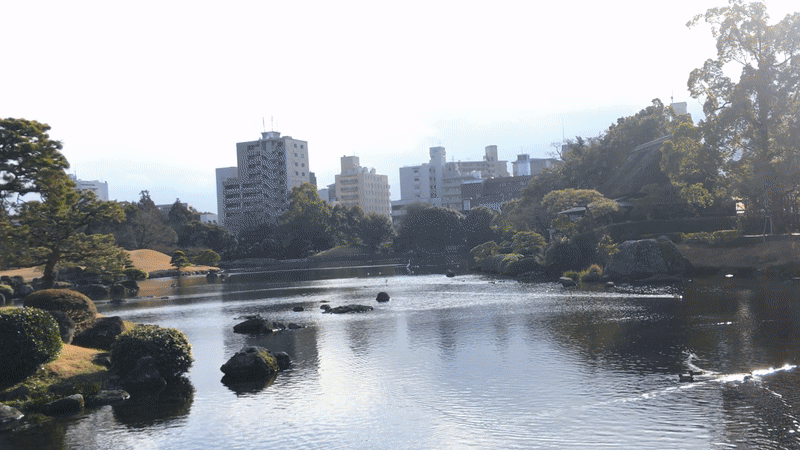 The lake is supposed to have a shape of the character "Heart". Can you see it from this gif?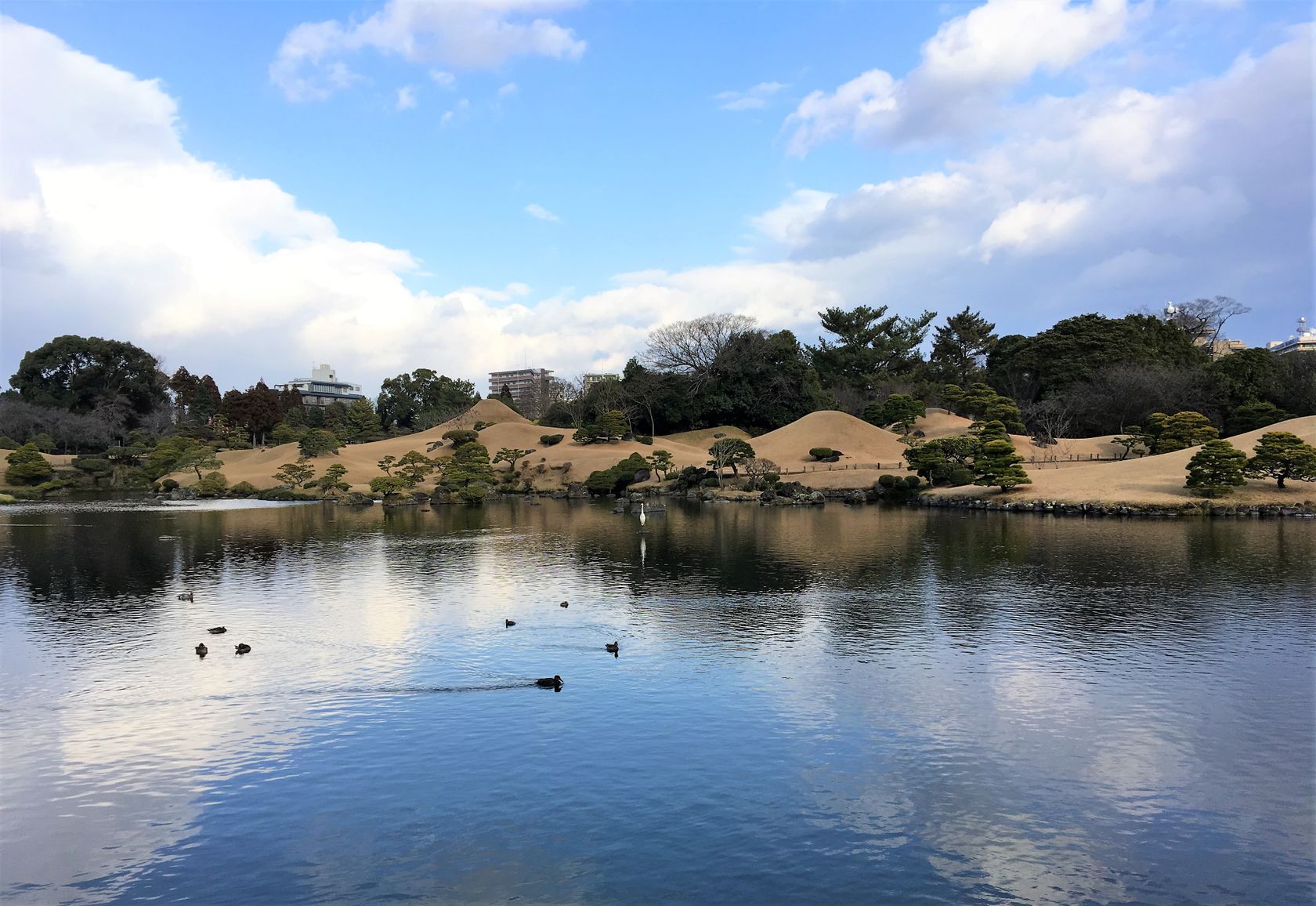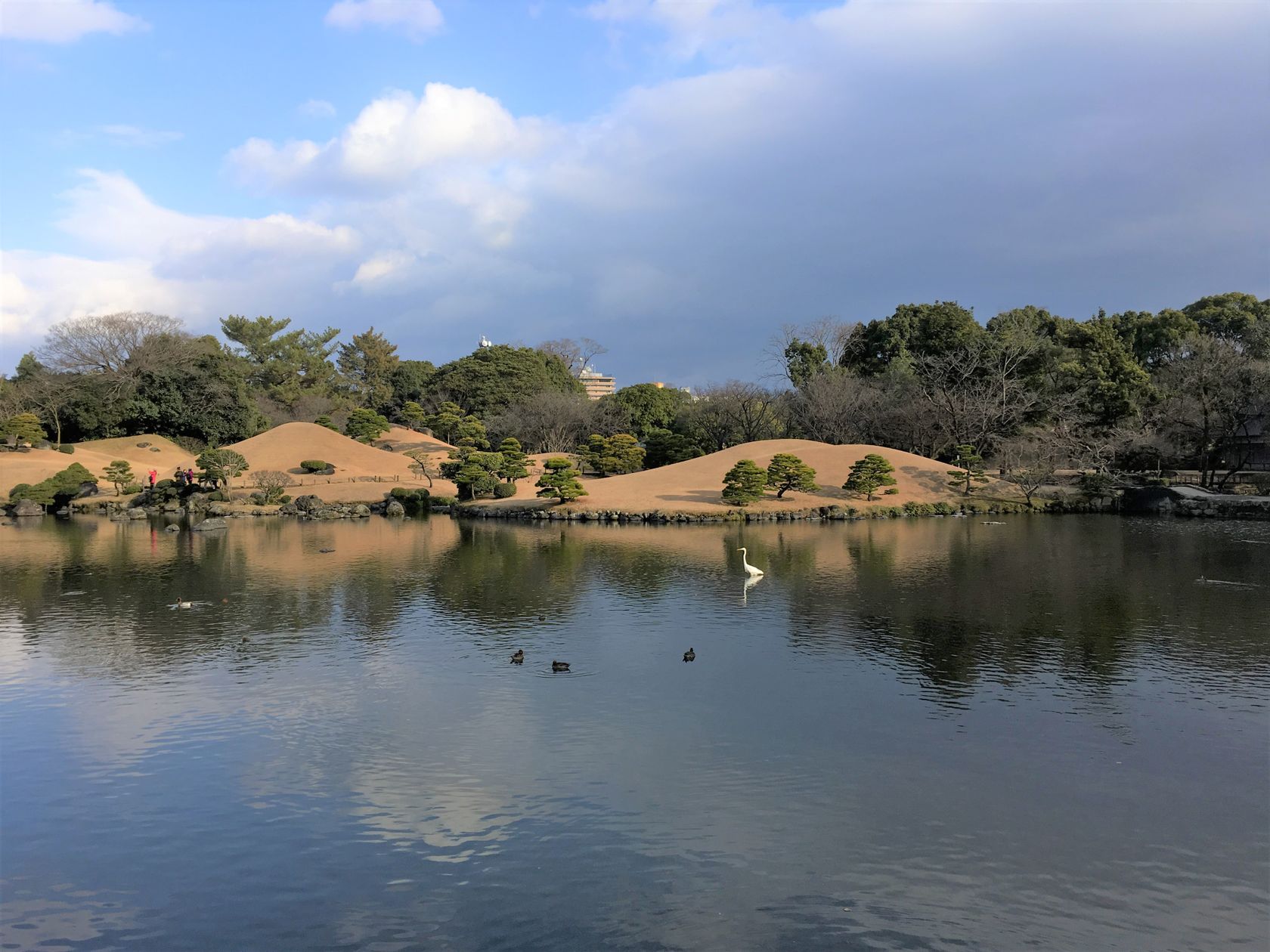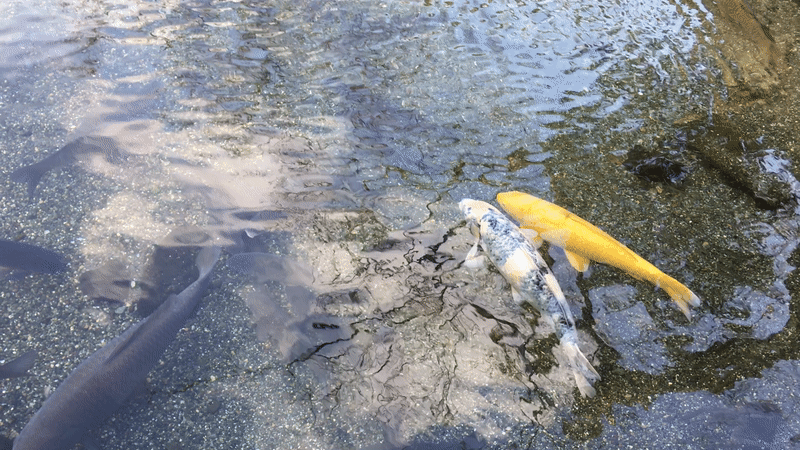 Water in the small lake comes from a natural spring released from Mt. Aso, so it was so clear. I was able to see a Japanese stork that stood out in the middle of the pond, plenty of ducks and some big koi fishes.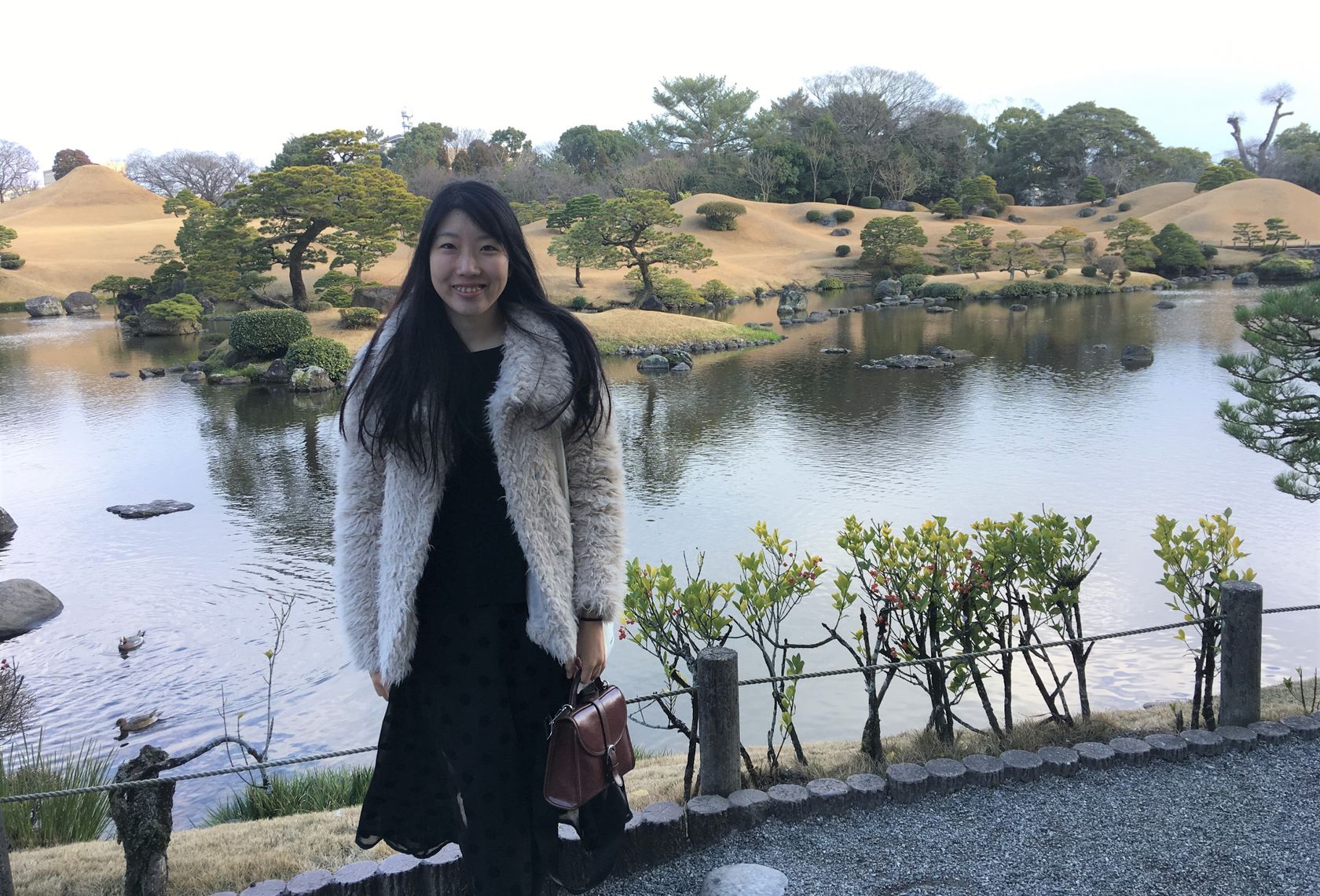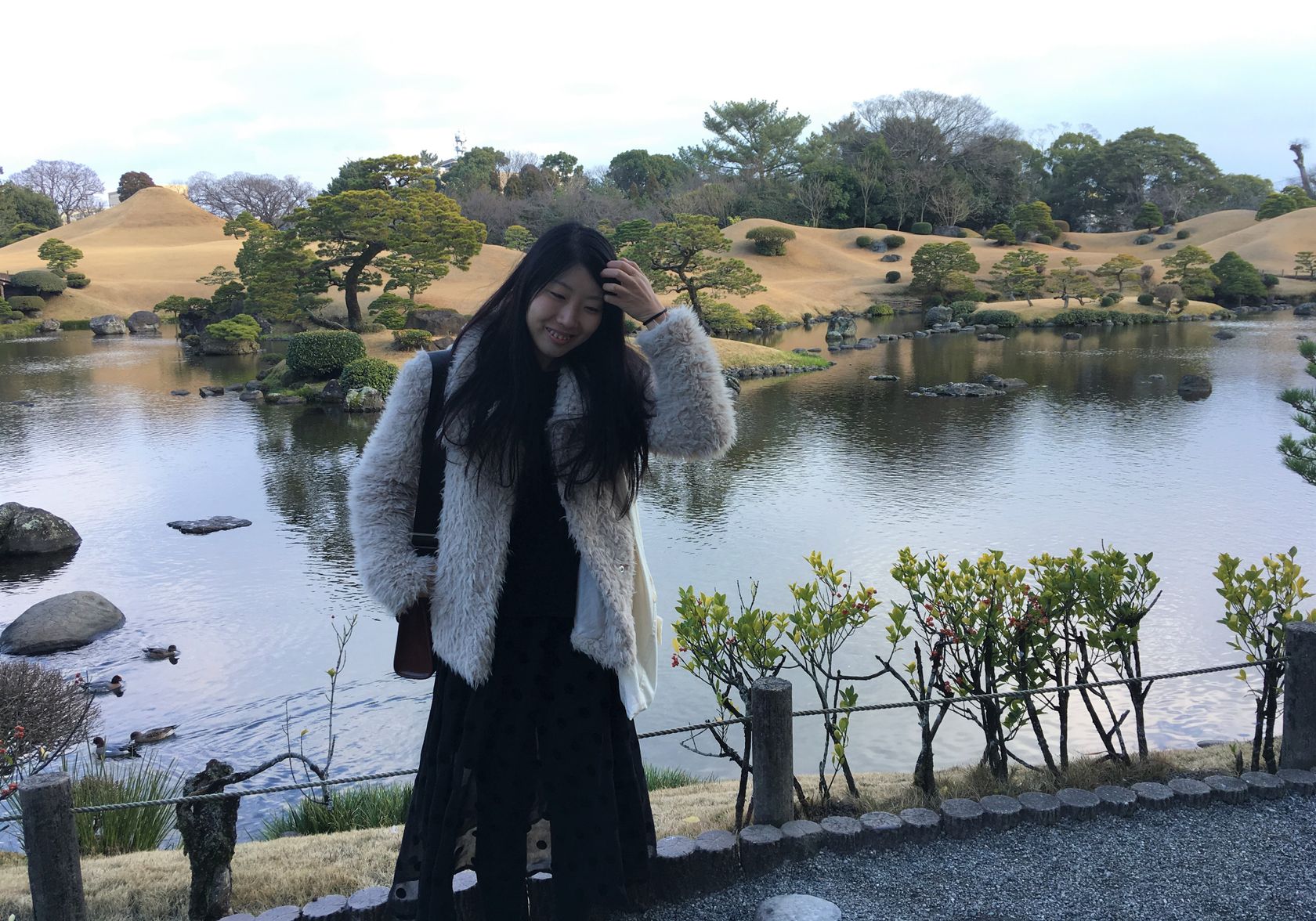 I really enjoyed walking around the garden. Maybe because of the earthquake in Kumamoto last year, it did attract many tourists to come, or maybe it was just in the winter. There is a kimono and yukata rental shop at the entrance but I didn't rent one here because it was too cold that day.

在熊本有一个挺有名的日式回游式庭园叫做水前成趣园。"成趣园"这个名字其实取自于陶渊明的《归去来辞》中一句的"园日涉以成趣"(东亚文化真是几千年前是一家啊)。"水前"则是因为园中有个池塘,水源是阿苏火山地下潜流带来的清冽泉水。在其中可以看到很多鸭子,大只的鱼和很有禅意的白鹤,竖立在水中央。
我觉得这个园林很有特色,除了有日式茶屋可以坐着喝茶看风景,这个庭园是仿造江户时代从江户日本桥到京都之间的东海道上的53道美景而成。这些迷你风景环绕在清澈的池塘四周,遥相辉映,如果对日本地理很熟悉的大概会更觉得更有情调。可以在小桥上随便逛逛,看看你能不能找出一些熟悉的风景。最出名的当属是小号的富士山,富士山也是最吸引眼球的景色,冬天来,所有的景色都变成了土黄,我想夏天过来可能会更美丽呢!
可能是去年熊本地震的影响,最近来这里的游客并不是很多,园外的纪念品商店也都冷冷清清,在入口附近还有租和服逛成趣园的呢,那天太冷了,我就没有再租。