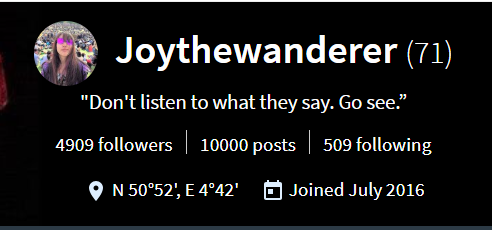 Today I reached 10k……. followers? Np, 10k posts, in fact the number includes comments as well.
The other day I saw a Steem senior, Dean @deanliu, was also celebrating this milestone, thought it's actually quite meaningful.
It's crazy, isn't it? Even just for a one-word reply, it's 10k times. I'm so surprised how much time I spent here the past year. I think the number has mostly been accumulating throughout last year, as I didn't participate in many communities during my first year here.  I'm sure, though, half of these posts are probably from replies of the comments I received, maybe just a "thank you" sort of. 
Nowadays, with musing.io and steemhunt, I can see this number will continuous be growing fast, as I spend some times there every day. 
Of course, when it comes to socialising and interacting with fellow Steemians, no one can beat ace @ace108, I used to doubt if Ace has a bot to serve him, but of course not, I can see all comments he writes are from human 😀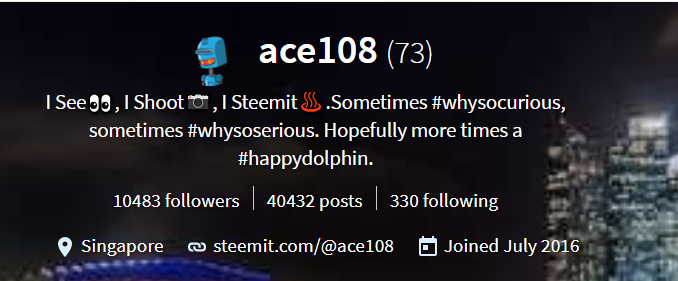 Steem on, have a good Wednesday!

前些天看到Dean在庆祝发帖破万,这里的帖也包括评论啦。今天我醒来看到我的发帖数在999X,强迫症的我评论几条以后,看到也破万了才停下来。
想想也神奇不是?来Steem的第一年,我基本不社交,也没几个朋友,所以我才这个10000基本都是这一年积累的。我怎么如此话痨?其实我是个话不太多的人(见过我的人请帮我证明哈哈哈),所以对我来说这个太不可思议了。就算两字评论为主,那也是写了一万条?
对了我最近玩Steemhunt和Musing,估计也跟这个有关系吧,哈哈。
不过说到活跃社区,多互动的典范不可不提Ace,这个Dean在他的帖子里面也提到了,Ace是神人,你看他已经破4万了!这个不得了啊。^_^
祝大家在Steem玩的开心,多多互动,一起聊天。