I often tell people if you can only choose one country to visit, then choose India. It's colours, tastes, doors and sounds, just something you may never experience before! I've never been to a country so special like India and Varanasi is for me the most special place in India.
1st Day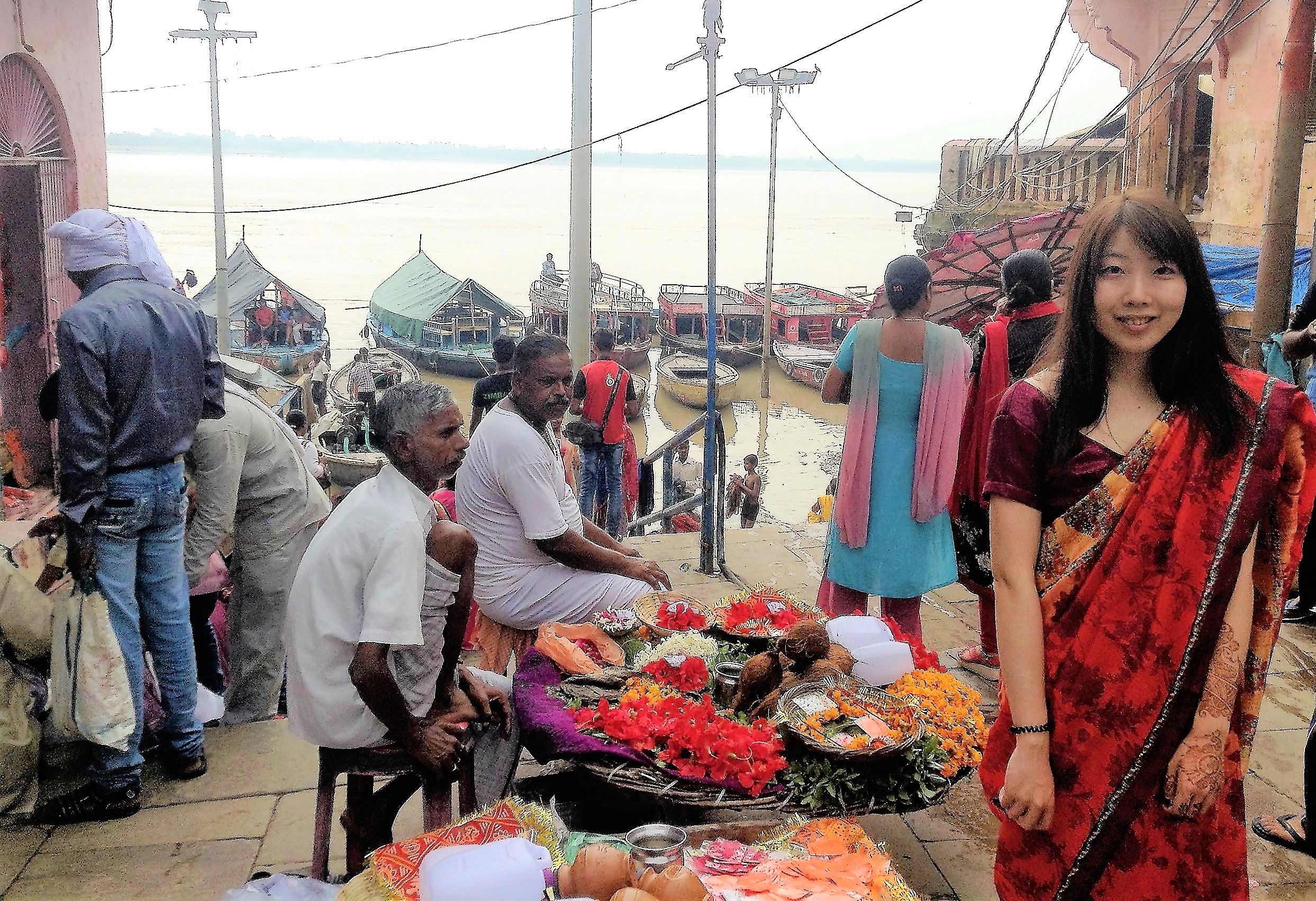 People say Varanasi is one of the oldest continuously inhabited cities on earth, I wonder if that's really true but for sure Varanasi is one of the most famous city in India because the Ganga river and the fanscinating Aarti ritual at Dashashwamedh Ghat. I loved Varanasi and see it as my favorite place in India, however I also heard many stories how people hate it. I was there at the almost end of Monsoon season. I remember when I was there in the hotel, there's a South Indian family with a 13 year-old boy. The boy refused to get out from his room after having seen Varanasi streets.
I find Varanasi extremely charming especially during the low tourist season. I would like to show you around.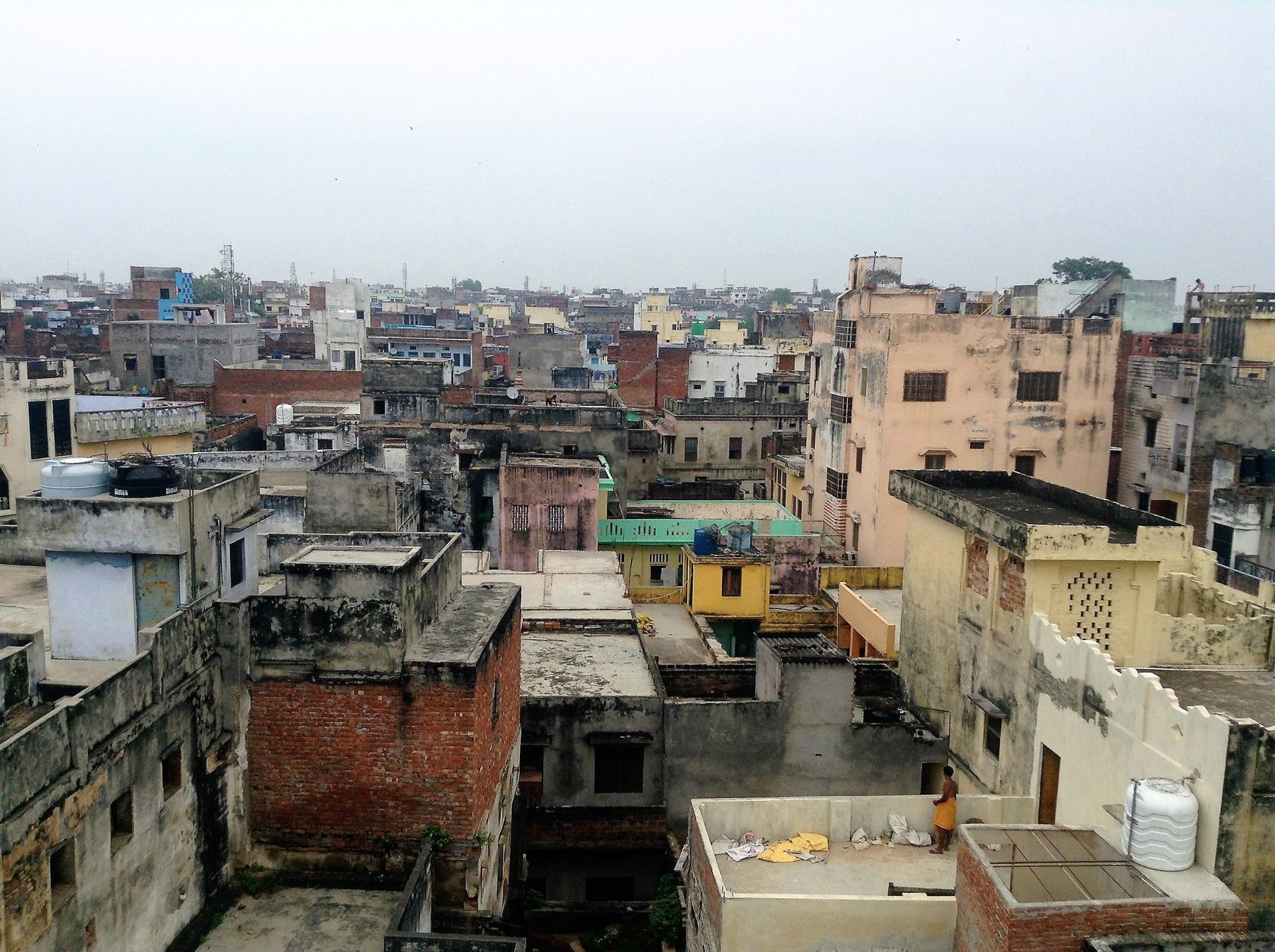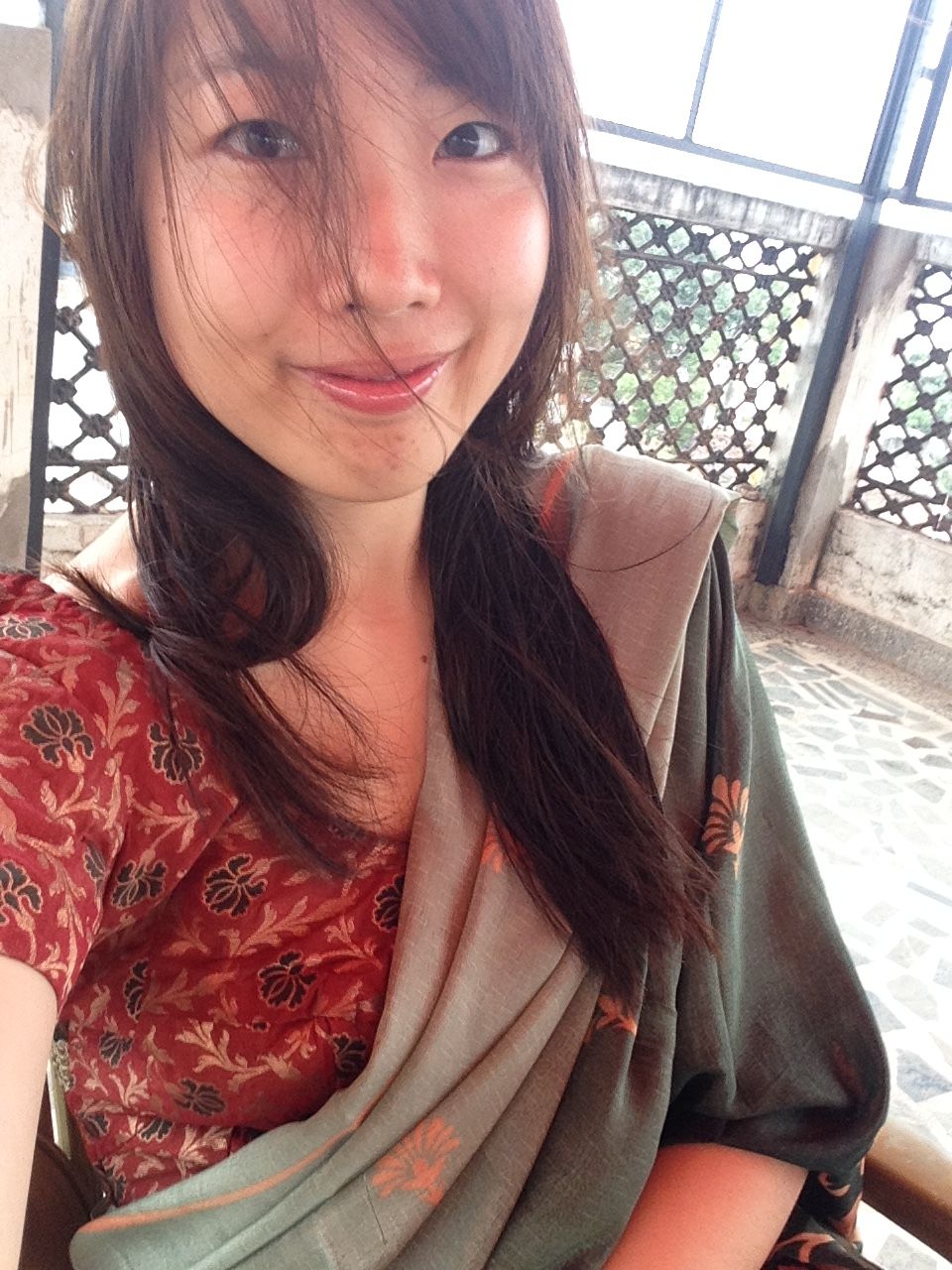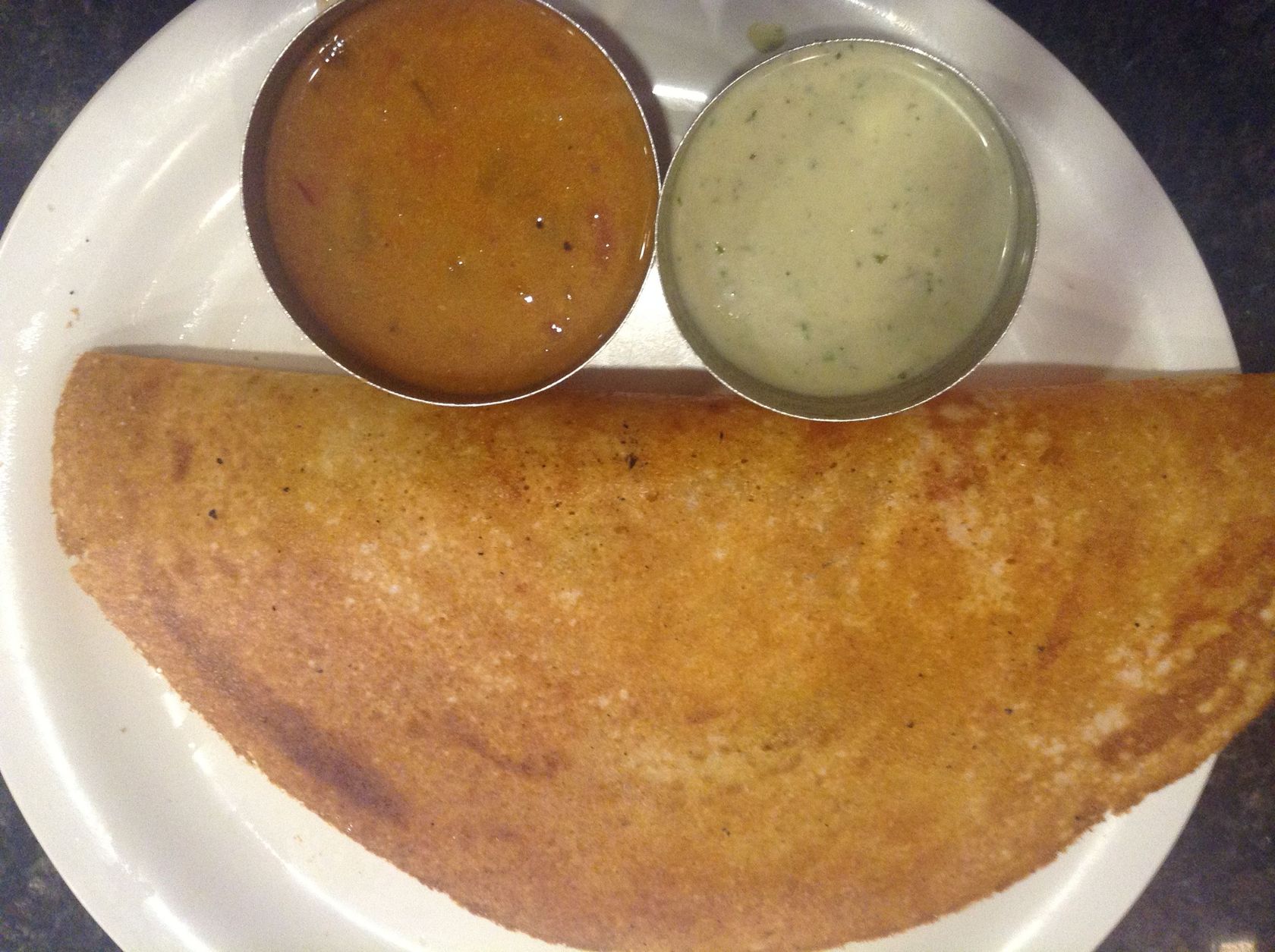 After checking in the hotel, I put on my colorful saree which I bought in a tailor shop in Hyderabad. It was the first time I wear saree, I just checked some youtube saree-wearing tutorial, later some warm-hearted locals told me in fact I didn't do it completely right but I thought I did it quite well. Afterwards I went to the rooftop to have Indian breakfast. The view seems chaotic but colorful. Breakfast was great, It was Indian pancake with dipping sauce, I really miss the salty breakfast. I loved it!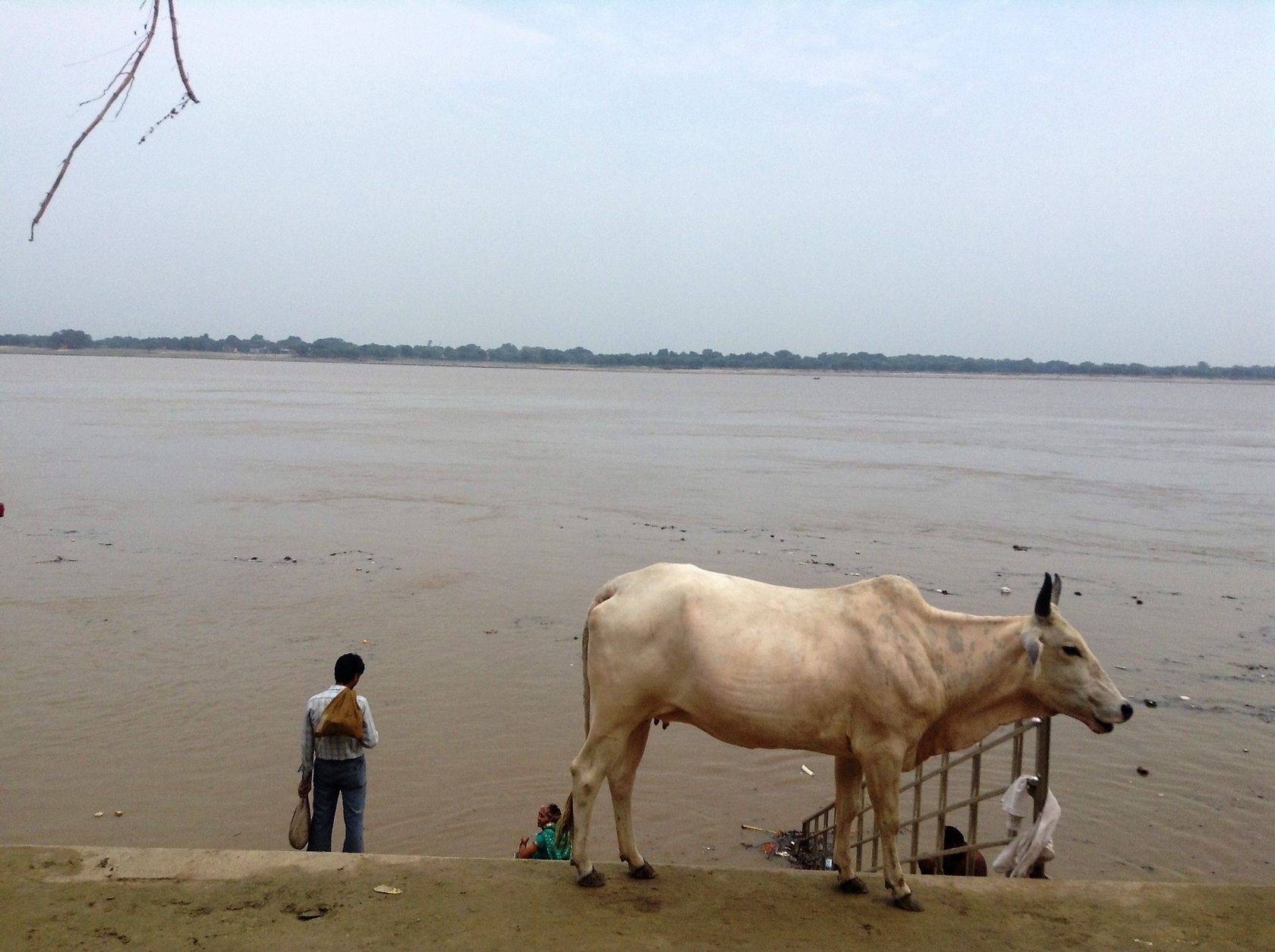 After breakfast, I went to one of the ghats close to the hotel. I had always dreamed to visit Varanasi because of those Ganga and ghat photos. It seemed so nice to walk on the stairs down to the water. However during the Monsoon season, water became quite high, I could barely see any stairs, let alone walking on them. However it was still nice to see the cows hanging out on the riverside and some guys morning bathing in the holy river.
One thing I absolute respect is the way Indians keep their culture and traditions. Or in fact their culture is deep inside their mind and spirits. No matter how many tourists coming every day visiting, it's still so authentic and spiritual, people are practicing their traditions regardless of the outside world going-ons. This also makes it in my opinion the country most rich in culture and tradition.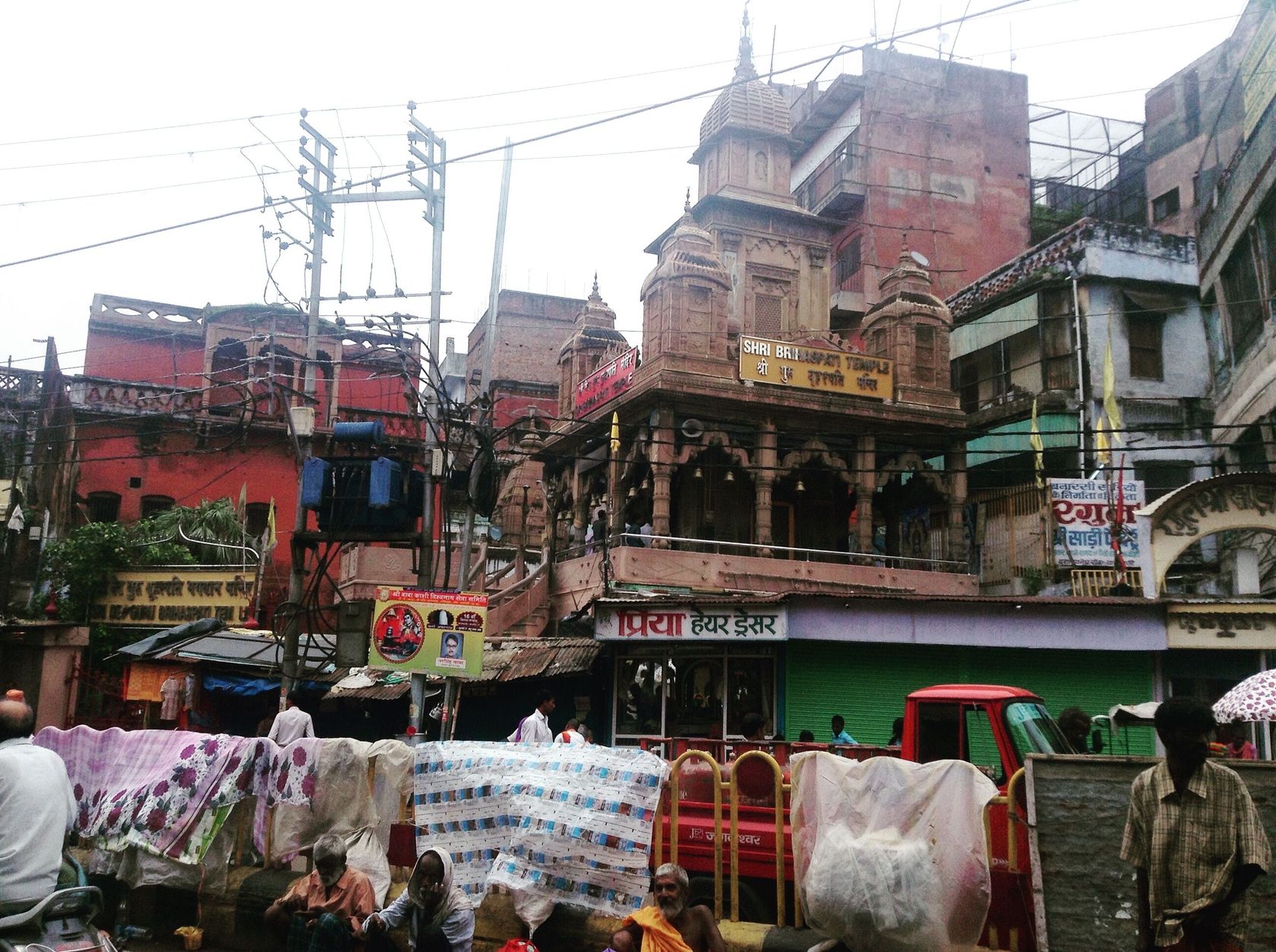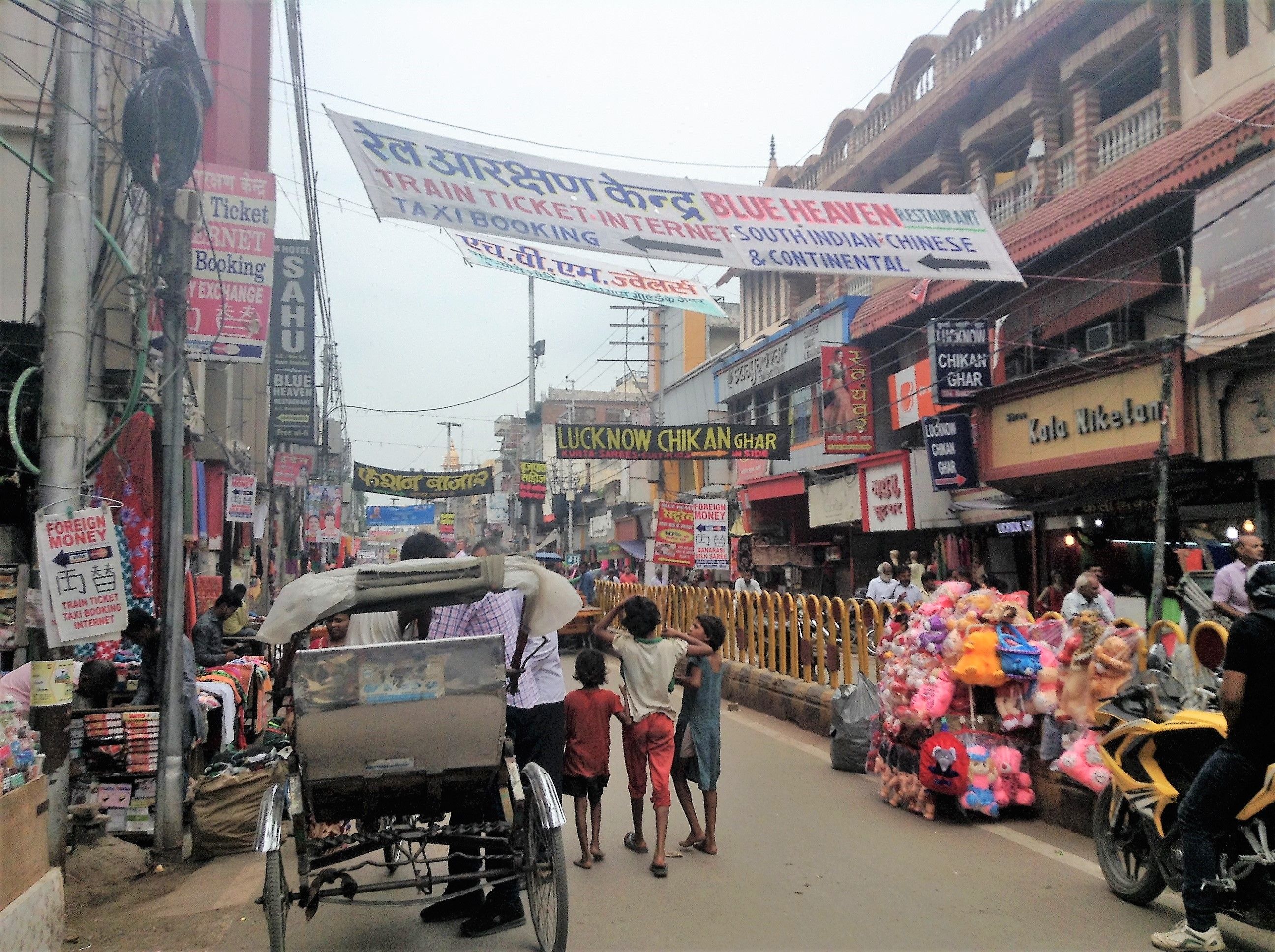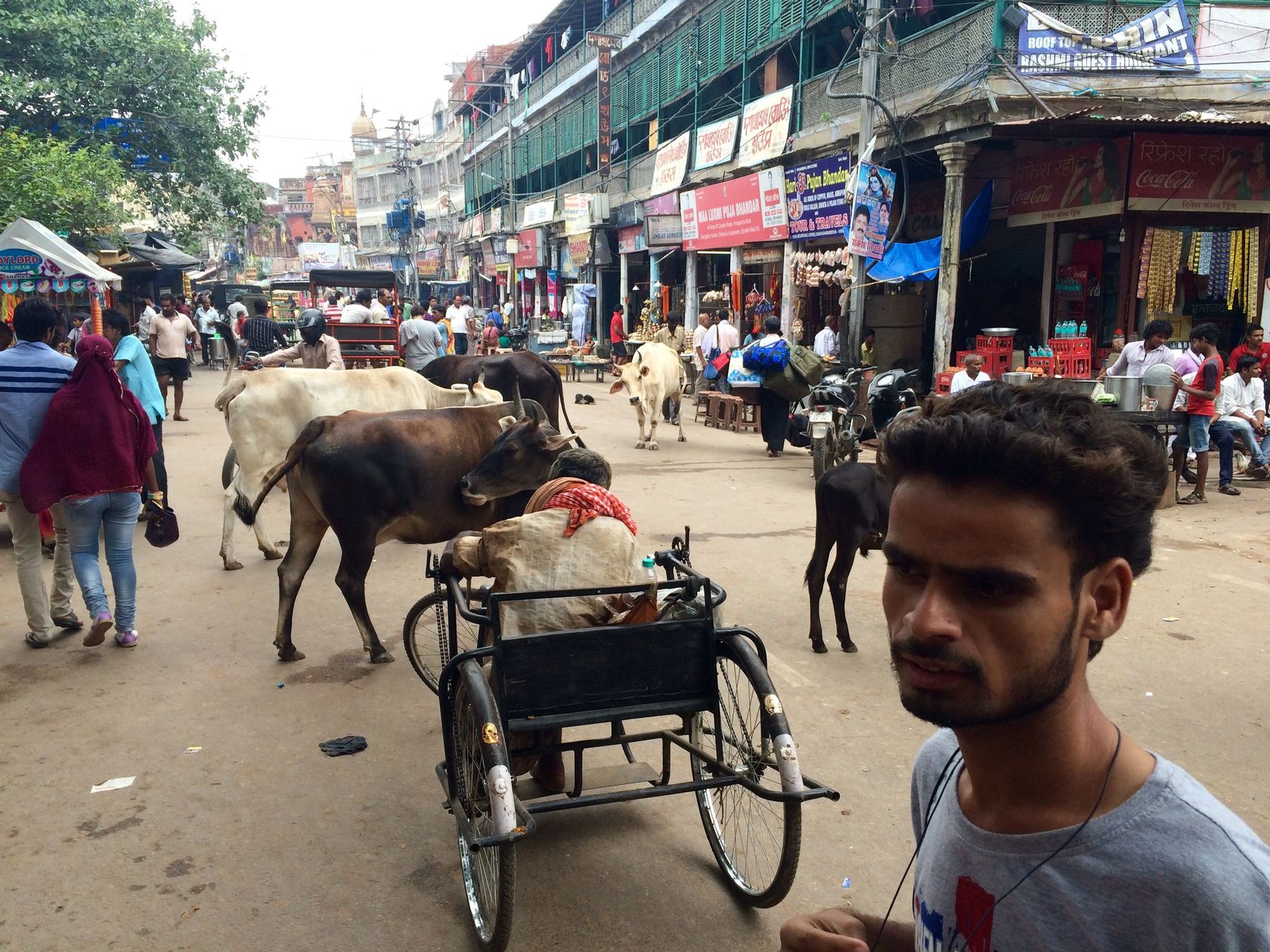 The main street in Varanasi is super busy even during the Monsoon season, I can't imagine how it could be during the high tourist season in the winter. Many shops can't get enough customers at this time so shop owners were standing outside trying to attract tourists to get in. I've been to Morocco and experienced this way of selling things but here in Varanasi it seemed even more intense.
This little boy was talking to me in Japanese all the time, his Japanese is quite fluent but I couldn't understand much, so I didn't bother. He was quite interesting actually, even told me he's been studying Japanese for long, one day he will go there find a girlfriend. I didn't have any plan to buy souvenirs from his shop, but he was really patient and he followed me walking through the whole street (reminds me of those hair salon boys in China).
In the end I thought it was funny enough and couldn't help laughing and then he finally went back and left me. (Later, at night time, he spotted me again in Aarti ritual …)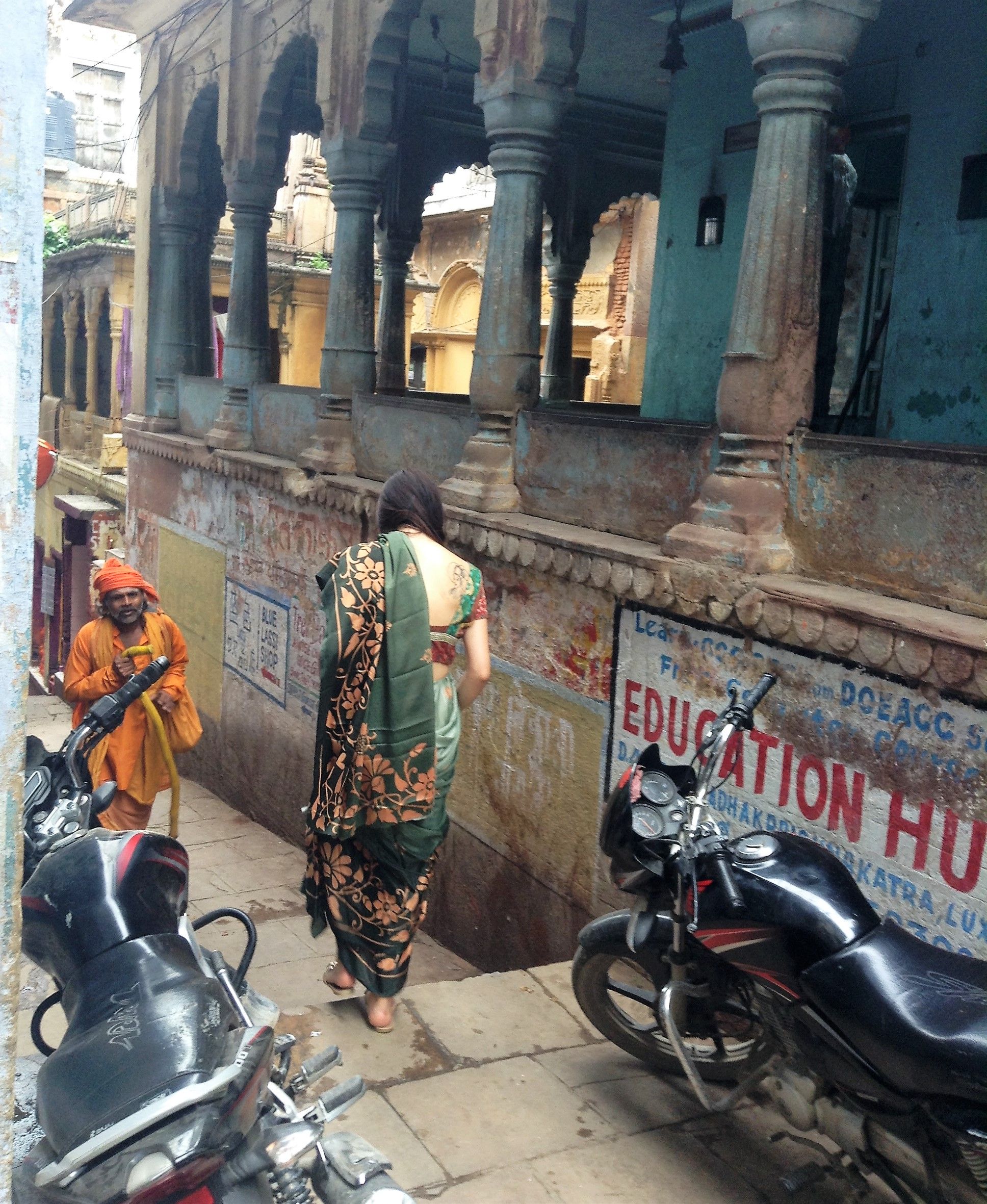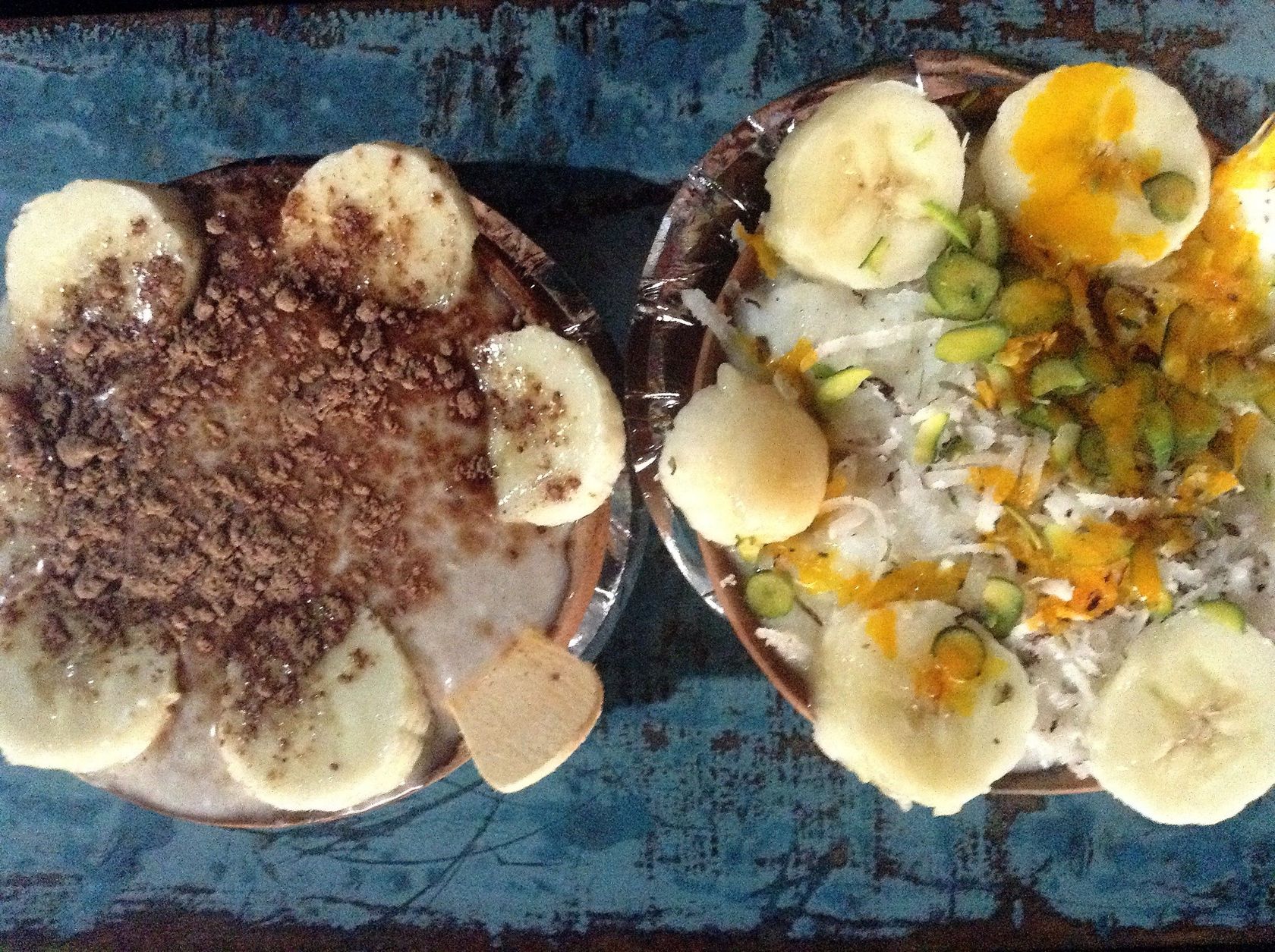 Afterwards, I took a walk down the small streets and found a great lassi place, they make hundred different kinds of lassis, quite creative. The owners told me he can speak Korean and had been living in Korea for years. He was very nice, noticing my saree wasn't totally worn in a right way, his aunt helped me re-do it. She was very surprised I did it my own by following Youtube videos.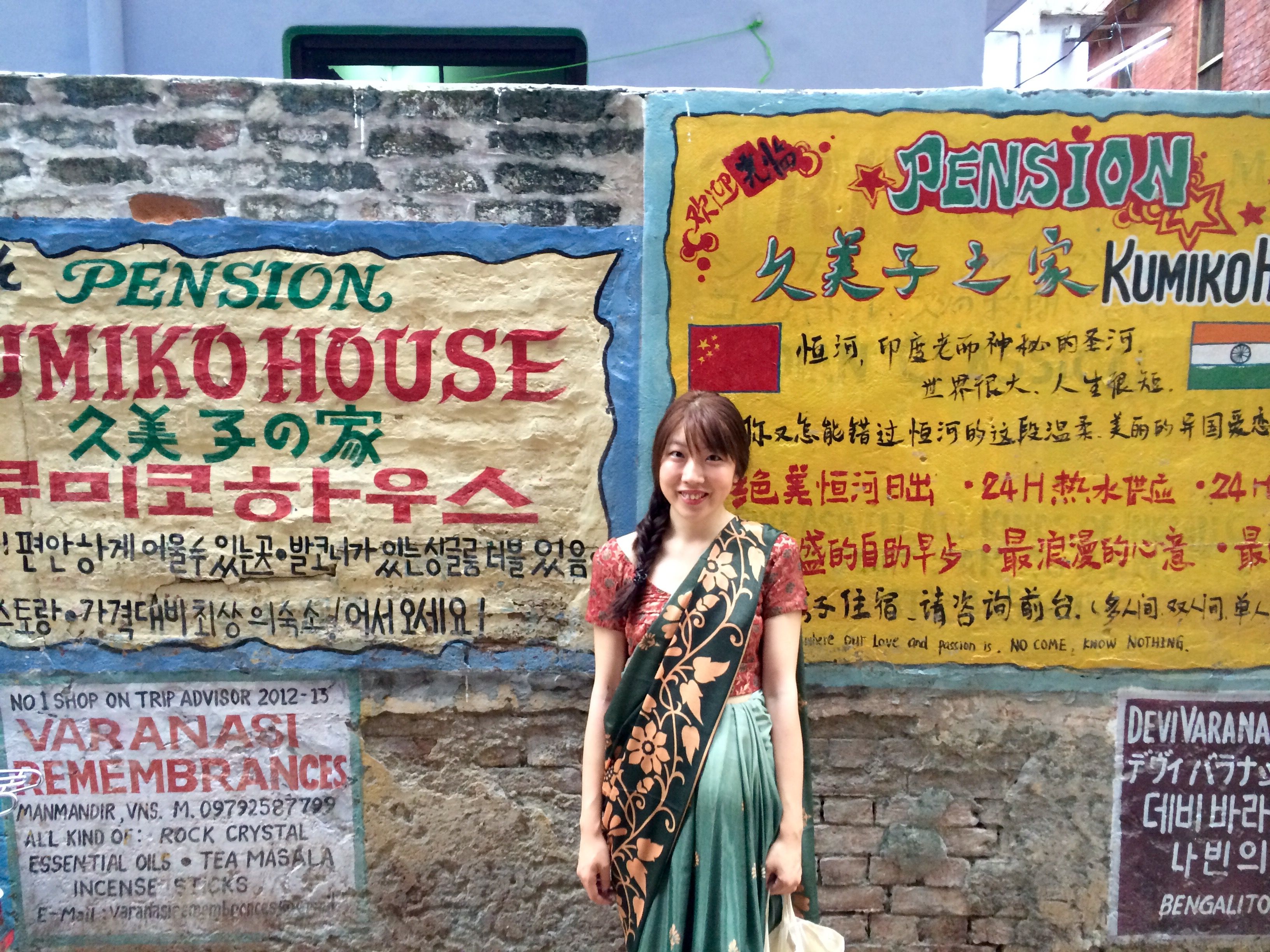 Varanasi is somehow very popular within Asian tourists as well, many restaurants here even serve Korean Shin Ramyun, very interesting. Look what I found, a hostel totally Asian, their advertisement was written in Korean, Japanese and Chinese.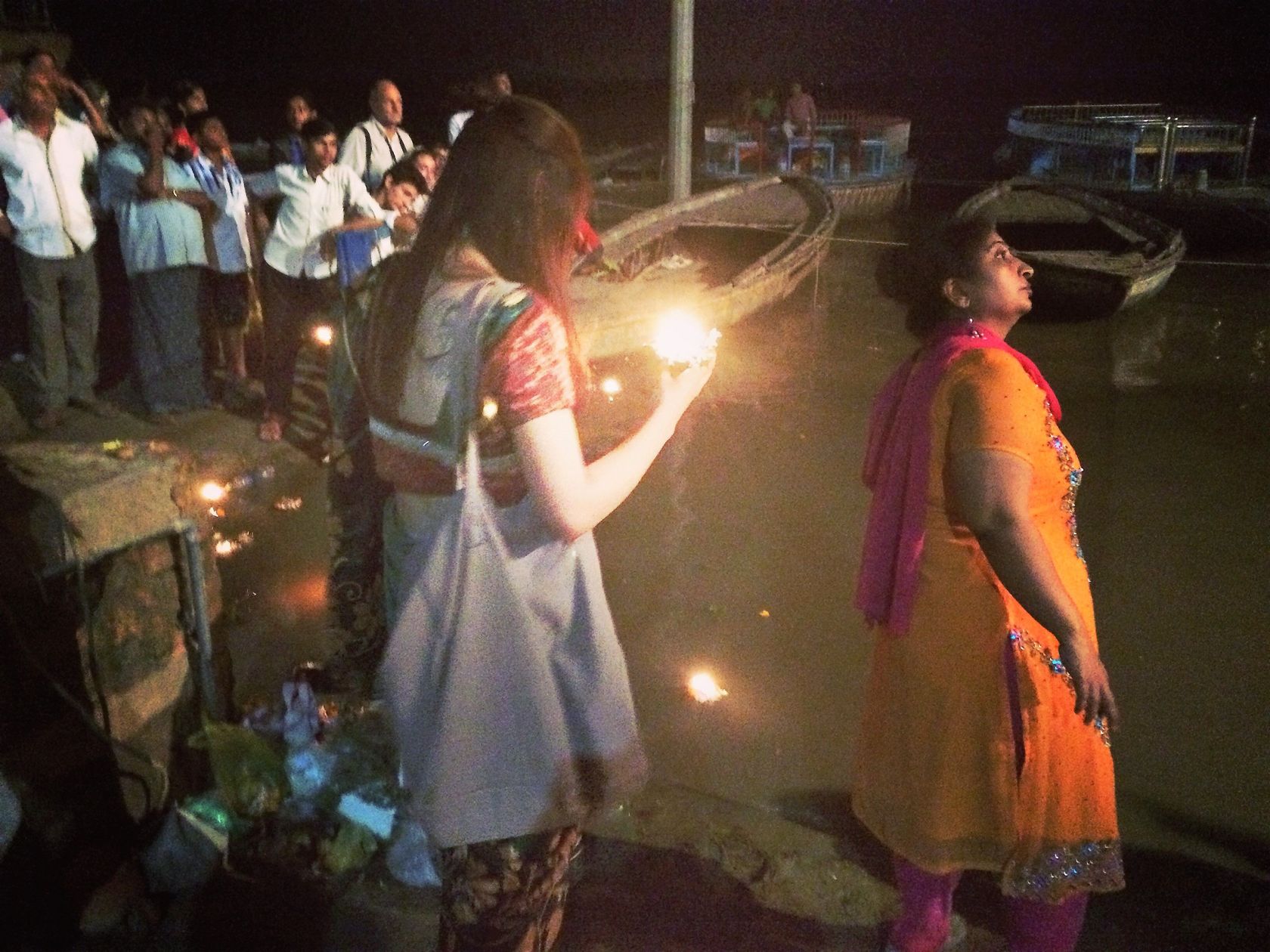 At around 6 o'clock I went to Dashasvamed ghat, waiting for the famous Aarti ritual to start. Aarti ritual is a Hindu religious ritual of worship, in which light from wicks soaked in ghee (purified butter) or camphor is offered to one or more deities. Ganga aarti is done at two ghats simultaneously. Aarti at one ghat is performed by 5 persons and at another ghat by 7 persons. It was a very beautiful and spiritual experience.
I went to the rooftop to watch the ritual, I was so focused in the fantastic ritual and totally indulged in this spiritual ritual, meanwhile I saw someone waving hand at me, it turned out to be the Japanese-speaking Indian boy from earlier, I didn't go into the his shop now he caught me here again.
2nd Day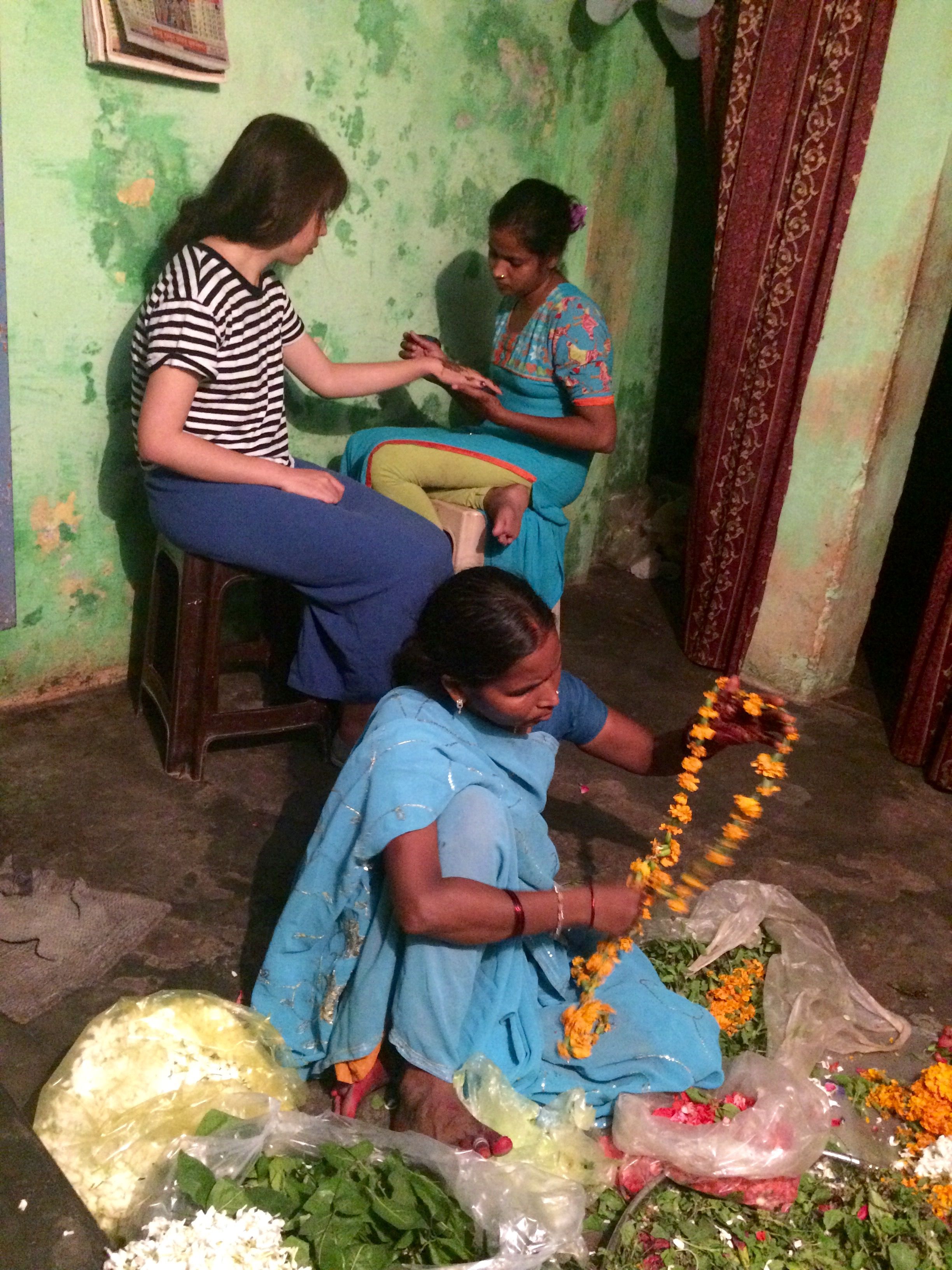 Henna is a dye prepared from the plant Lawsonia inermis. It has been used for centuries dye skin, hair and fingernails, as well as fabrics such as silk. It's widely used in Arabian countries, North Africa, some places in East Africa and Southeast Asia and in Indian.
There was this little girl called Srilatha who was smiling at me and asking if I want to do henna. I went inside her house and chose a pattern from her drawing book and let her doing henna for me while the mother was preparing some flower for the coming festival. Srilatha can draw henna very well but she hadn't gotten any sign for her shop yet. During our henna time, she asked me how to put her henna shop in TripAdvisor.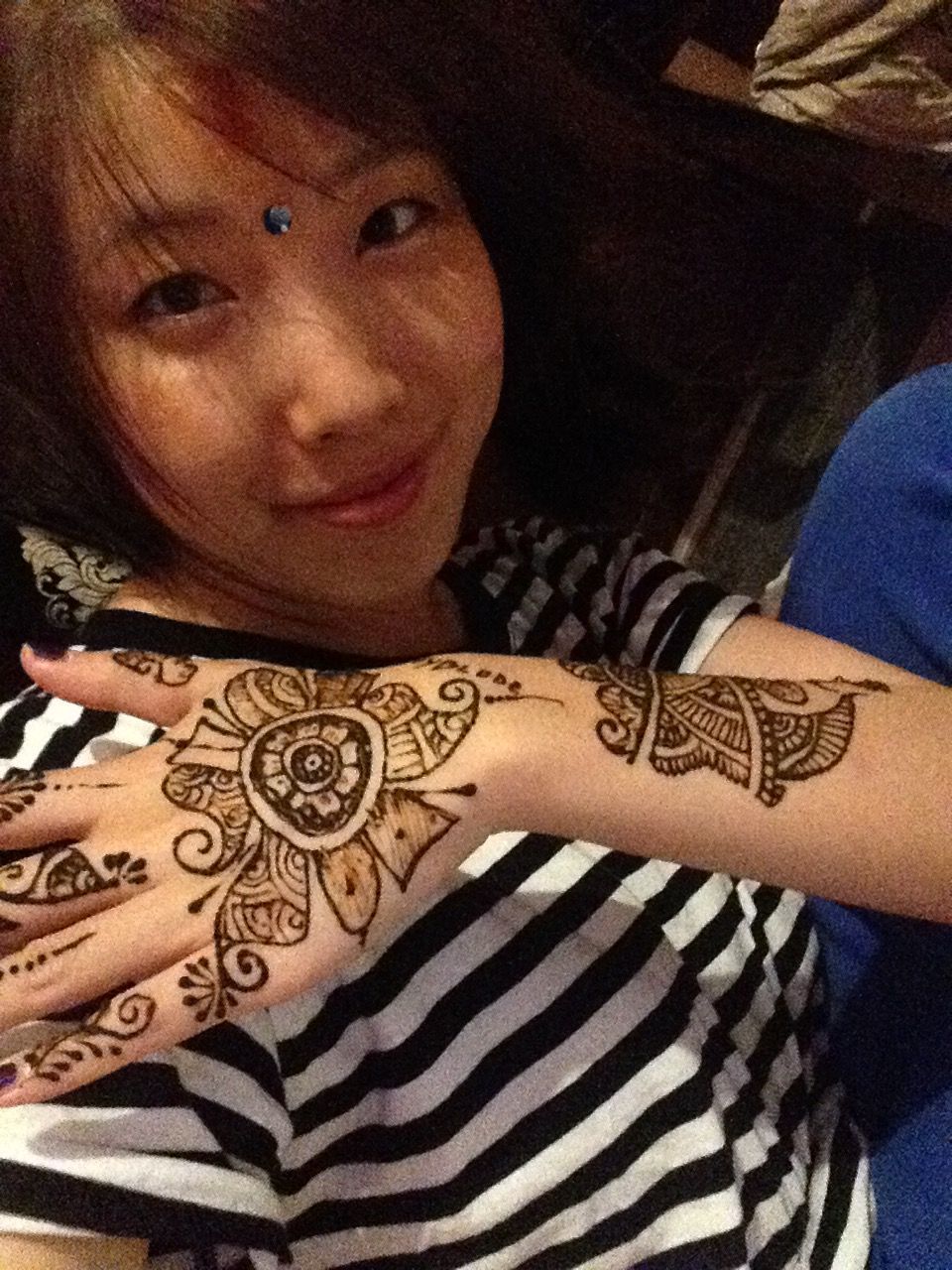 After henna, I had to wait for a hour until it got dry, henna tattoo will become darker after henna gets totally dry and removed. After my henna got dry, I went again to the main street to look for some food. The street was even busier than last time I walked by. Cows, bikes, people, sellers. Take a look at the video I took, I was too focus on filming, in the end I was even tripped by a bicycle. I was lucky that I didn't fall down.
In my last post some people asked about my favorite thing in Varanasi, I think North India has the best food. I've never been a vegetarian and always regard myself as a meatatarian, but here in Varanasi even me can become vegetarian because they can somehow make the vegetarian dishes super tasty, tastier than the meat dishes.
I've been eating Aloo Dum Banarasi every day during my stay here in Varanasi and Aloo Dum Banarasi is so far my all time favorite dish. I think I already mentioned in my recent posts that I'm such a big fan of Indian food, in Belgium or before in China I've tried so many different Indian restaurants but the best is still in North India. Food there somehow has a special scent that can't have in other countries, I don't know why.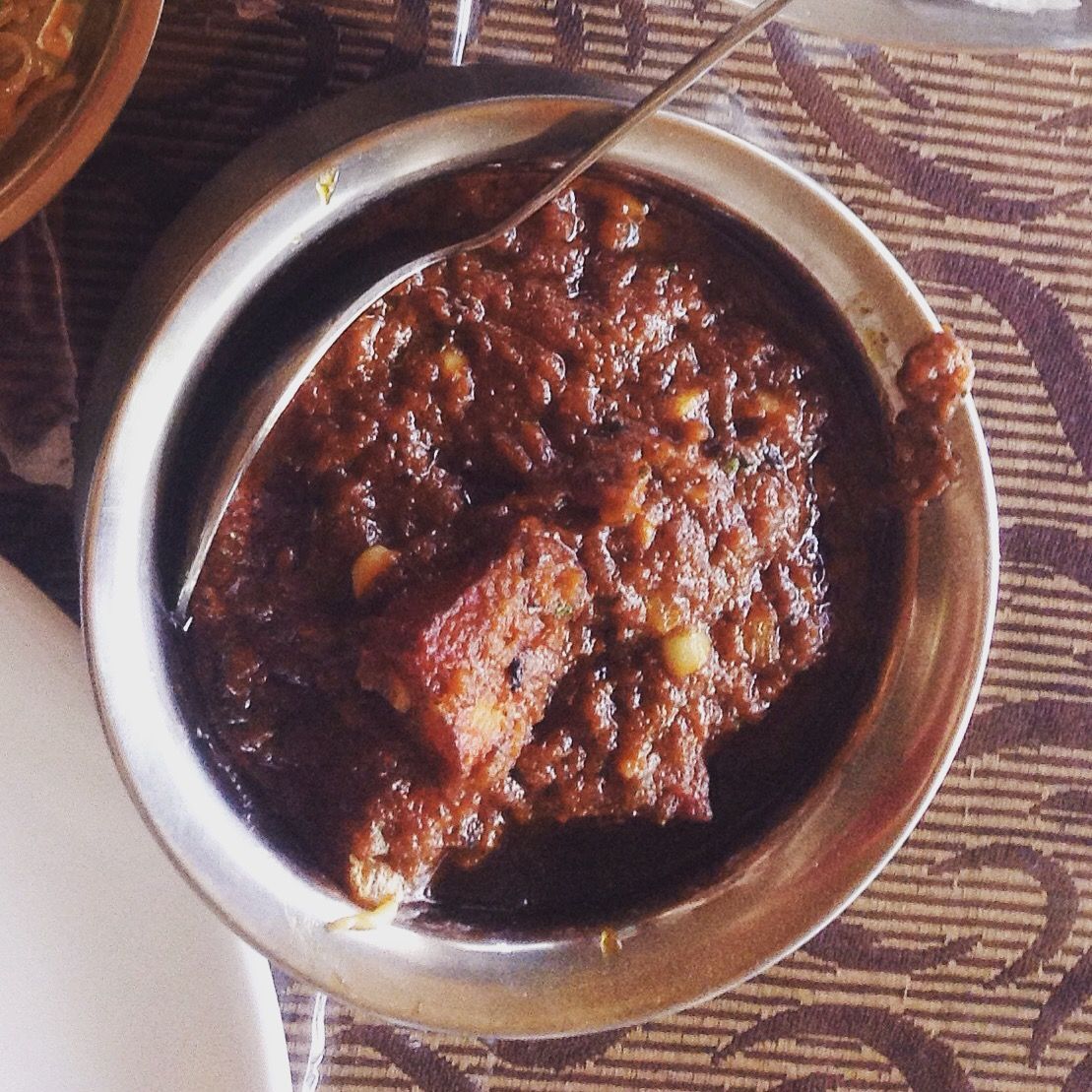 Love at first taste – Aloo Dum Banarasi in a restaurant in Varanasi main street.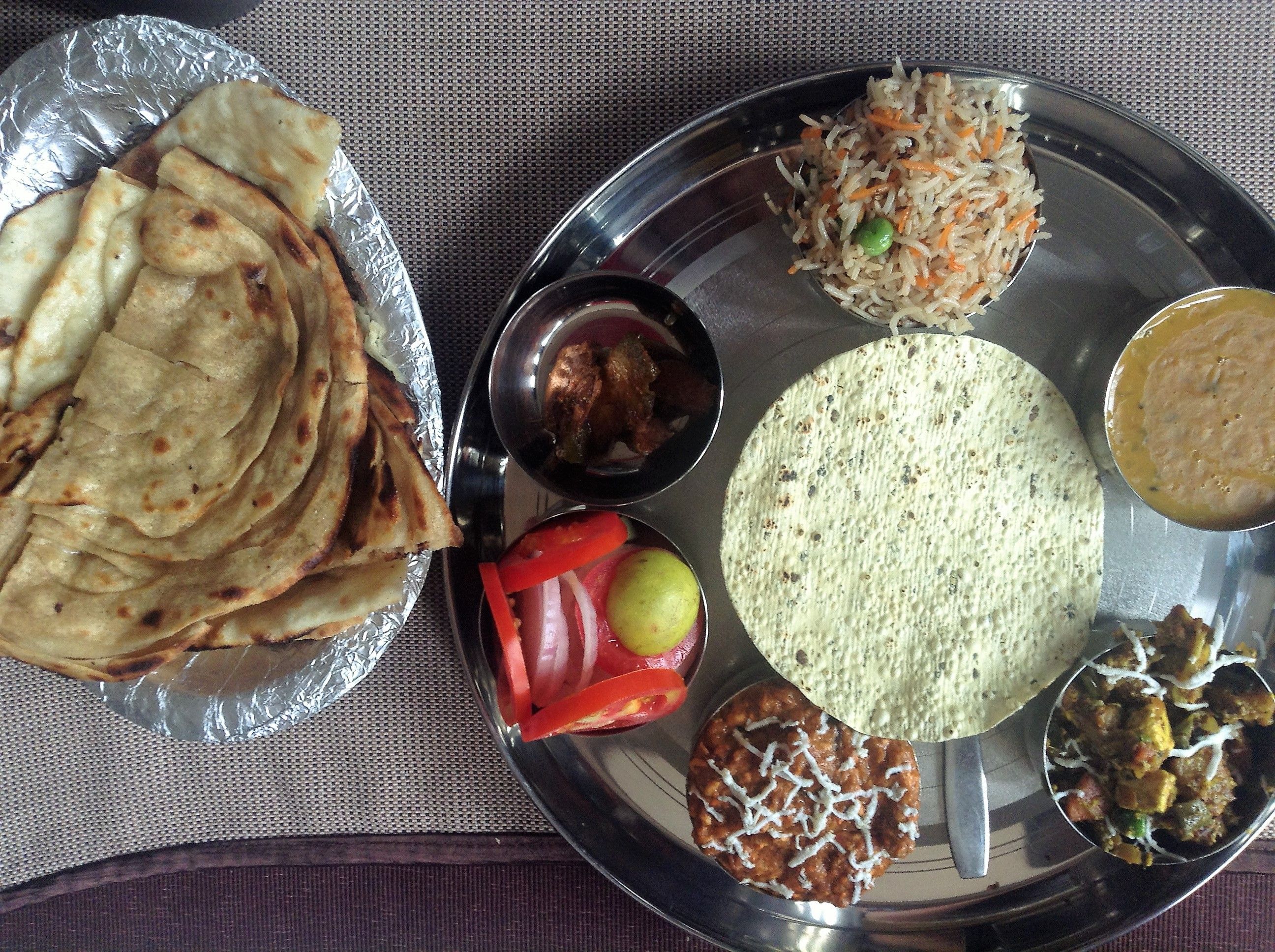 Aloo Dum Banarasi thali in a family restaurant in Varanasi suburb area, I was seriously eating it the whole time. 我真是是天天再吃这个,吃完了主菜第二天换个餐厅来了个拼盘。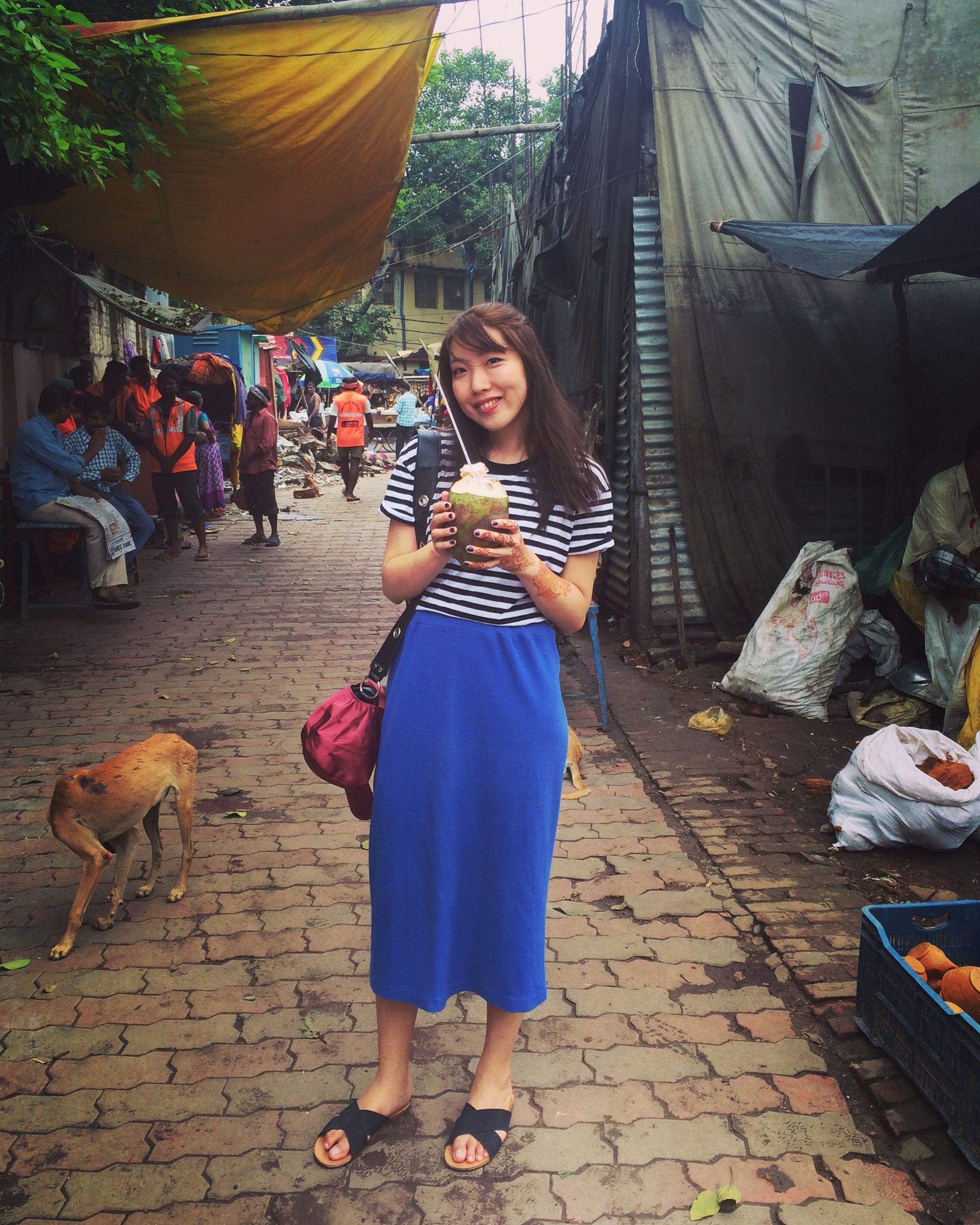 After a satisfying lunch, I found many coconuts in the market. One of the things I miss about India is the super cheap coconut I can find everywhere in the streets. I basically drank it, together with Chai tea instead of water every day.My original plan for the afternoon was supposed to visit the most famous Golden Temple – Kashi Vishwanath in Varanasi. However there were so many securities outside and didn't seem so tourist friendly and you have to keep everything away to get in, hand in the passport. I heard from the guesthouse owner that in the suburban Varanasi, there's a temple called New Vishwanath Temple close to the university which also exactly the same temple, just not in gold. So I decided to visit New Vishwanath Temple, I can by the way check out that neighborhood, so why not?
However the way to get there was not even close to smooth. It should be 20 minutes drive, but my tuk tuk took almost 1.5 hours due to the heavy traffic jam, tuk tuk driver was one time can't stand this, he jumped out buying some chewing tobacco to kill time. It was just then that I realized those chewing-gum-like like bag that you see everywhere in India was actually chewing tobacco.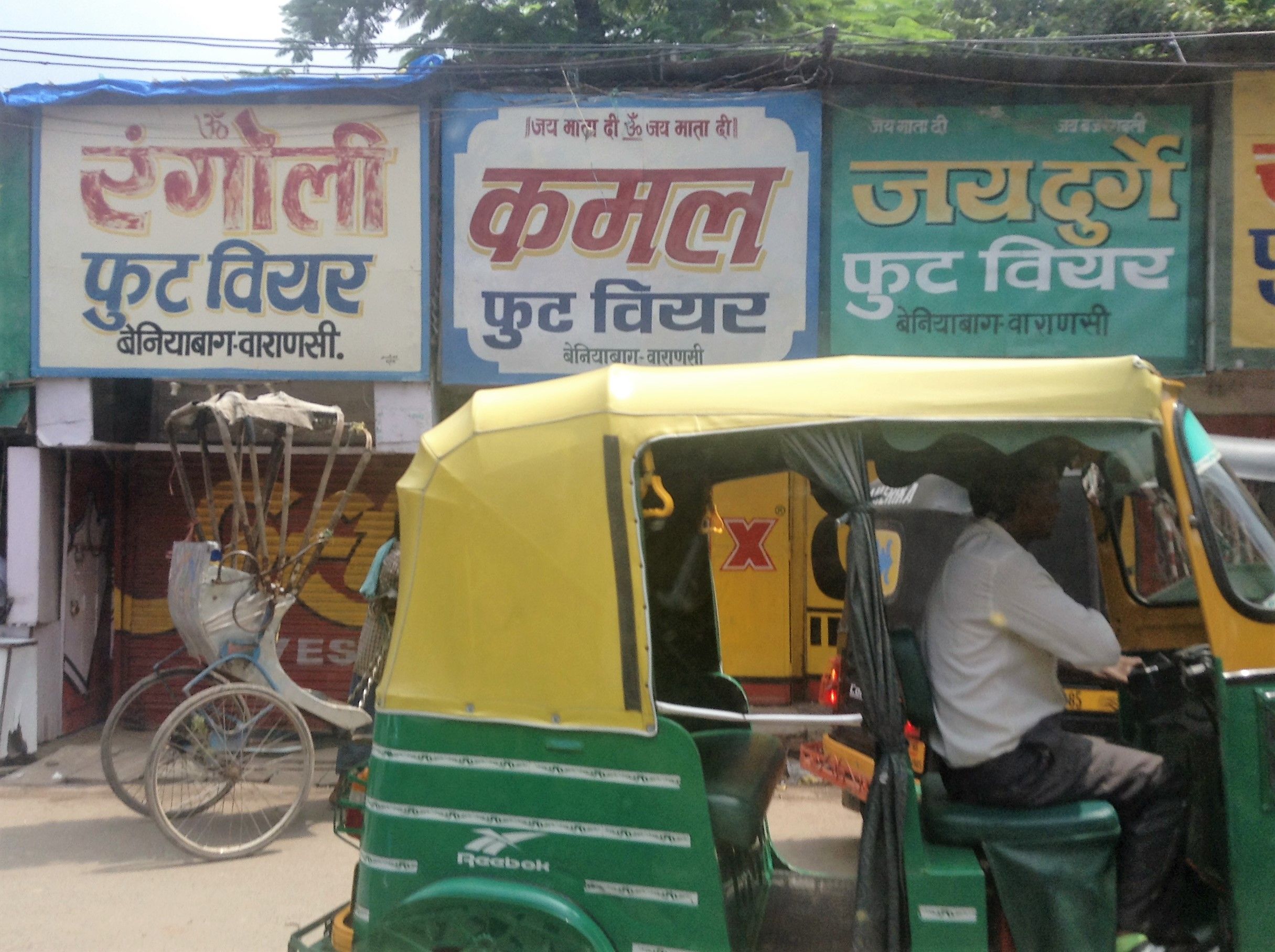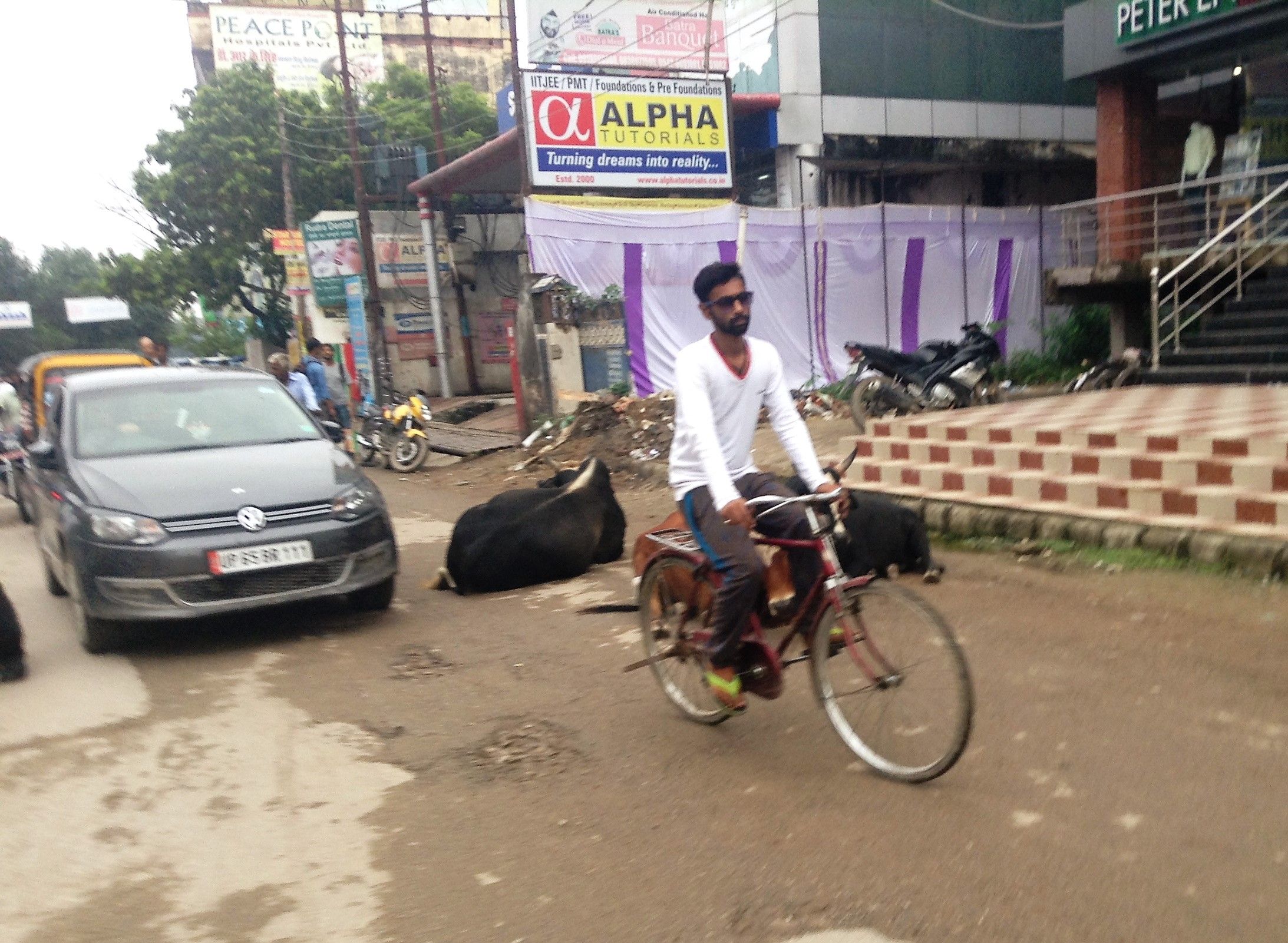 Clever boy, bicycle is much more efficient during the traffic jam.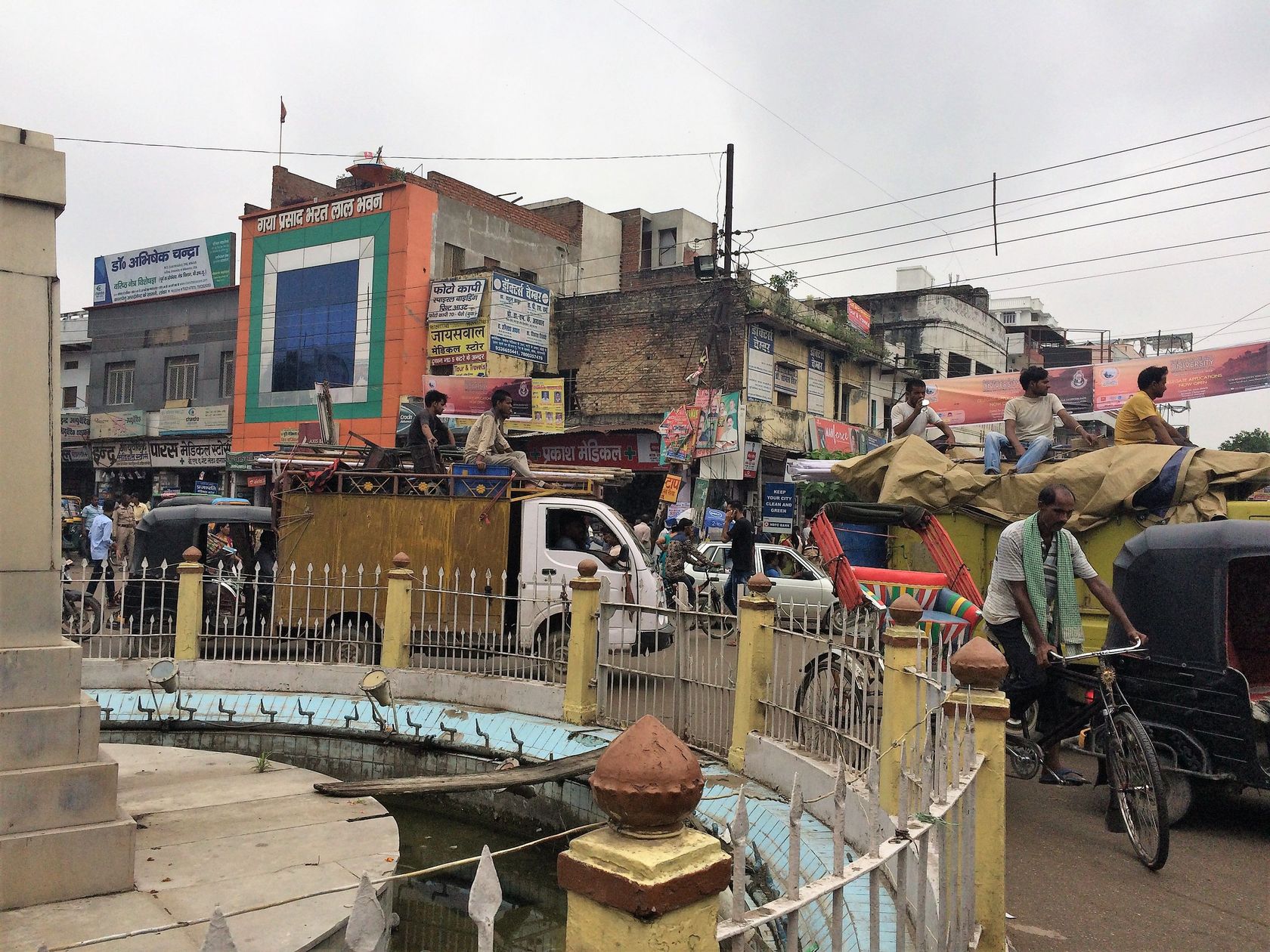 I learned in India that you have to be patient sometimes, the temple was beautiful and the area was amazing, it got many little shops, markets, food, everything I like about India. It was worth the long wait 🙂 This was the area I had the best ever Aloo Dum Baranasi.
New Vishwanath Temple was huge, with my favorite color – pink and beautifully decorated. I can imagine how beautiful the golden temple can be and why people love it so much. The temple is located in a university area so there were many young people around, making it energetic and vibrant.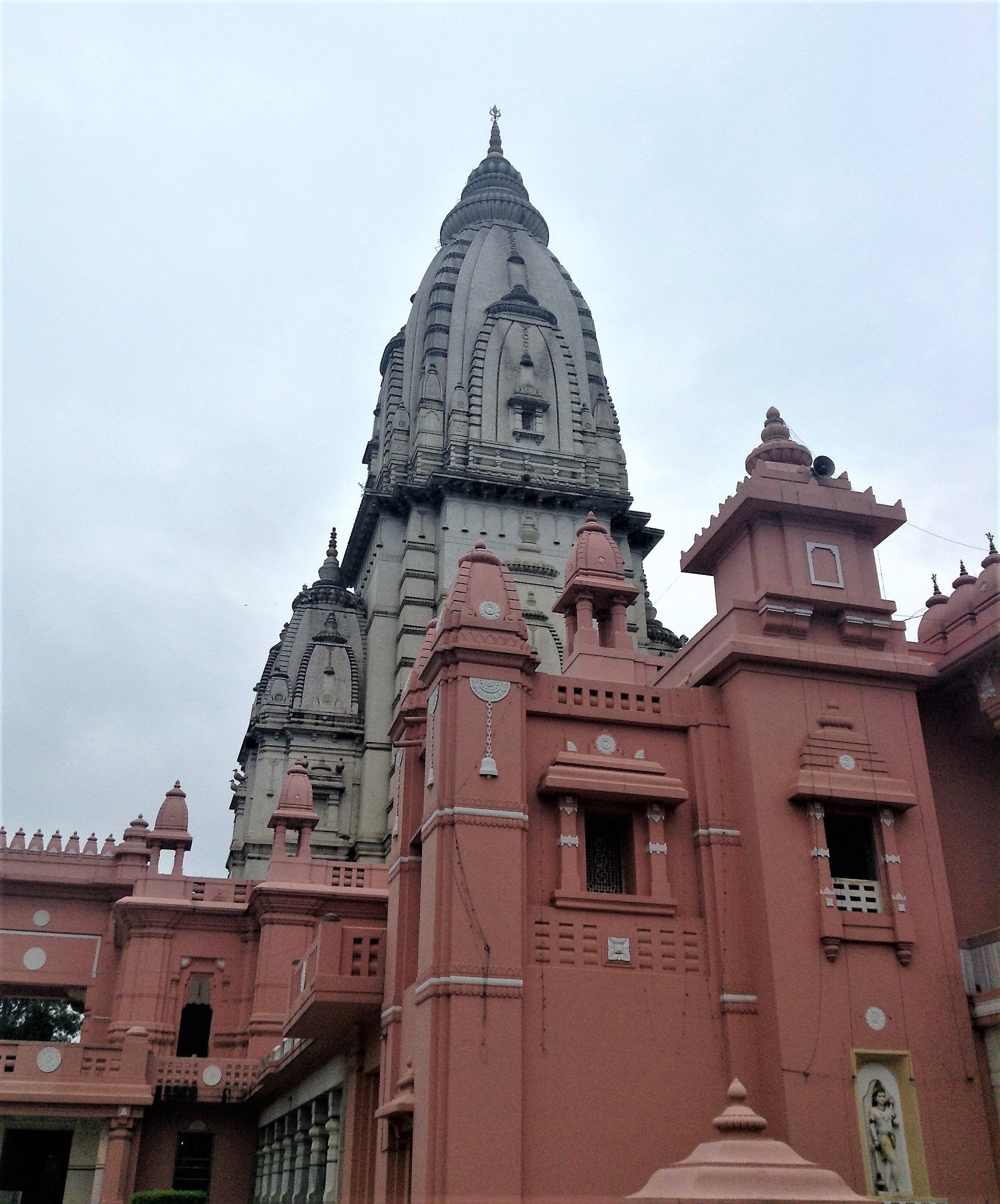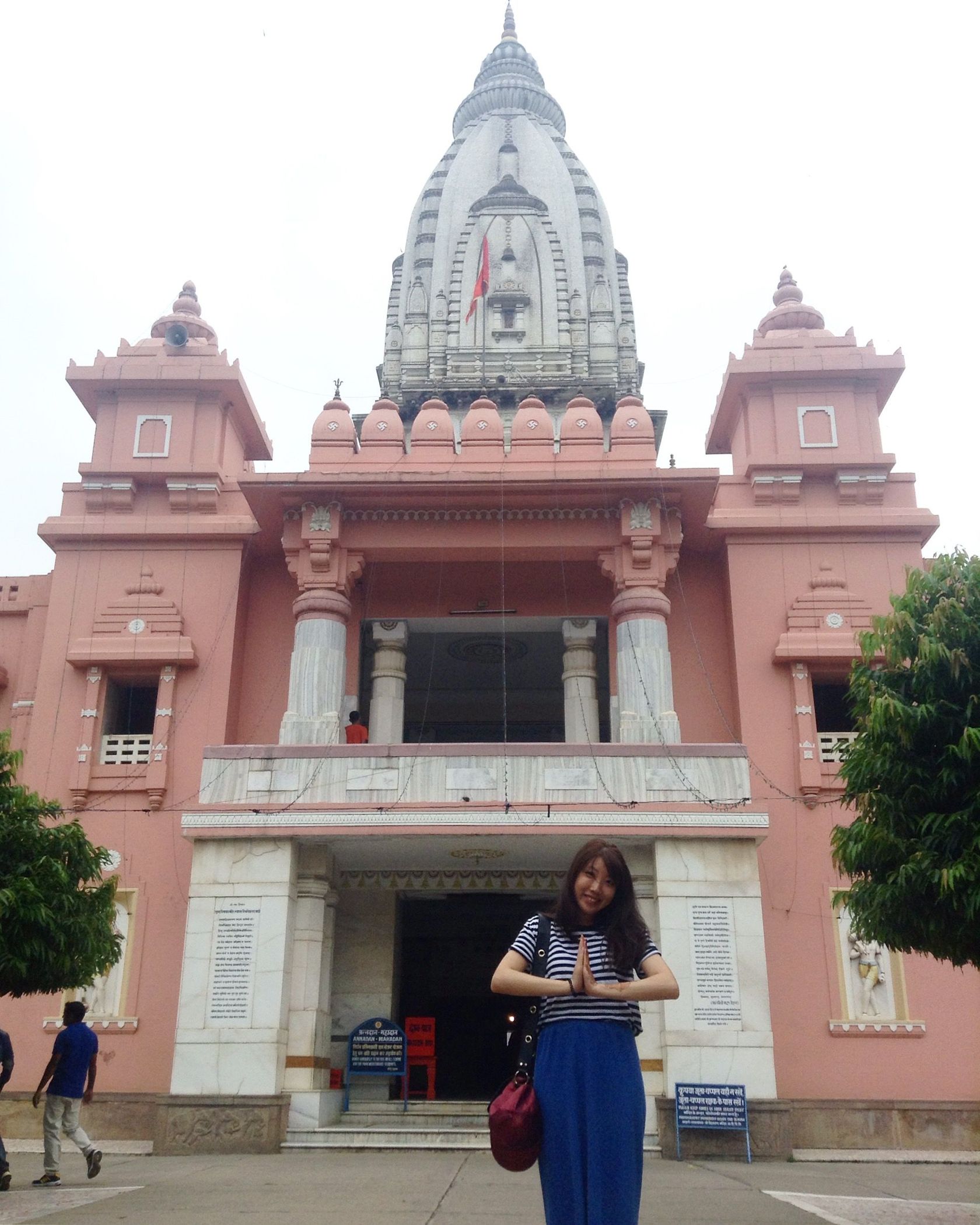 Words in the end: I love Varanasi, it's full of surprise and greatness. I hope you can get a big picture how it look like from my experience in Varanasi and I would highly recommend you to visit the town because even if I tried to show its colors and architectures but I can't show you its taste, smell, plus its amazing vibes. So, come here one day, you won't get disappointed.

很多人说瓦拉纳西是最久远的人类连续居住的地方,没有断过文明。我不知道这是否是真的也不知道这个连续居住是怎么决定的。但是瓦拉纳西绝对是印度最有名的城市,很多人就算没来过,也听过恒河水的印度教的故事。我真是非常哎瓦拉纳西,她是我印度之行最喜欢的地方。但是我也听一些人说,他们有多恨这里。印度就是这样极端的国家,要么你很爱这里要么你恨之入骨。我旅店里面一个跟家人一起来旅行的来自南印度的小男孩,就在看完瓦纳拉西的街道以后,决定待在房间再也不想出去。但是我真是由衷觉得她是多么迷人的地方,于是我想分享给大家。
第一天
在旅社登记完,我穿上刚刚在海德拉巴市的一家裁缝店买的莎丽,在印度穿短裙短裤露大腿是不太礼貌的,即使男人也大多穿长裤,还好我发现了莎丽,凉快遮阳又好看,但是很难穿,我差了好几个油管上面的教程才勉勉强强穿上(后来被好心的当地人发现并没有穿队还教我怎么穿)。折腾一番后,我去天台吃早饭,瓦拉纳西果然跟想象的一样乱但是五彩斑斓。早饭是传统的印度式煎饼加一些蘸酱,真是不错,有点像国内的早餐,在欧洲住了那么久真是想念这样咸的早餐。
吃完早餐,我先去了距离旅店不太远的一个河边石阶,在瓦拉纳西有很多的河边石阶。人们喜欢在这里洗浴,净化灵魂。跟很多人一样,我来瓦拉纳西很大的原因就是想看一看恒河并在石阶上走一走。我去的时候不巧还在雨季,所以水流很大水位很高,石阶大部分都被淹没在水下,更别说走在最低处了。不过依然可以看到自由散漫的神牛们,还有河边晨浴的人们。
我很佩服印度的一点是他们对文化的保留,或者说文化和传统是深深印刻在他们的日常生活中,其实他们并没有怎么刻意去保留,而只是正常的去进行每天的惯例罢了。所以无论游客多还是少都不会影响到他们的精神世界。大部分印度人都挺简单友好。 这也是印度不管经济如何,或者有多脏乱依旧是很多人的天堂,朋友说过一句话"印度就是一个天上有光,地上有屎"的国家,我觉得她说的真是对。
在瓦拉纳西有一条主街,买一些旅游纪念品和当地的丝绸之类的。这条街一直非常堵,即使在游客不算多的淡季,我其实是无法想象在旺季的时候这里会热闹成什么样子。很多的纪念品小店在淡季没什么客人,所以这个时候很多小商贩会聚集在主街上揽客叫卖。我去过同样以揽客技能叫卖闻名的摩洛哥的菲斯,但是我想说这里厉害十倍。有一个印度男孩跑过来,他以为我是日本人,一直跟我说日文,他的日文特别好,而我只能听懂一些些。他其实挺有意思的,一直告诉我他努力学日文希望去日本找个女朋友。我实在不是个会买纪念品的人所以我没有进去他的店,但是他依旧坚持不懈,跟了我一路(让我想到国内理发店小哥也会跟一路)。最后我觉得太有意思也忍不住笑了……他当然后来走廊,不过接下来我会提到,傍晚去看印度教仪式的时候,我又被他抓到了。
过后我在一些小路上扫街拍照看看白天大家的生活。我找到了一家卖印度酸奶的地方。他家有上百种不同口味的酸奶,非常有创意,我点了芒果和巧克力,很好喝。老板在韩国待过所以他会说很不错的韩语,很多印度人都很聪明也很有语言天赋。他人很好,看我莎丽其实没有穿得特别对,还让她阿姨帮忙教我穿。阿姨人也很好,她很吃惊当我告诉她我是自己跟油桶学着穿的。
瓦拉纳西有很多亚洲游客,尤其韩国,日本的游客,就连很多饭馆都卖韩国辛拉面,很有意思。我还找到了这个旅馆的广告,好像是一家亚洲旅客很喜欢的旅馆,朋友说这家在日本游客中很受欢迎。
快到傍晚6点的时候,我去了阿提仪式所在的河边石阶,等待仪式的开始。阿提仪式是印度教一个很重要的宗教崇拜典礼。祭祀手拿火炬,特殊的油,还有花朵,把他们奉献给多个神灵。在瓦拉纳西,有两个靠的挺近的河边石阶每天傍晚同时举行阿提仪式,一个石阶有7个祭司进行仪式,另一个就是我看的这个石阶,由5个祭司主持仪式。仪式大概一个多小时,真是美丽又有灵性。
我实在一个屋顶看的,当我完全专心沉浸在这个美妙神圣仪式中,忽然发现楼下头一个人不停的朝我招手……我心想我在这里认识什么人啊,定睛一看居然是刚刚那个说日文的小贩男孩。他居然跟朋友来这里继续揽客,而我因为站在屋顶被他带了个正着。
神奇的仪式。
第二天
海娜也叫指甲花,很多世纪以来,在很多地区比如北非和阿拉伯国家,一些东南亚和东非的国家,还有印度次大陆,它被广泛使用作为天然染料。人们用它染头发,皮肤,有时也染丝绸和其他布料。虽然我也曾经试过LUSH家的海娜染发砖,但是画海娜纹身还真是头一遭。在我住的旅社不远处,有个小姑娘一直朝我笑,问我要不要画海娜。她叫斯瑞拉塔,看上去菜15,6岁的样子。我跟着她去了她的家里,然后在她的画本上面选花样。于是她开始在我的手臂上作画,同时在一旁的妈妈正在为快到的节日串起一束束花。斯瑞拉塔画的快又好。她告诉我她还没有为她的海娜店做一个牌子,然后问我可不可以叫她怎么把店挂在TripAdvisor网上。
做完海娜,我需要等一小时,海娜很神奇,干了以后才上色,如何即使去掉海娜,颜色还会变深一些。等海娜干了以后,我又去了主街去找午饭吃。这时的主街居然去上次人更多,人,神牛,车,自行车,小贩,真是什么都有全聚集在狭长的街,我甚至还拍了一小段视频,结果太专心于拍,最好被试图穿过马路的自行车拌到差点摔了个狗吃屎……
有朋友评论,问我最喜欢瓦拉纳西什么,我觉得是食物。北印的食物真是棒啊,最厉害的是其实在瓦拉纳西很多人是素食主义者。我从来不是素食主义者,相反是无肉不欢的肉食主义,总觉得要有肉才好吃。可是在北印这里,即使是简单的食材也能做出非常美味的菜。比如这个土豆咖喱简直是我吃过最好吃的菜了,我在这里的每一天都在吃这个,而其实一点肉都没有,好吃到我现在想想就流口水,我觉得我可以在印度做一个素食主义者。我是个不折不扣的印度菜的拥护者,在中国比利时和一些其他的国家我都尝过很多印度餐厅,但当然都没有在北印度的好吃,其他地方都好像少了一点什么。
吃完美味的午餐,我在市场上发现了椰子摊,买了个椰子喝。在印度最好的一点就是到处可以买到便宜的椰子。椰子和印度奶茶简直是承包我全天的饮料供给。
我本想下午去那个很有名的黄金庙看看,结果很奇怪总是很多的保安在外面,好像不是很欢迎游客,要我把包寄放回去,只允许带点现金进去,还需要把护照押在那里。我回去旅社的时候,旅社老板告诉我其实在市郊有一个新黄金寺,跟这个黄金寺形状是一模一样的,虽然不是金色的。我搜了几张图,觉得很有兴趣,而且还可以顺便看看市郊长什么样子,于是我果断决定弃老去新的庙。
同时我也见识到了印度的交通拥挤情况,简直是惊为天人,20分钟的车程我的突突车开了大概一个半小时。中途连司机也等不及去小店买了可以嚼的烟菜来打发时间。在印度路边小店,一直像口香糖一样的小包装随处可见,原来它是烟草我一直以为是口香糖,长见识。
在印度的旅行教会我要耐心。新黄金庙很漂亮,看到的时候我觉得车程拥堵都值得了。这个区域也很棒,因为是在大学附近,有很多小店,餐馆,市场,年轻人聚集,非常有活力,这些对我来说都很有意思。在这里的一家家庭餐厅(印度的家庭餐厅很棒,服务特别好也不算贵)我也吃到了最好吃的土豆咖喱拼盘。新黄金庙是粉色的,很可爱,这是一个巨大的寺庙,他的内部装饰也很精致,我由此可以想象黄金庙为什么那么受欢迎,金色一定更美丽。
后记
我非常爱瓦拉纳西,它总是很酷,充满各种惊喜。我希望你们可以通过这个游记稍微有个印象,我试图把它的五彩缤纷展现出来,但是我没有办法把它的气味和味道展现给你们。所以我还是要强烈推荐去瓦拉纳西看一看,去体验它带来的各种感官刺激。一定不会让你失望。