Kerala is an Indian state in South India on the Malabar Coast, to the South of Goa. Kerala seems to me like it could belong in Southeast Asia, instead of the India we used to hear.
For many travellers, Kerala backwaters is the most serene and relaxing experience ever. Backwaters in Kerala is a network of 1500 km of canals both man-made and natural. Every year during the monsoon season, the paddy fields with lagoon, lake and rivers extends to the sea, meanwhile the high water in the river rushes into the sea as well. You can never tell if the water is from the sea of from the river because they all merge and join together, at the same time, they are all separating. I really enjoyed the ride along the deep green stagnant water.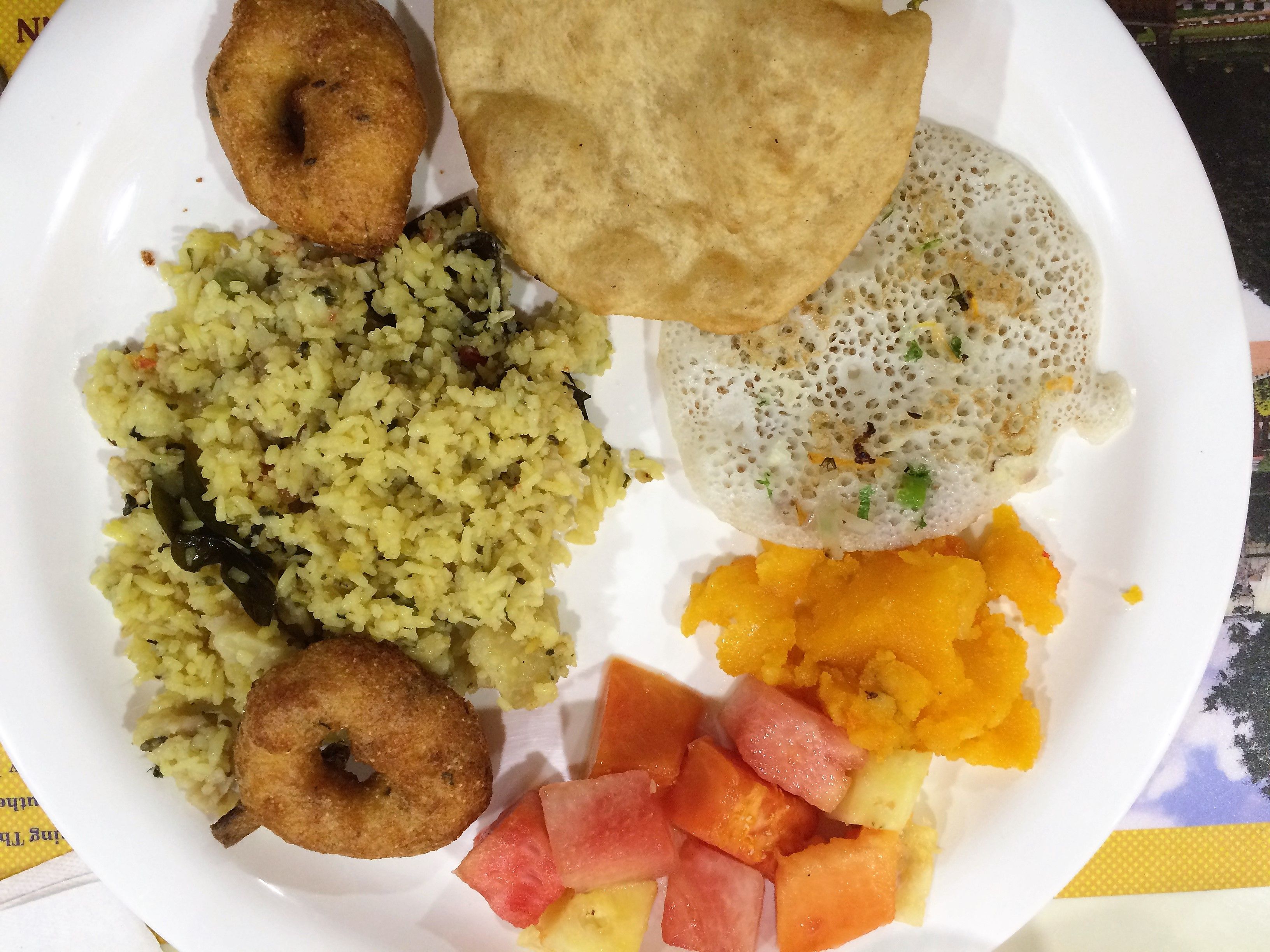 I had the early breakfast in Kochi and left the city for Kottayam, where my backwater trip begins. I loved the South Indian breakfast: diverse and many many dipping sauces.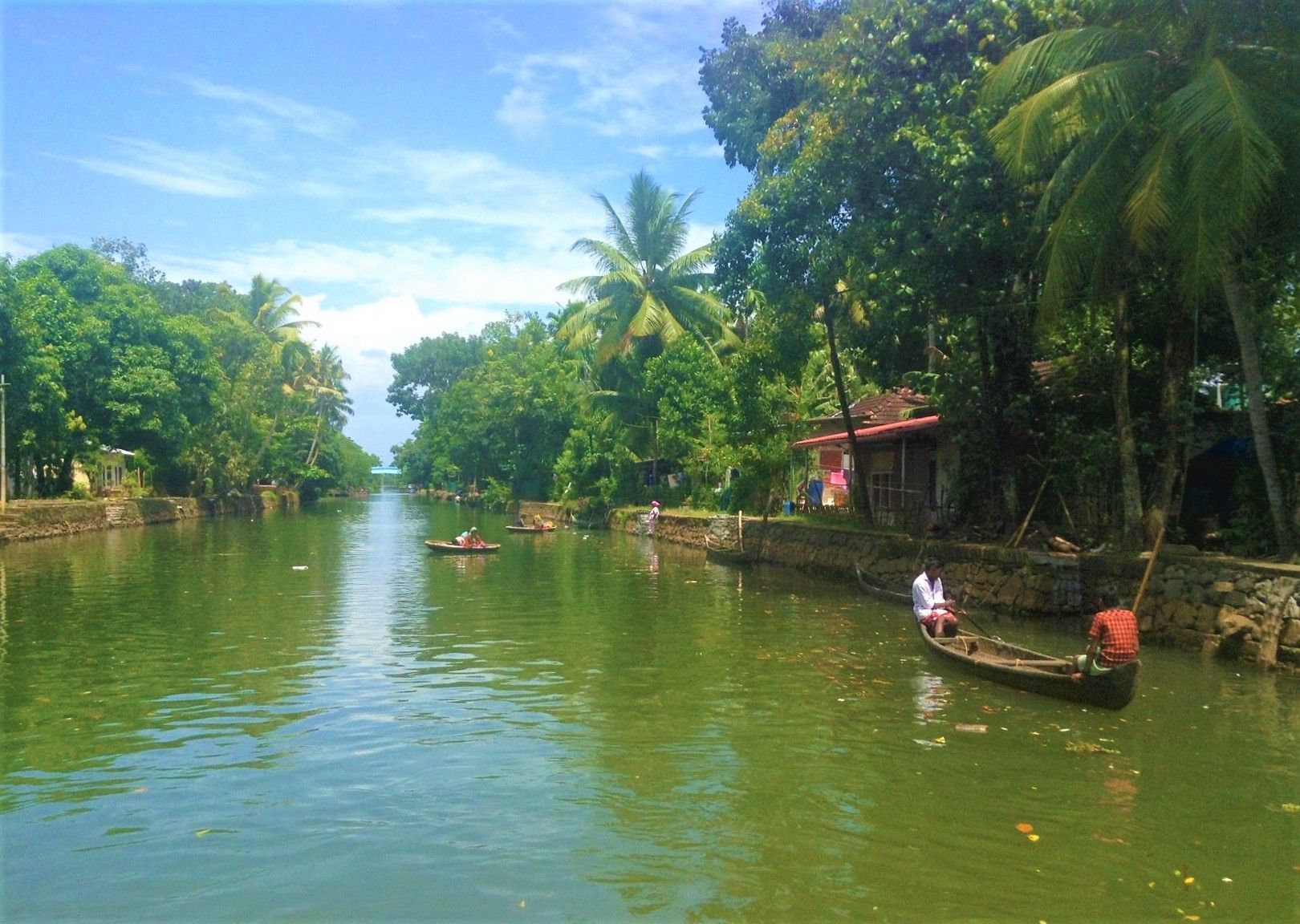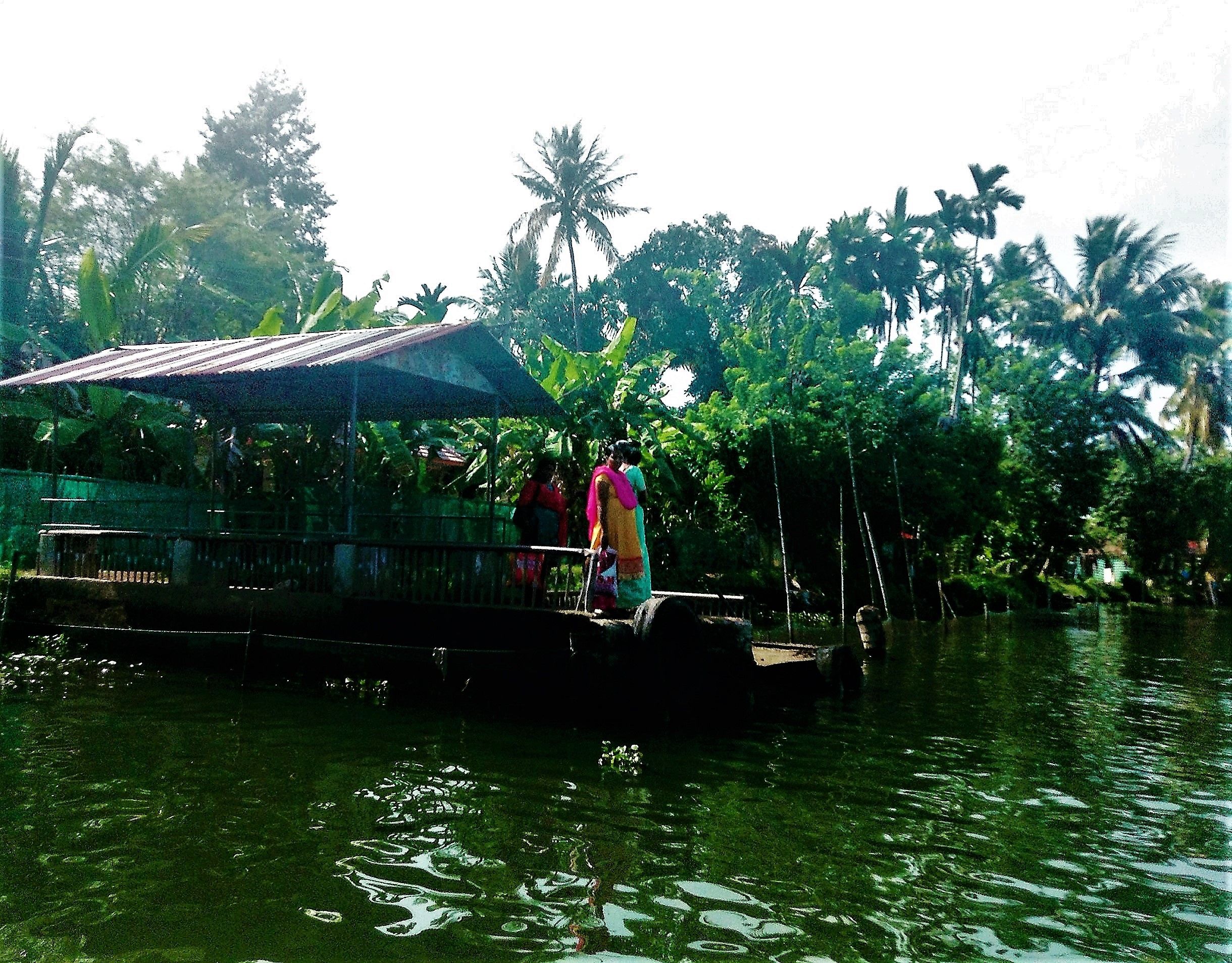 You can enjoy backwaters in different ways:
By public water bus from Kottayam to Allepey, which is the cheapest way. I think I paid 20 Euro cent for a 3-hour ride.
Take a tour from Alleppey, make a tour around Alleppay area with a more touristic boat.
Take a 8-hour ferry from Alleppey to Kollam where you get to see more small villages of the backwater area.
Of course the most famous and luxurious water cruises. You can stay the night or two in the water and enjoy the amazing South Indian meal on the cruise. I know some one who stay two weeks in the cruises, just to enjoy the serenity. It's a lifetime experience.
I chose the first way. In a narrow canal of Kottayam, I found the water bus stop. Locals use the water bus as their daily public transport to get to the city.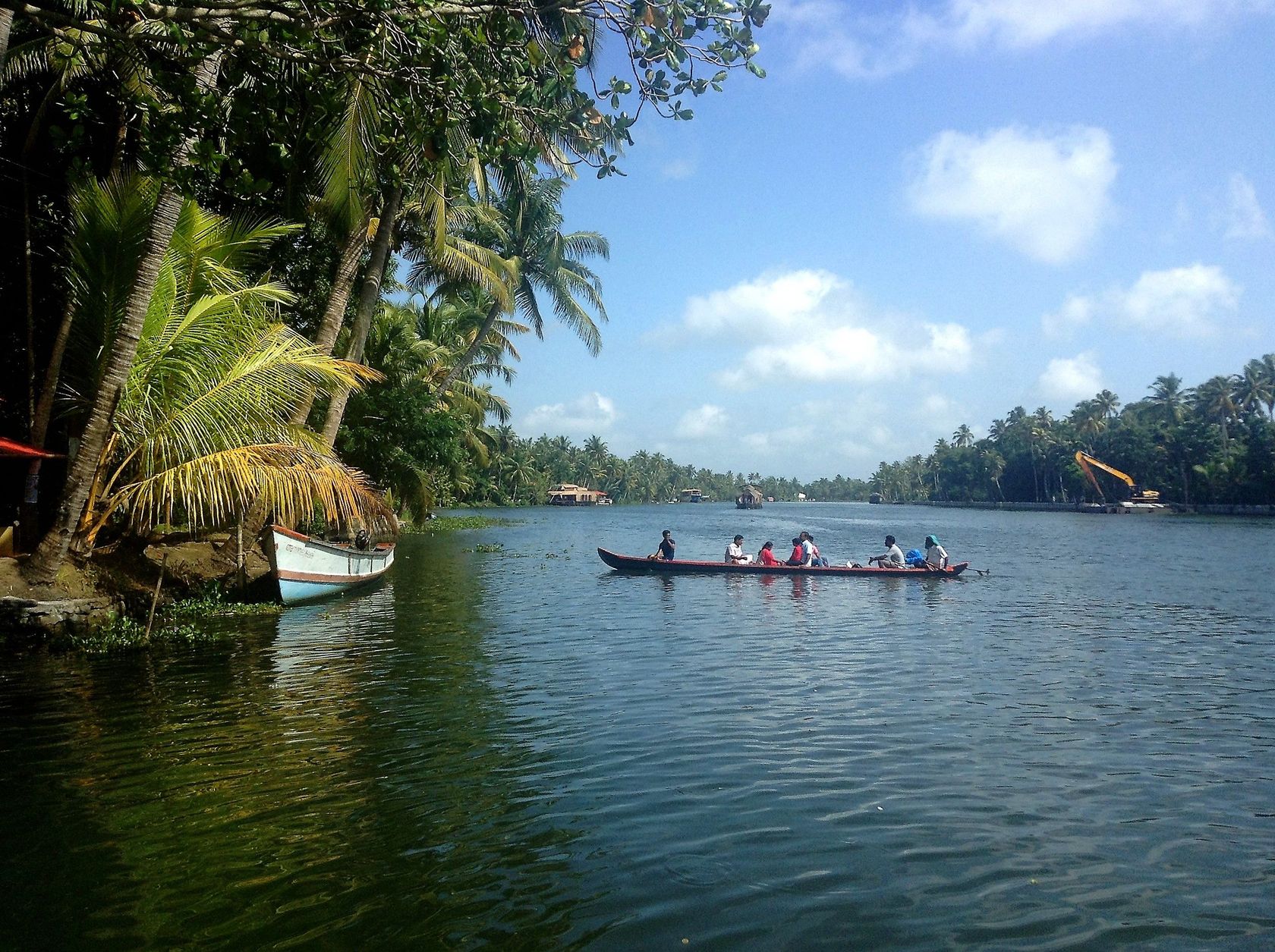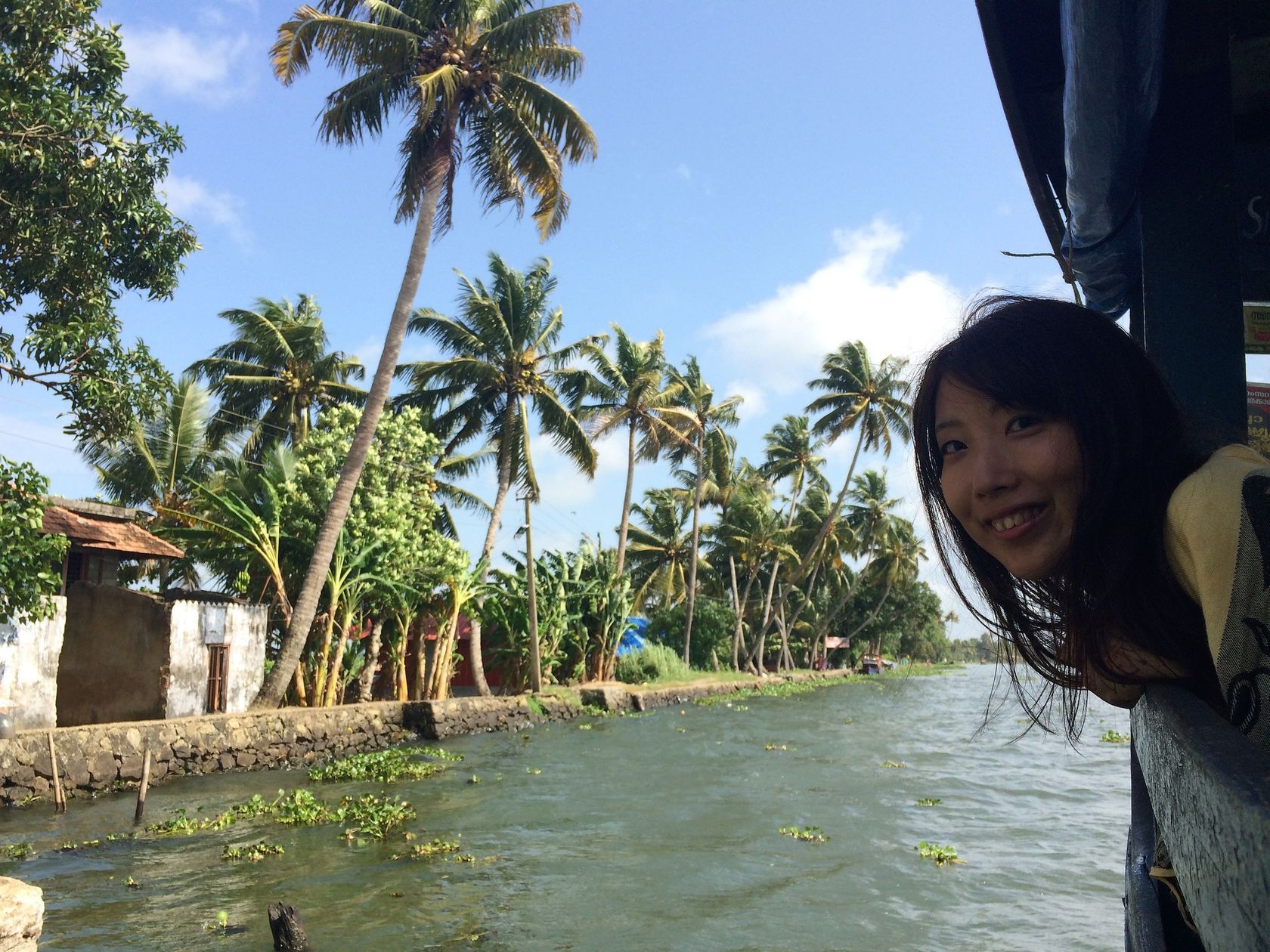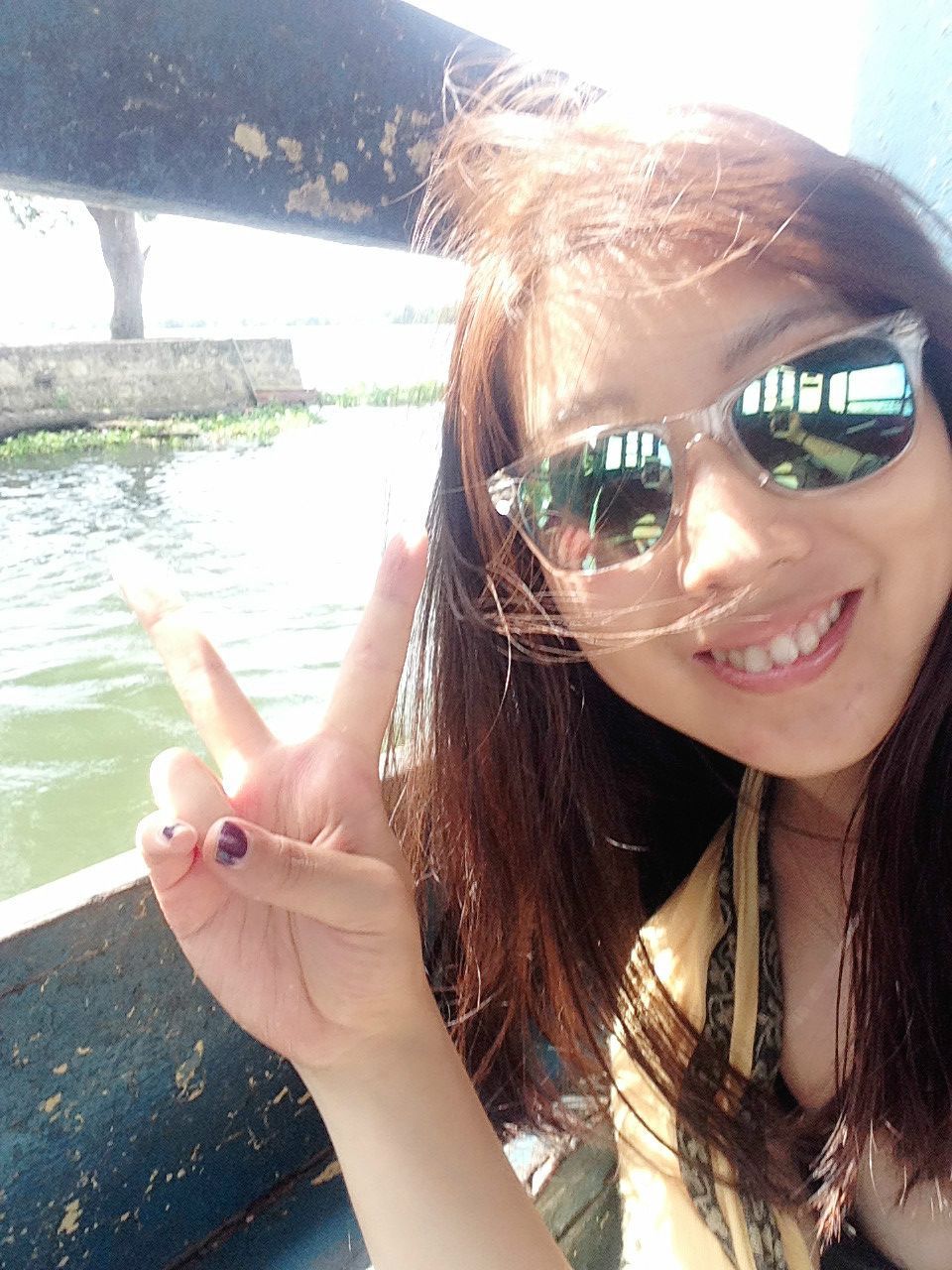 After a while, after passing the narrow water lanes where there're houses alongside, we went into much more wide waters. The views were wonderful, water that reflects the sunshine and shines, the blue sky, the sea breeze, palm and coconut trees jungle on the side. Super delightful.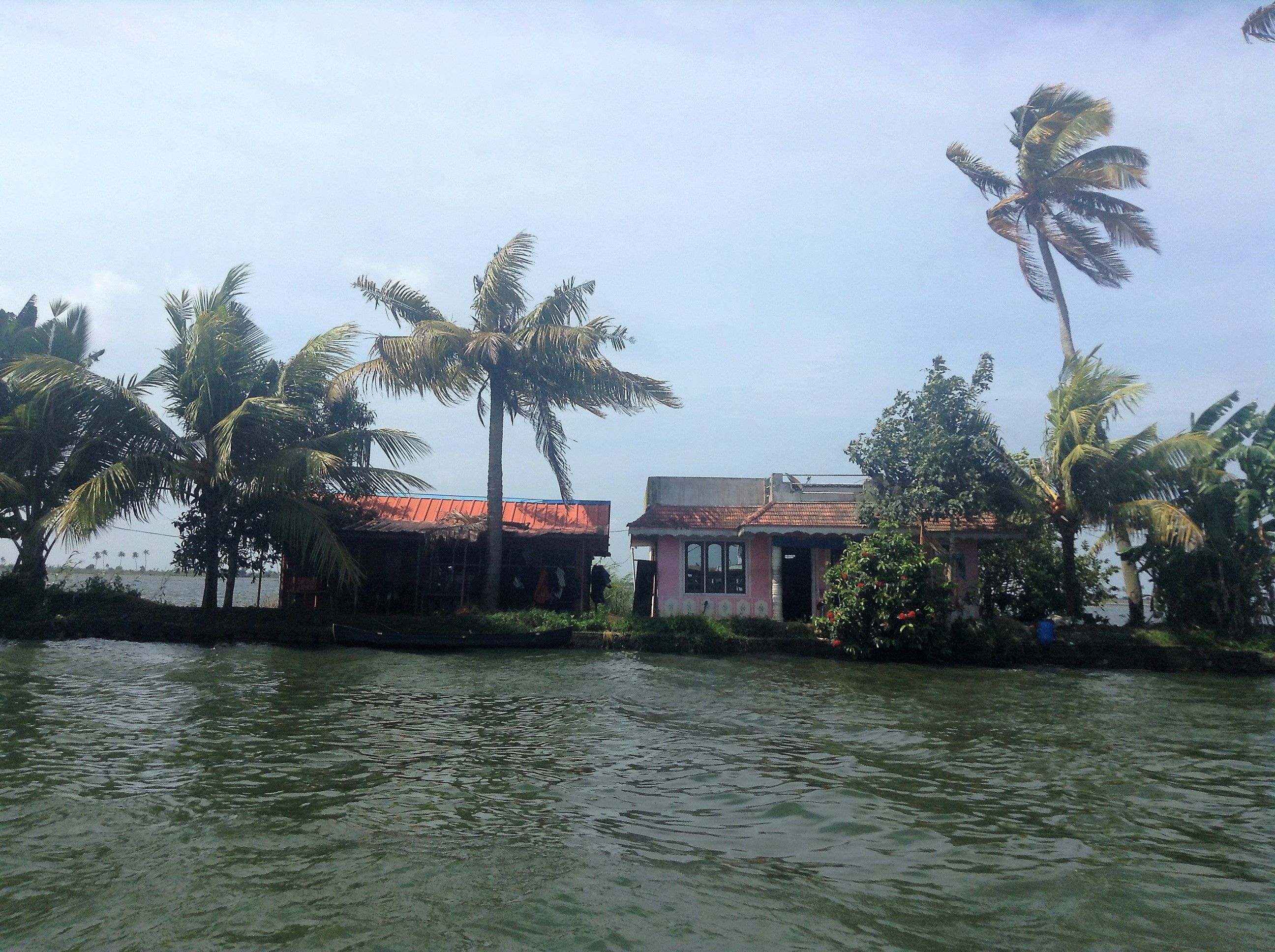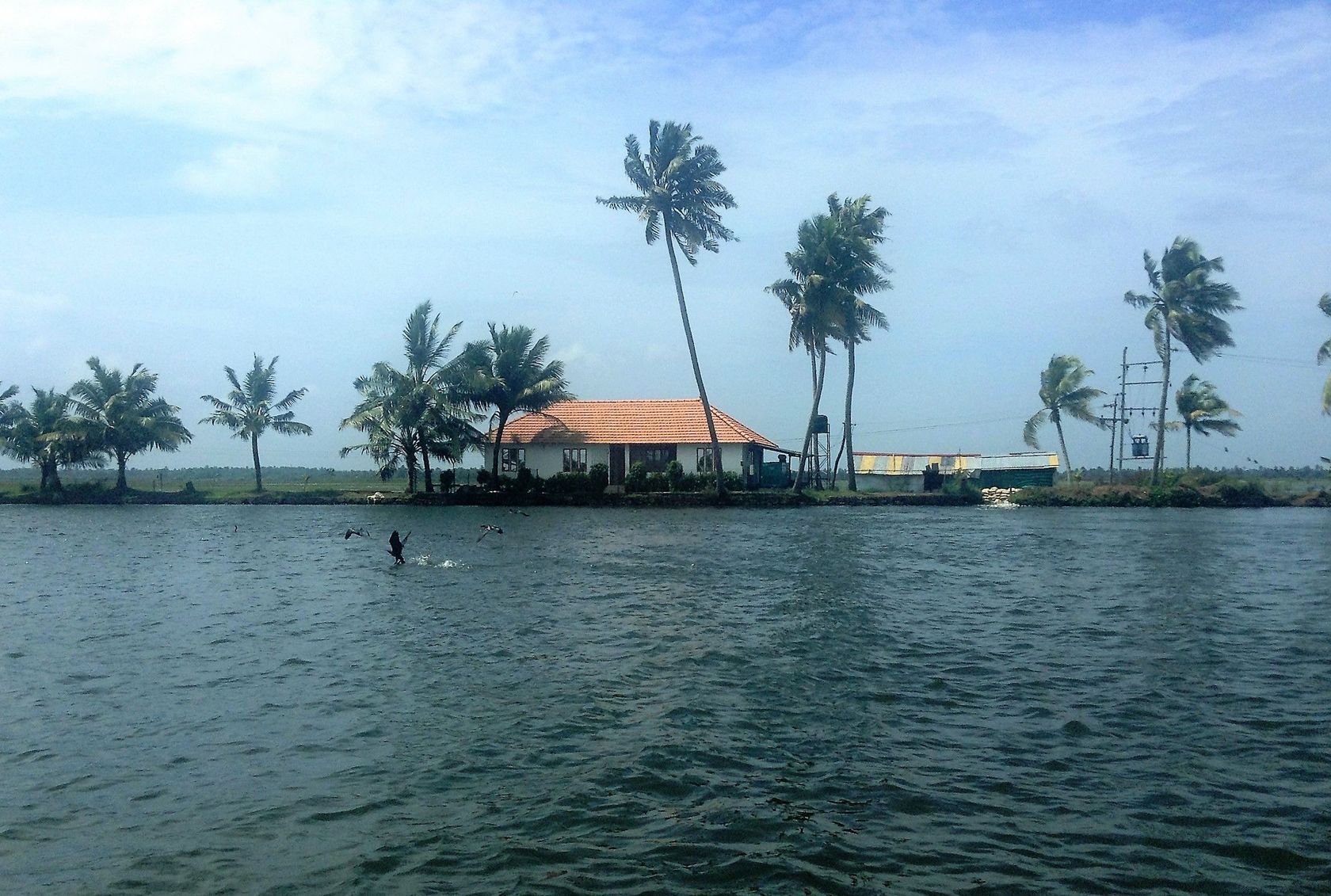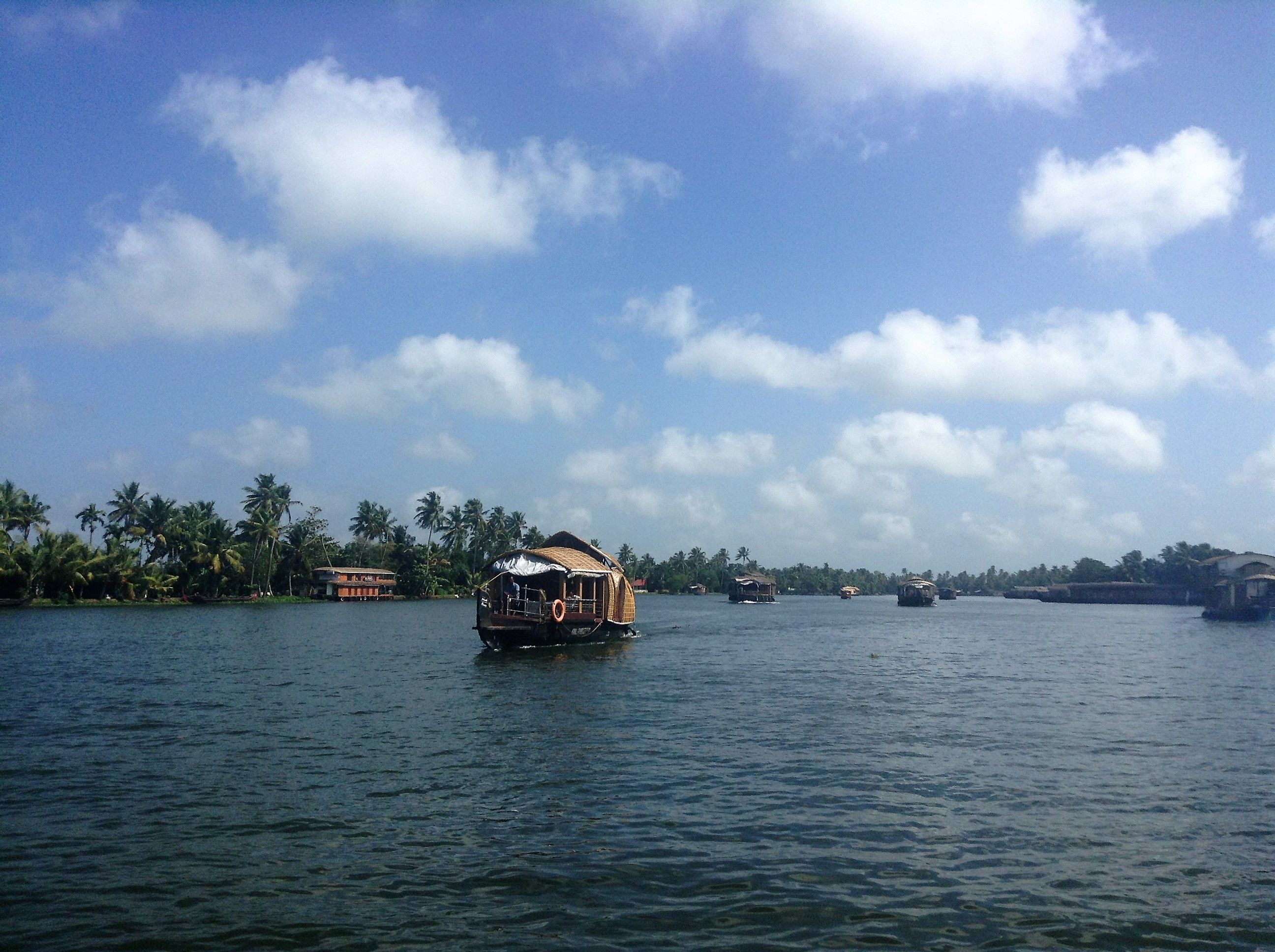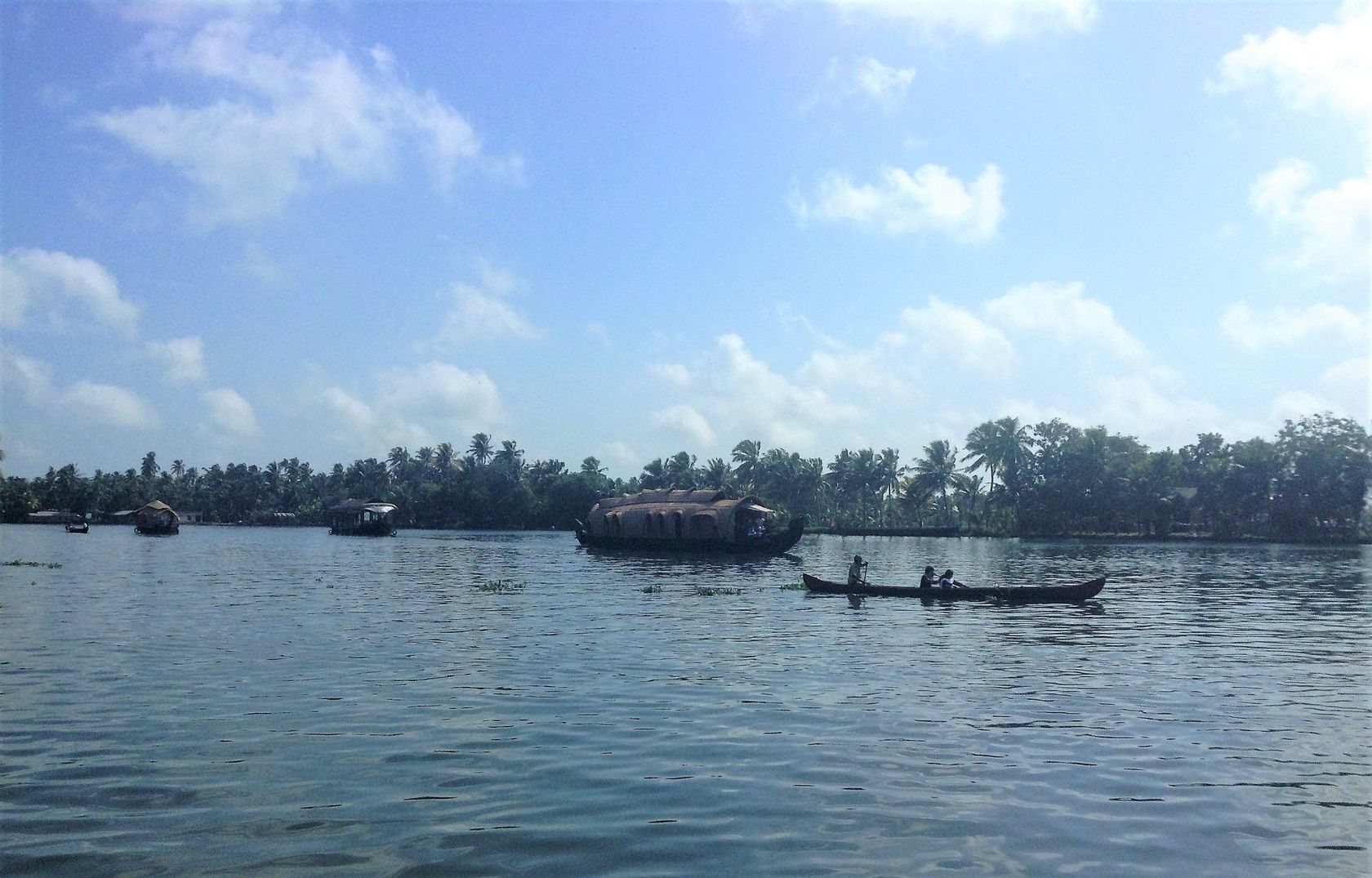 A completely palmy paradise, I saw many backwater cruises.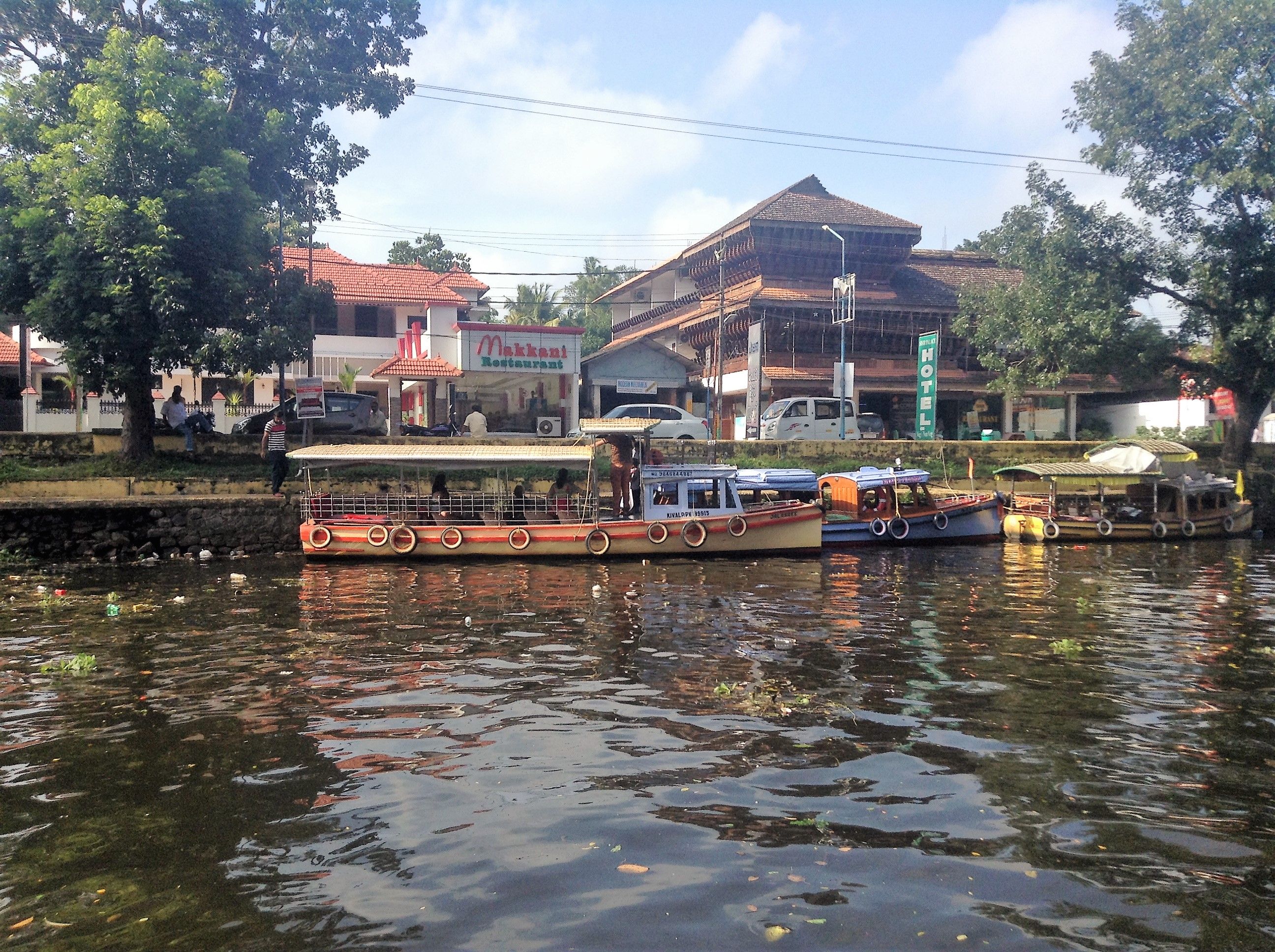 Arriving in the last stop: Alleppey. It's a base for backwater trips and also a coast city like many other city in Kerala, no wonder as Kerala gets a super long coast line along the Arabian Sea. The city was busy like most cities in India which made the 3-hour backwater trip like a dream. India is magic, it's busy, crowded but at the same time, you can always find the calmness and serenity somewhere.

喀拉拉邦地处南印度的阿拉伯海岸,在果阿的南部。对我来说,喀拉拉更像是东南亚的某个海边,而并非我们熟知的那个印度。
对于很多旅行者来说,喀拉拉的回水泛舟是最能舒缓放松心灵的经历。为什么叫回水呢?因为科钦附近的河流很多与海岸线平行,宽窄不一的水道,河水与海水彼此相望。而每年季风季节到来时,海水灌入河内,同时河水暴涨也会奔海而去注入海里。河水和海水汇为一体,再也分不清谁是谁。在此中泛舟,吹吹海风,很是惬意。
我早早的在科钦吃了早餐,然后坐火车去科塔杨坐船,开始一天的回水泛舟之旅。我很喜欢南印度的丰盛早餐,很多选择,不同的点心和蘸料也很好吃。
回水泛舟基本有三种方式:
第一,从Kottayam到阿勒皮的公共水船,这也是最便宜的方式,3小时的船程大概花了2块人民币。
第二,可以从回水基地阿勒皮参加一个绕着阿勒皮转一大圈的半日游。
第三,可以搭8小时的渡轮从阿勒皮到奎隆,这个行程可以看到更多的当地回水村庄和当地人的生活。
第四,这也是最受欢迎的一种回水泛舟体验。就是回水邮轮,这也是很奢侈很特别的体验,每个船大概有几个房间,可以选择住几晚,在水上享受南印度的风和日丽和美食。我甚至真的有来这里度假在船上住个十天半月,放松防空享受假期的游客。我觉得这可是一个一生必须来一次的经历。
我选择了第一种最经济的方式,在Kottayam市,我在一个狭窄的水道边找到了公共船的起点。
大概过了一会,船开始离开两边都是人家的狭窄水道,开往更辽阔的河里。一瞬间风景变得很开阔,雨季刚过的南印度,空气里都是清新, 水面反射着阳光,一点点闪烁着。蓝天,微风,干净的河水,还有两边美丽的椰子树丛林互相映衬。
过了两个小时,到了船的终点,也就是阿勒皮市,阿勒皮是很多旅行者玩回水的基地之一,也是一个有海滩的城市,喀拉拉邦有很长的海岸线,所以有非常多的海滩。一下船就变得很热闹,市场叫卖的小贩,车水马龙的交通……而刚刚三小时的宁静就像做梦一样。印度就是这样一个超级神奇的地方。大部分地方是那么喧哗拥挤,却又总能找到让灵魂宁静的角落。