You don't know Kumamon? It is a character created by the government of Kumamoto Prefecture. It was created in 2010. Just within less than 8 years, Kumamon becomes a well-known character throughout the world. It has been considered as the symbol of Kumamoto Prefecture. In the city of Kumamoto there is even a Kumamon Square where a Kumamon office can be found. It is a must-go place when in Kumamoto, no matter you are a fan of this cute character or not.
Kumamon is very popular in Kyushu, everywhere I go, I saw Kumamon.
For example: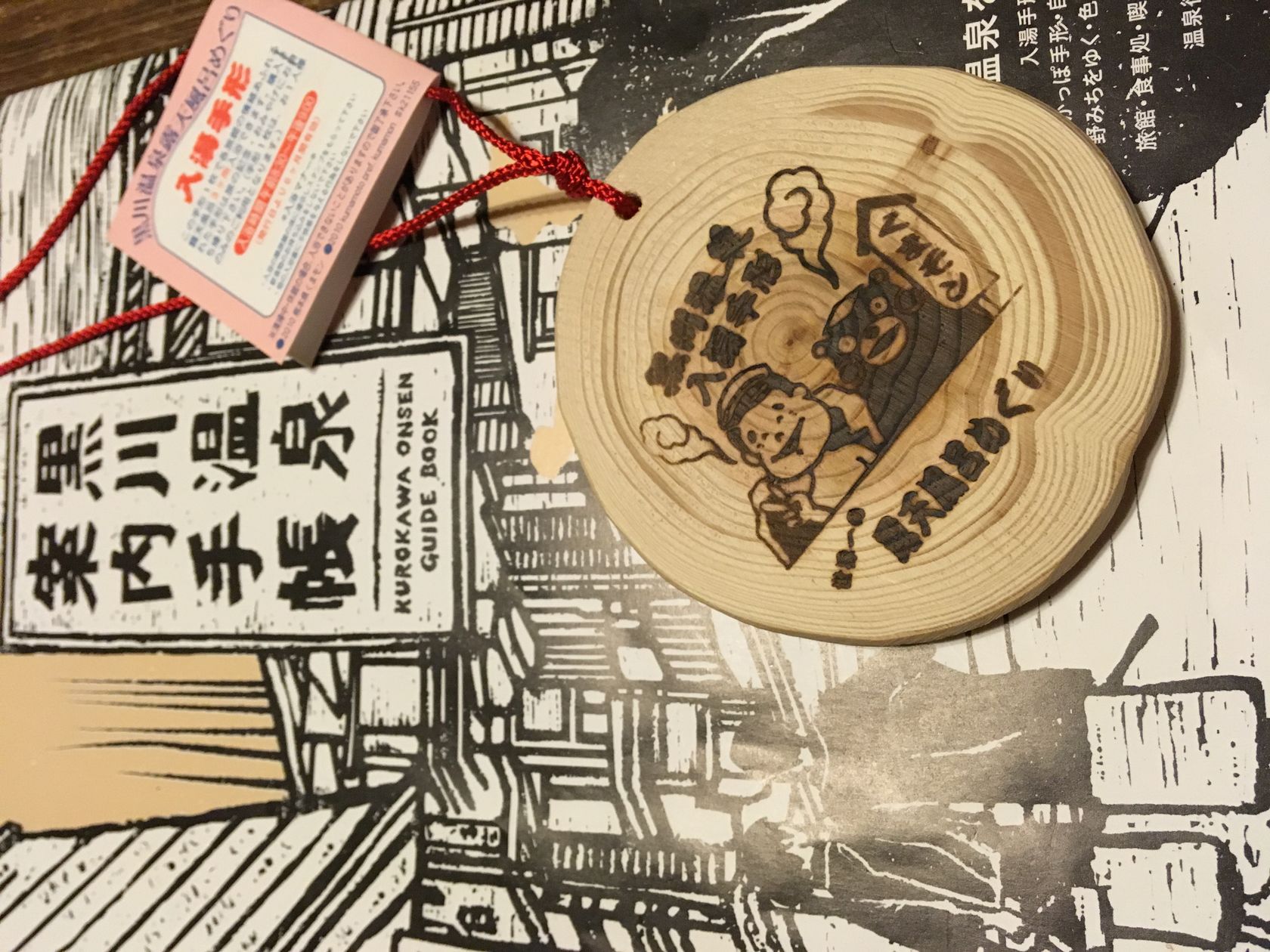 Kumamon is even shown in the Kurokawa onsen pass, an onsen pass for the famous Kurokawa Onsen village, not far from Kumamoto.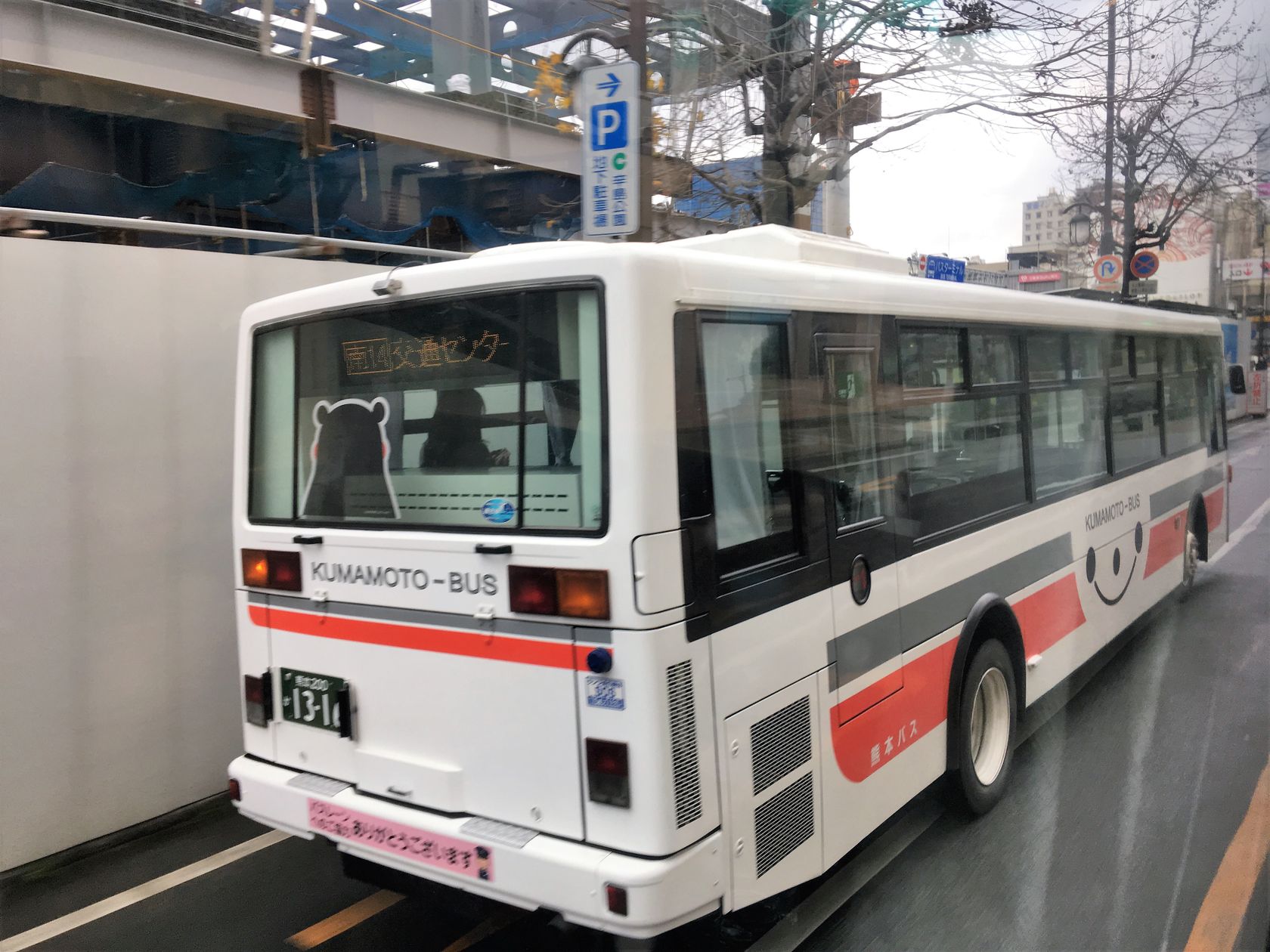 Kumamoto city bus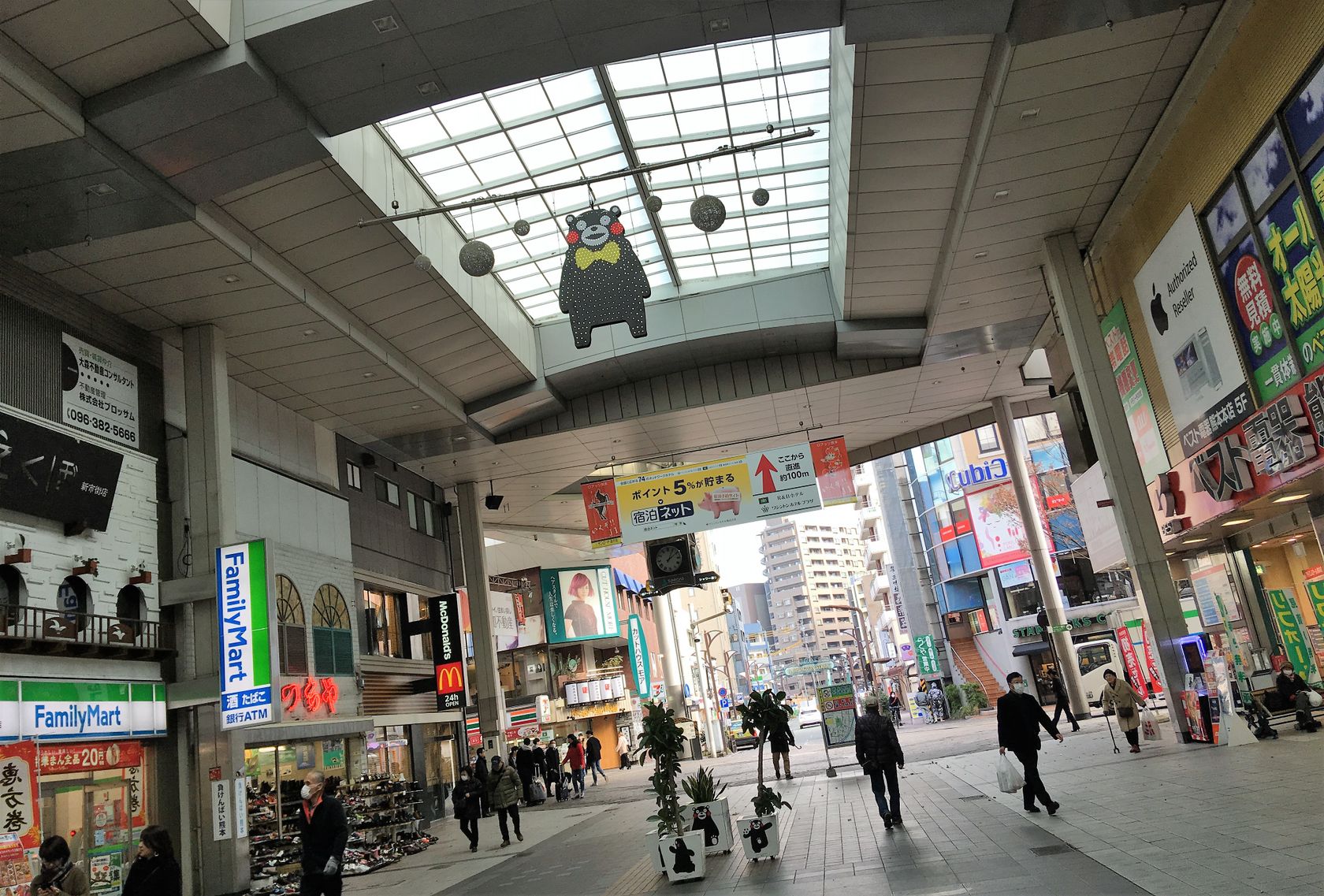 The shopping street of Kumamoto.
I'm not really a big fan myself and didn't know much about Kumamon before I visited Kyushu, but I think it's so cute that you can see him everywhere in the street. I heard that Kumamon actually has an office in the city, but he only works for a few hours per week. Right now during the new year, Kumamon is taking a break, so the chance is even slimmer that you meet him in the office. I couldn't meet him in "person" but was lucky to visit his office that was open at normal office hour. If you ever come, don't forget to check Kumamon's working hours.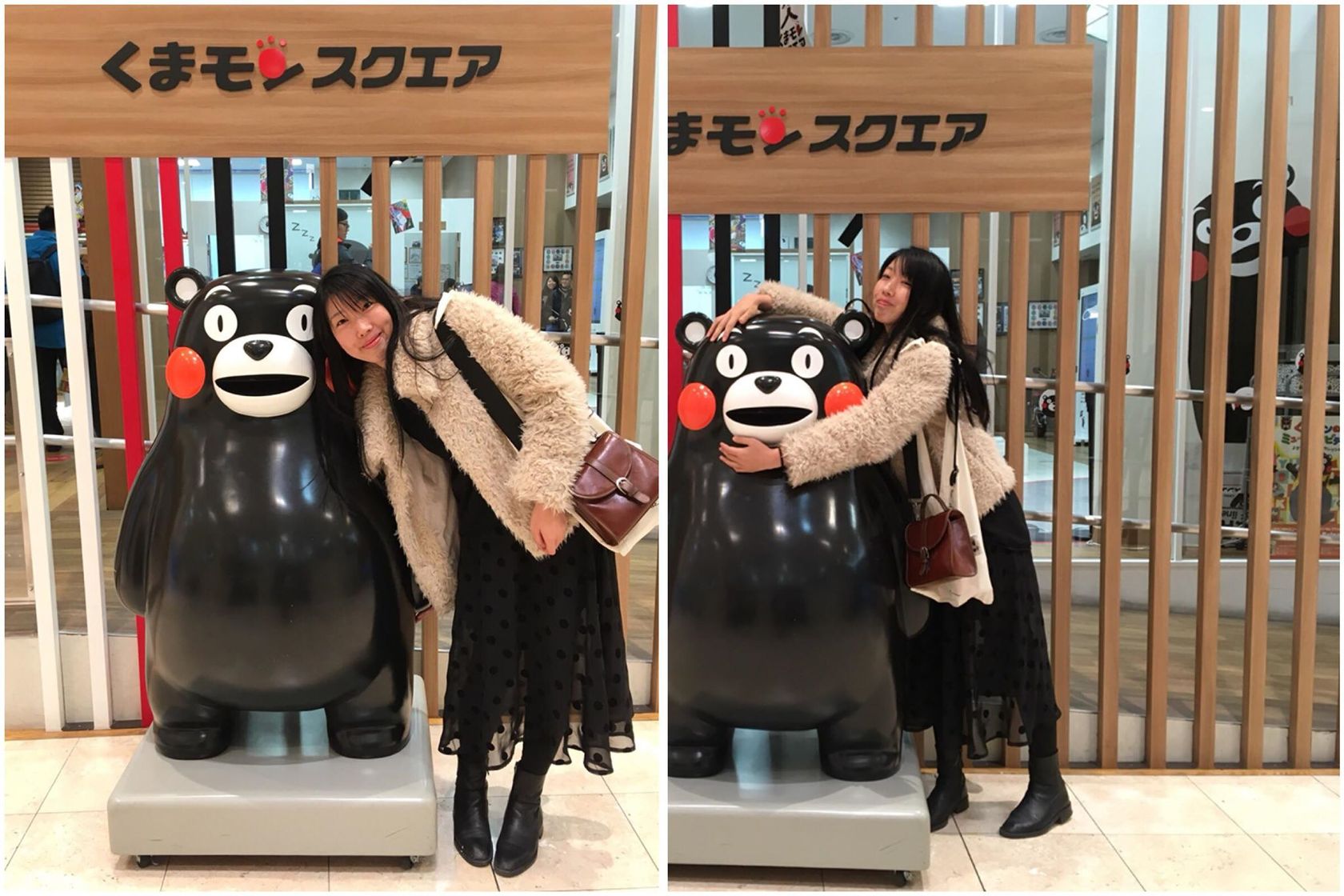 At the entrance of Kumamon's office.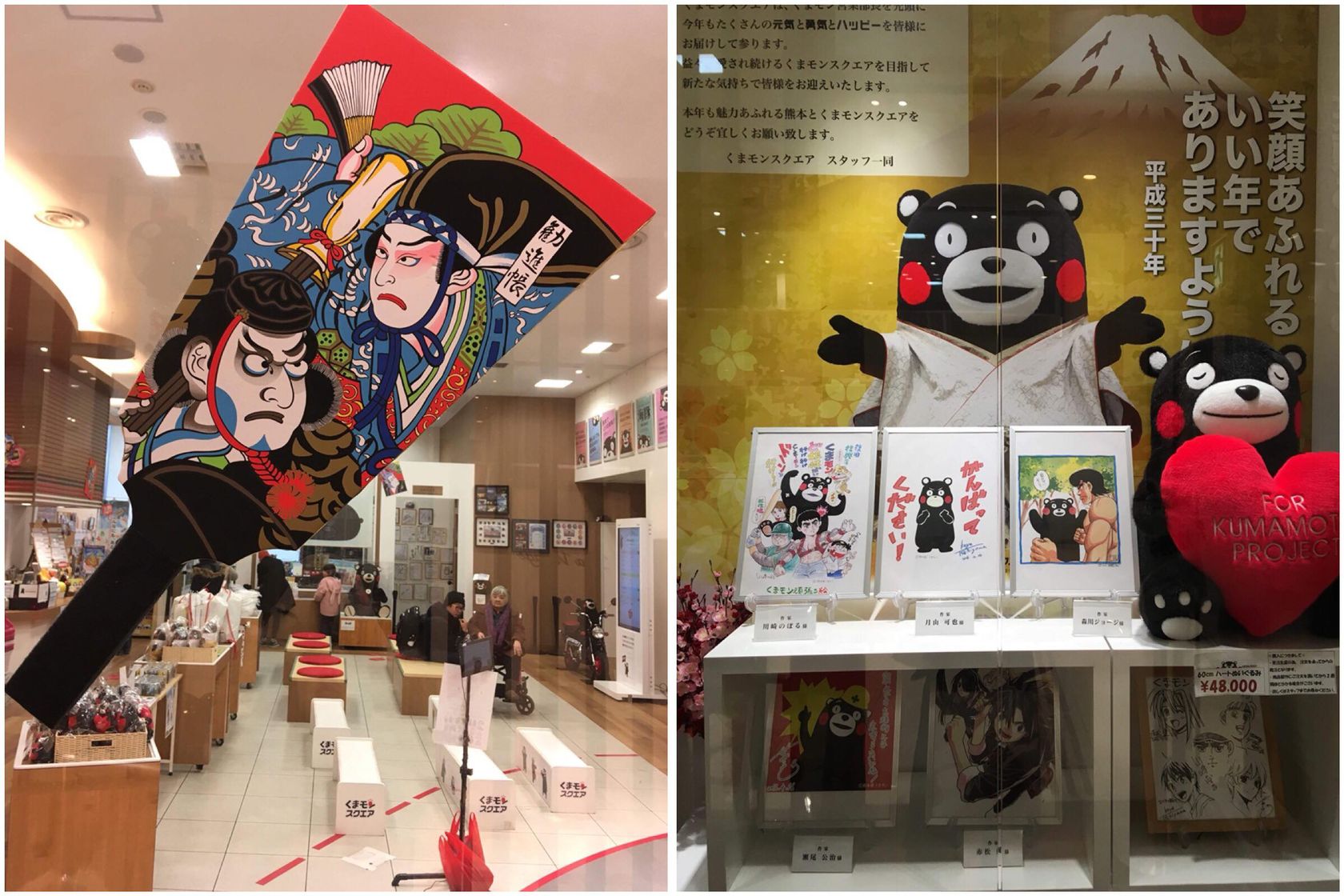 Take a peek inside the office.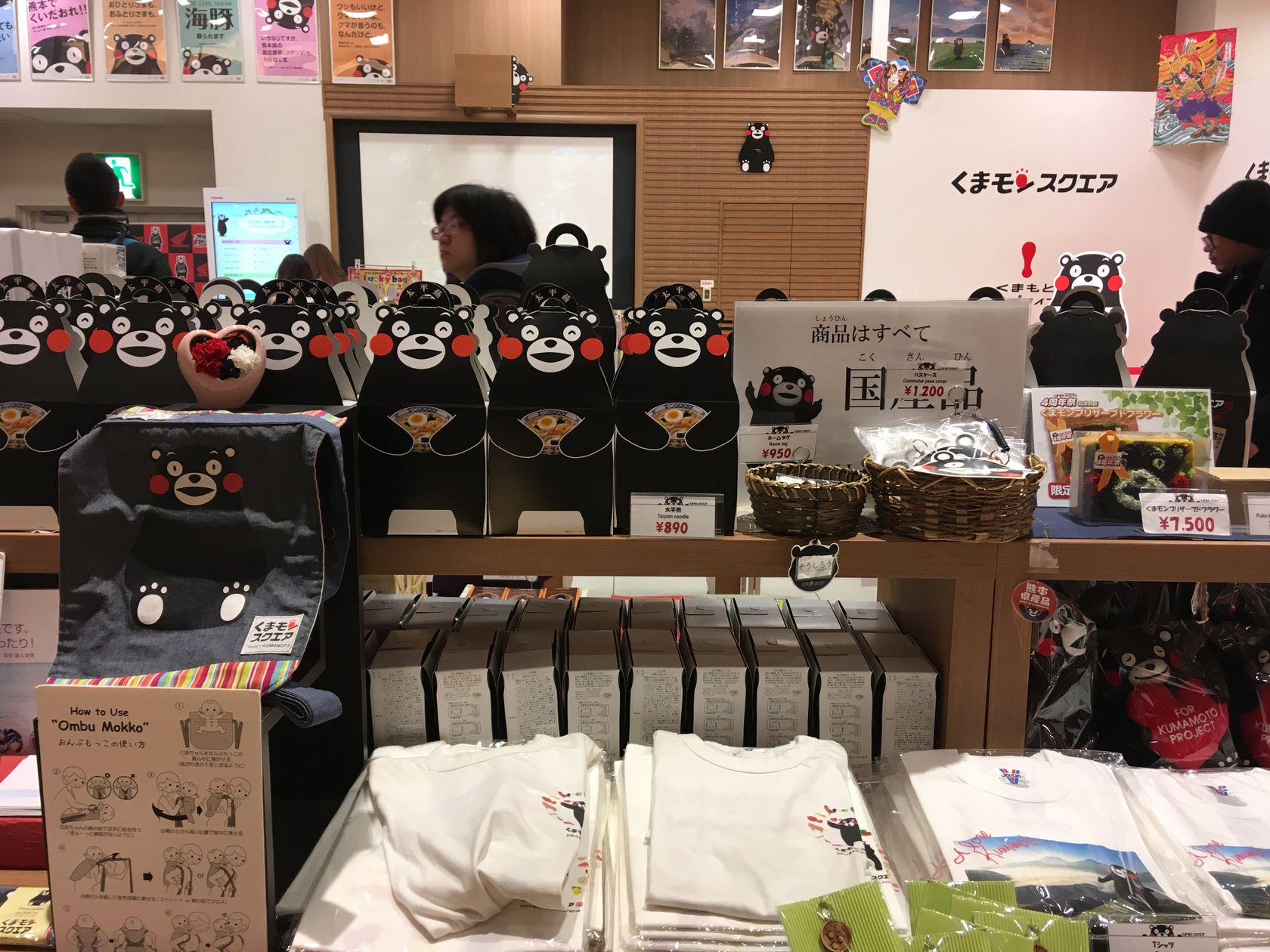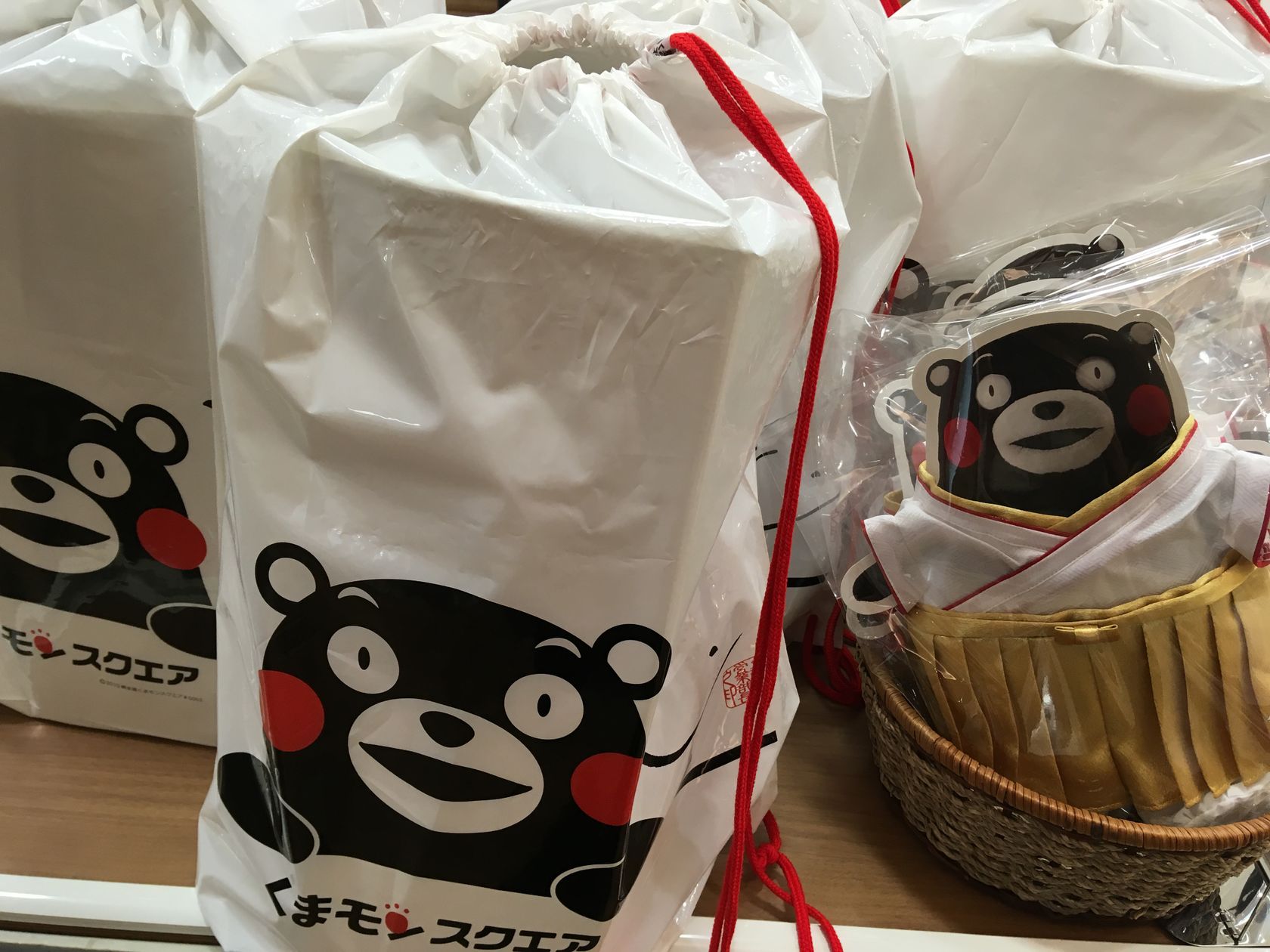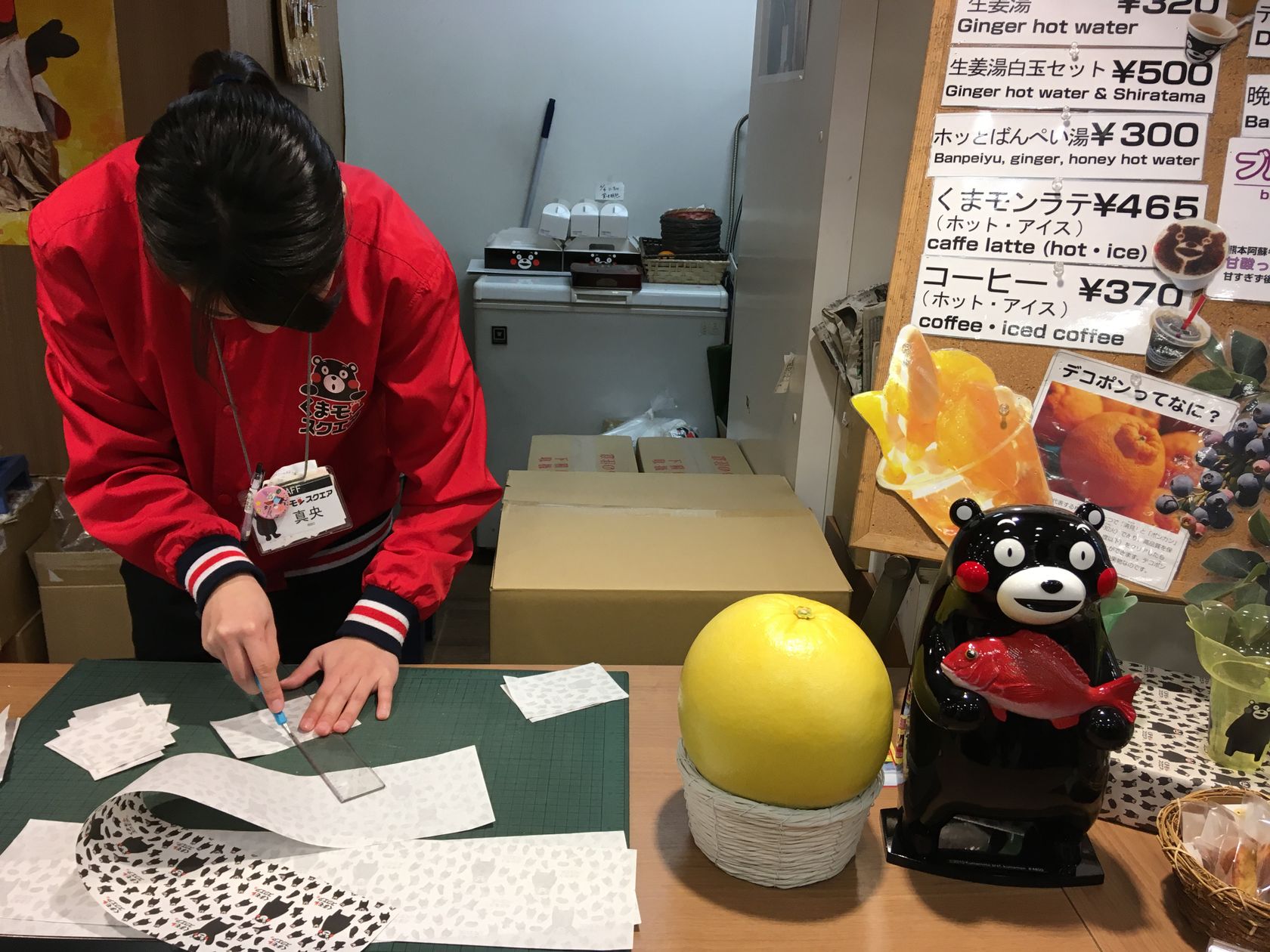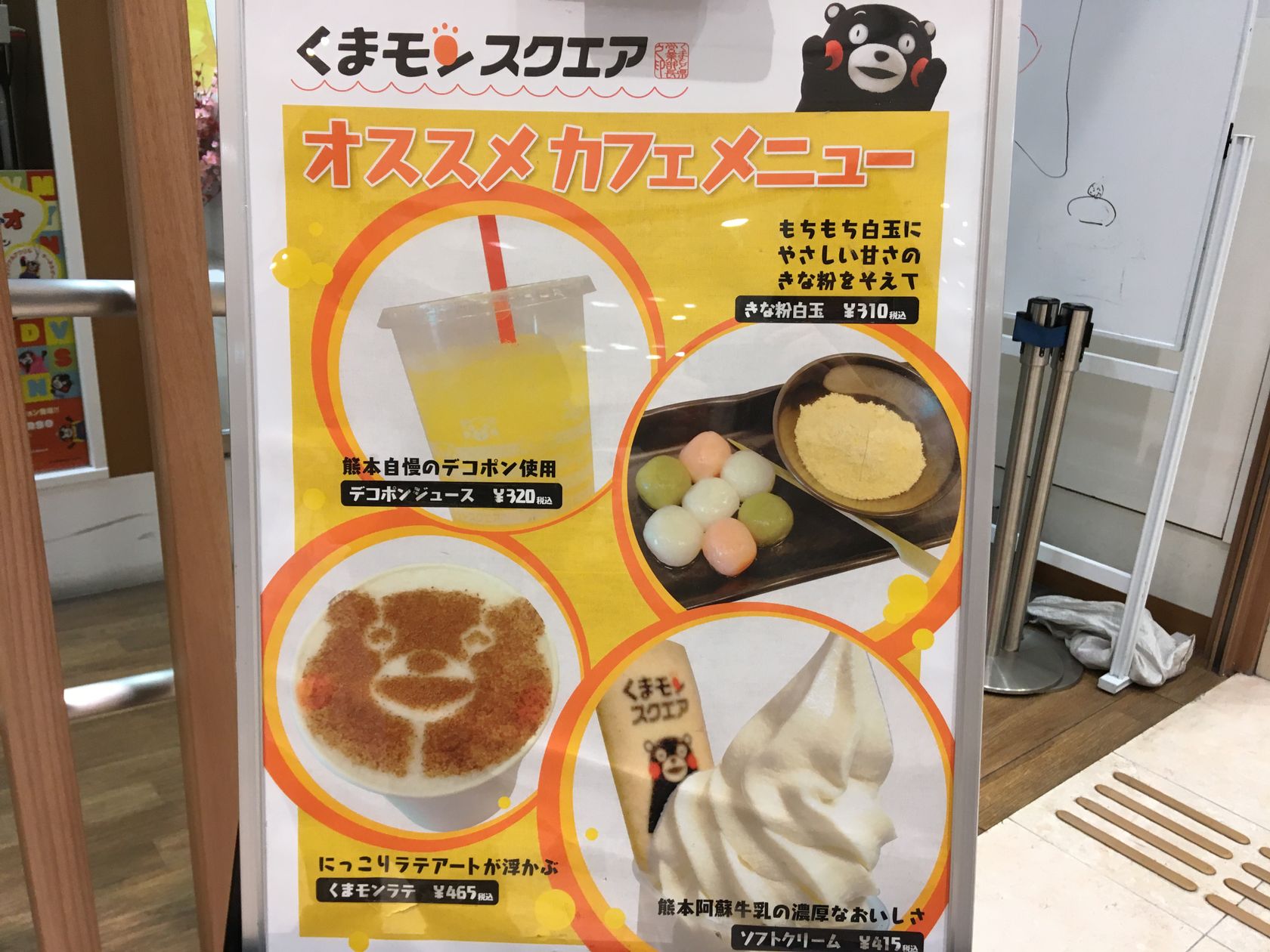 Japan is a country super good at the package design and product marketing. They can somehow make everything they want to promote so creative and great.
In Europe, people don't seem to care much about the package for snacks, but in Japan you can find all the interesting designs and limited versions of everything. Inside Kumamon office, there are dozens of souvenirs and local specialties packed in Kumamon's shape or decorated with Kumamon logos. Even for someone like me, who considers herself as a quite rational consumer, would like to spend some money here. XD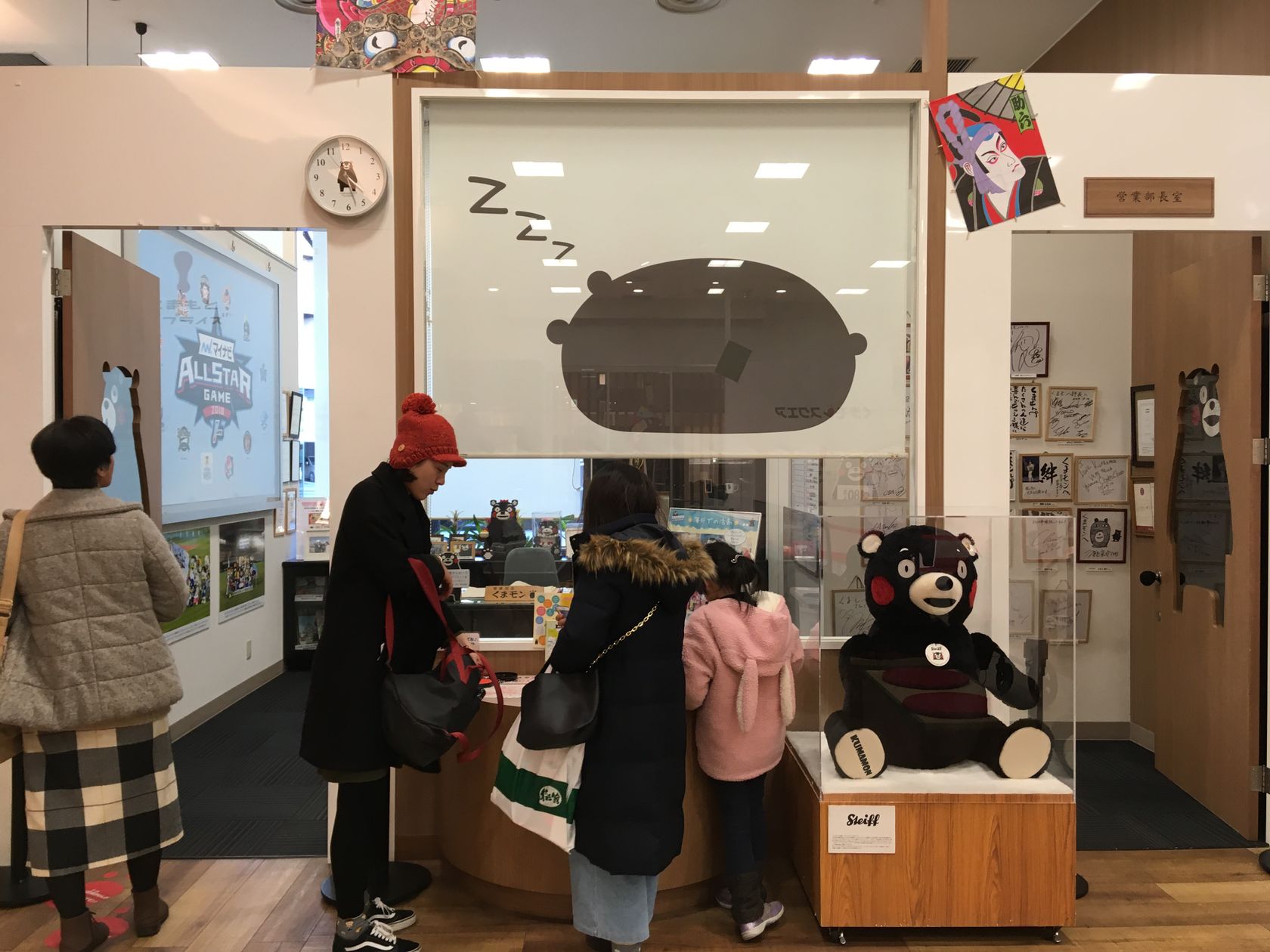 Many visitors are looking forward to see Kumamon, but he was not working that day.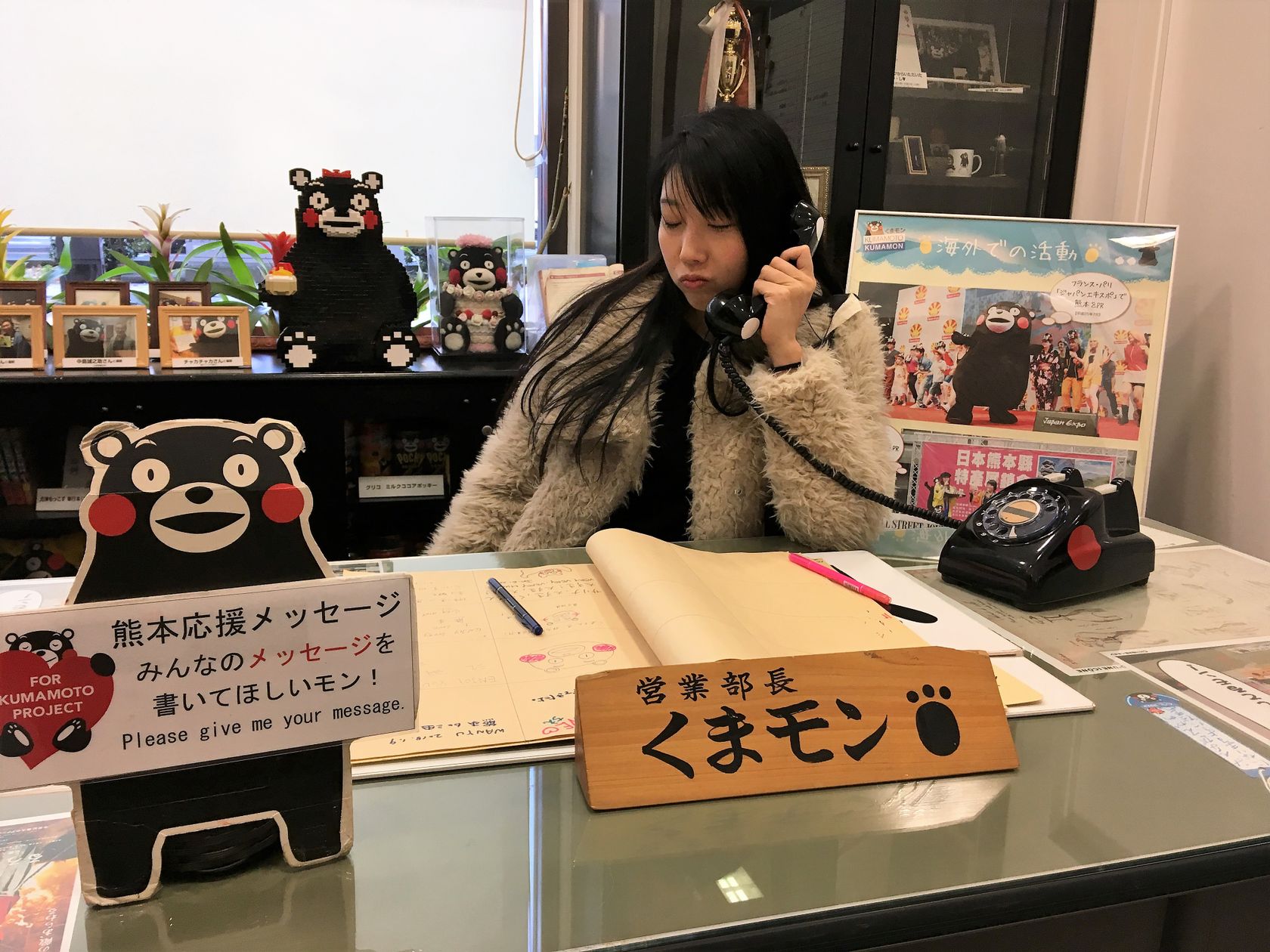 Still, you will have a chance to sit in front of his office desk and leave him a message.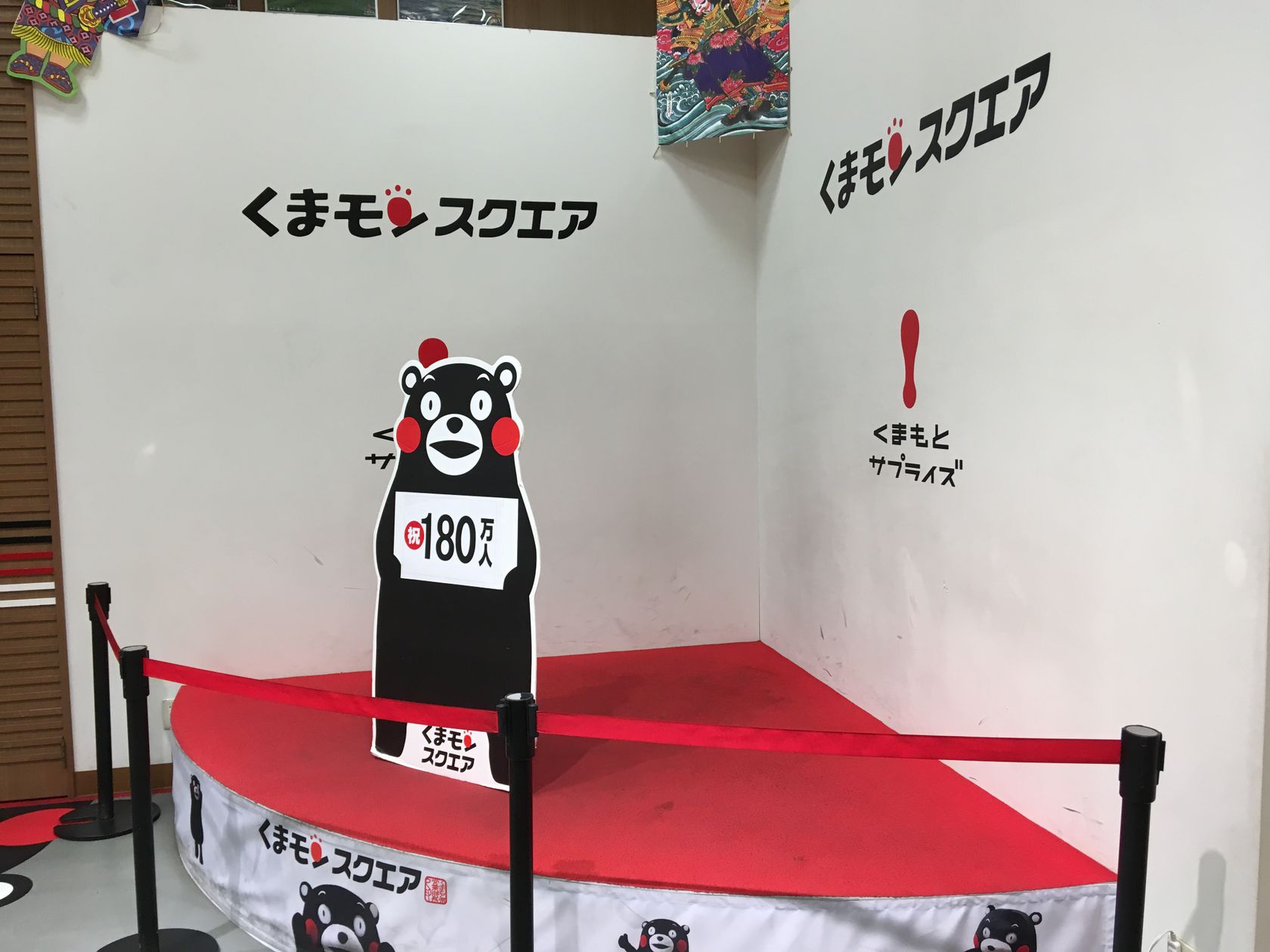 If Kumamon is at the office, you can come take a selfie with him at the stage.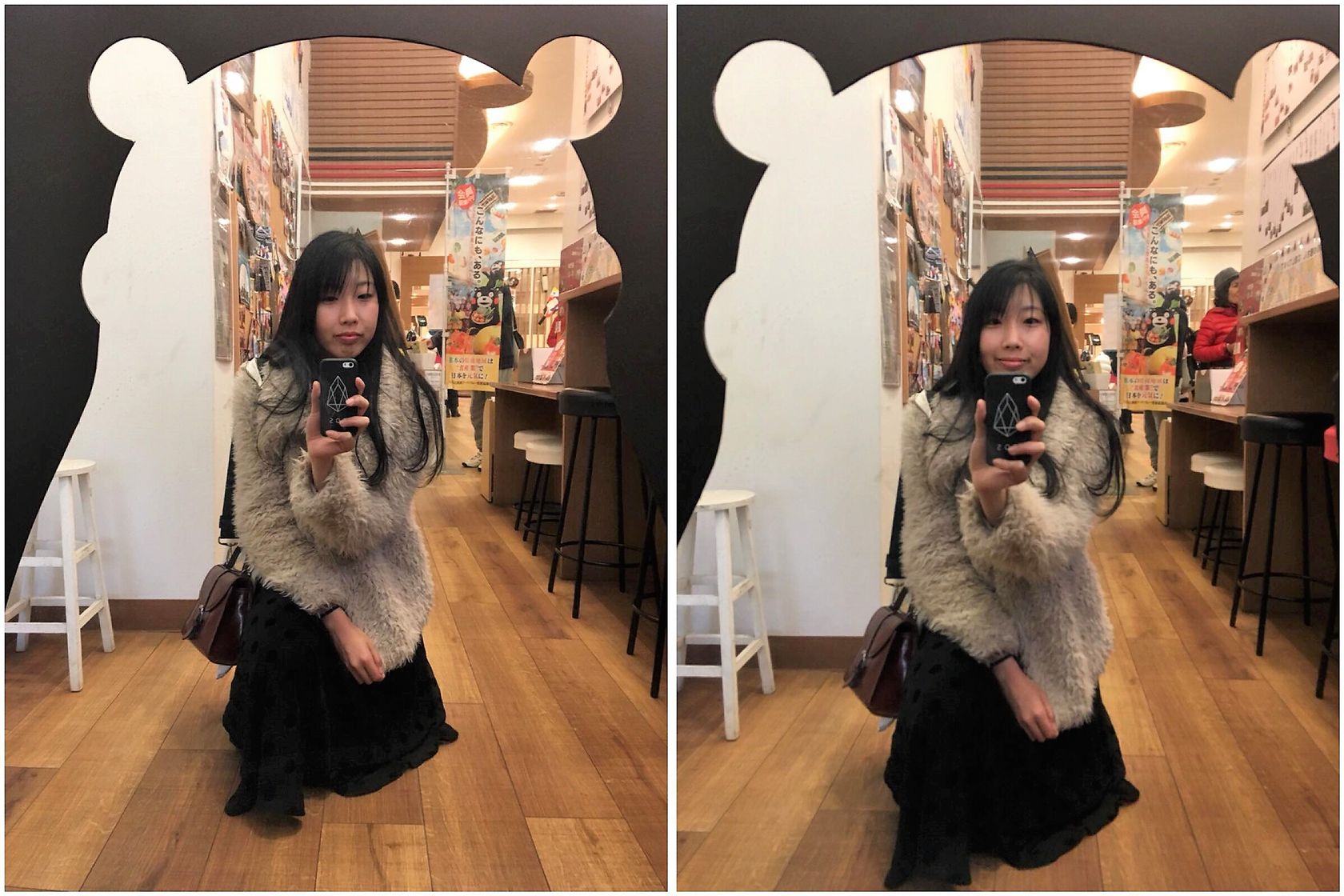 Even though he wasn't there the day I went there, still you can have some fun 😀
在熊本,熊本熊的办公室绝对是很重要的一个游客必去的地方。好像我在国内的朋友们都比我更熟悉熊本熊,可能由于在比利时很少看到可爱的熊本熊吧。去熊本之前,对他也就是留有比较模糊的印象,好像在哪里见过几次。
直到来到了九州,尤其已进入熊本县,这只萌物就开始不停的出现在眼前,从城市大巴,到去黑川温泉的路上巨大的熊本熊的"欢迎游玩"的宣传板,日本人真是挺聪明,这个可爱的形象太适合担当熊本和九州地区的旅游大使了。在熊本市内还有这样一个熊本熊办公的"熊本熊广场",里面有部长的办公室可供参观。部长工作挺轻松,每周只需要工作几小时,这也就意味如果你想在他办公时间见他一面,需要提前查好时间啊。我去的时候刚好是部长的冬假时段,所以挺遗憾没能看到他本尊。
然而即便如此,部长办公室还是挺值得一逛的。日本人对于食品包装设计简直到了一个强迫的程度,不管在哪个城市都能看到可爱的各种"限量版"包装,跟欧洲人完全无所谓包装的态度截然相反。而对于部长这么可爱的形象,更不能错过了。在部长办公室里面有个卖纪念品的部门,里面有各种有意思的小物,像我这样自认为很理性的消费者,都觉得好可爱啊。
虽然部长本尊不在办公时间,还是很多人派对进去他的办公桌留影纪念,桌上有个留言本,游客可以给他留言。办公室里面还有很多他的照片等等,你们猜猜我给他留言写了什么?
当然了最好还是趁他在的时候过来玩,因为我看到有人评论说要看到动态的本尊,才会知道为什么熊本熊有那么受欢迎了!而且如果部长本人在的话,还可以跟他在台上自拍呢,是不是很有意思呢?