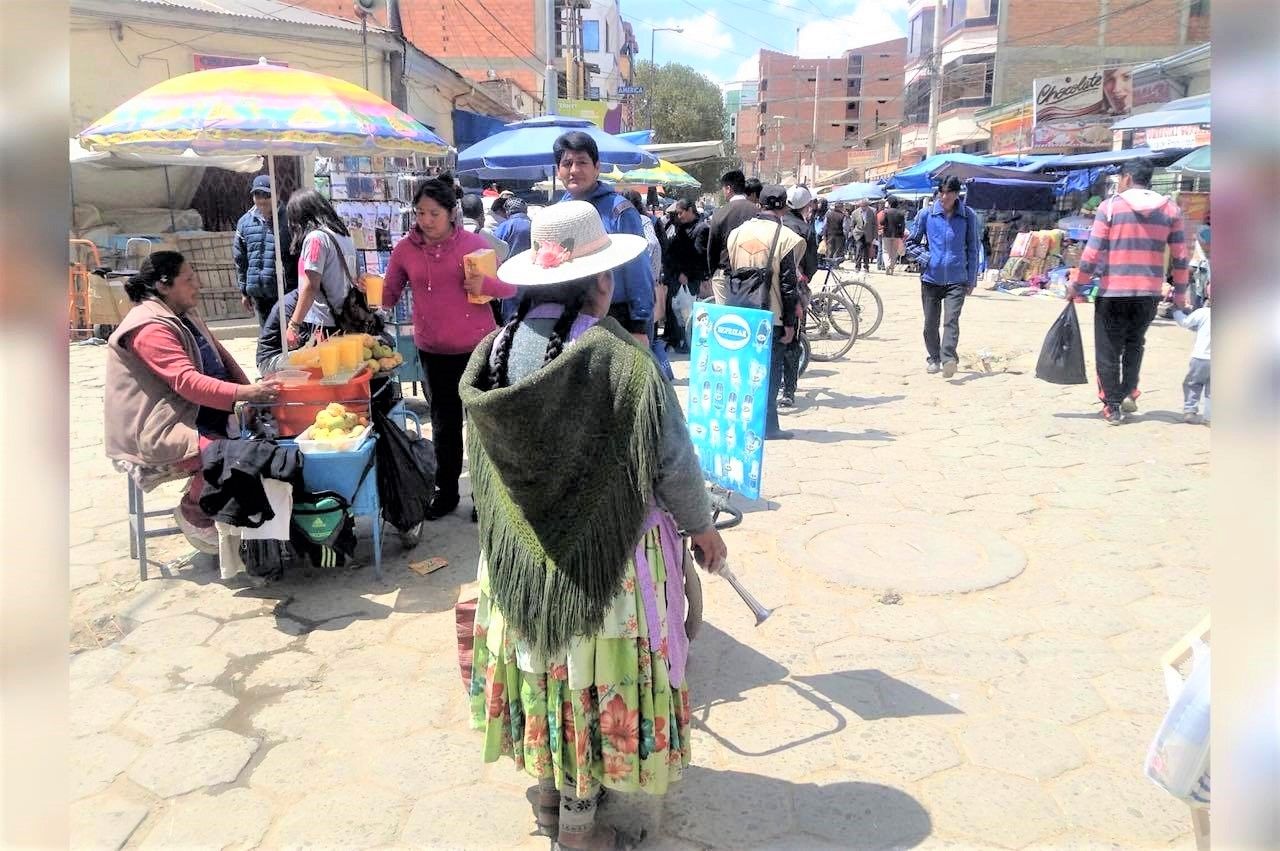 Last semester we had a guest lecture by a Bolivian scholar where he introduced tourism development in Oruro province of Bolivia and let us know how many natural and cultural wonders there are in this area. In his words, Bolivia is the heart of South America (which is no doubt according to me, both culturally and geographically) and Oruro is the heart of Bolivia (um, geographically yes). I remember he concluded that Oruro could be the heart of South America, I was seriously doubtful about it as I had not heard about this city before.
In the end, during my Bolivian trip earlier this year, I was forced to have a stop in Oruro unexpectedly.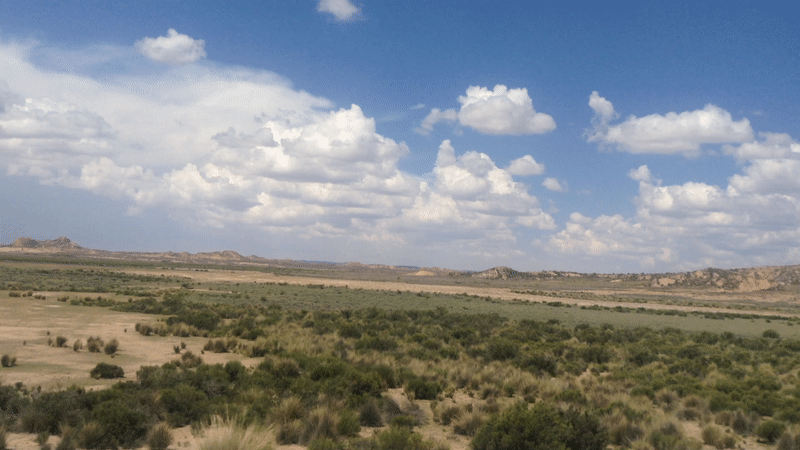 Nothing better than waking up to the beautiful landscape outside the train. Oruro is indeed important geographically to Bolivia as it links La Paz and Uyuni, two major tourist hubs in the country. I was taking a night train from Uyuni to Oruro (BTW, the train was great in Bolivia, only it wasn't frequent enough), before hoping to catch the first direct bus to Sajama National Park the same day.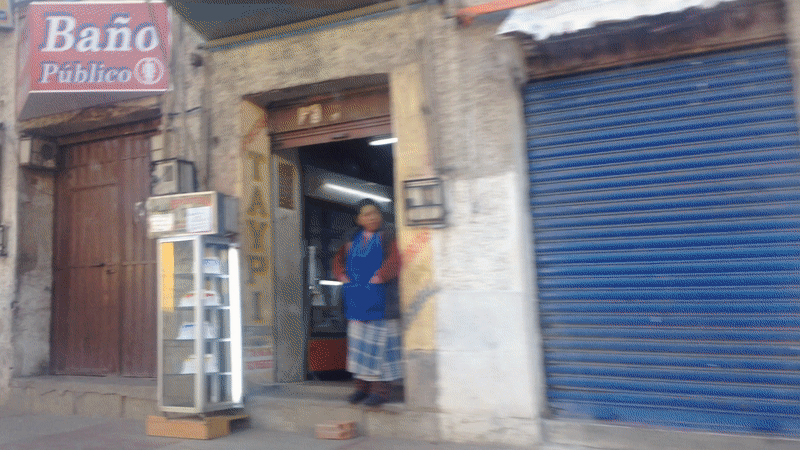 However, luckily enough, it was the car-free day of the year, so no buses tended to run on that day. After waiting for some time, I decided just to check out the city and stay the night instead.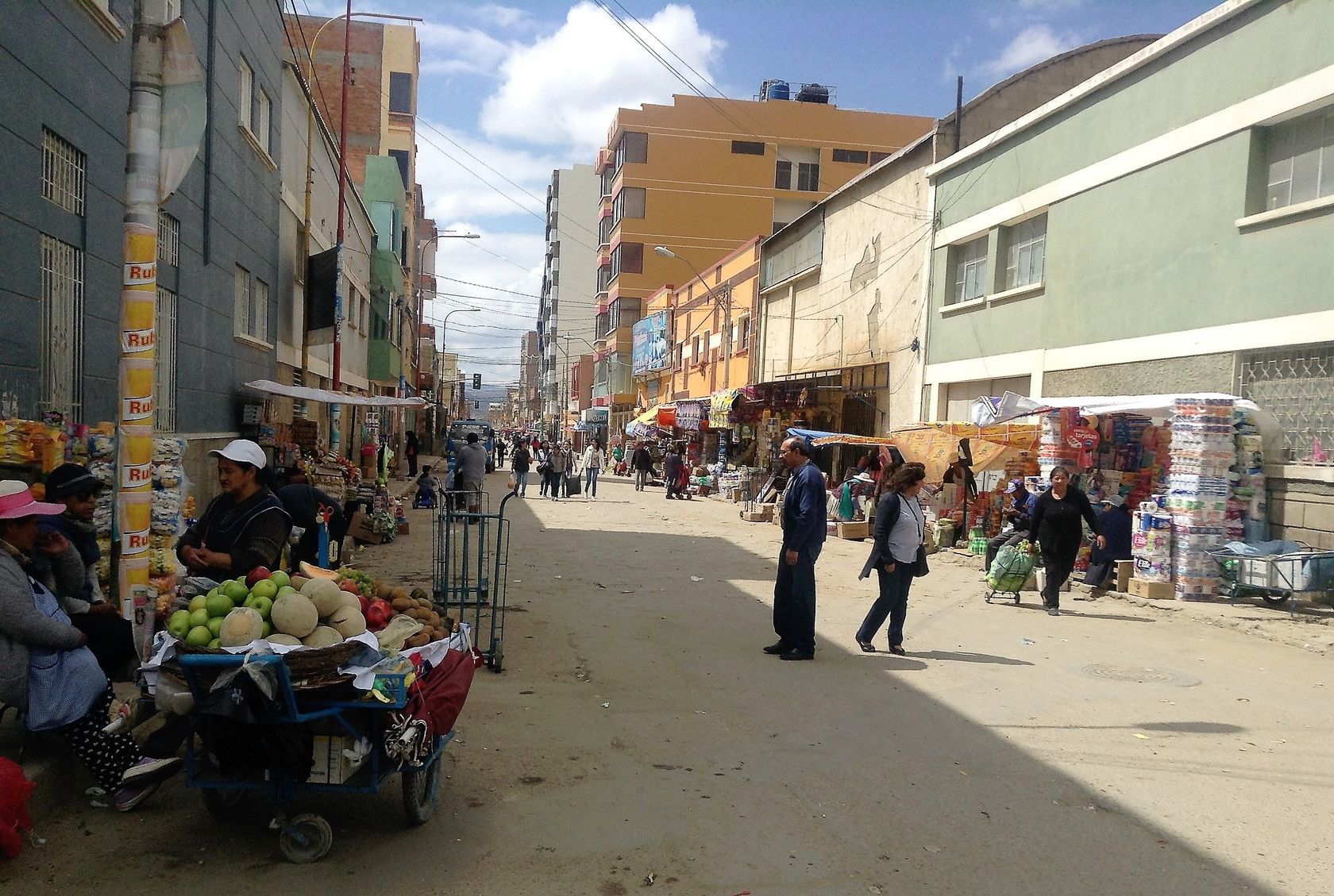 Just like the yearly car-free day in Belgium there was a huge market in town. Similar concept as that in Belgium but rather different things to sell, basically everything you can think about, snacks, drinks, fruits, daily groceries, etc.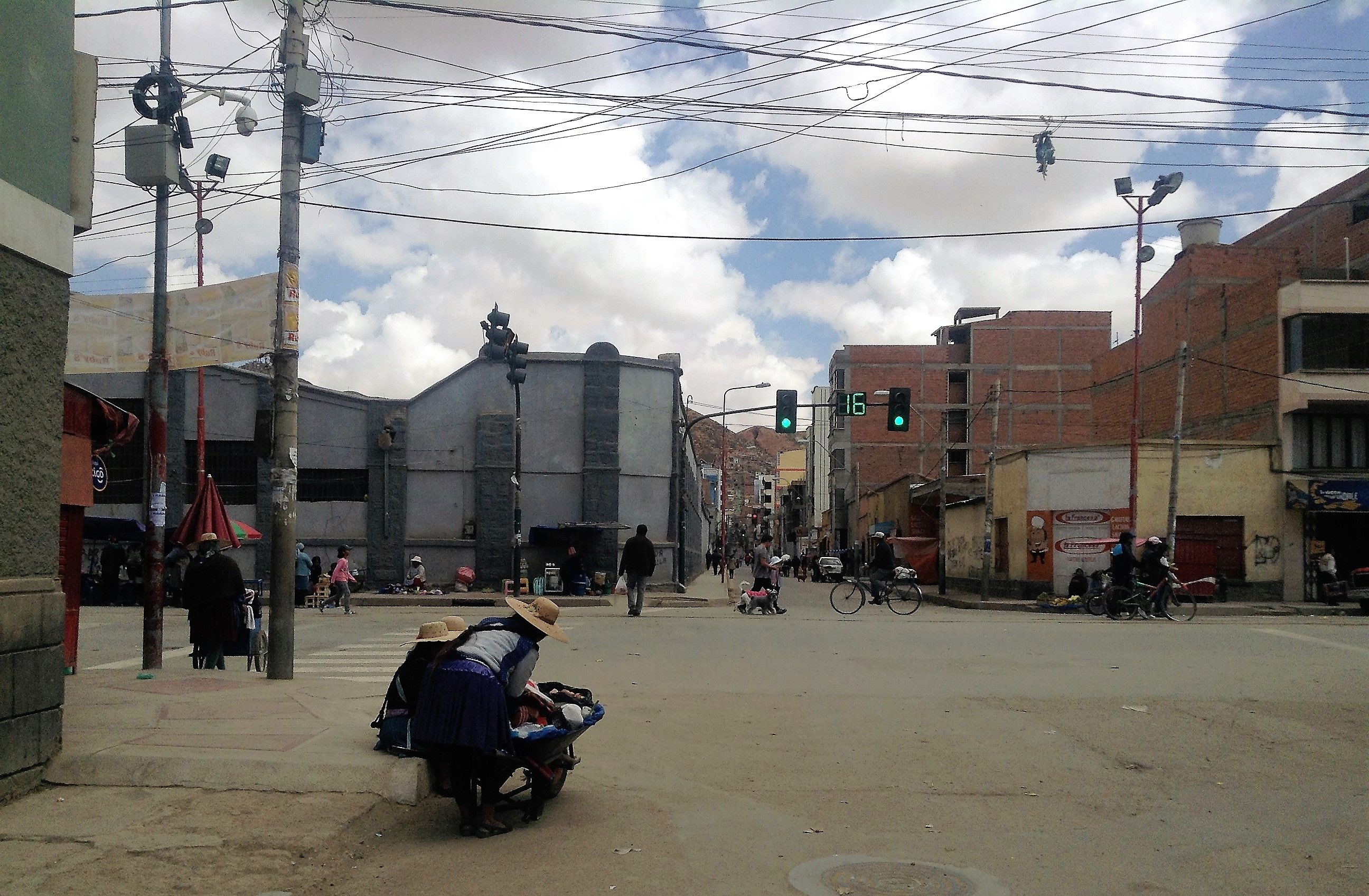 The whole city turned into a market place.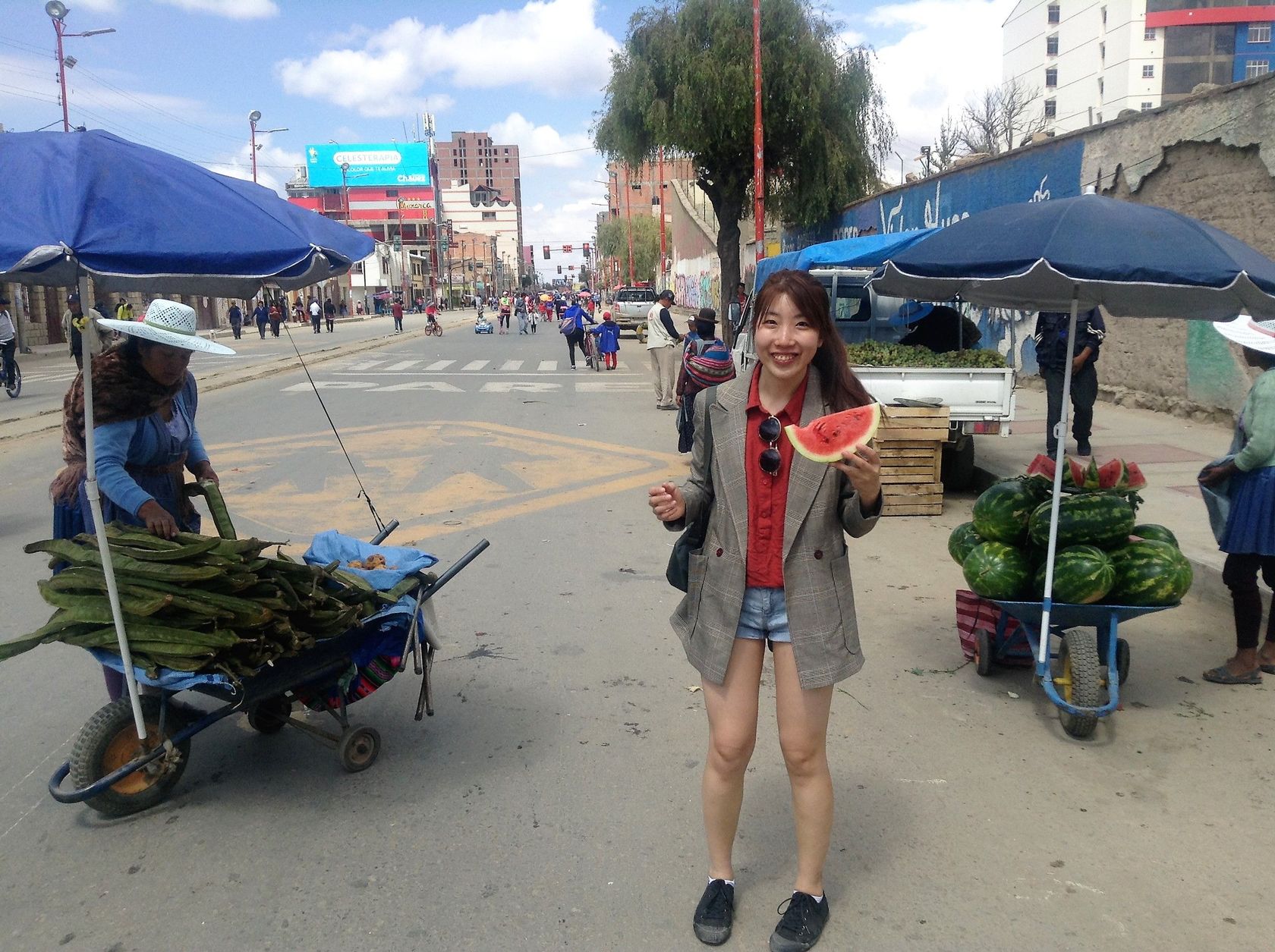 I love the watermelon. It was that day that I discovered my favorite fruits in Bolivia. It was the ones that lady on the left side behind me was selling. It is called Inga bean or Guama. I loved the sweet sour taste of it and ate that the whole while traveling in Bolivia.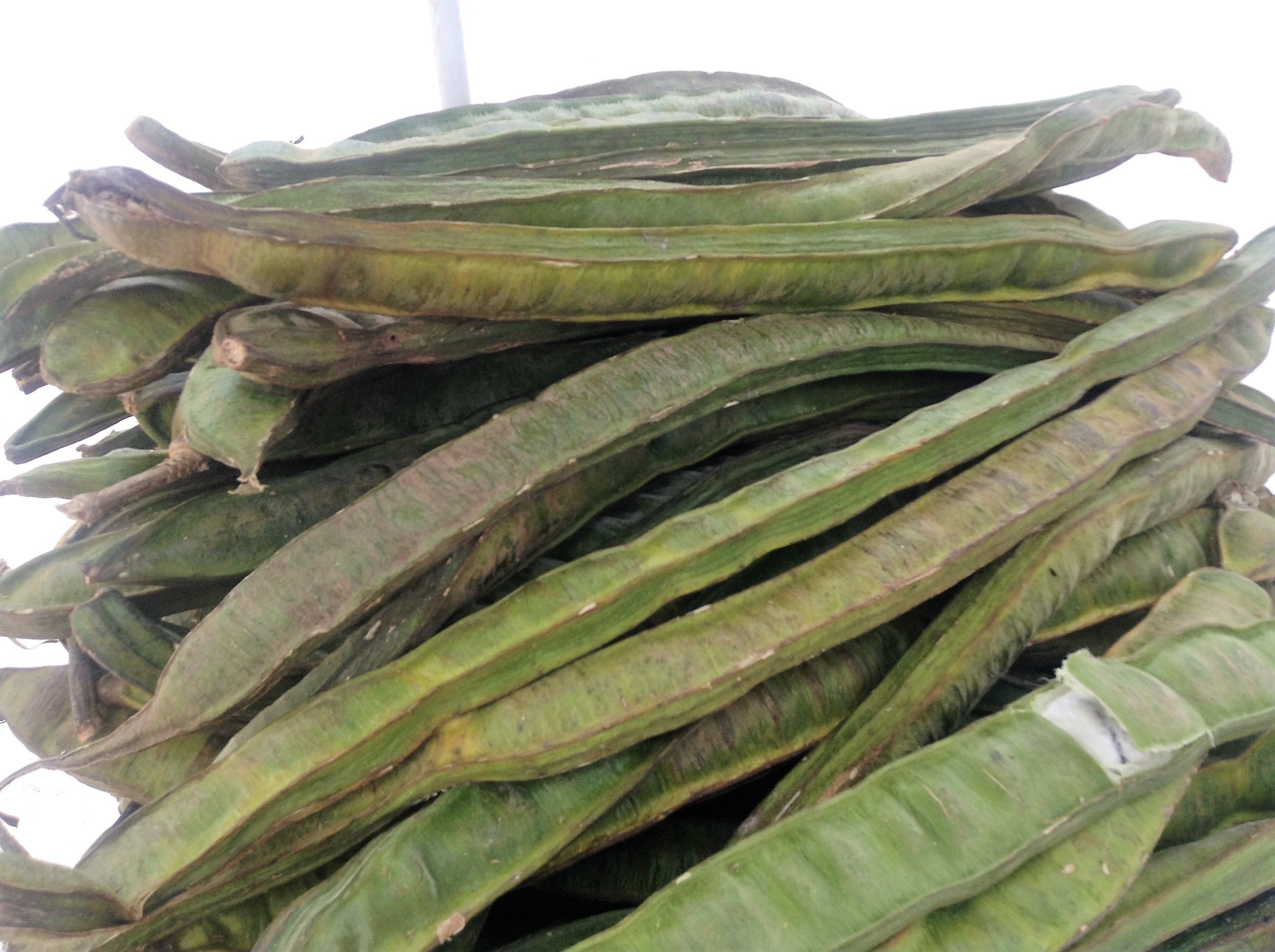 It looks like huge bean at the first sight, I was curious to try it out and actually loved it. Funny enough that it is sold everywhere in Bolivia but I was asked by my fellow travelers what it was the whole time.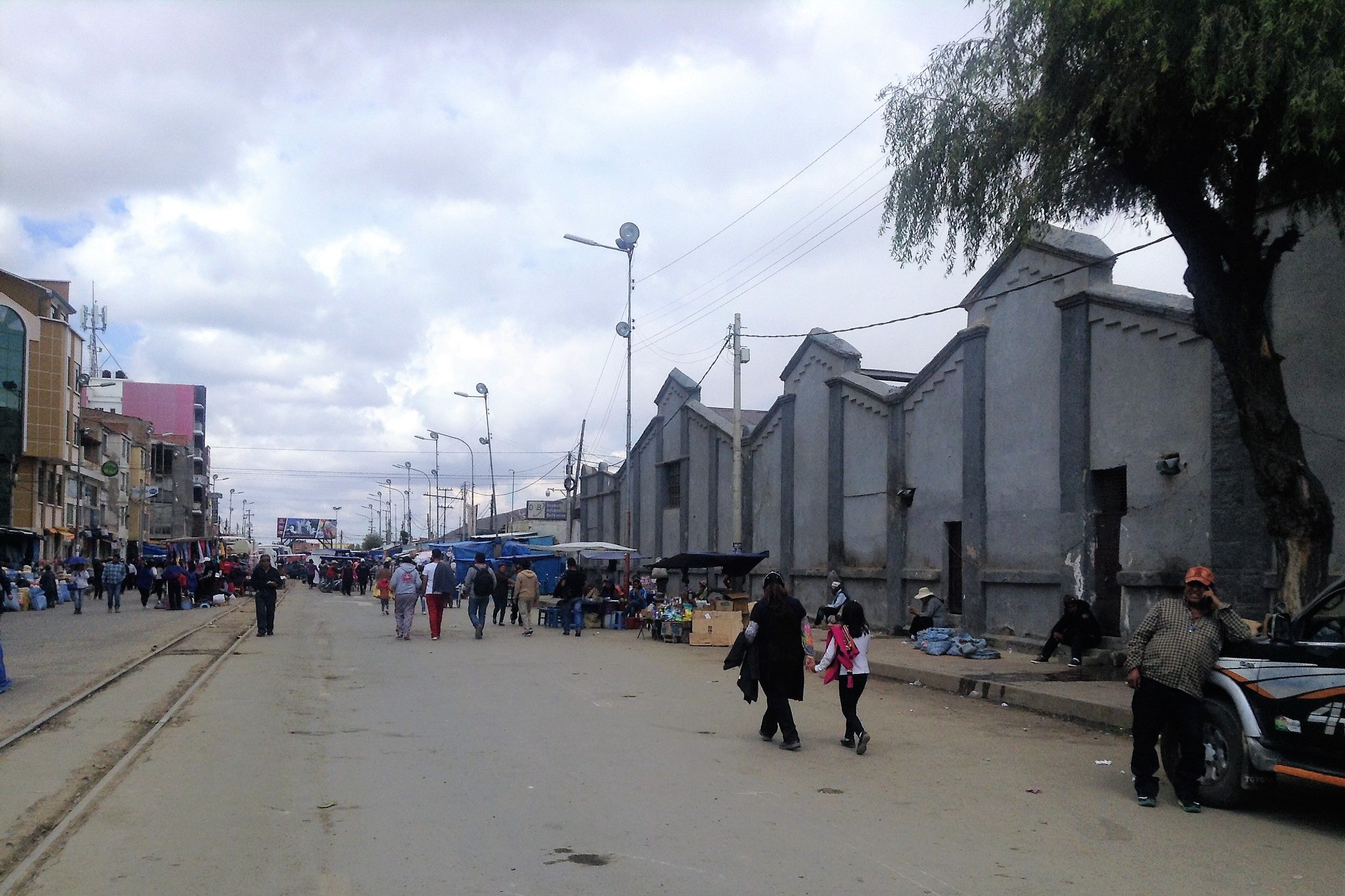 The whole street turned into a market.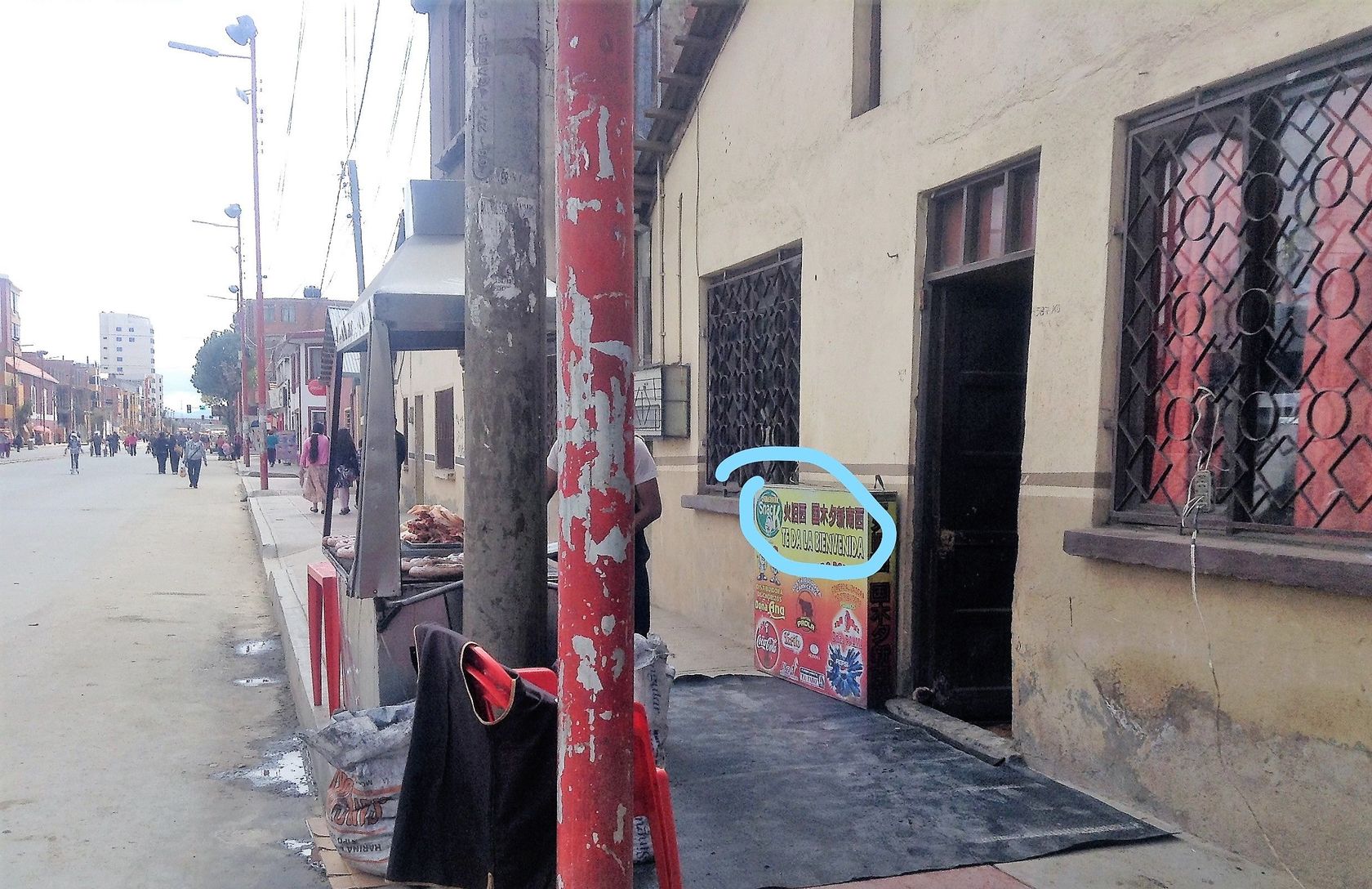 Just like in Peru, in Bolivia there are many Chifa restaurants. Chifa means eating in Cantonese. Nowadays many Chifa restaurants were actually owned by local Bolivians though. The coolest thing about this restaurant was that the Chinese characters don't make any sense.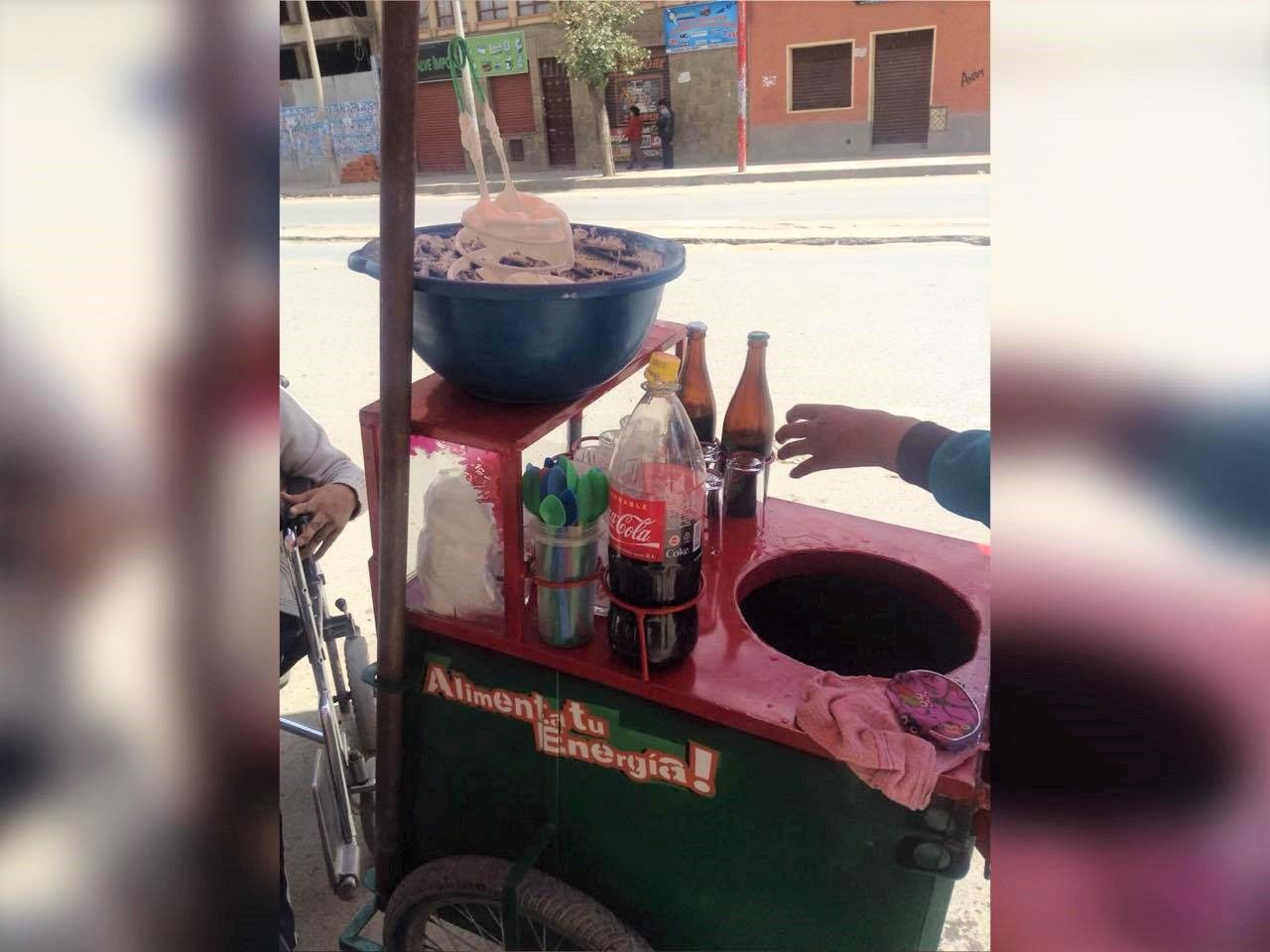 Cola with fresh cream seemed to be a popular drink/dessert in Oruro.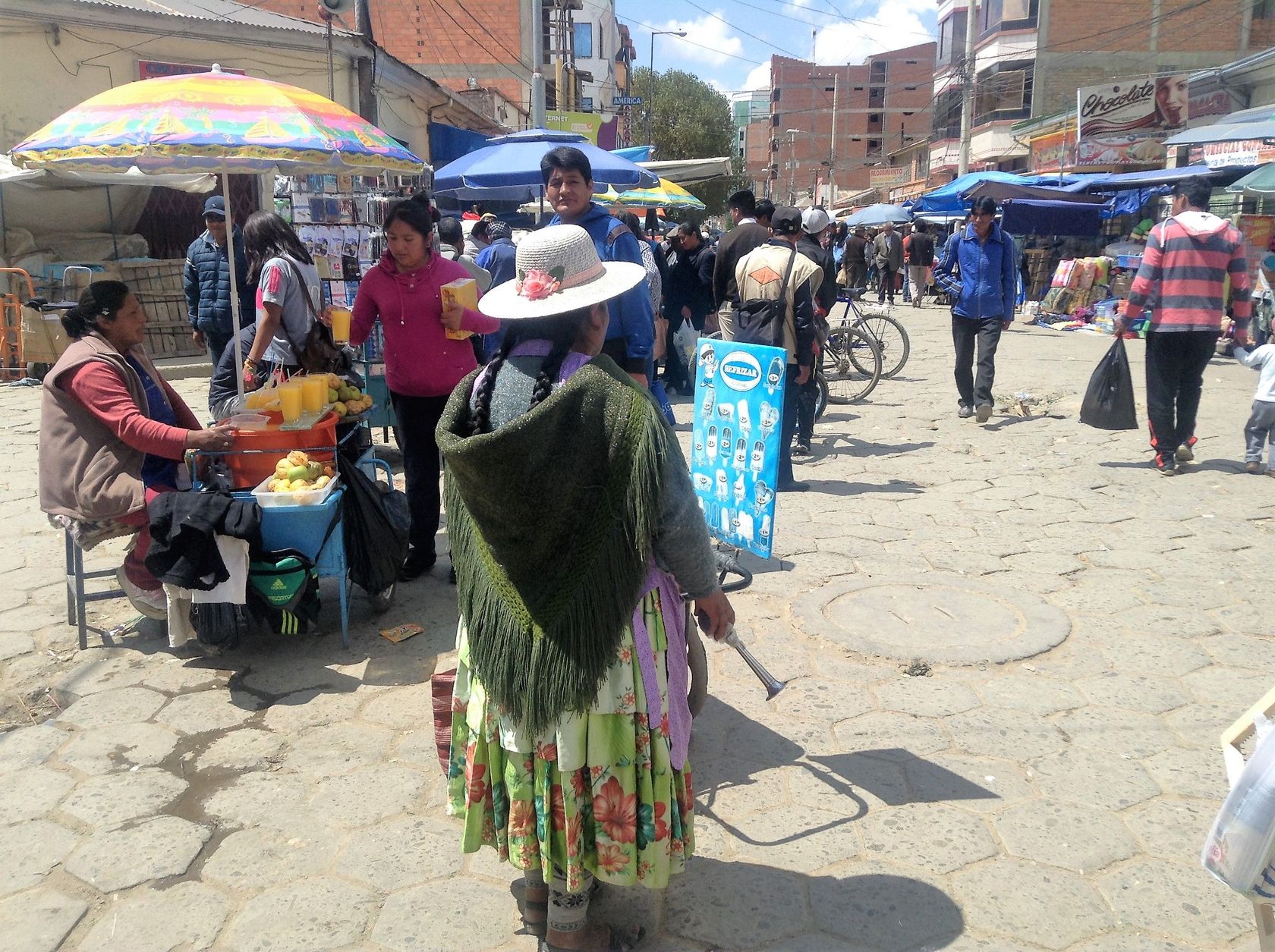 I have tried many other snacks and got super full. An unexpected stopover turned out rewarding. But not like the Bolivian scholar said, Oruro is far from the center of South America although I enjoy the gem of local life there. The next day when I tried to get a direct bus to Chile border, there was barely any. The fact is Bolivia has been one of the most visited countries in South America, it attracts lots of tourists yet the tourism industry is rather polarized. Either the 'tour mentality'(you see tours, tours, tours everywhere in the tourist hubs) or there was a serious lack of public transport to the remote areas of the country.
Then again, over-developed public transport system can result in over-tourismhow can we balance this?

中文
今天我想聊聊今年4月份在玻利维亚旅行中的小故事。
去年我在一门"目的地发展"的旅游管理专业课上听了一堂客邀讲座。当时的主讲人是一位玻利维亚的学者,他热情澎湃的介绍Oruro这个玻利维亚中部省份。照他的话说就是 "玻利维亚是南美中心,Oruro是玻利维亚的中心,所以Oruro差不多是南美中心了。" 我同意前半句,玻利维亚不管地理位置上还是民俗文化保留上面都可以算是南美的中心,也是我在南美最喜欢的国家。然而听完他的话大家还是笑了,因为Oruro真是名不见经传啊。
后来我完成了玻利维亚的旅行,途中由于无车日的原因,被迫在Oruro待了一晚。当时我从乌尤尼Uyuni坐夜火车到Oruro,跟很多在玻利维亚旅行的人一样,本来是想直接去下一个目的地。结果那天没有任何长途车运营,所以就借机看了下这个城市。说是城市吧,其实一点也不繁华。由于无车日的关系,虽然店面都关门,但是到处都显得非常热闹,人们上街贩卖各种零食,水果,还有日用品,真是没有什么找不到的。
我尝了很多新奇的水果,饮料什么的。甚至发现了我最喜欢的一种长得像豆荚一样的水果叫做Guama,吃了不少烤鱼,尝试可乐混奶油这种有点奇怪的饮料。在路上我发现了有的烧烤店牌写的中文特别奇怪,可能就是觉得写中文有点酷?跟秘鲁一样在玻利维亚有很多当地化的中餐馆,叫Chifa,应该是广东话吃饭翻译过去的,现在Chifa变成当地文化的一部分,开Chifa餐厅的也多是当地人。
虽然是被停留,但是那天玩得特别开心。可能在这类游客不多的地方更能感受到当地的民俗吧,从当地人口中知道每年的二月,在Oruro这里有玻利维亚最大的狂欢节。
玻利维亚是个奇怪的国家,由于独特的地质和文化,这里是南美游客最多的国家之一。但是旅游业两极分化,在乌尤尼盐湖和首都拉帕斯到处都可以看到各种一日游多日游的项目,但是真的要去一些冷门景点,交通却难上加难。Oruro照理说是交通中枢,但是第二天我打算去智利边界的Sajama公园,根本找不到一般直接过去的大巴,后来需要转小巴再转小巴去。
有时候我想,虽然麻烦,但是这就是旅途的乐趣吧。如果交通太便捷又会带来过度商业化。为什么旅游业的平衡那么难?