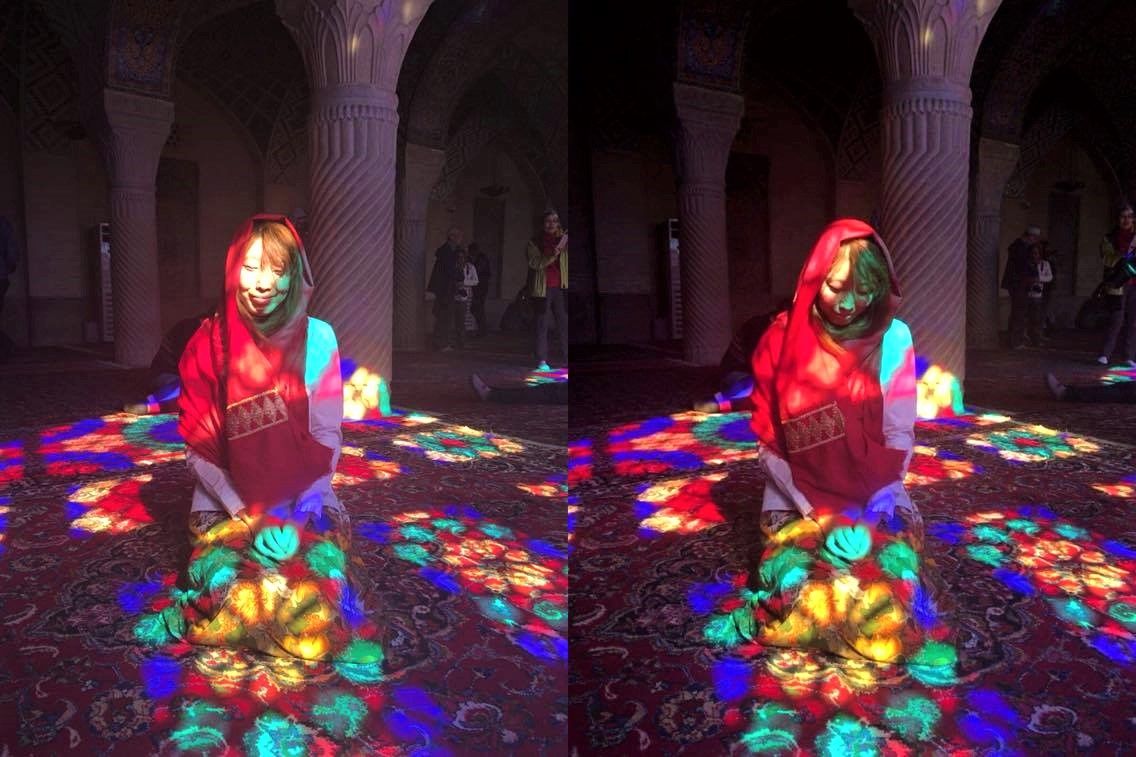 The Nasir al Molk mosque in Shiraz is well known for its stained glass hall. Everyone calls it the Pink Mosque because of its extensive use of pink tiles and rose patterns. Although stained glasses are widely used for churches and it is not that common for mosque architecture, except very few ones, such as the Blue Mosque in Istanbul. And even that one isn't as colorful as this mosque.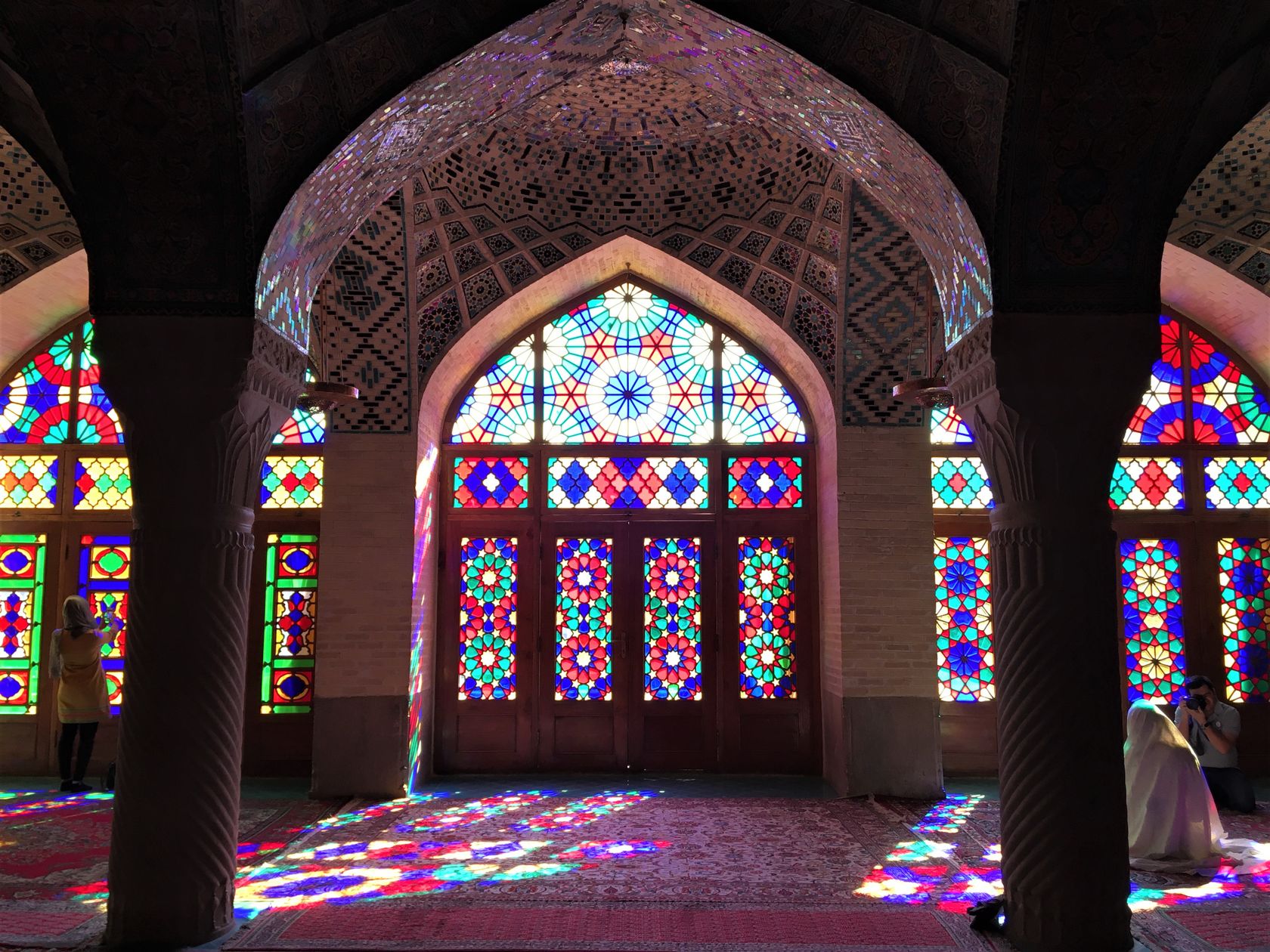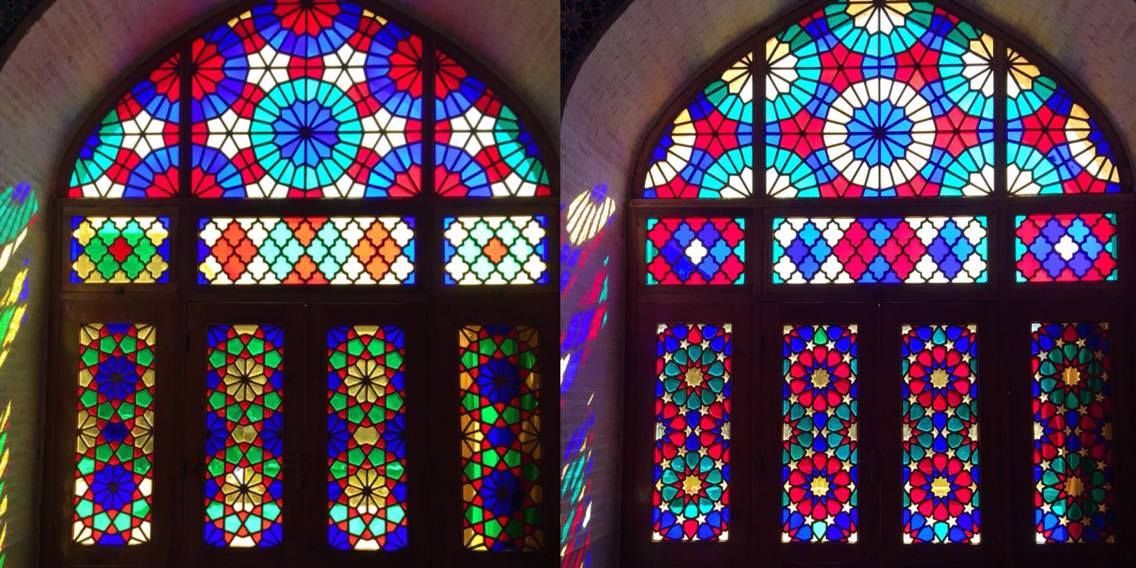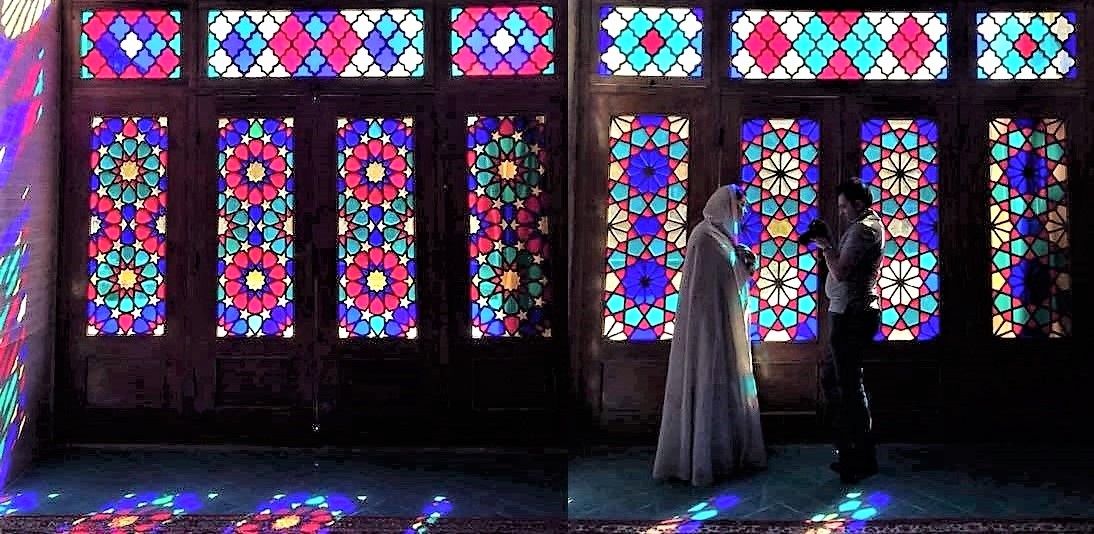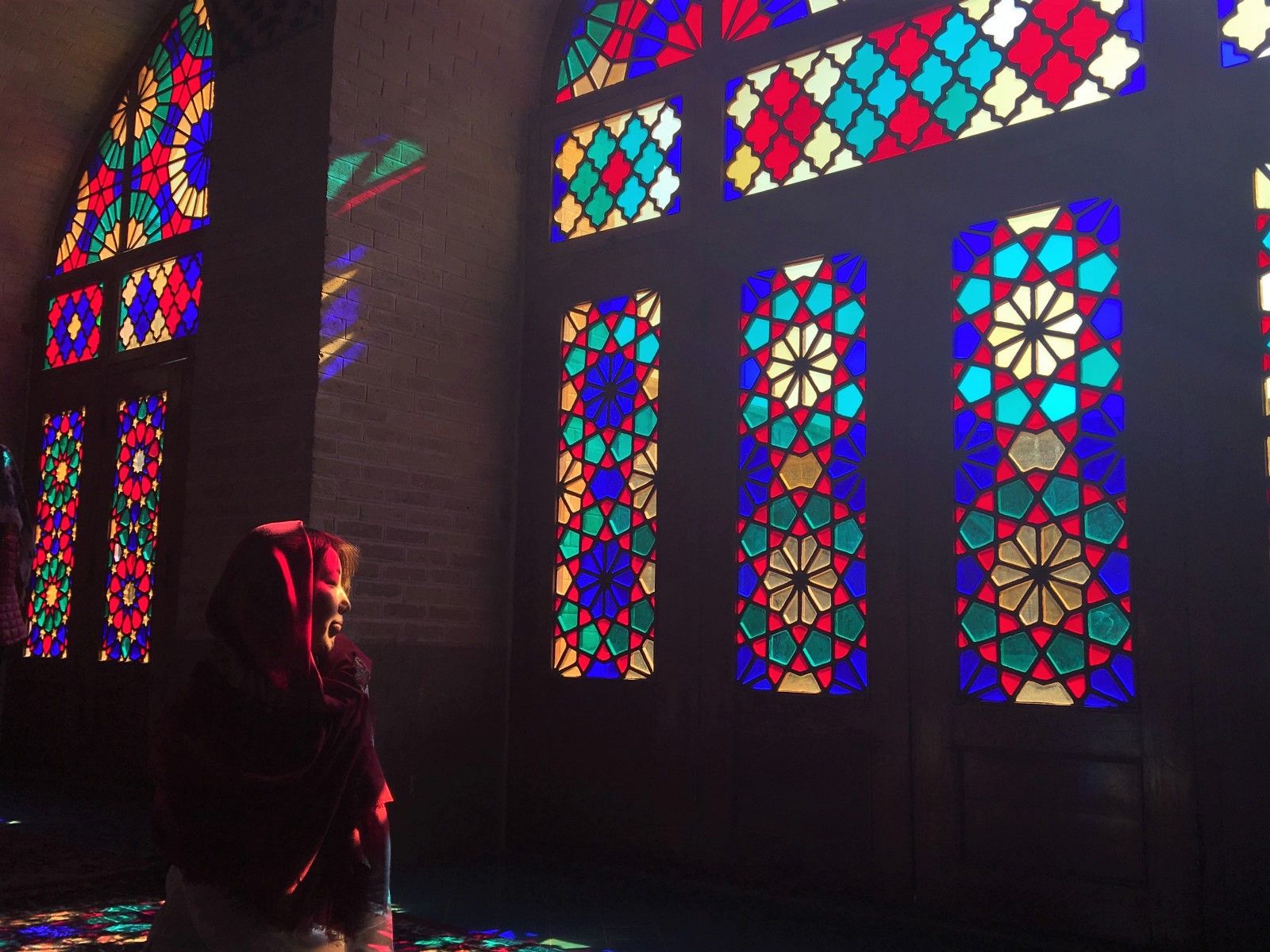 The stained glass windows make the hall look like a colorful wonderland. The colorful rays of light can only be seen in the morning though. However, you don't have to go there as early as 8 o'clock. I guess most people are like me, don't really like to get up early while travelling.
When I did some research online, I was told you have to be there very early. I arrived at 10:15, worrying I might miss all the lights. But in the end there were still plenty of colorful light. I guess when they say to go early just in order to avoid the crowd, because when I was there, there were a bunch of my fellow Chinese visitors in a group, posing for pictures. So it was difficult to take any picture without people in the background 😀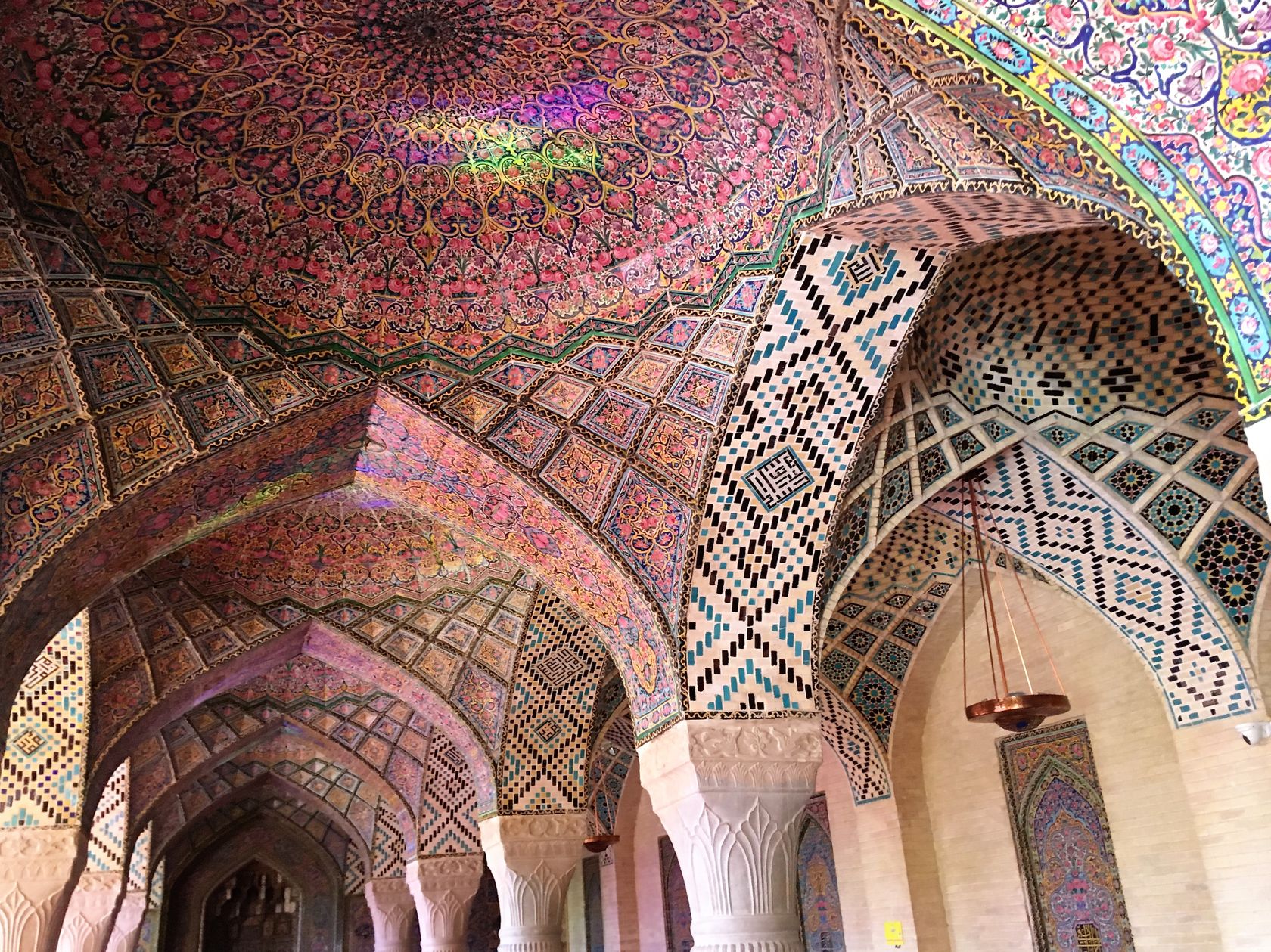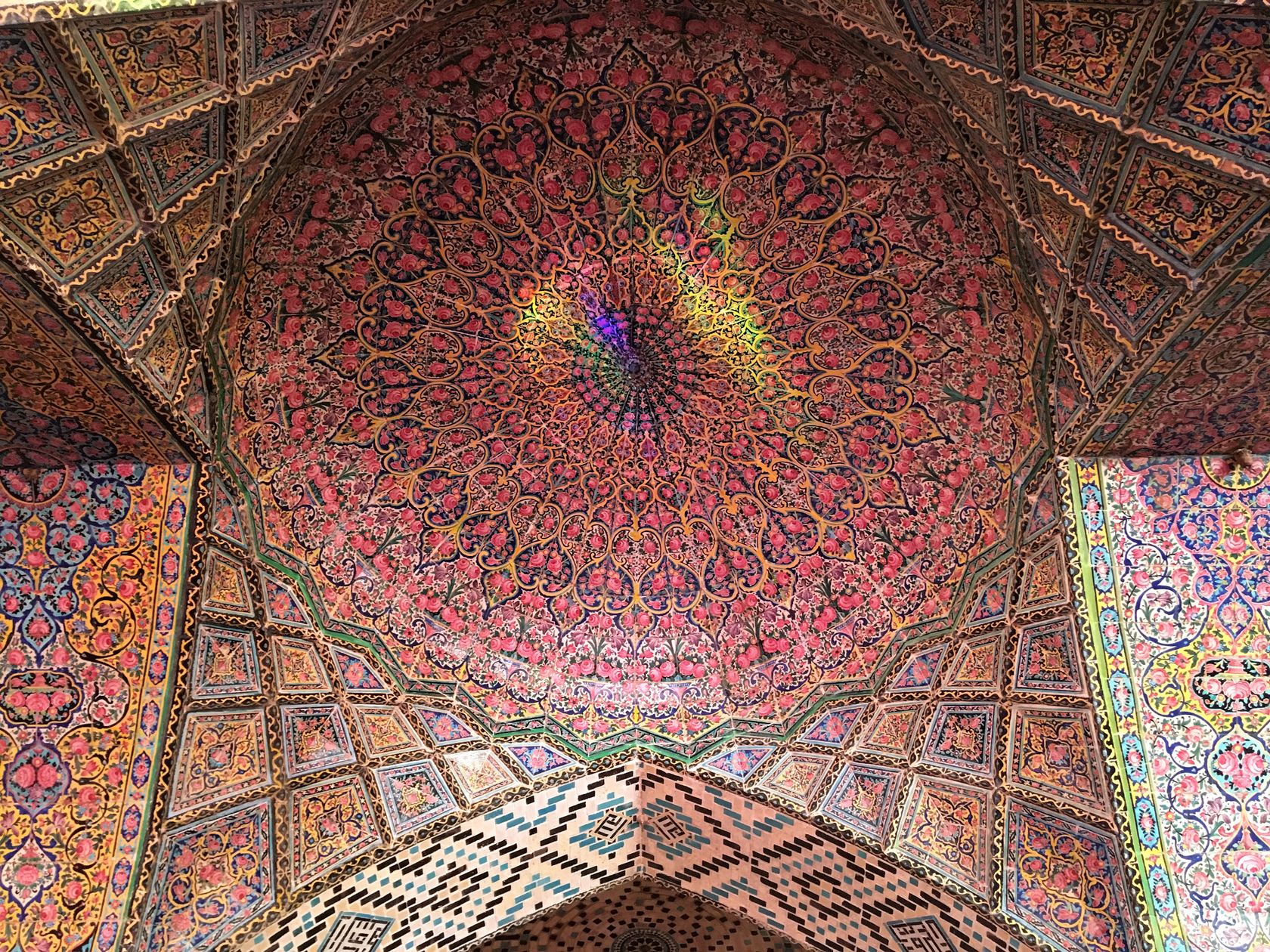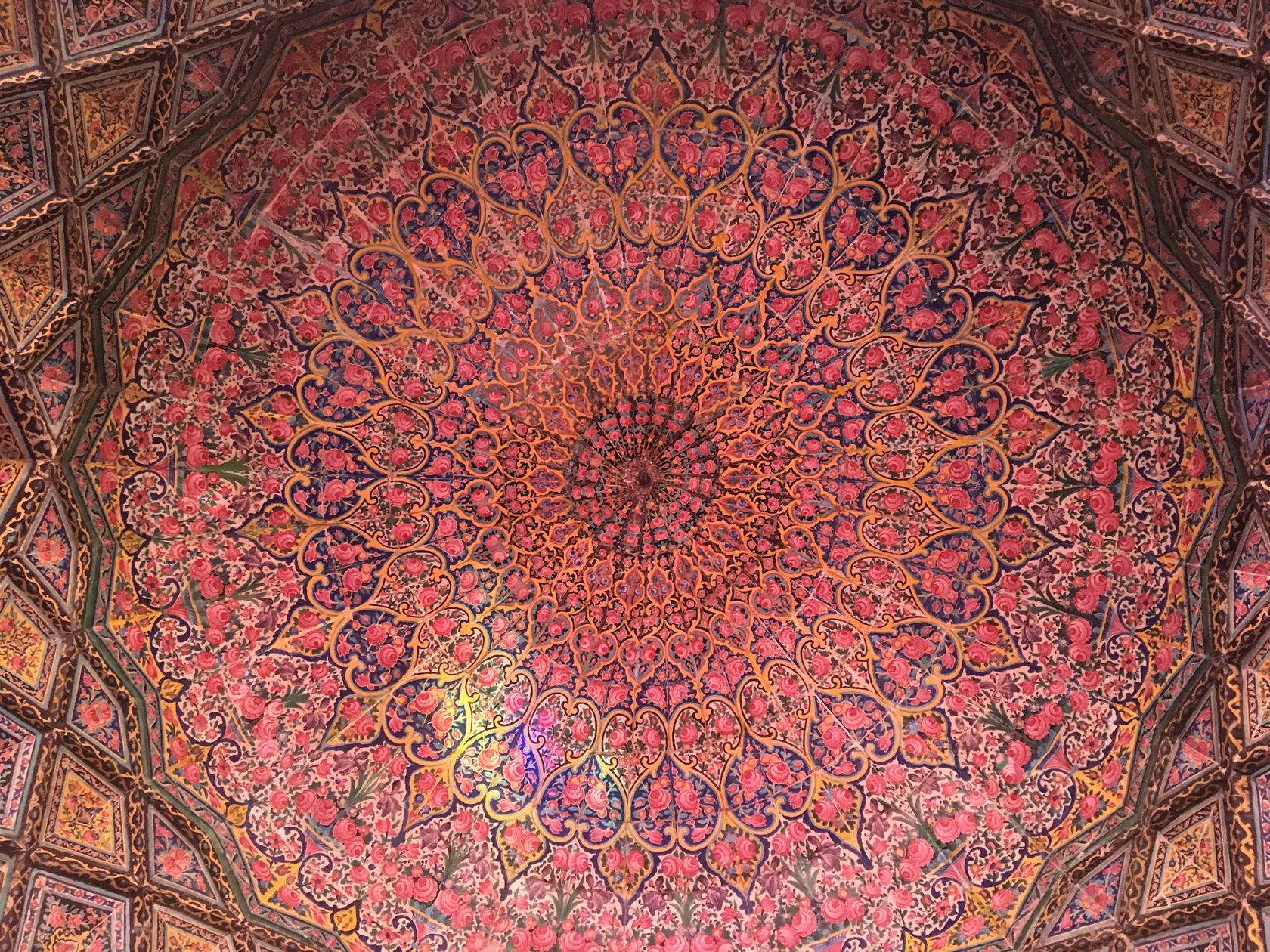 The lights were beautiful, but my favorite part was the pink decorations all around, from the ceilings to the walls crafted with Persian arts in flowery texture. The hall was so stunning especially when all the light reflected on the tiled walls.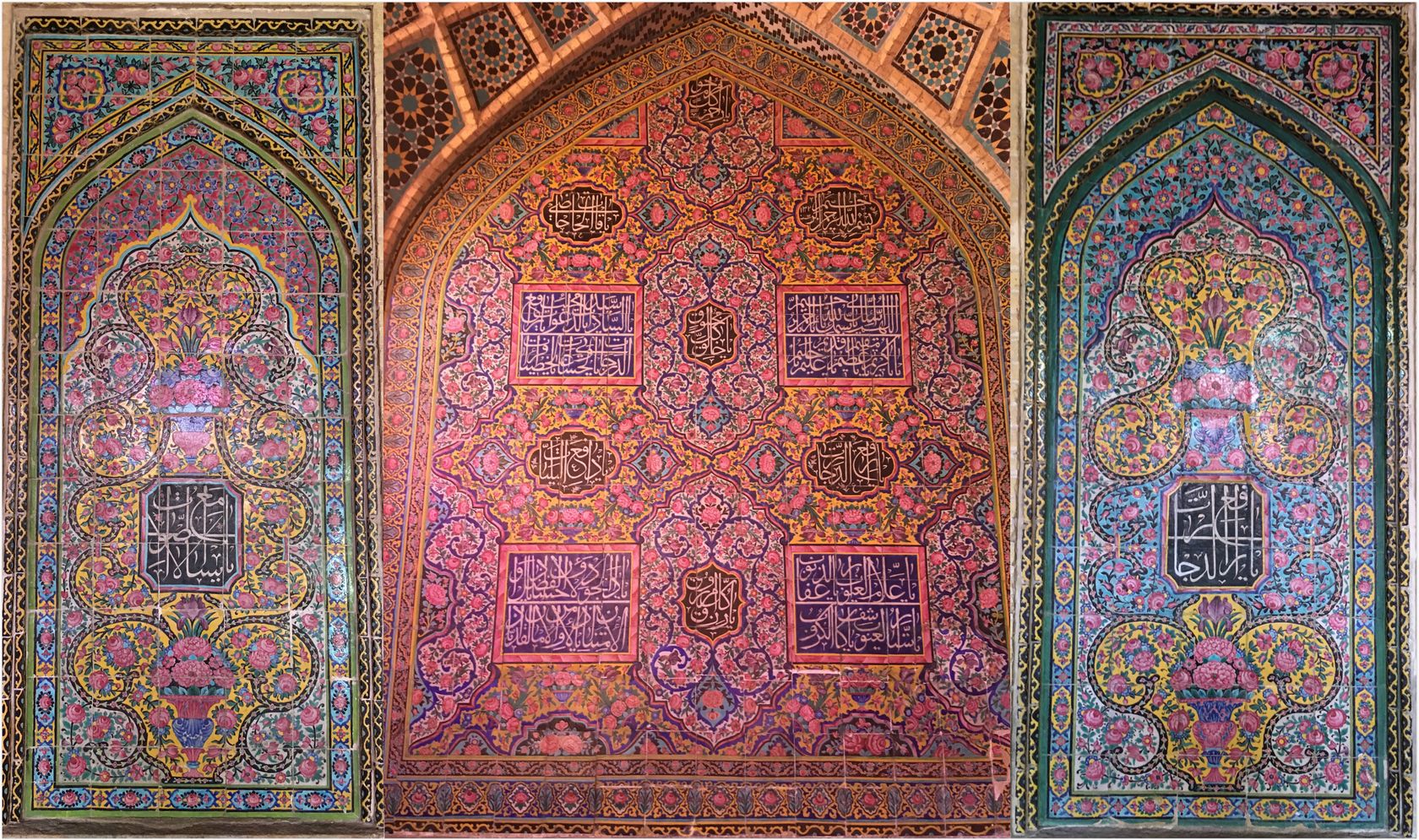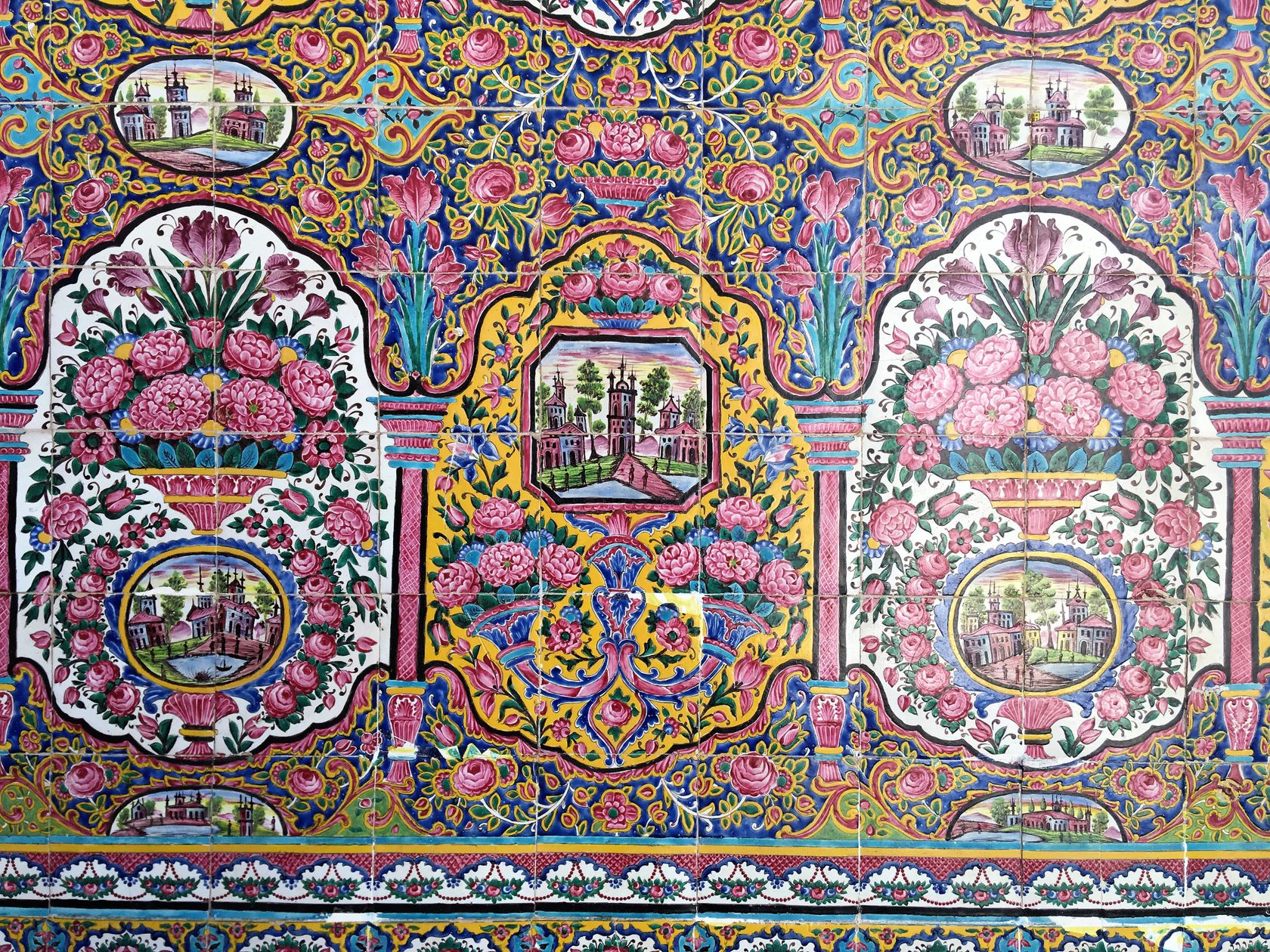 The tileworks inside the mosque are mostly featured with pink flowers. They are breathtaking and well preserved.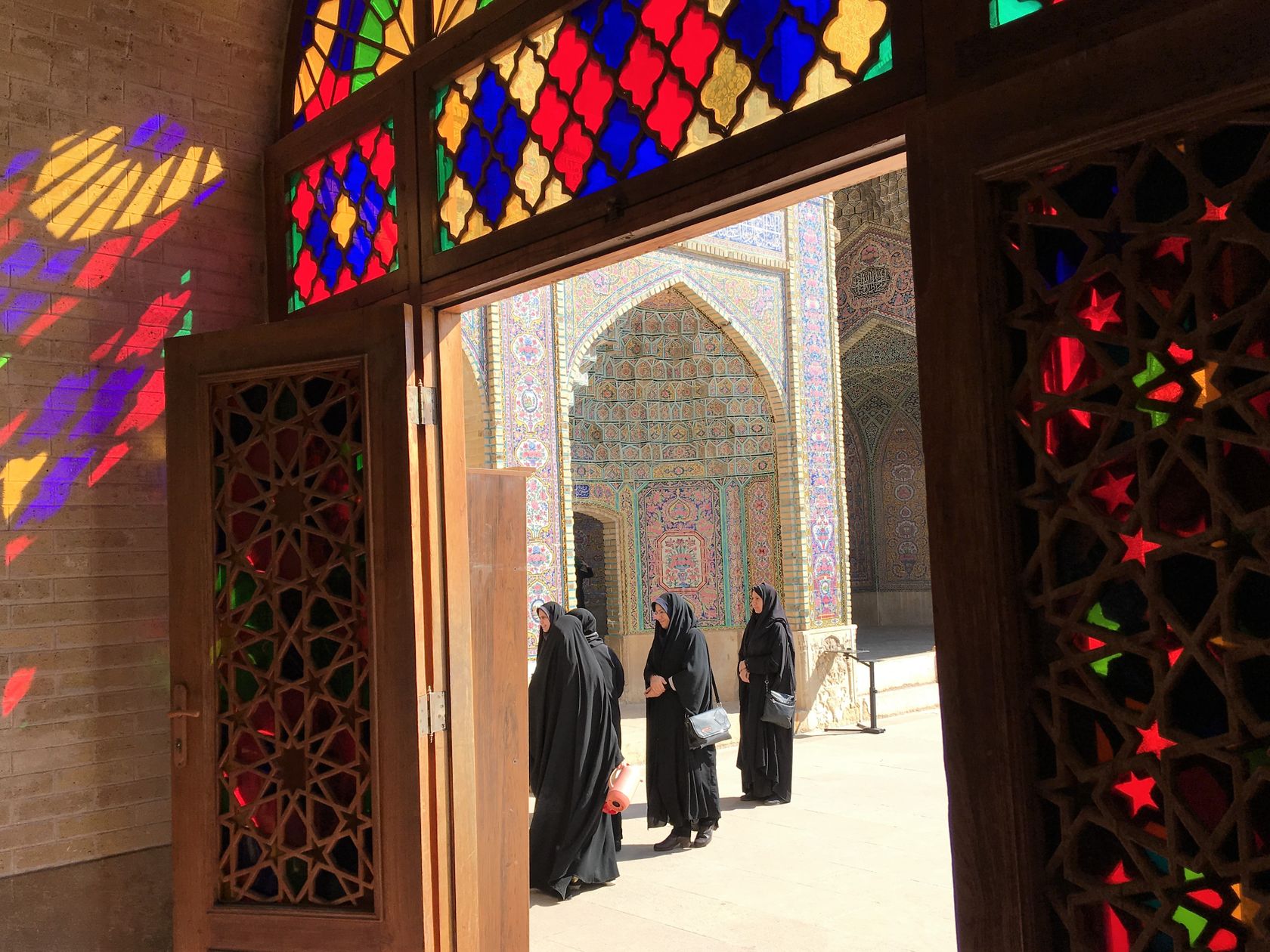 Let's take a glance at the yard.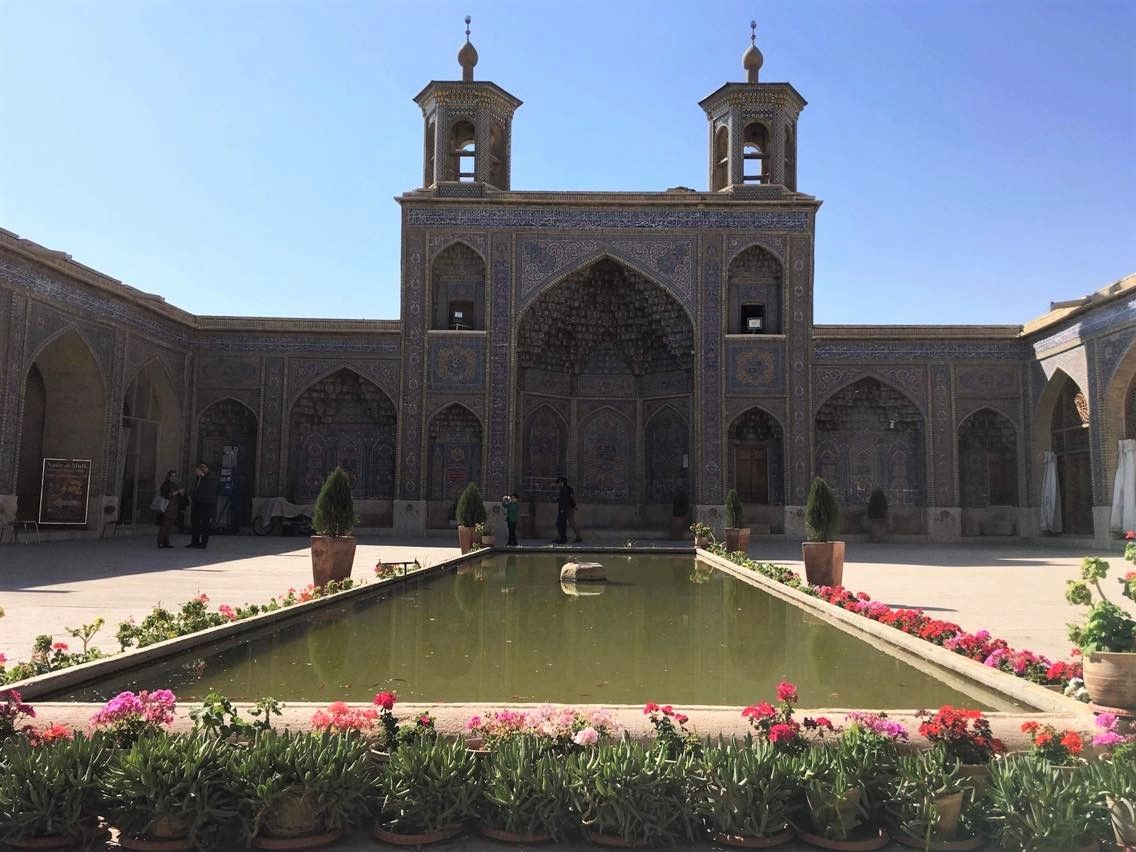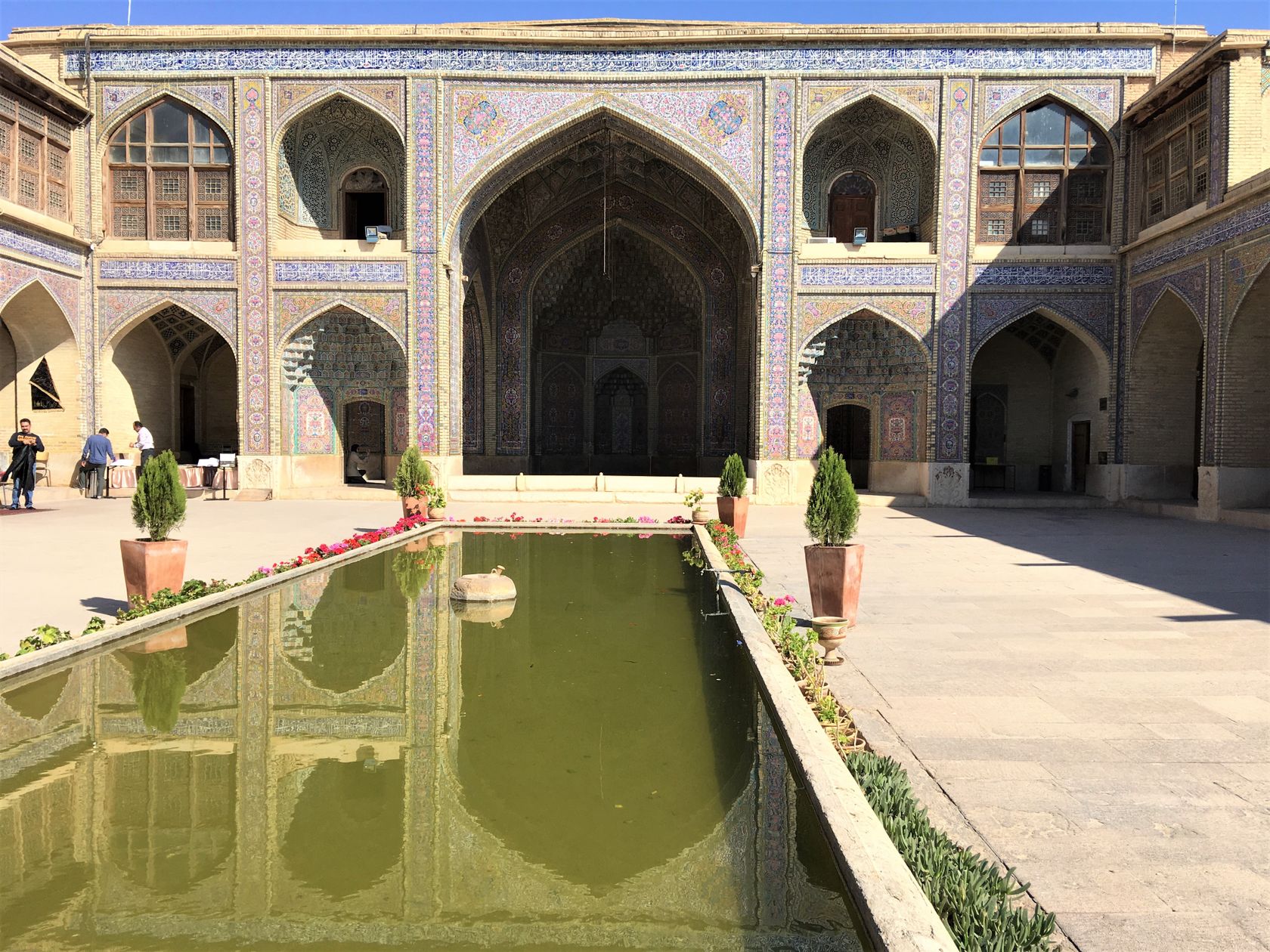 Nasir al Molk Mosque isn't that big at all. The small yard and its pool were surrounded with colorful flowers. It has a lot of calmness to enjoy. Even though Nasir al Molk is probably the most visited mosque in Shiraz, you can still feel the tranquility when you walk in the yard.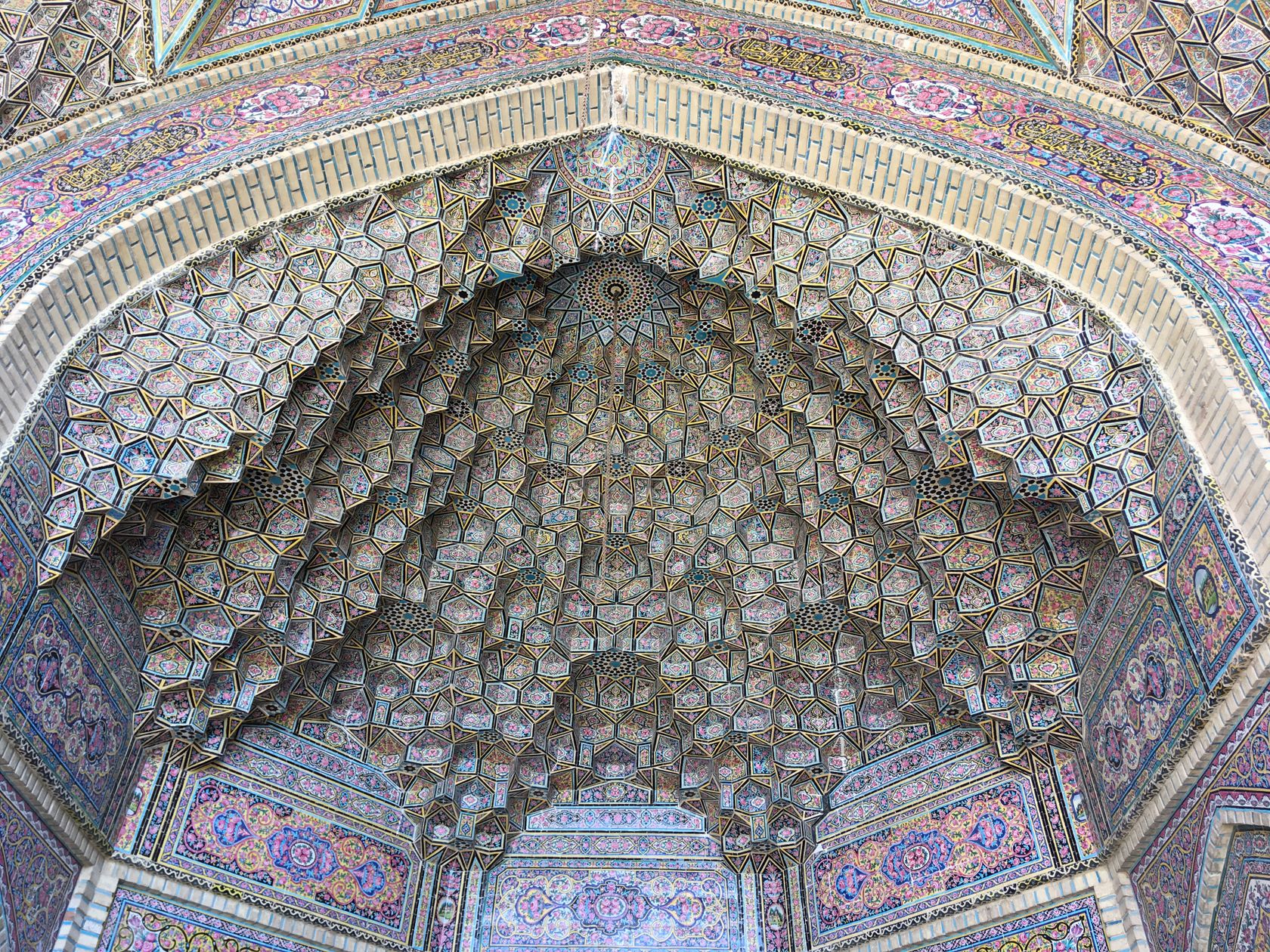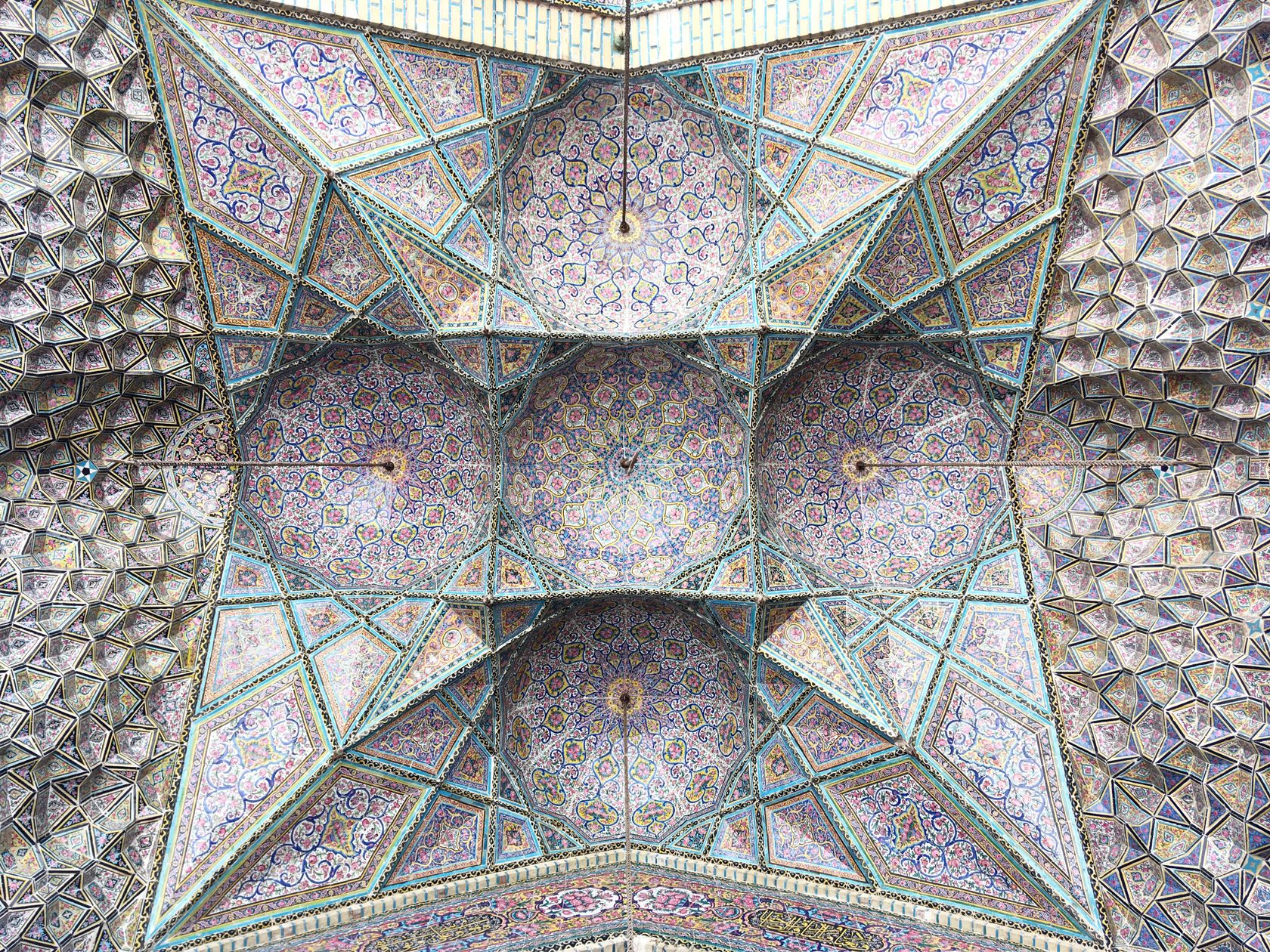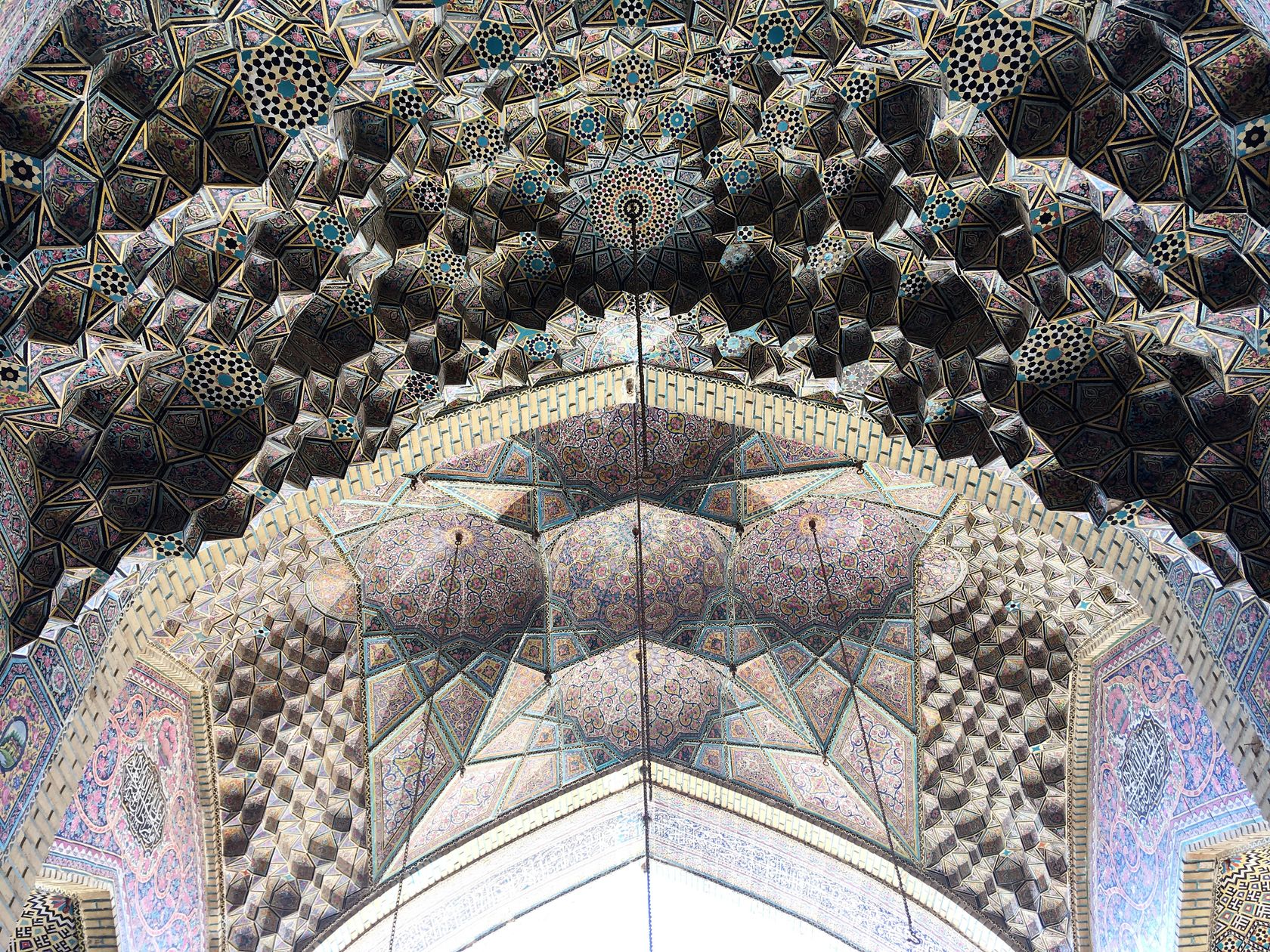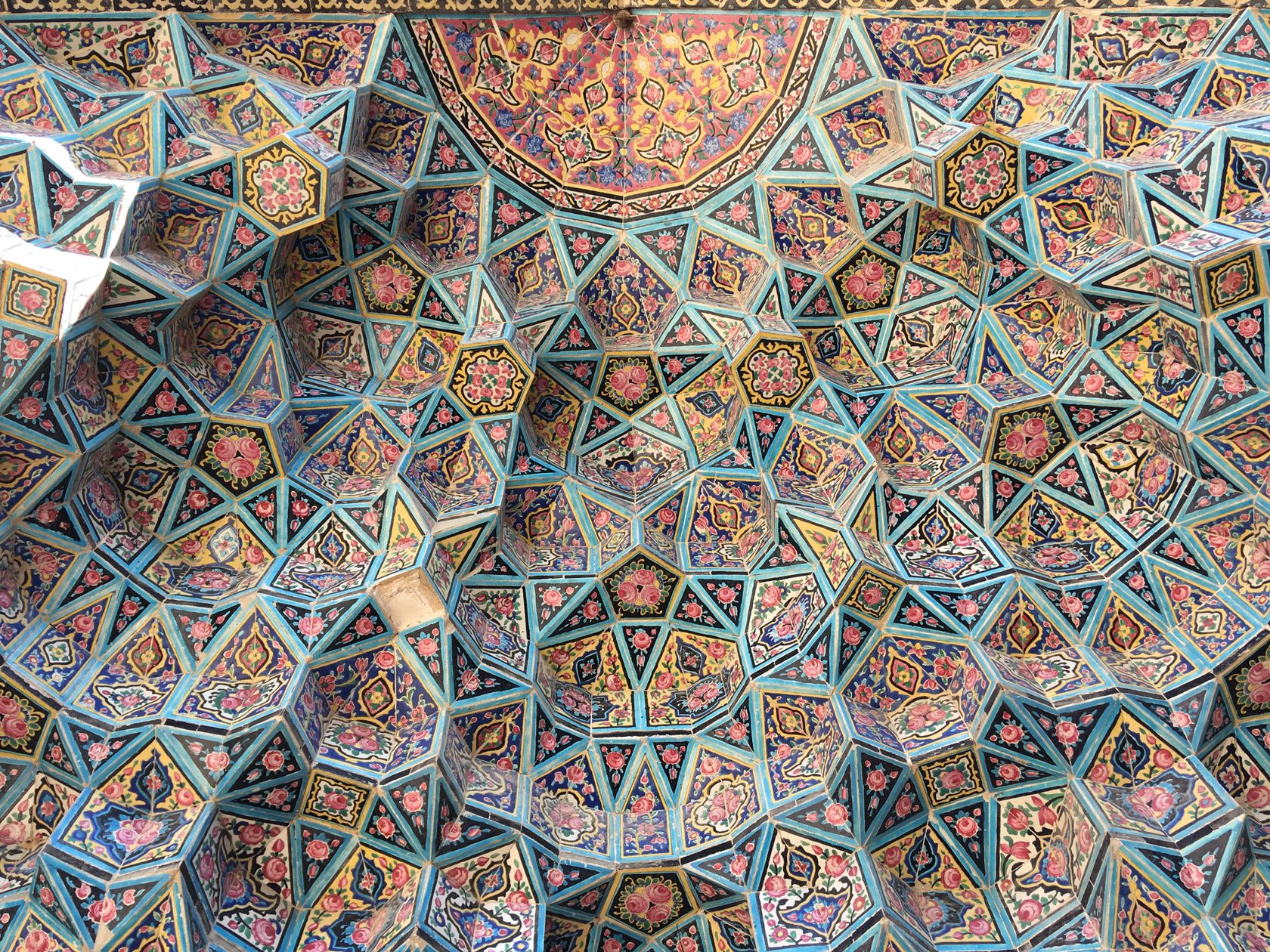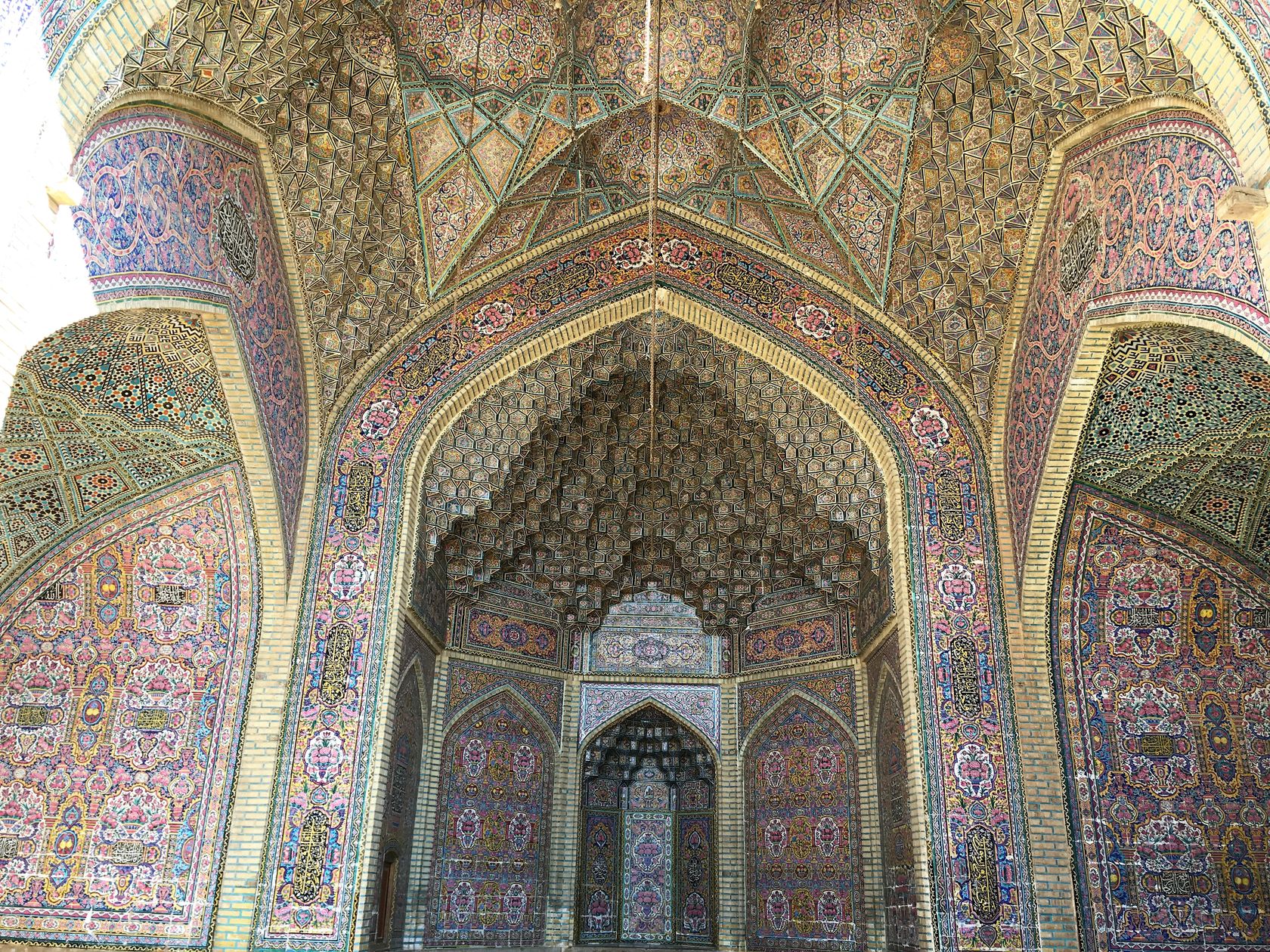 What impressed me the most was the Taq Morvarid part, which means pearl ceiling in Persian. Taq Morvarid of Nasir al Molk mosque possibly includes the most beautiful craftsmanship in Iran. I could spend the whole day looking at the wonderful ceiling and walls. Even though Nasir al Molk is a small mosque, I stayed more than 2 hours inside, and the light indeed receded a lot at around 12:30 when I left it.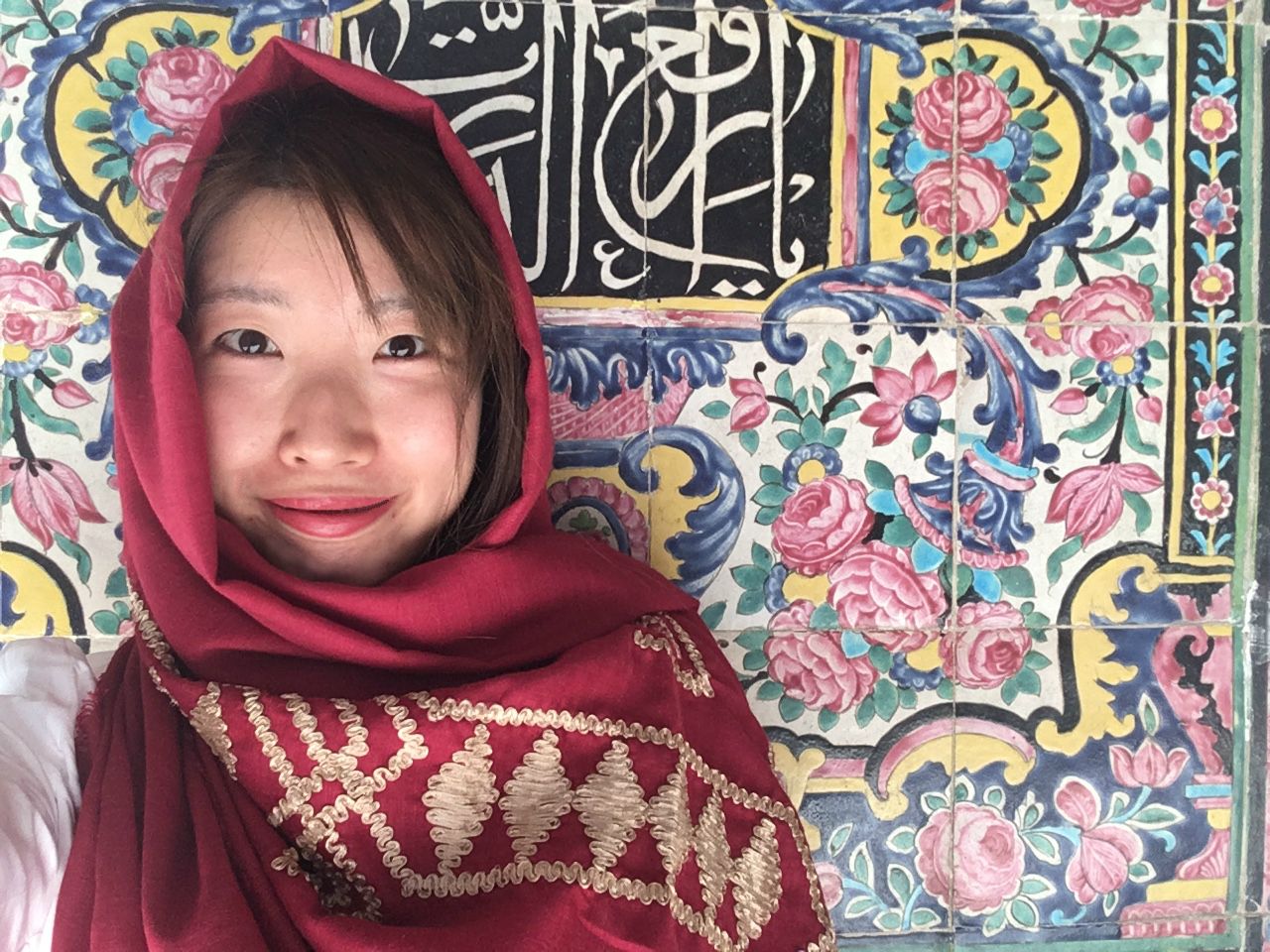 Thanks for reading. I hope you liked Nasir al Molk and would like to visit Iran one day. If not, I hope my future posts about Iran would make you want to visit Iran, because it is a truly an amazing country!

这个位于设拉子的大名鼎鼎的粉红清真寺大概是伊朗旅行书里宣传的最厉害的一个地方。大概每个去过伊朗的人都会有一张彩色玻璃反射光的照片。其实彩色玻璃最常在欧洲的各种教堂见到(比利时就有很多),照理说也没有那么特别,但是在清真寺这种建筑运用的并不多,这就是粉红清真寺有名的缘由。
我在网上查的时候很多人说要起早去看光,晚了光就没了,但是又没说多晚才没光……我是个不喜欢旅游时起早的人,所以那天说了要起早最后最早也到10点15分菜匆匆忙忙赶到现场,还非常担心没有光可以看了,结果卖票的人看到我着急,笑着说你还有很多时间。原来到十点多,光还是一大片,也可能因为我是秋天去的,光在秋冬季会比较好。但是人也是一大片,很多旅行团在一个接一个的拍Pose狂拍,本来应该是个很有灵性的地方,忽然非常接地气。看来大家说的要早來主要是"避人"而不是"赶光"
和这个众人抢拍的彩色光相比,我反倒觉得粉红清真寺本身的细节部分更有吸引力。任何一个瓷砖墙和吊顶都非常华丽精致,而且清真寺整个主色调还是粉色的,如果仔细看,会发现瓷砖上面很多团是玫瑰花,为整个建筑增添了梦幻的色彩。尤其是彩色玻璃的光反射到顶上,很奇妙的感觉。
粉红清真寺算个偏小的清真寺,庭院也不大,周围摆放了很多花朵,显得很宁静。让我觉得最震撼的还是大厅里面几个弧形的顶部装饰。波斯特色的雕刻艺术看得我眼花缭乱。在我看到的清真寺里面,这座算是最精雕细琢的了,而且细看可以发现好多不同的花朵图案,不得不佩服曾经的建筑工艺之博大精深。
在这座小小的清真寺,我待了两个多小时,首先等旅行团花了三十分钟拍完照,然后彩色玻璃大厅瞬间安静了很多,才可以享受它的宁静与灵性。后来又去玫瑰色的弧形顶和一面面墙看了很久,我12点多离开粉红清真寺的时候,光真的只剩下一小片了,但只要赶在11点半之前去,就还是有光的。