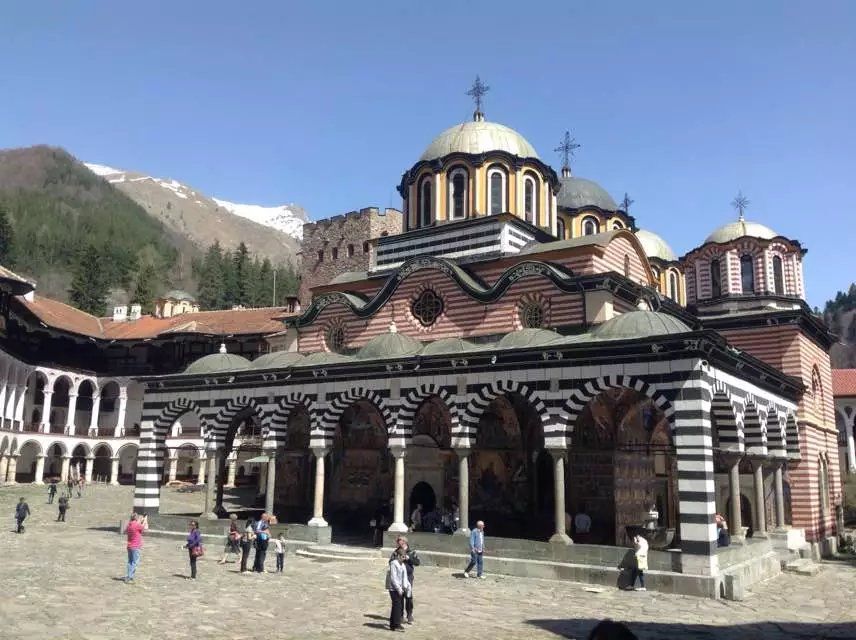 If there's one thing you can visit in Balkan peninsula, visit Rila Monastery in Bulgaria. Personally, I'm neither a church nor monastery person. I barely visit any monasteries but I do love colorful architectures, like Rila Monastery. After having seen it while researching where to go in Bulgaria, I decided immediately that I had to go there. It has not only the colorful exteriors but more importantly its spectacular paintings. The mural paintings inside are incredibly fresh and well maintained, and everything inside is eye-catching. I had never seen paintings with such rich colors. Bulgaria is a mountainous country and green mountains plus blue sky creates a spectacular setting for this beautifully-maintained monastery.
To get there it wasn't that easy, I got up very early in Thessaloniki in Greece that morning, in order to take a morning train around 6:40 am to Sofia. But instead of going directly to Sofia, I stopped in a city called Blagoevgrad. It was funny because when I went to buy the ticket, the ticket lady couldn't believe I'm going to Blagoevgrad… She insisted to get me a ticket to Belgrade instead until I showed her in the map. In Blagoevgrad, with my body language, I got some help from local kids to find the bus station. From there I took a bus to Rila town at 12 pm. It took around 30 minutes.
The driver is very nice and helpful. After everyone got off at Rila town center, he drove me further to get me closer to another mini bus that goes in the direction of the monastery. Thanks to him I was still able to catch it. The bus left at around 12:40 and takes around 30 min to get to the monastery. It was a wonderful drive through forest and canyon. I really enjoyed it.
如果你只能选东南欧巴尔干半岛的一个地方,一定要去保加利亚的里拉修道院。我不信教,也很少去教堂和修道院里面参观。但是当时我做保加利亚旅行计划的时候,看到里拉修道院就觉得一定要加入行程。我很喜欢色彩明艳的建筑,里拉修道院外观有着各种鲜活的色彩。但是除了美丽的外观,其实它最有名的倒是内部的多彩壁画。跟许多历史悠久的修道院里褪色的差不多的壁画相比,这里的壁画真是保存的太完整了,鲜艳到好像是昨天刚刚画上去的。壁画非常丰富惊艳,看的我目不暇接,虽然其实我对这些东正教的故事完全不知。里拉修道院在山间,保加利亚是一个多山的国家,蓝天和背后的雪山,组成了修道院最美的背景。
其实当天去看里拉修道院倒也是经历一番波折,首先我在希腊北部城市塞萨洛尼基起了个大早,为了赶上早上6点40分左右去索菲亚的火车。但是我不直接去索菲亚, 而是打算在修道院附近的一个叫Blagoevgrad的大学城下车。我买火车票的时候也是很纠结,买票的女士不相信我要去Blagoevgrad,一直以为我要去塞尔维亚的贝尔格莱德知道最好我直接在地图上点给她看。在Blagoevgrad,我利用强大的手语得到了当地小朋友的帮助找到了汽车站,我需要在12点左右搭大巴去里拉市。
大巴司机人特别好,虽然也听不懂我只看得懂我手机上的修道院图片,他告诉我没有直达车但还是示意我上车。在里拉市,所有人都下车了,司机继续把我送到一个小巴停靠的地方,告诉我搭这小巴去修道院。多亏他我才赶上了这小巴,保加利亚公车车次真不多呢,真是幸运。于是小巴在山间绿树中行驶了大概半小时,沿途的风景真是好。 Continue reading Trip to the spectacular Rila Monastery in Bulgaria 保加利亚有着非凡壁画的里拉修道院