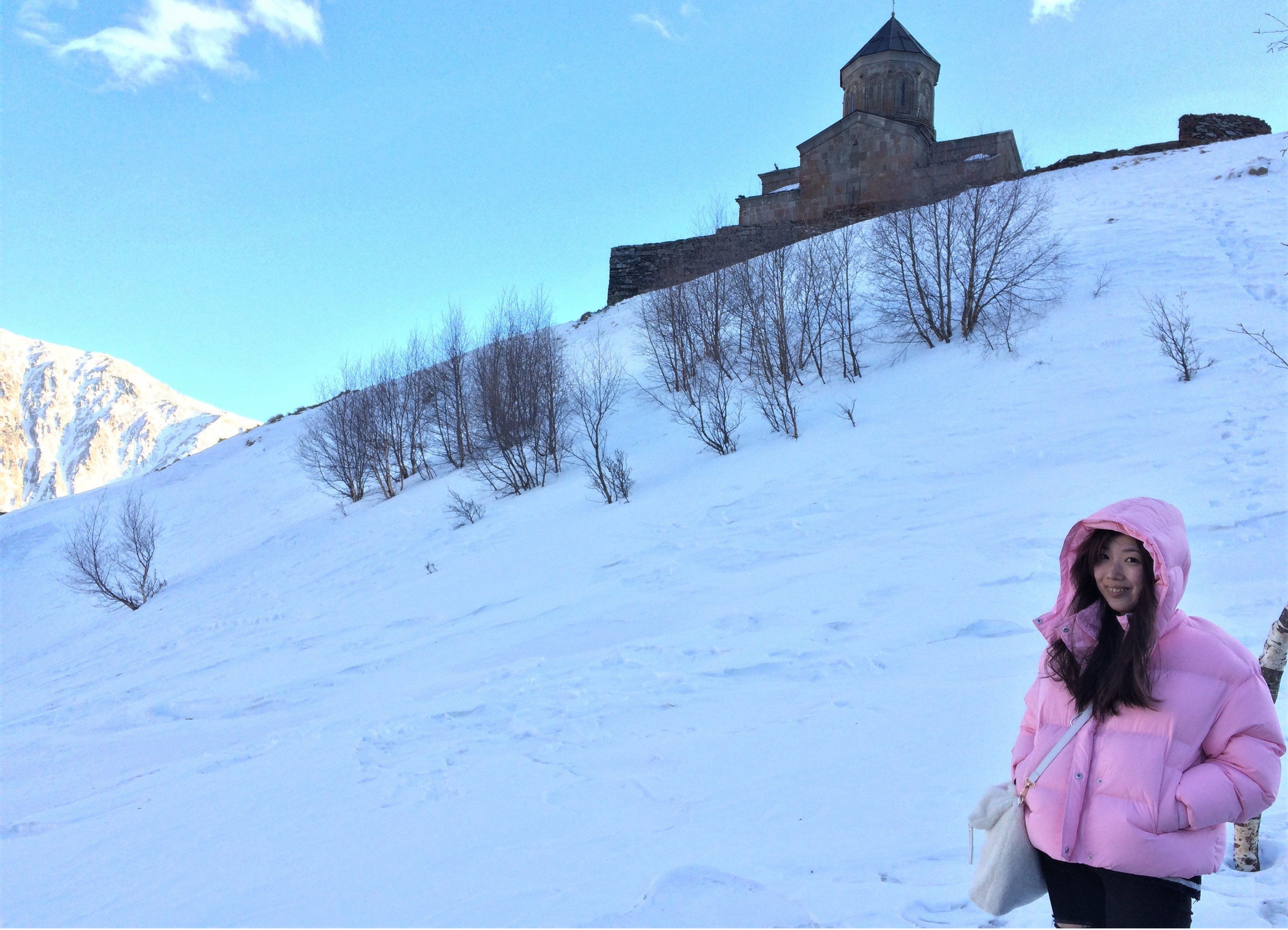 This is part 3 of my Georgia trip report, feel free to check out my first parts of the trip:
Itinerary: Kutaisi -(train)- Tbilisi - Kazbegi/Stepantsminda - Tbilisi 
This blog is mostly about trip back to Tbilisi and the beautiful city of Tbilisi.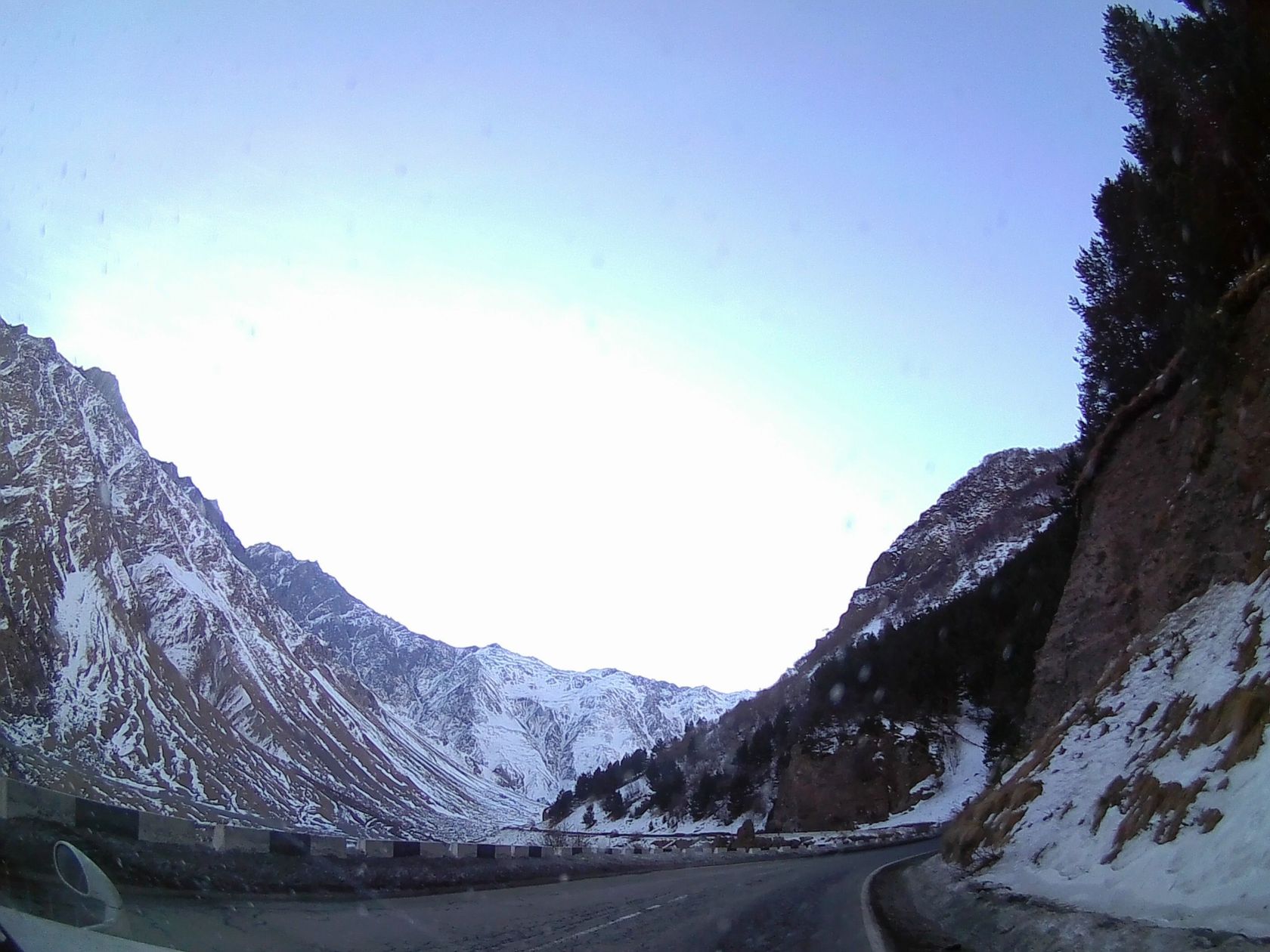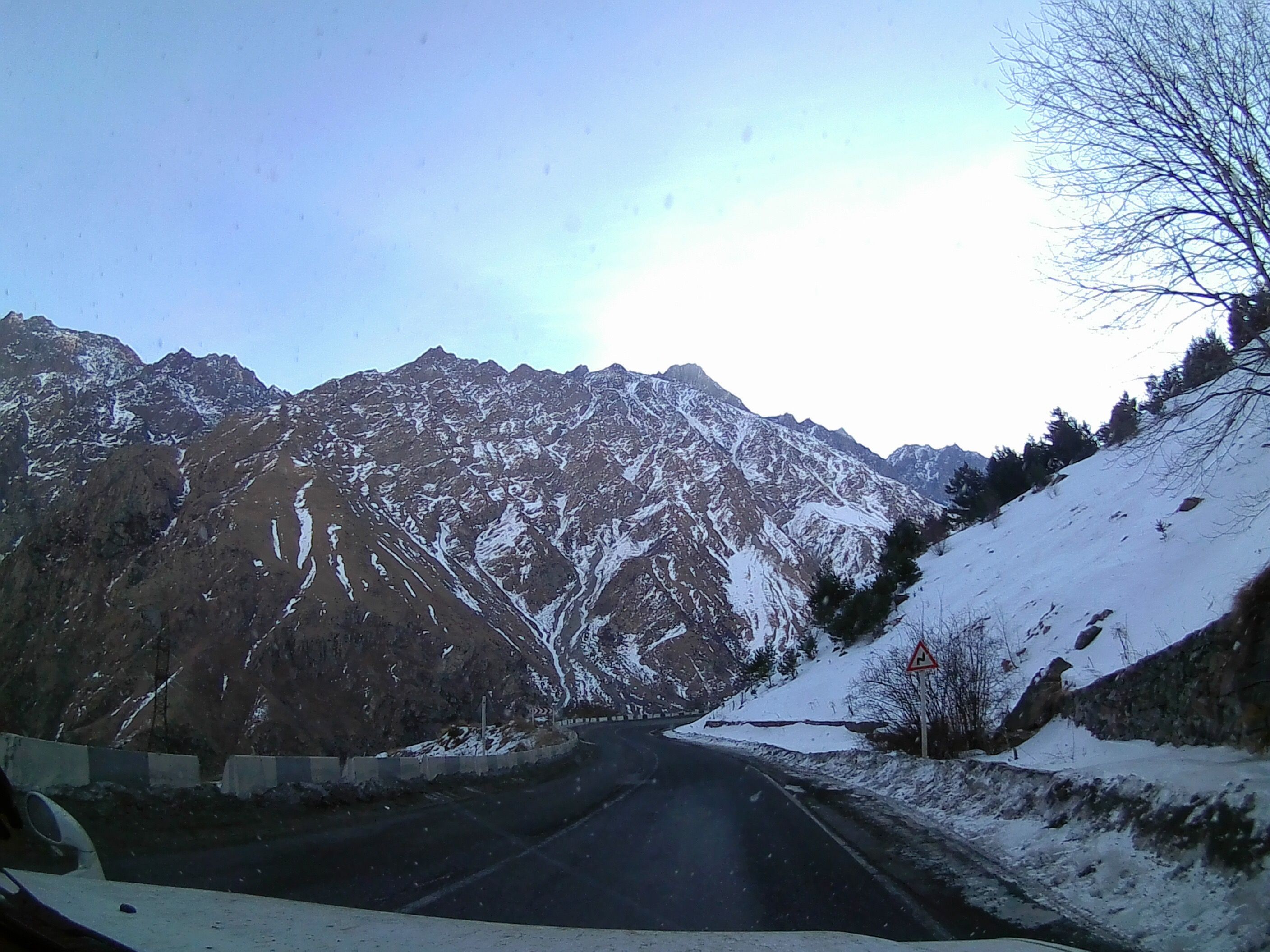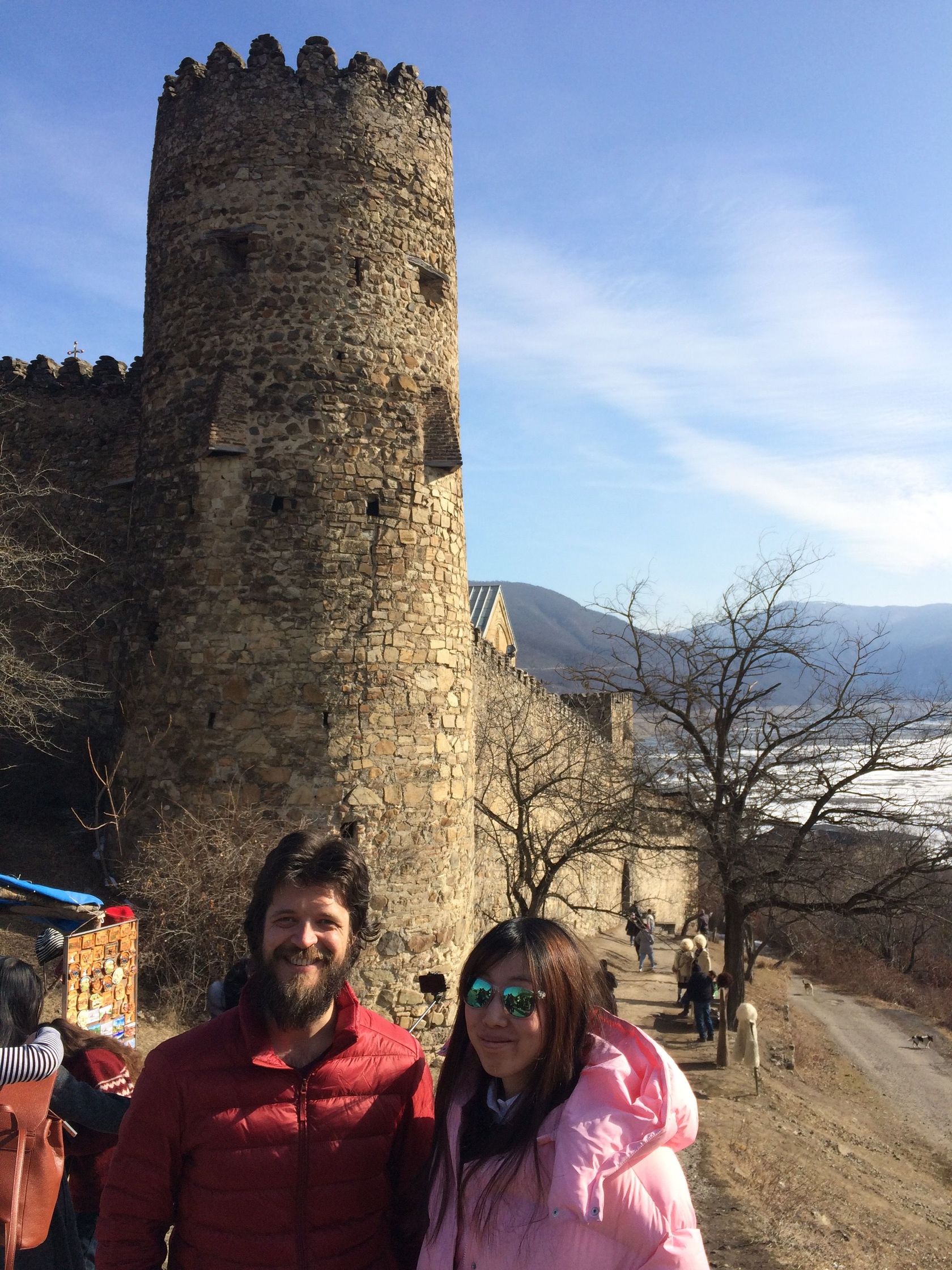 On my way back to Tbilisi, instead of waiting for marshrutka to get full, I got a ride from Duncan, who I met during the trekking to the Gergeti Trinity church. It's always nice to meet some interesting people on the way. The ride was fun even I always saw pretty much everything on the way coming here, we made some stopovers to take pictures. 回程去第比利斯,我有幸搭了在爬山去斯特潘茨明达圣三一教堂认识的一个小伙子邓肯的车,这样就不需要去车站等小巴,还可以跟新认识的朋友聊天。虽然来这里的时候都看过沿路的风景,我还是一再被经验,美丽的高加索山根本看不腻。我们途中停了几次拍照片。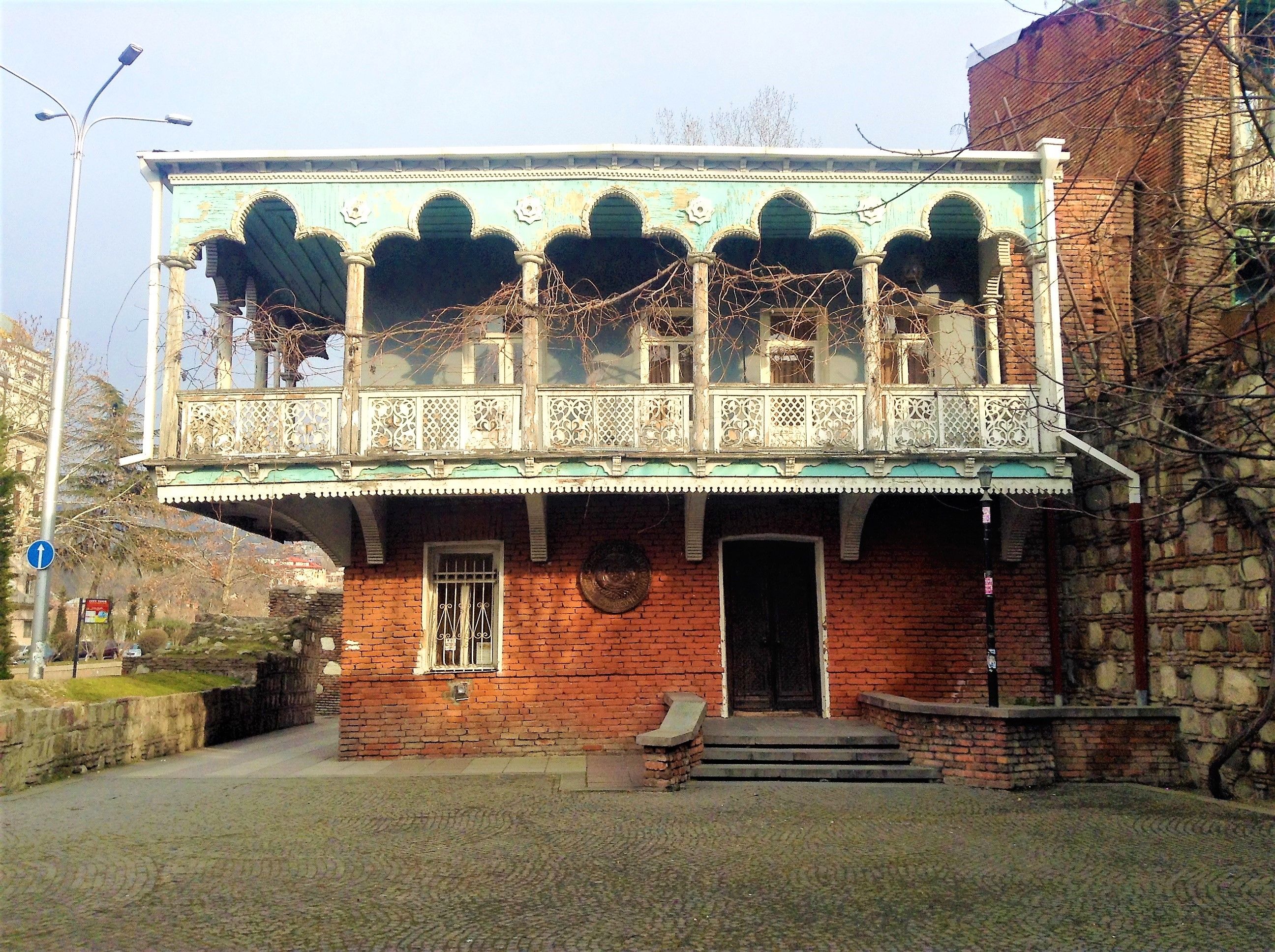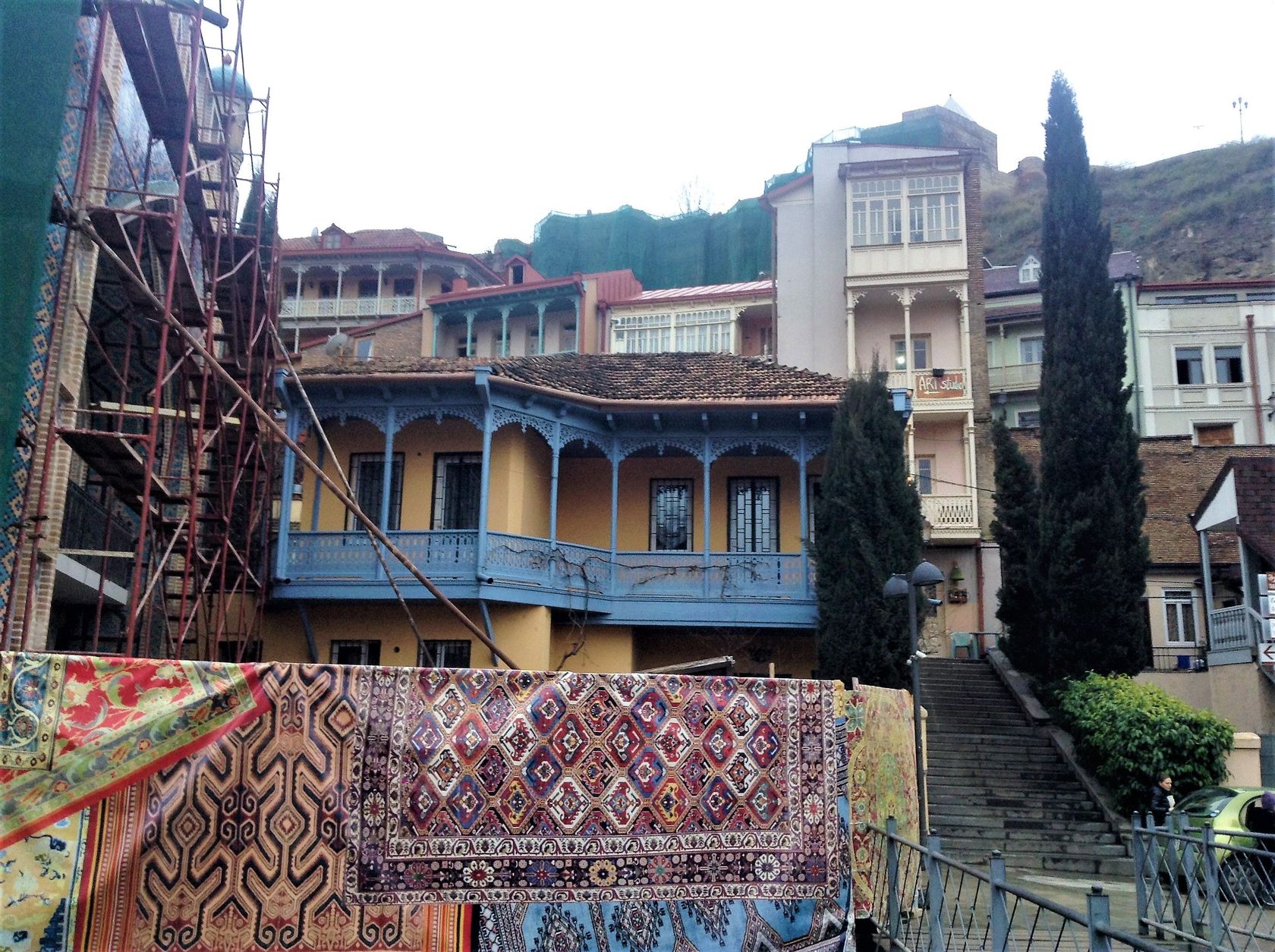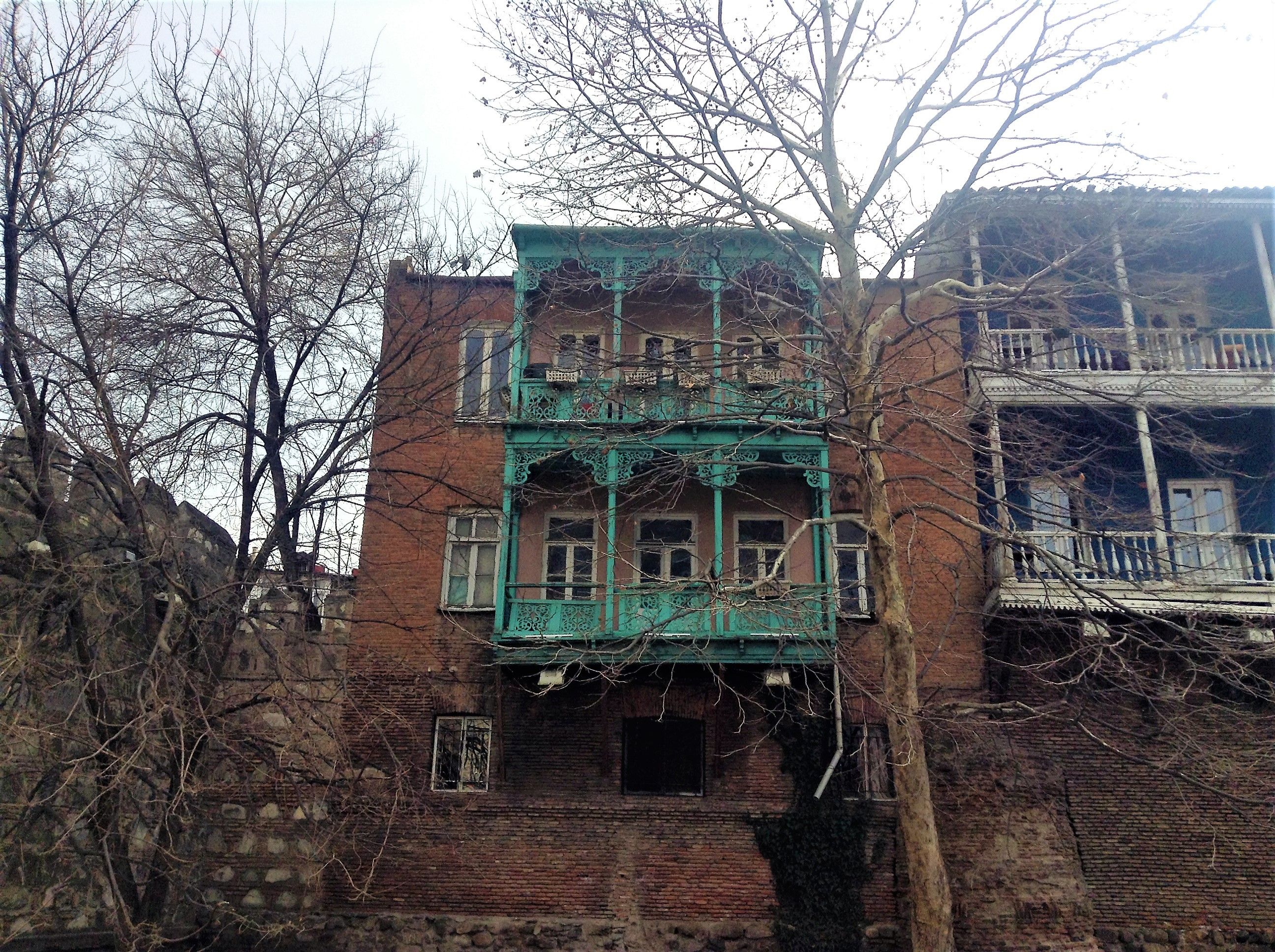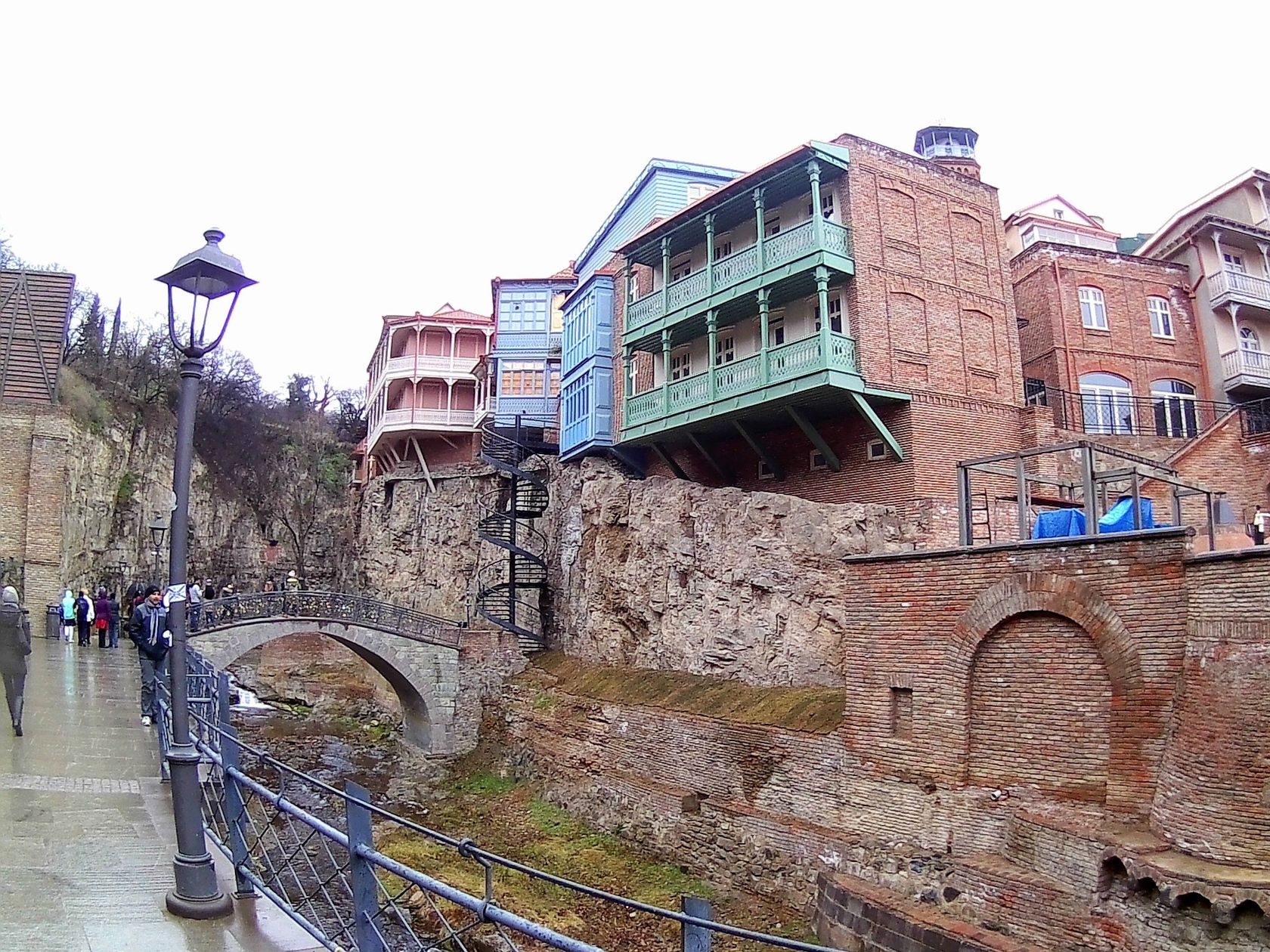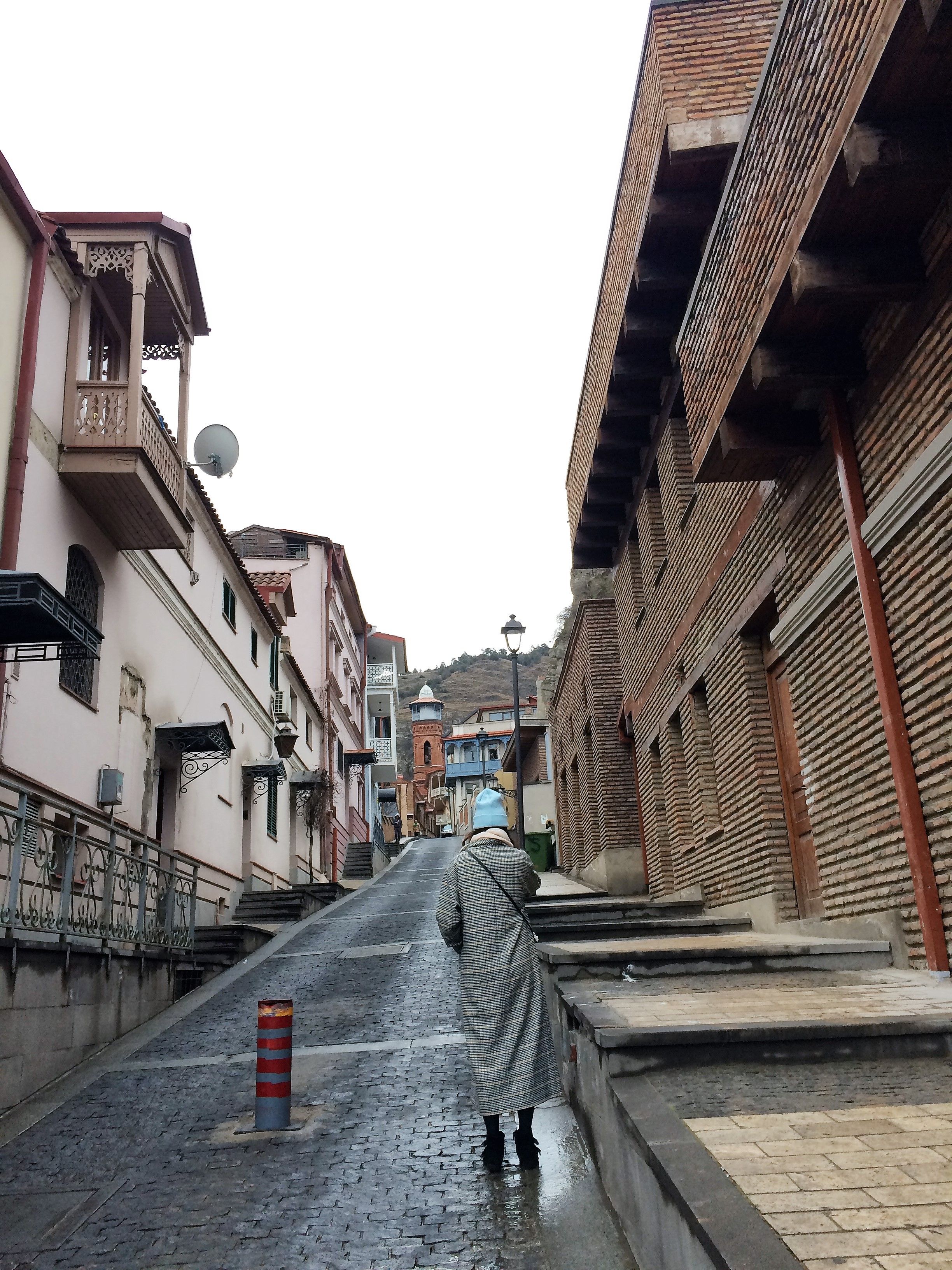 After saying goodbye to Duncan in Tbilisi, I got a few days to discover this busy capital. After taking a walk around the old town, I was already fascinated by its architecture style. Tbilisi is rich with its unique buildings, old apartments and distinctive architecture. I absolutely love these colorful iconic Tbilisi balconies.
在第比利斯跟邓肯说了再见以后,我在这个城市有好几天可以到处逛逛吃吃。在老城逛了一圈,我被这里很特别的建筑风格所吸引。第比利斯算是一座古城,这里可以看到很多各种独特的建筑风格。这其中让我印象最深刻的就是这些别具一格的第比利斯式的颜色鲜艳又雕刻讲究的阳台。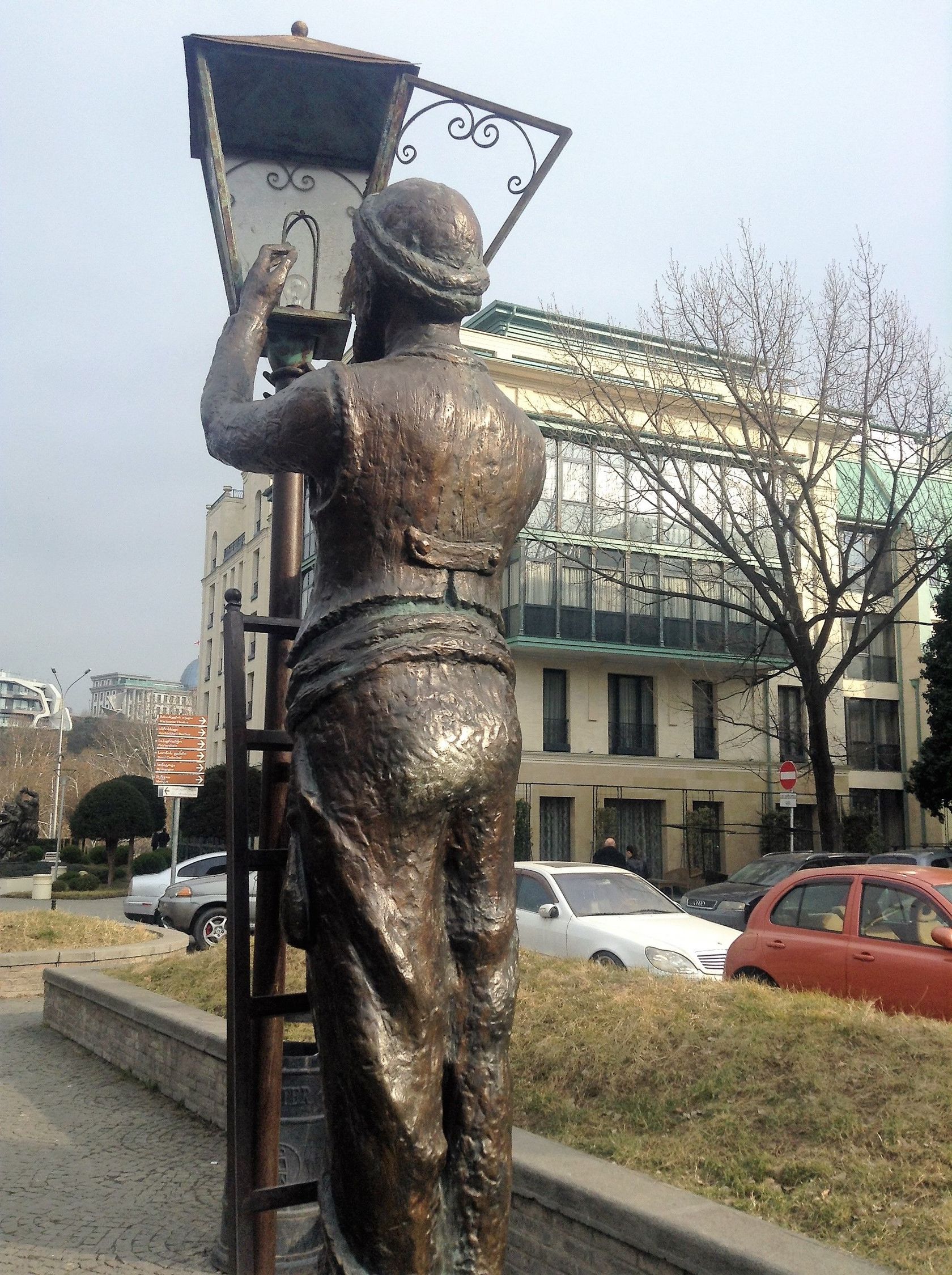 This street lamp post is cool, seems like it need reparation. I hope it's still working at night.
这个路灯旁边的修理工雕塑也挺酷的。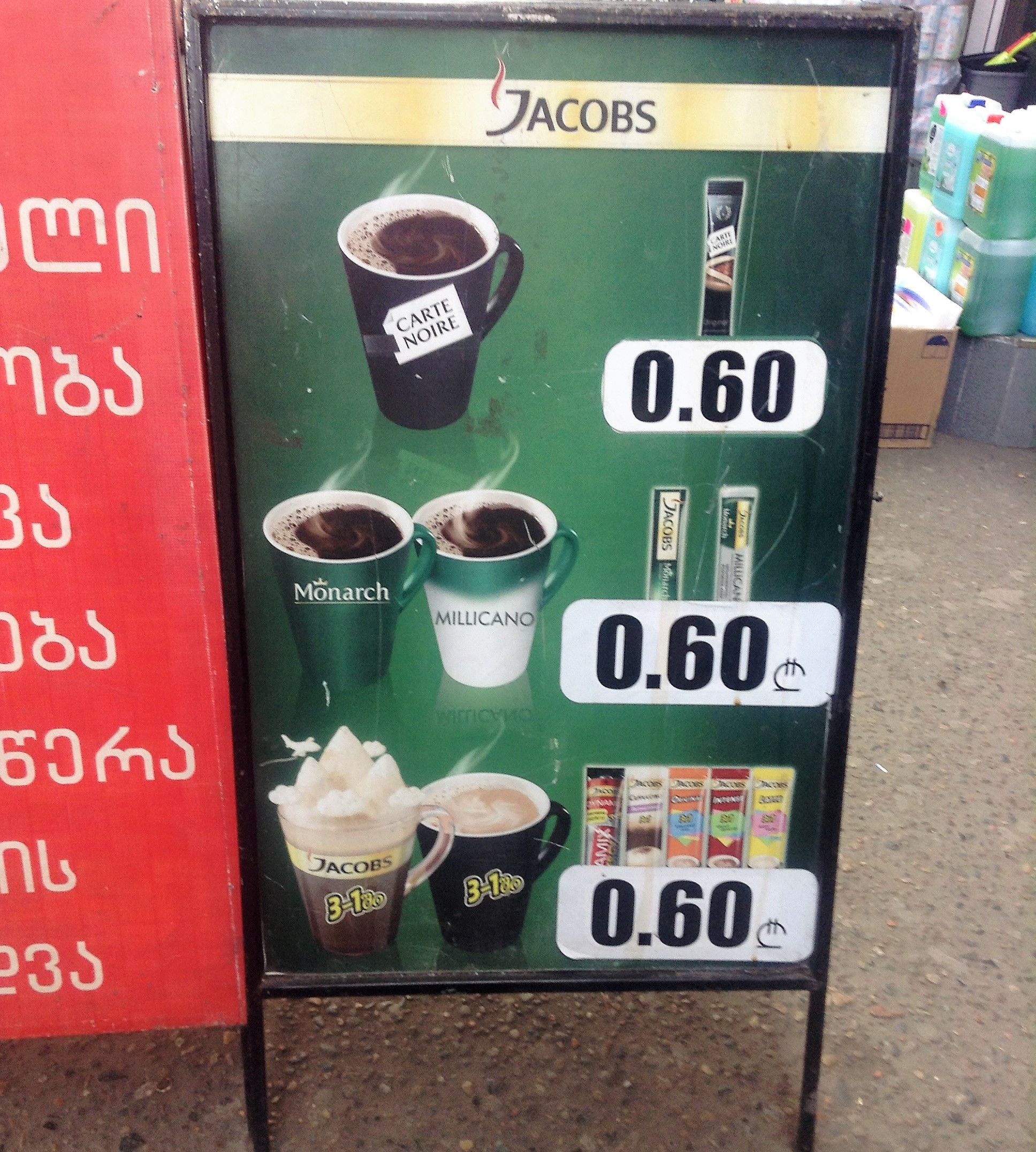 This kind of instant coffee can be found everywhere in Georgian street, which is super handy especially during a cold winter day. Yes, it's instant but also super cheap, it costs around 0.20$. You can sometimes find Turkish coffee too. 在格鲁吉亚的街头随处可见这样的速溶咖啡,基本10米见一个。我觉得这还是很贴心的,尤其在很冷的冬天。虽然是速溶咖啡,但是非常便宜,只有1.5元人民币吧。除了速溶咖啡以外,没有过滤干净的土耳其咖啡在这里也很受欢迎,也很便宜。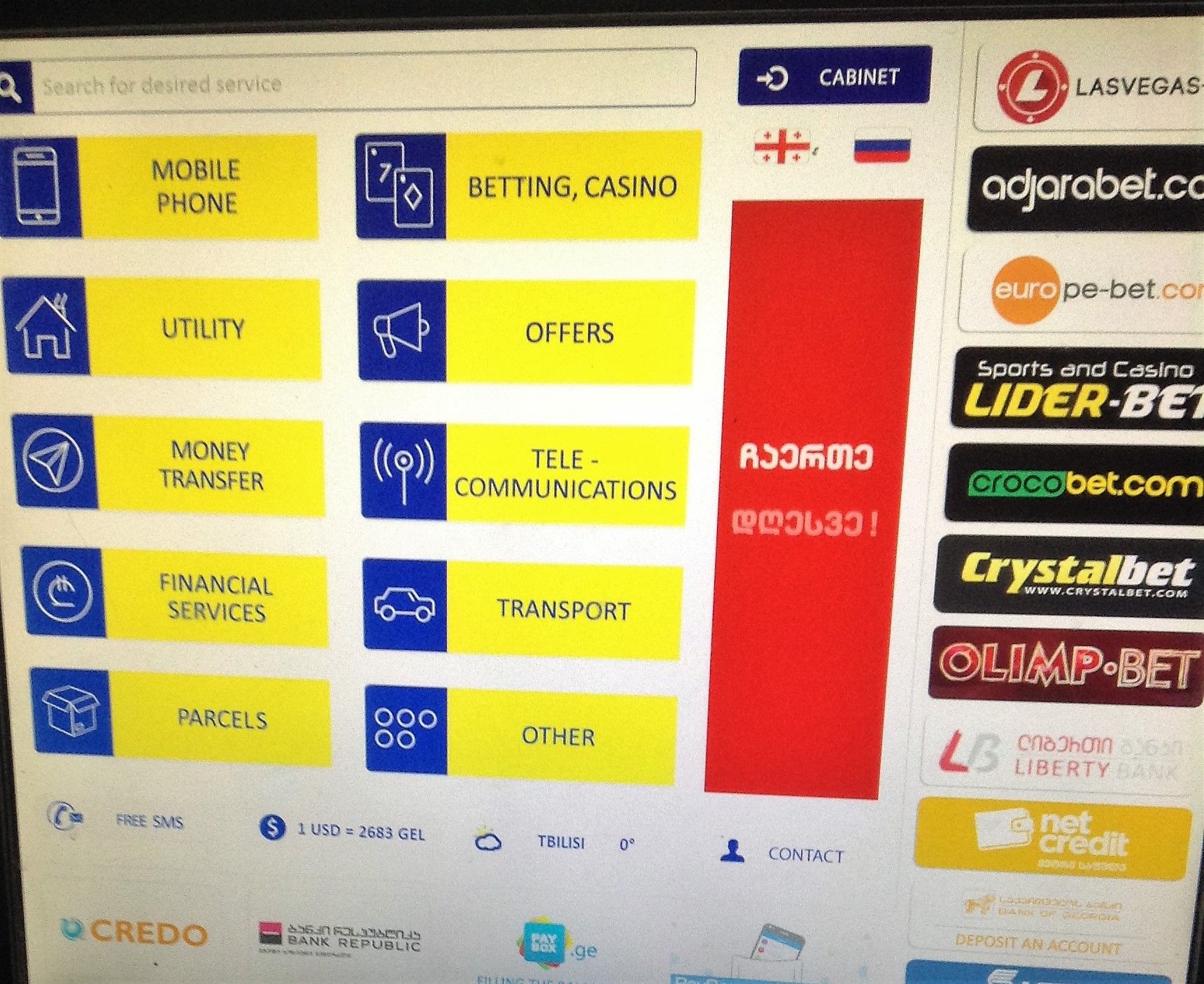 Another intereting thing was this ATM+ machine you see everywhere in Georgian cities. You can get money from the bank, but apparently you can also get a bus ticket, taxi, send parcels, and even place bets here. It looks like an huge standing Alipay app machine. I hope one day we can transfer steem/bitcoin with this machine. Georgia, you are really doing good! 另一个神奇的东西就是格鲁吉亚路边的这个升级版取款机。当然可以取钱,但是好像还可以做很多其他的事情,比如买公车票,叫出租车,寄包裹,甚至还可以赌钱。很神奇,我觉得它有点像支付宝app的实体版。希望阿里巴巴公司也在中国街头装几个类似的机器。说不定未来还支持steem/比特币转换,这样多好。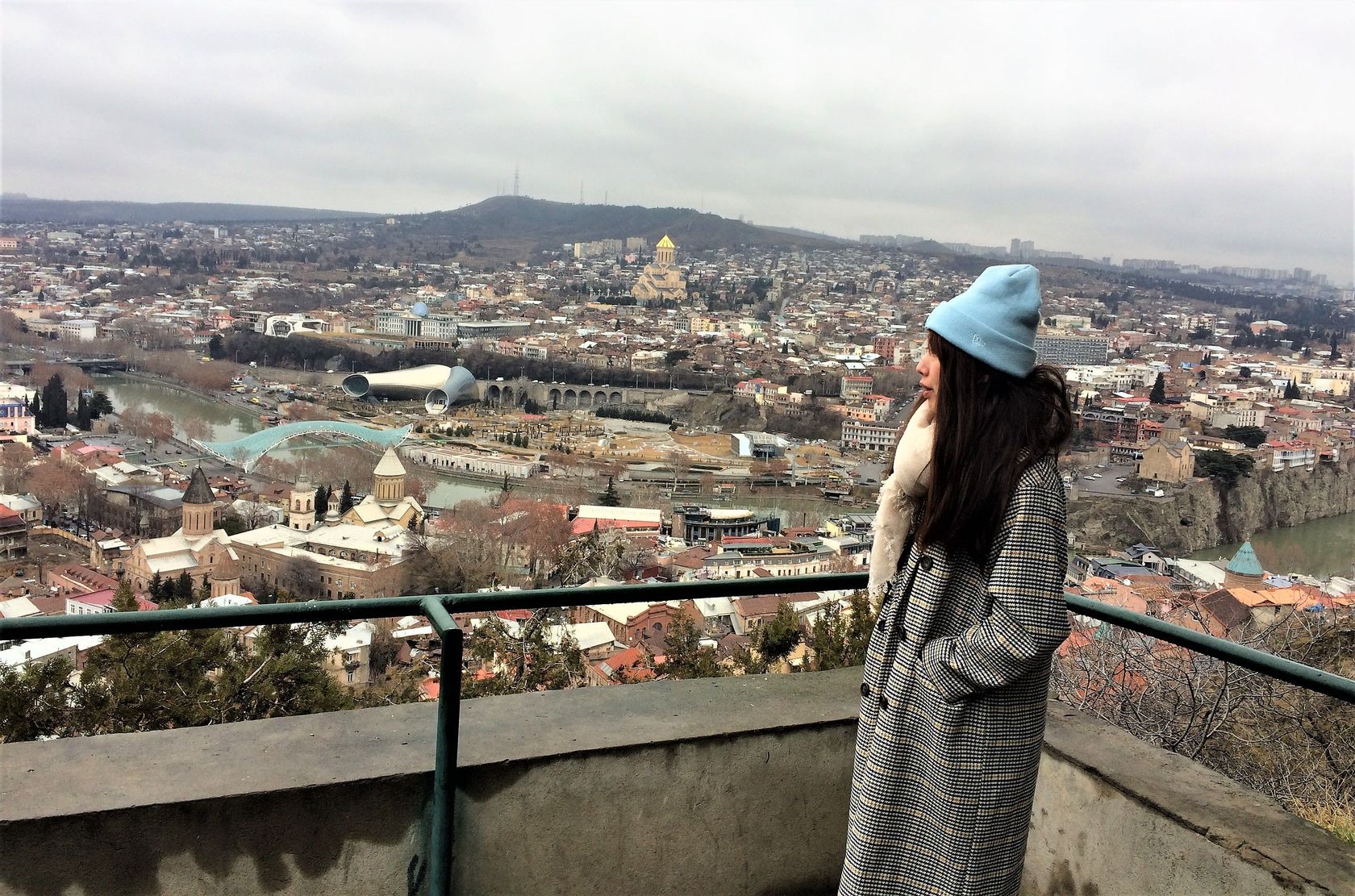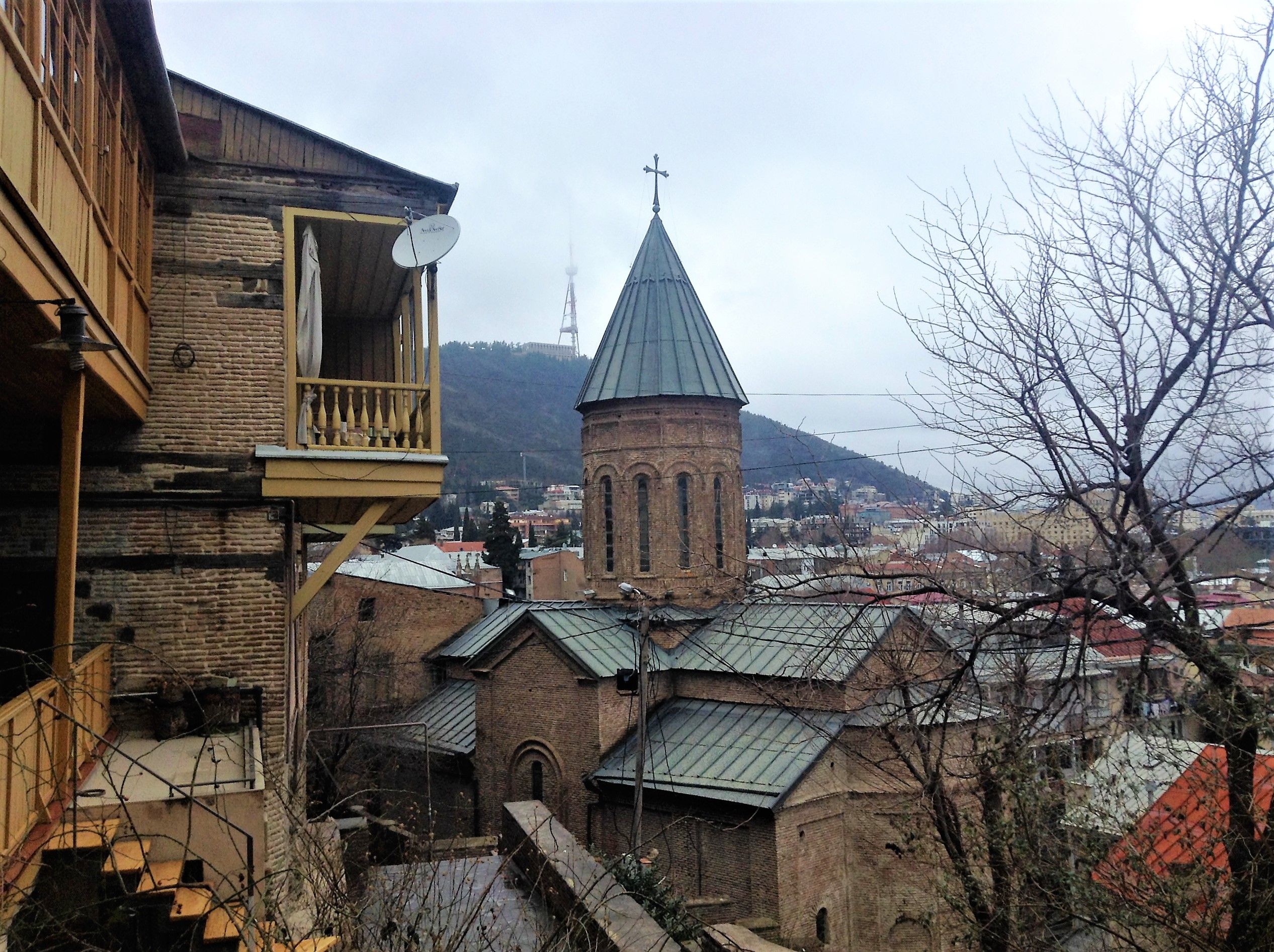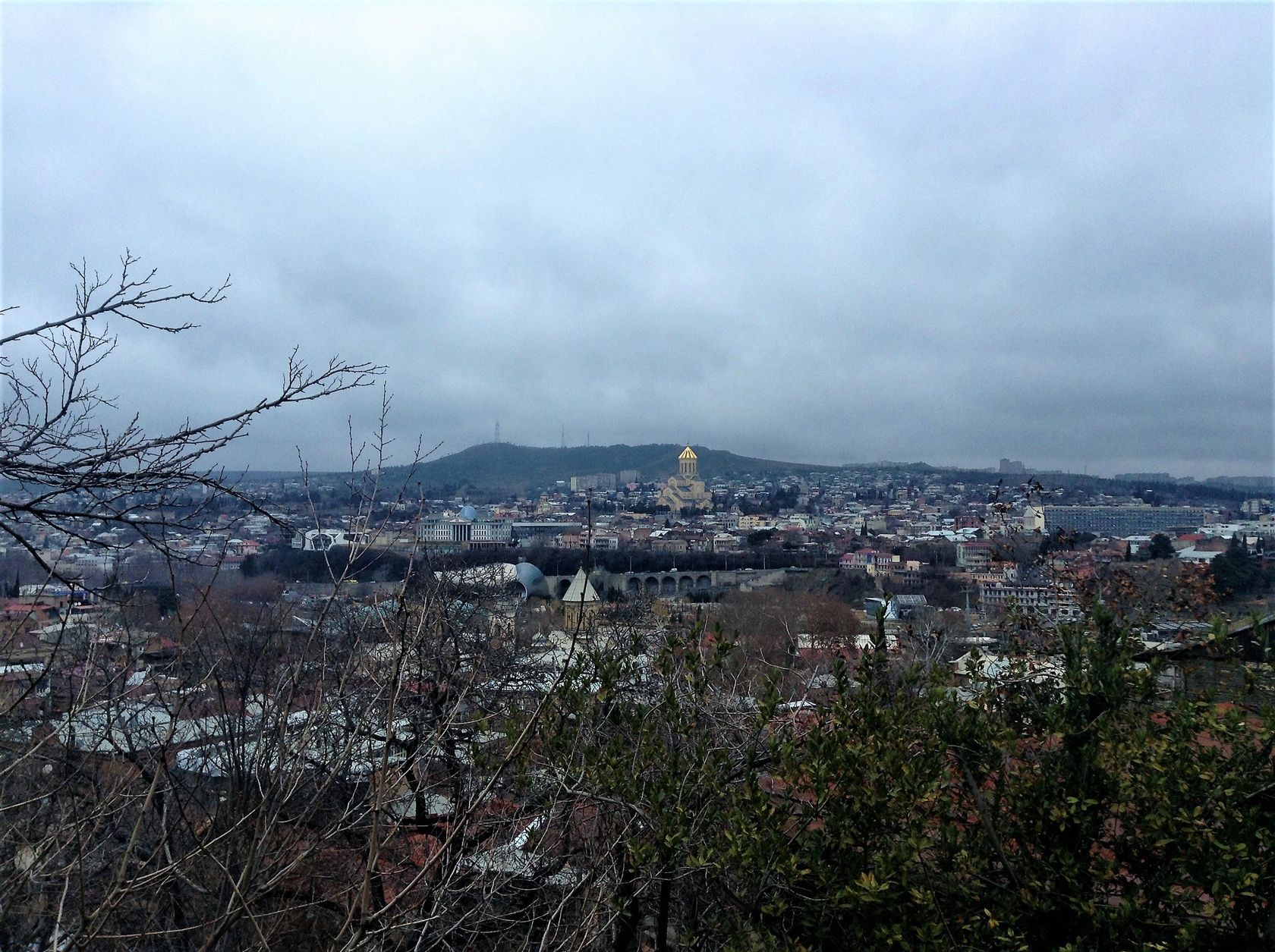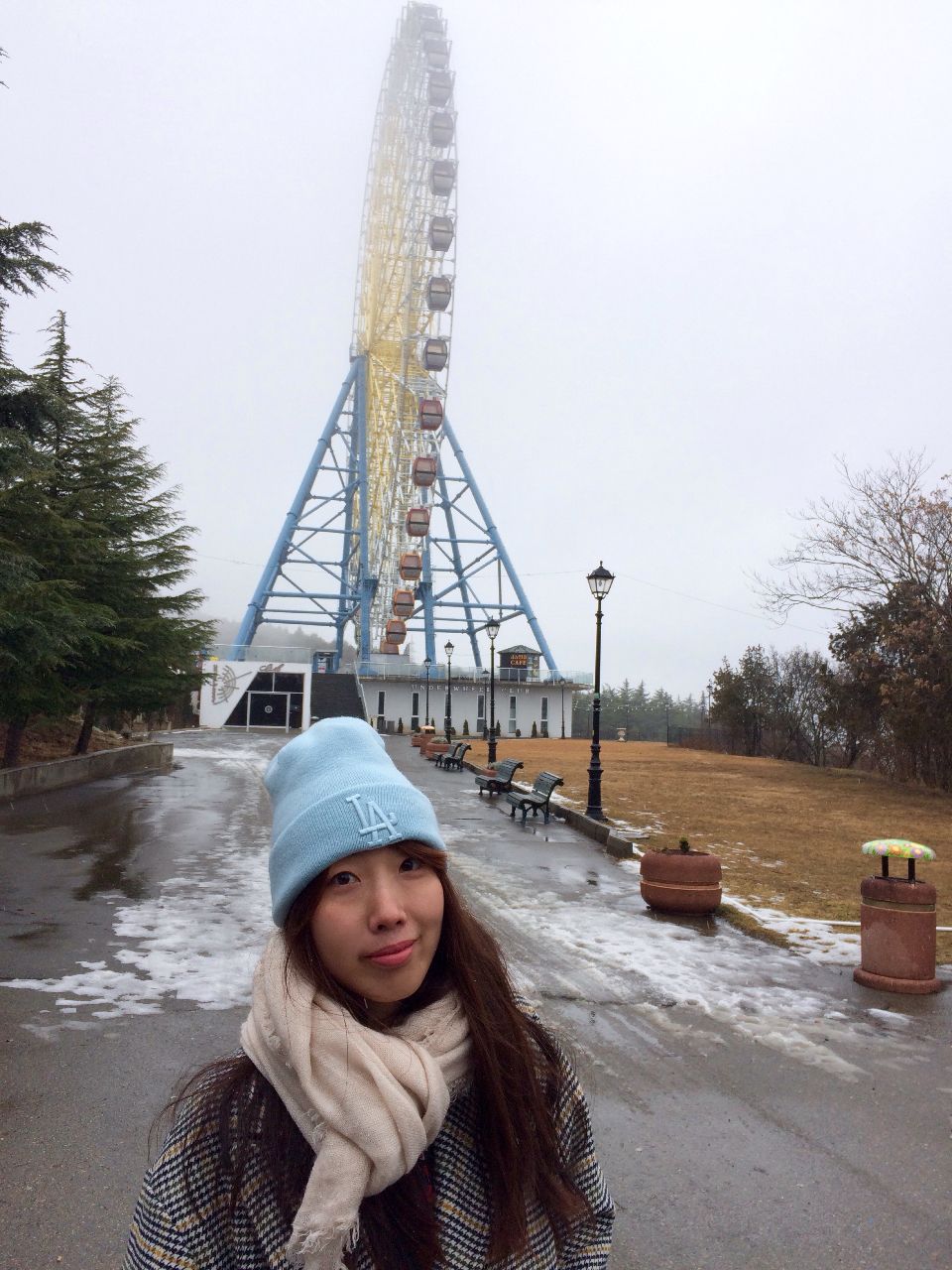 Beautiful views of Tbilisi. 眺望美丽的第比利斯。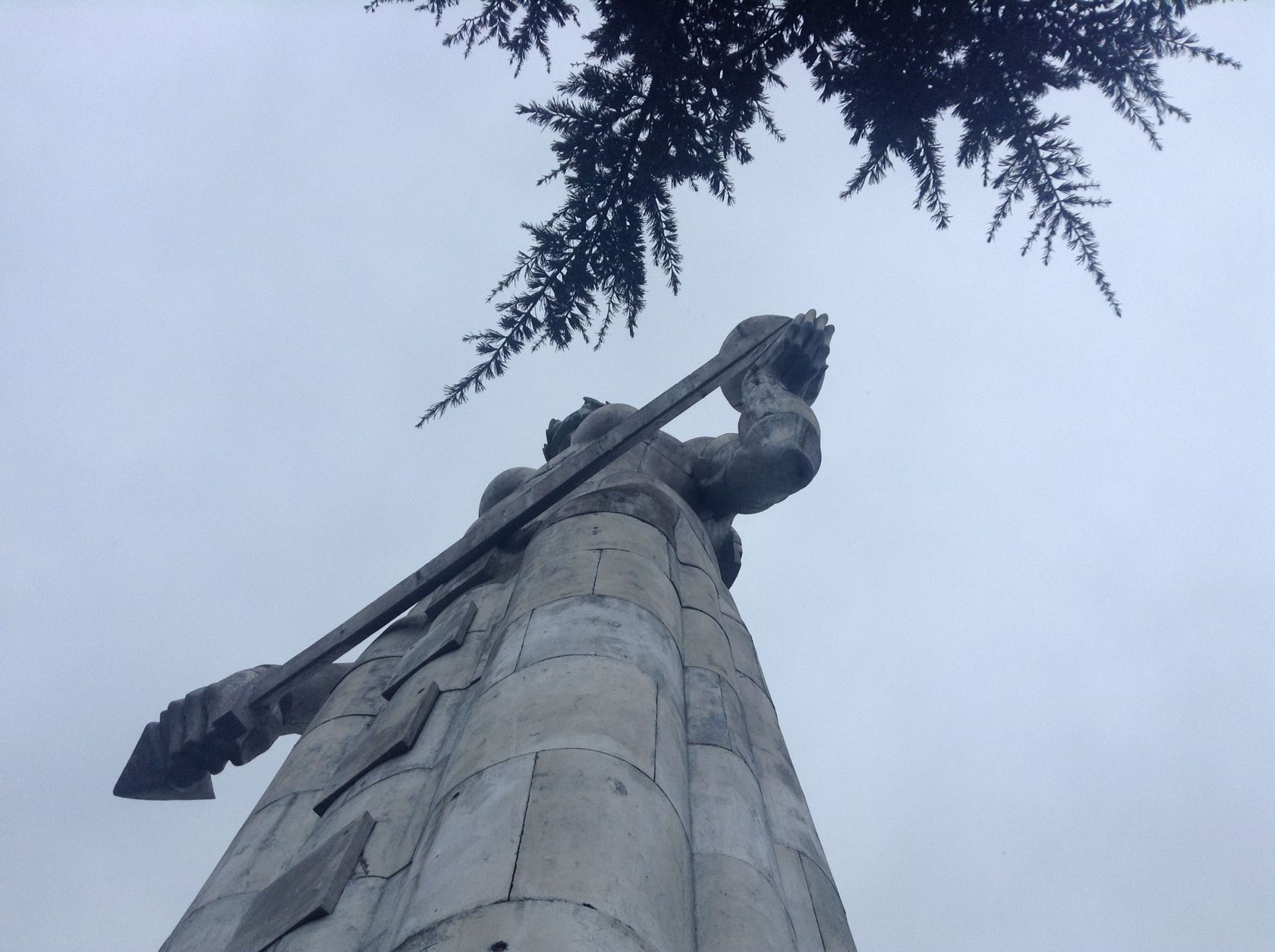 Kartlis Deda statue is the symbol of Tbilisi and Georgia. In her left hand she holds a bowl of wine to greet those who come as friends, and in her right hand is a sword for those who come as enemies. 这个格鲁吉亚之母雕像可以说是第比利斯和格鲁吉亚的象征。她左手捧着一碗红酒,象征了格鲁吉亚人的热情好客。右手手持宝剑,捍卫着这个国家。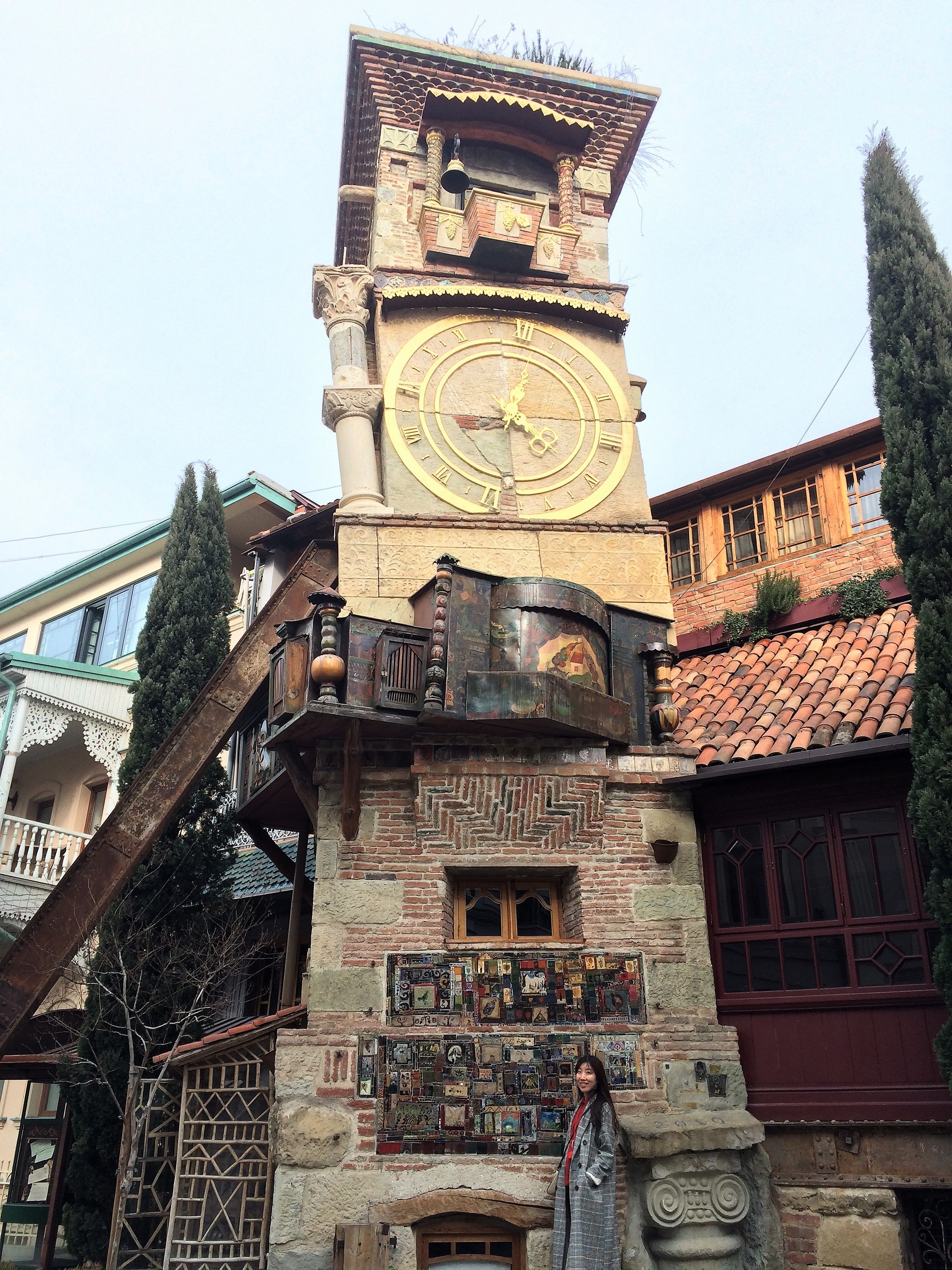 Leaning Tower of Tbilisi, one of the city's most unusual buildings. 这个东倒西歪的钟楼是第比利斯古城最有特色的建筑之一。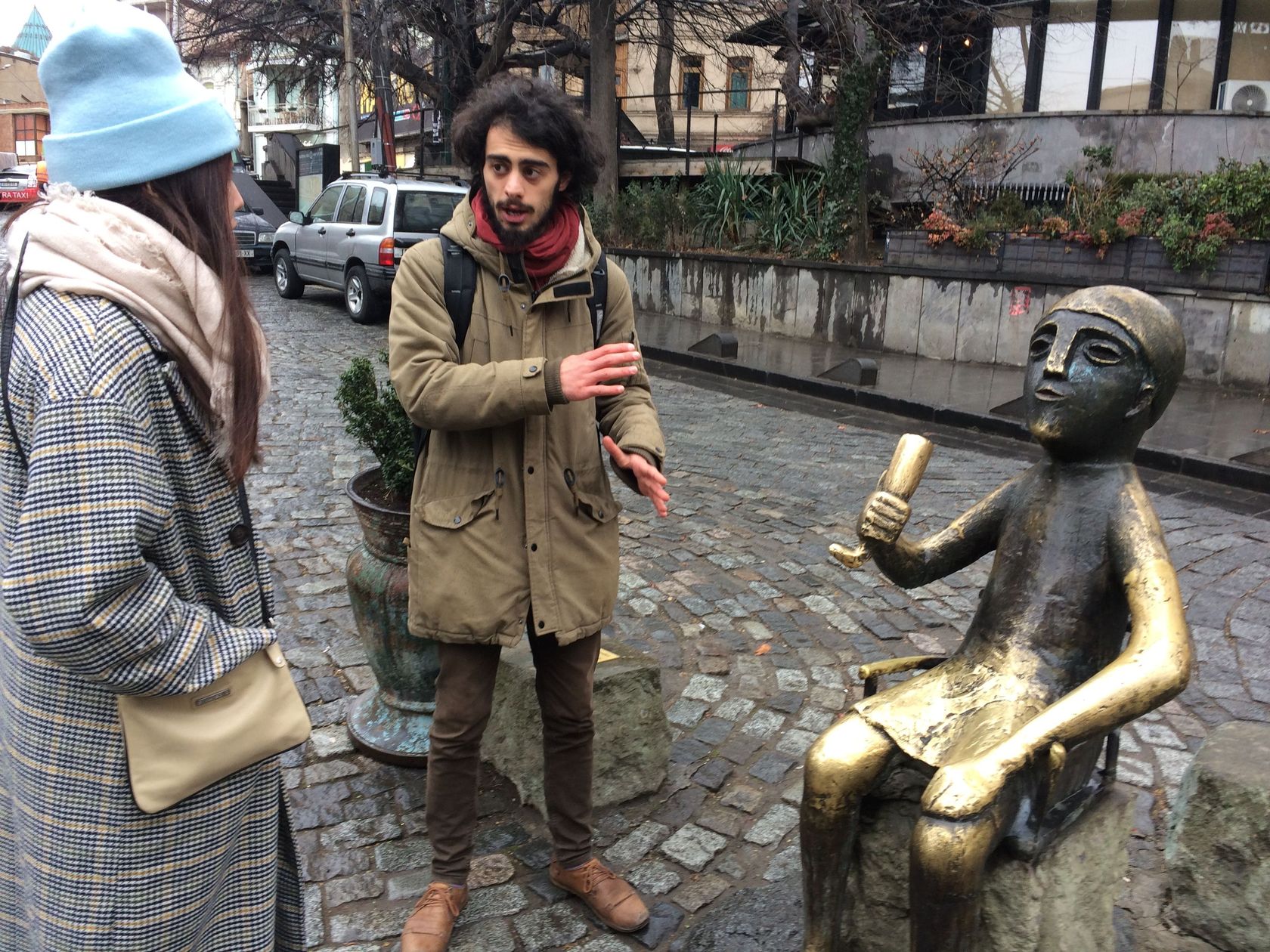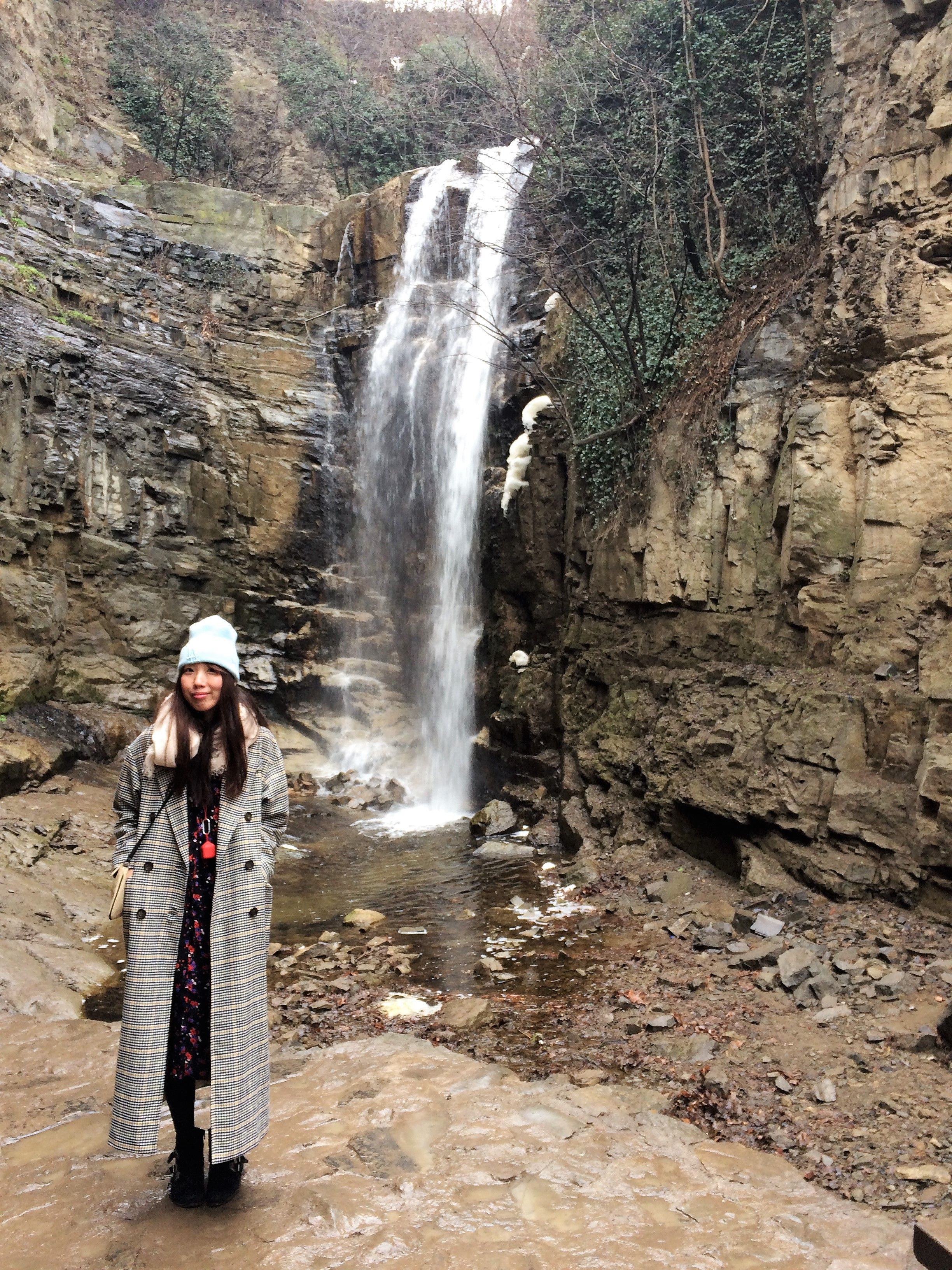 I did a walking tour too. The tour guide is super nice boy. He told me many interesting stories in Tbilisi. For example this Statue of Tamada on Sioni's street. The statue is a copy of ancient gold statue of national symbol of georgian wine culture - Tamada. The reason the boy is holding a horn to drink is that you have to drink everything in the glass at once, this way you can't put it down if it's not finished. 我在第比利斯参加了个在很多城市都有的自发的Walking tTour. 讲解的男孩人很好,给我讲了很多有意思的故事,比如这个拿着羊角杯喝酒的雕像后面其实隐含着格鲁吉亚这个喝酒的传统。格鲁吉亚人喜欢聚朋友喝酒,通常一个人领酒,这个带领喝酒的人就是这个雕像的形象,用羊角杯的原因是必须一饮而尽,用羊角就不能把杯子暂时放在桌子上不喝完了。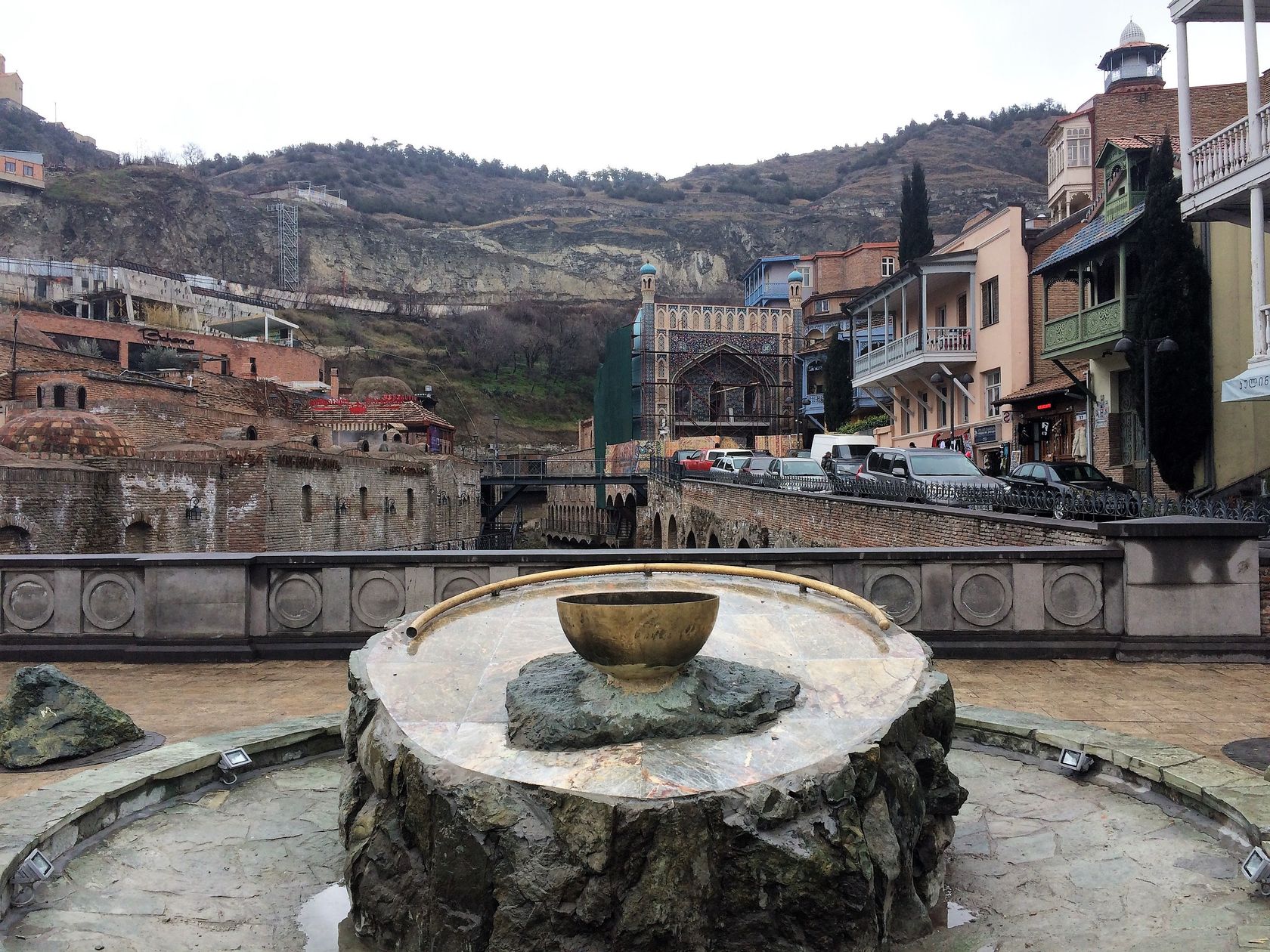 Nature in the middle of Tbilisi city.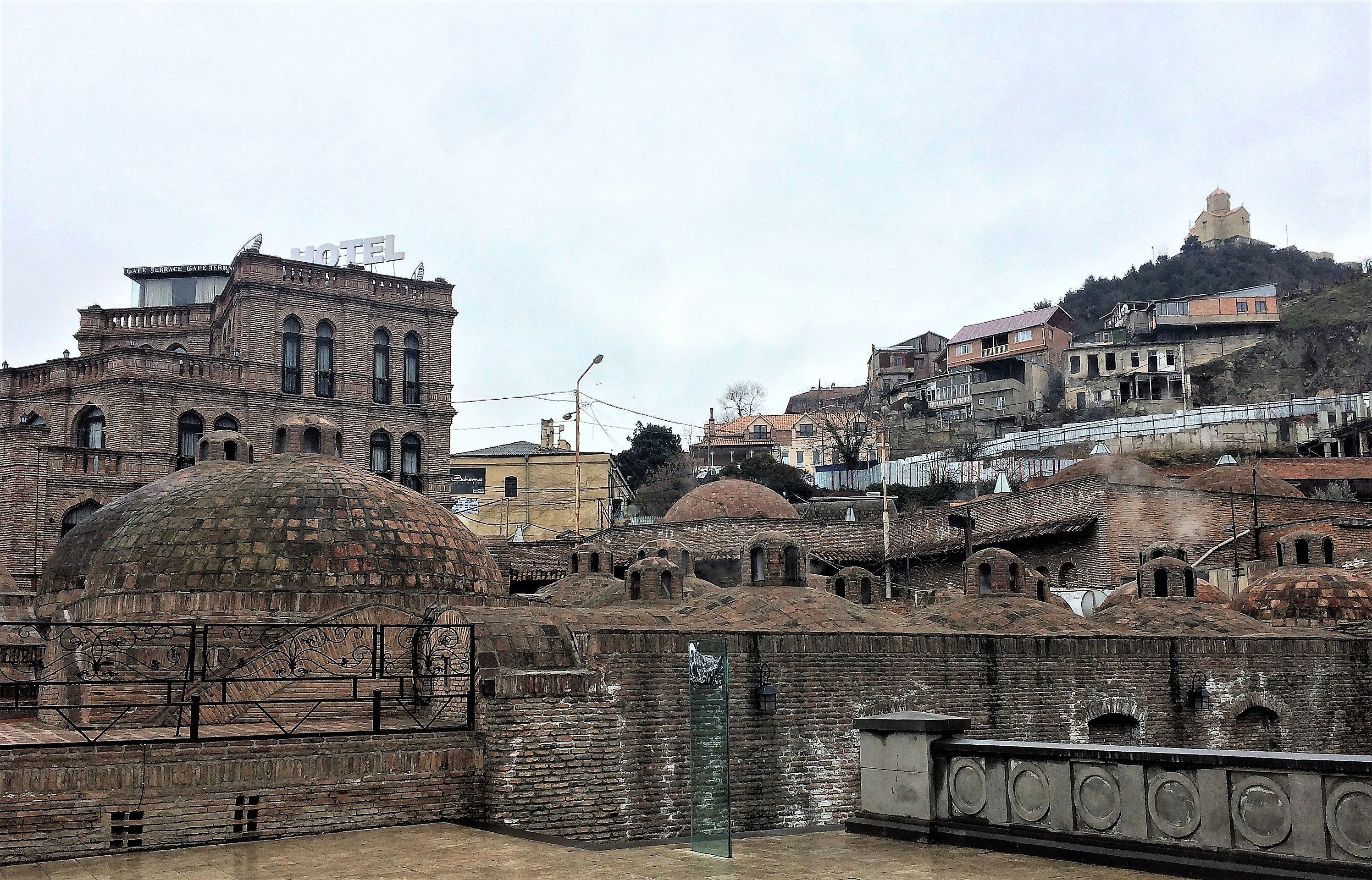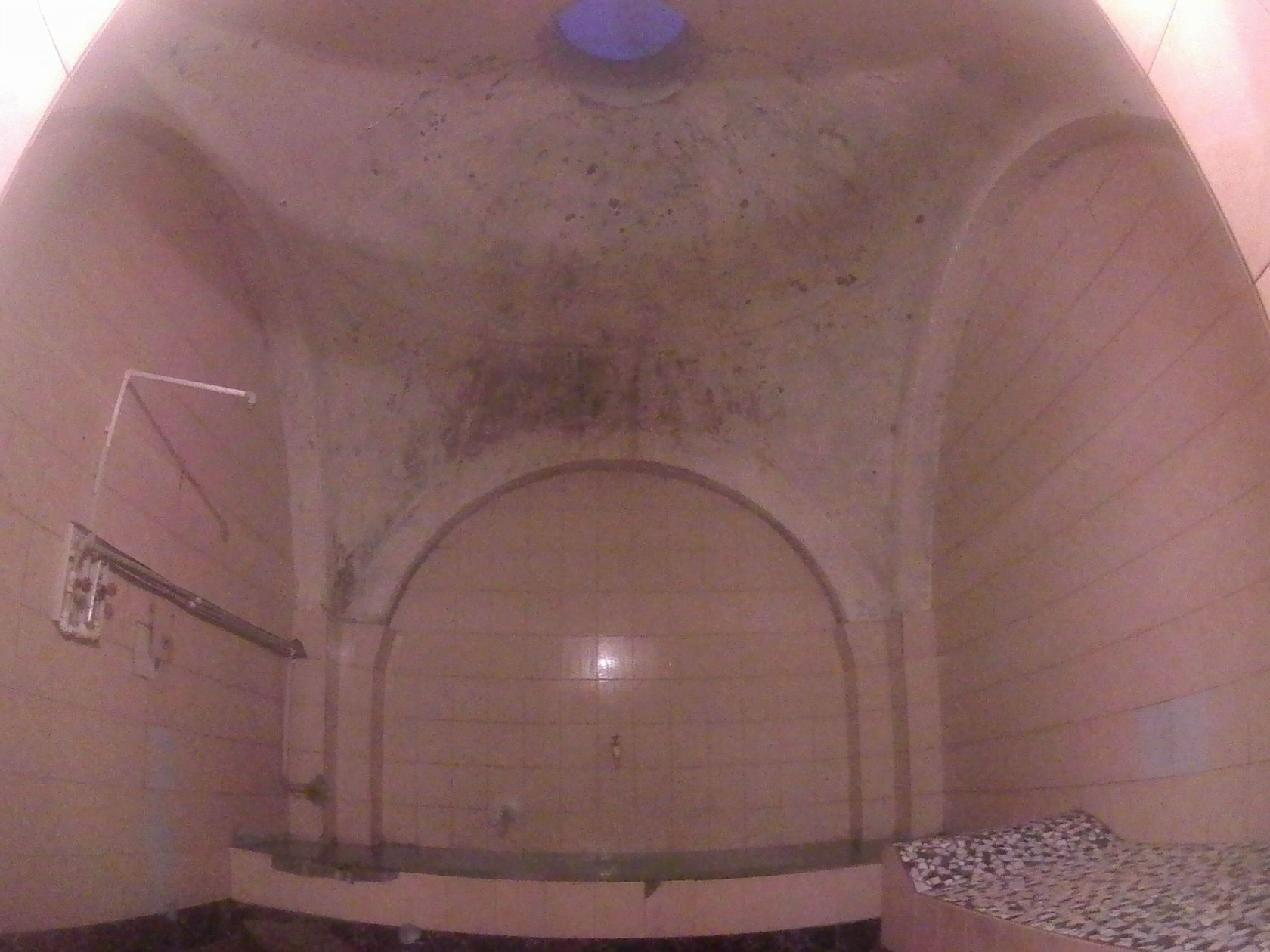 Tbilisi old town has so many sulfur bath places. In this area, all houses with round domes, are a sulfur bath place. You can choose do a bath for an hour or two. In Tbilisi old town you will smell the sulfur, so I think it's difficult to miss them. This was also my favorite part of traveling in Tbilisi, after a long day, you can soak in the sulfur bath to get relaxed. 在第比利斯古城,有很多泡硫磺澡的地方。在这个区域,这些土黄色的圆形屋顶的房子就是一个个硫磺浴室。可以选择私人浴池,泡个一两小时。在第比利斯老城靠近这里就能闻到浓烈的硫磺味,所以基本上不会错过。这也是我最喜欢的部分,逛了一天,还可以泡个硫磺澡放松一下。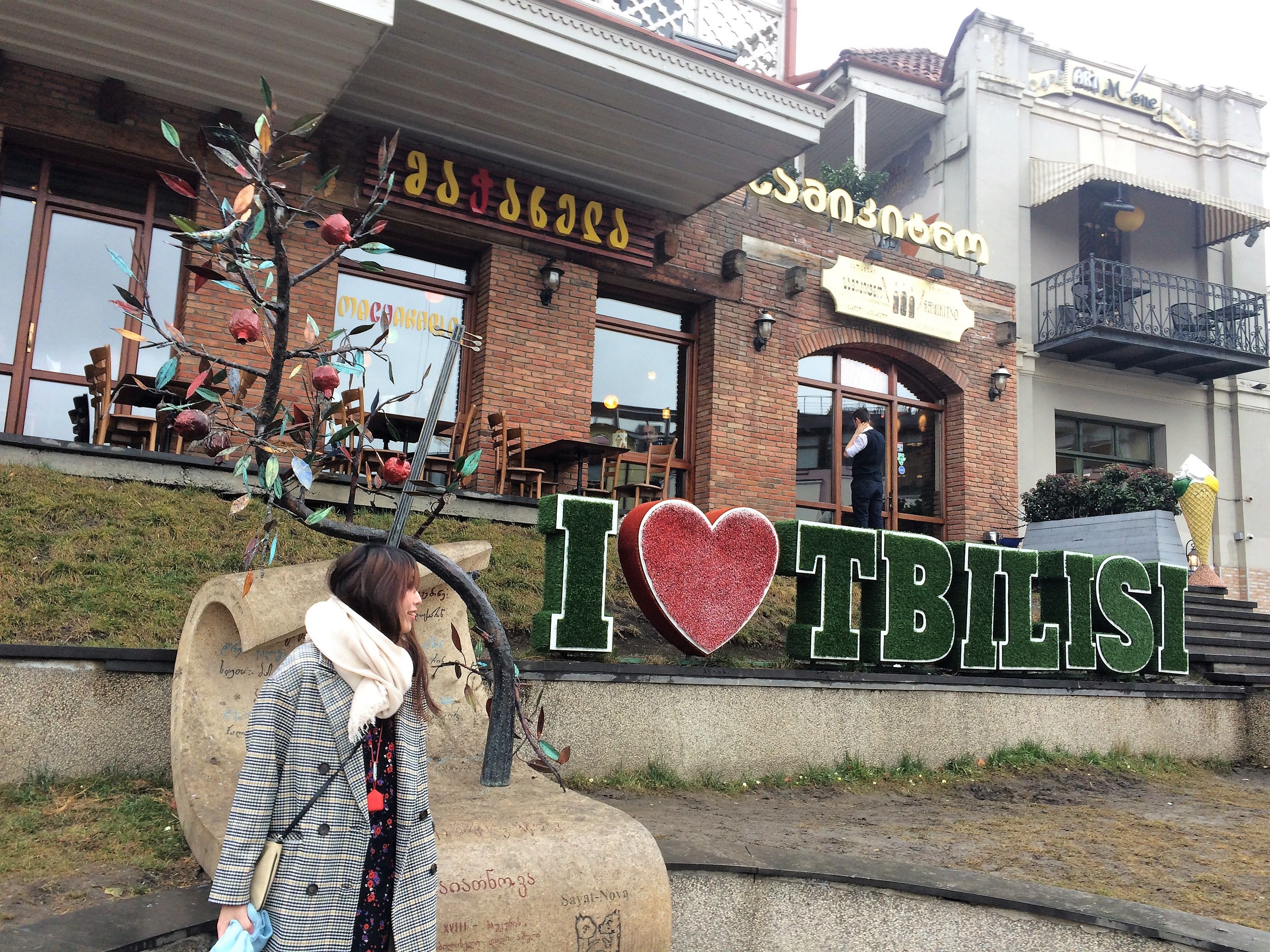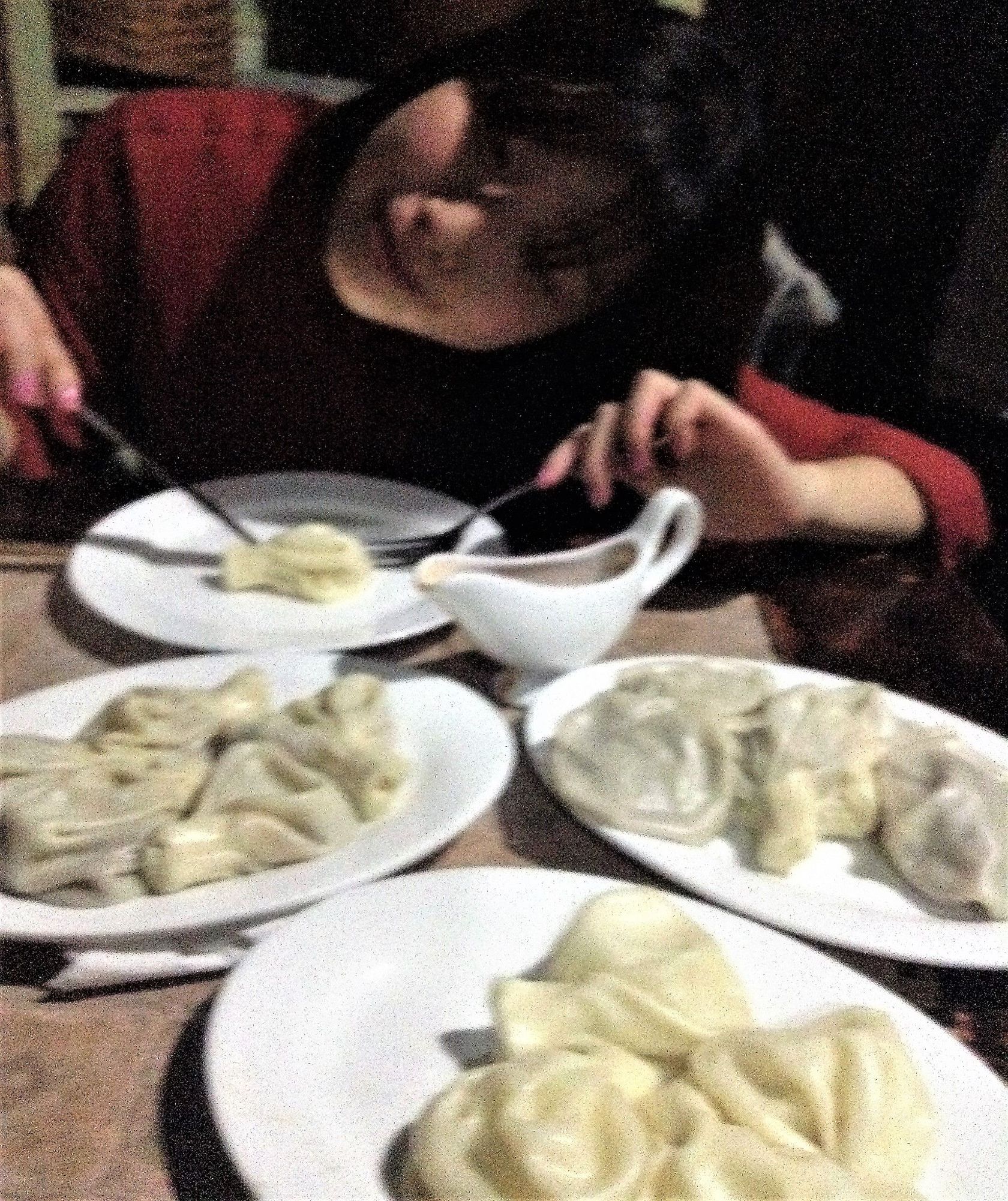 The guide recommended me the restaurant behind "I love Tbilisi" sign. It was quite good. Let's take a rest and enjoy Georgian typical Khinkali. 我被推荐去了这家 "我爱第比利斯" 后面的餐厅,这家餐厅很不错,有特种格鲁吉亚传统菜,做的很好吃。我连去了几天。让我们休息一下,吃一点格鲁吉亚特色饺子吧。
---
End of the trip report. I will write a Georgian food guide soon. 游记完。谢谢阅读,我会尽快写一篇介绍格鲁吉亚食物。 Comments